Another Summer of Protests, Gathering and Healing for Impacted Families
Saint Paul, MN – As police killings continue to increase in numbers while decreasing in attention, impacted families in the Twin Cities held numerous events during the summer of 2022, keeping the movement alive against what many families call "police terror." From weekends of intentional healing to press conferences, rallies, and marches, hundreds of family members who've lost their loved ones to police killings, community violence and the prison system continue their quest for healing, accountability, and justice.
Since the massive uprisings of 2020, several more young Black men in Minnesota have been killed by (mostly white) police, including Dolal Idd, Daunte Wright, Christopher Fiafonou, Noah Kelley, Winston Smith, Tekle Sundberg, and Amir Locke.
Despite the uprising and the judicial guilty verdicts in the high profile cases of George Floyd and Daunte Wright, elected officials continue to not find the political will to draft new laws protecting Black people from being killed. Police kill Black men at a rate of 2.5 times more than white men, meanwhile Indigenous people are killed at an even higher rate than Black people, per statistics.
The majority of the families impacted by police terror in the Twin Cities area have yet to receive any form of justice or even an apology for their loved ones death at the hands of police. The impacted families face a litany of challenges in every aspect of life dealing with the aftermath of the killing, including being harassed. To help each other, many families have bonded together, forming support groups to cope with legal, emotional, and economic pressures.
Although a global mass movement against police brutality and anti-Blackness spawned from Minneapolis in 2020 after George Floyd was killed, the Twin Cities was already ripe with anti-police activism and impacted families supporting each other after officers killed their loved ones with impunity.
Despite the majority of large protests and actions ceasing for the time being, organizing by these families continues even when the larger movement has shrunk. We take a glance at a few gatherings that occurred during the summer of 2022.
---
'Say Their Names' March – July 30, 2022
Over two dozen family members of killed or incarcerated loved ones gathered outside the Governor's Residence in Saint Paul, Minnesota on July 30 for the Say Their Names March. With temperatures nearing ninety degrees Fahrenheit, impacted relatives briefly spoke one-by-one before a marching band and dozens of community supporters marched around the block and then caravanning to the State Capitol where free meals made by the Twin Cities Relief Fund were distributed.
Watch the live stream (below), of the speeches before the caravan of over 30 cars drove through the city streets over to the Capitol.
The names of those killed by police that were represented by their loved ones were: Justin Teigen, Amir Locke, Daunte Wright, Travis Jordan, Philip Quinn, Dontaylo Wright, Billy Hughes, Brian Quinones, Tekle Sundberg, Dolal Idd, Philando Castile, Marcus Golden, Courtney Williams, and Paul Castaway. Hardel Sherrell, who died from maltreatment at age 27 in the Beltrami County Jail, was represented by his uncle Trahern Crews; Marcoz Paramo's mother Tanya Gile spoke for her son. Paramo was killed at only 12 years old in a car wreck caused by a high-speed police chase.
"We were thrown into this," after having their son killed in a no-knock warrant raid in February of this year, the parents of Amir Locke were the first to speak after a prayer and introductions.
"We didn't ask to be a part of this fraternity, we were thrown into this. We stand in solidarity with all of the families."

Andre "Buddy" Locke, Amir Locke's father
Daunte Wright's mother Katie said the support that her family has been given by other families and the broader community is what helps her get out of bed in the morning. Wright was only 20 when he was fatally shot by former police officer Kim Potter. Katie said that it's "living hell when you lose a child."
She said she keeps coming to protests "because we don't want to have to continue to say anymore names – we don't want to have to look at another grieving mother's face, grieving fathers face."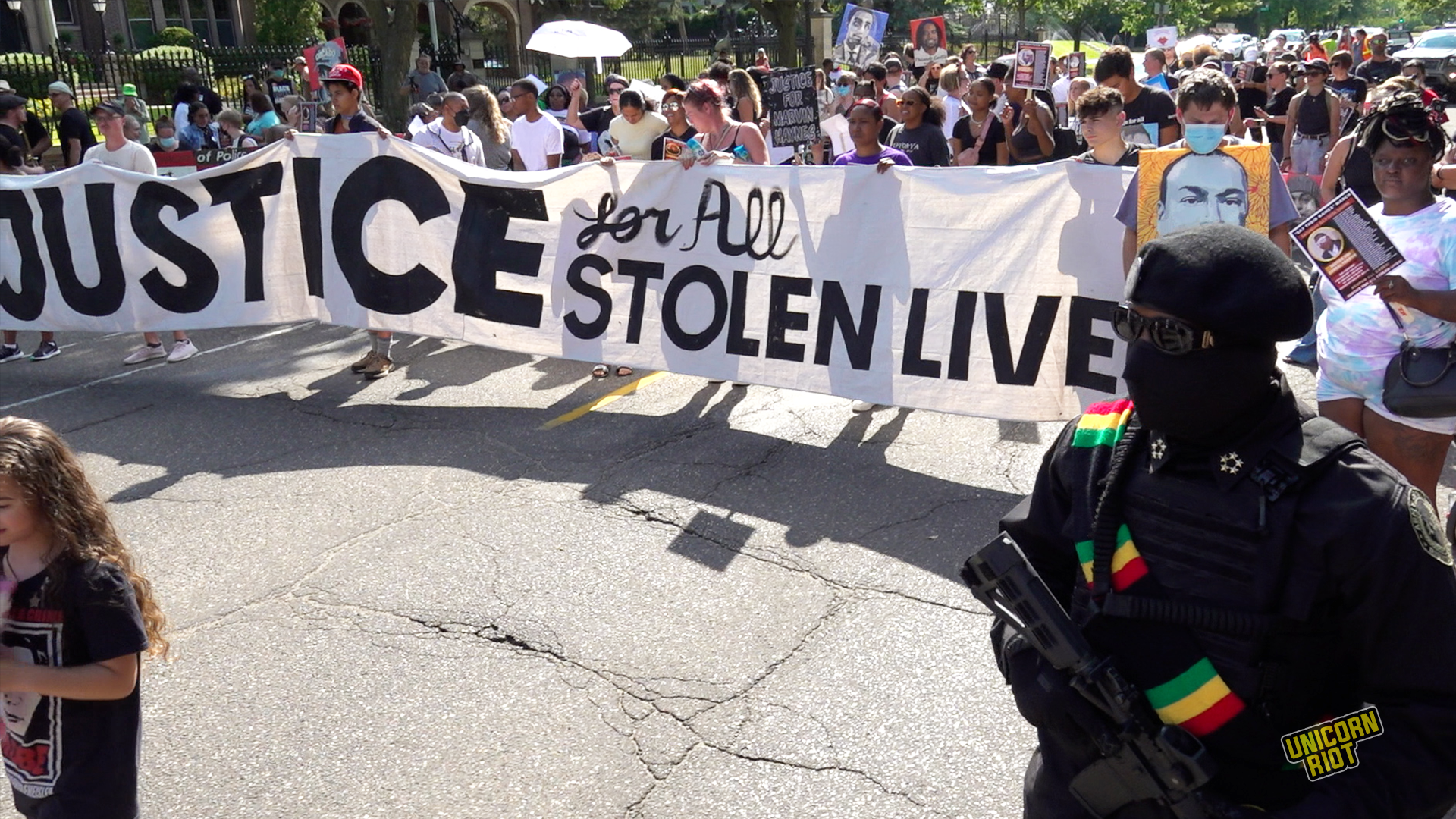 However bad the families would like to not see other families join their "fraternity," Donald Williams, the grandfather of Brian Quinones, who was killed by police in 2019, said at the event that their numbers are growing. Police are killing people at a rate higher than they ever have – 2021 saw the highest recorded number of police killings in the last decade.
Traveling from Puerto Rico for the event, Brian Quinones' mother Merri Rosario spoke outside the Governor's Residence. She said the feelings of losing a child to police is indescribable and that she was present with her "broken heart" to support other families.
In a similar vein to Quinones' death at the hands of police during a crisis is the Minneapolis Police killing of Travis Jordan in 2018. Artist and activist Paul Johnson, a close friend of Jordan's, spoke about the consistent lack of political will to make legislation that can bring about safety and justice specifically for Black people.
"We passed Travis' Law so 911 can kind of do a new job about mental health care but we have not passed one significant law that will make Black people safer in the State of Minnesota since George Floyd or before."

Paul Johnson, friend of Travis Jordan (killed by Minneapolis Police in 2018)
Johnson pointed to one of the tangible legislative actions that have occurred since 2020, Travis' Law, or (MN Statute 403.03, Subd. 1b). Pushed forward by the stalwart non-profit CUAPB, the newly passed law requires 911 call centers to send mental health crisis teams, instead of police, to mental health crisis calls.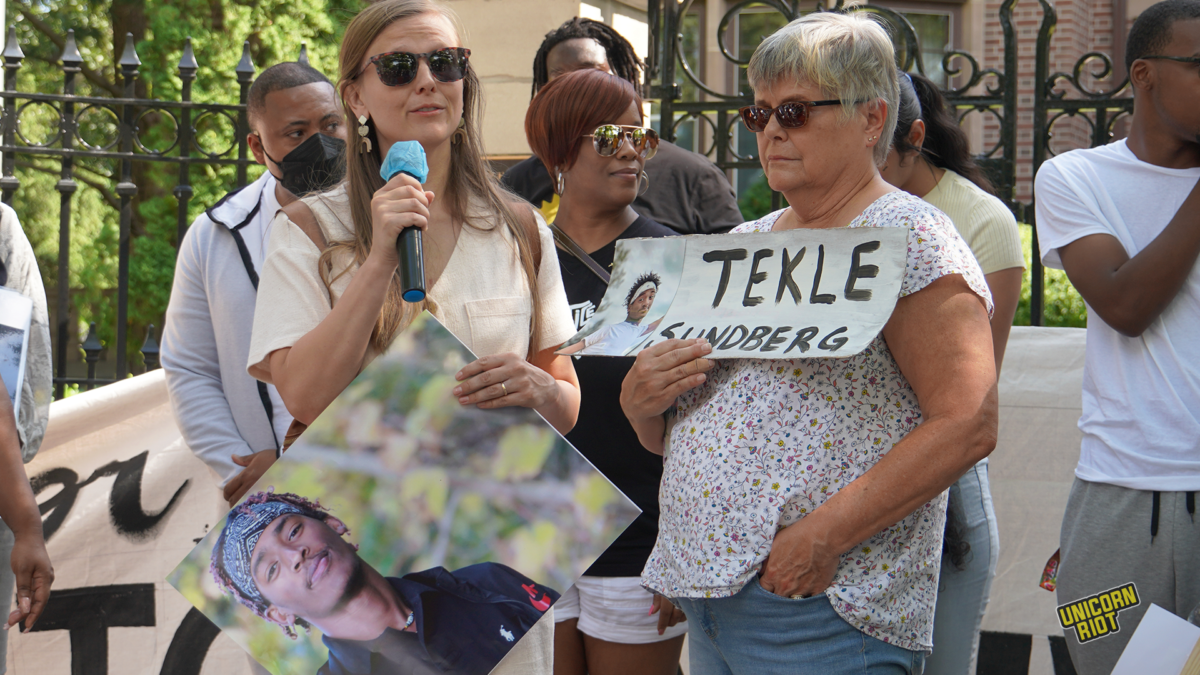 Valerie Castile, the mother of Philando Castile who was killed by police in 2016, said that she was proud to stand up at the event because she liked that the event was focusing on "the whole system" by speaking on issues of mass incarceration, murder by police, gun violence, and abuse. Monique Cullars-Doty, aunt of Marcus Golden, killed by police in 2015, echoed similar thoughts saying that "tying in mass incarceration with police accountability" is "crucial to the future of the movement."
The larger movement of family support groups on the whole is a newer phenomenon. Many mothers and families have lived their experience of losing their loved one without broader support. The mother of Courtney Williams, who was killed by Minneapolis Police in 2004, said that it wasn't until a couple years ago when Toshira Garraway reached out to her that she started to receive support.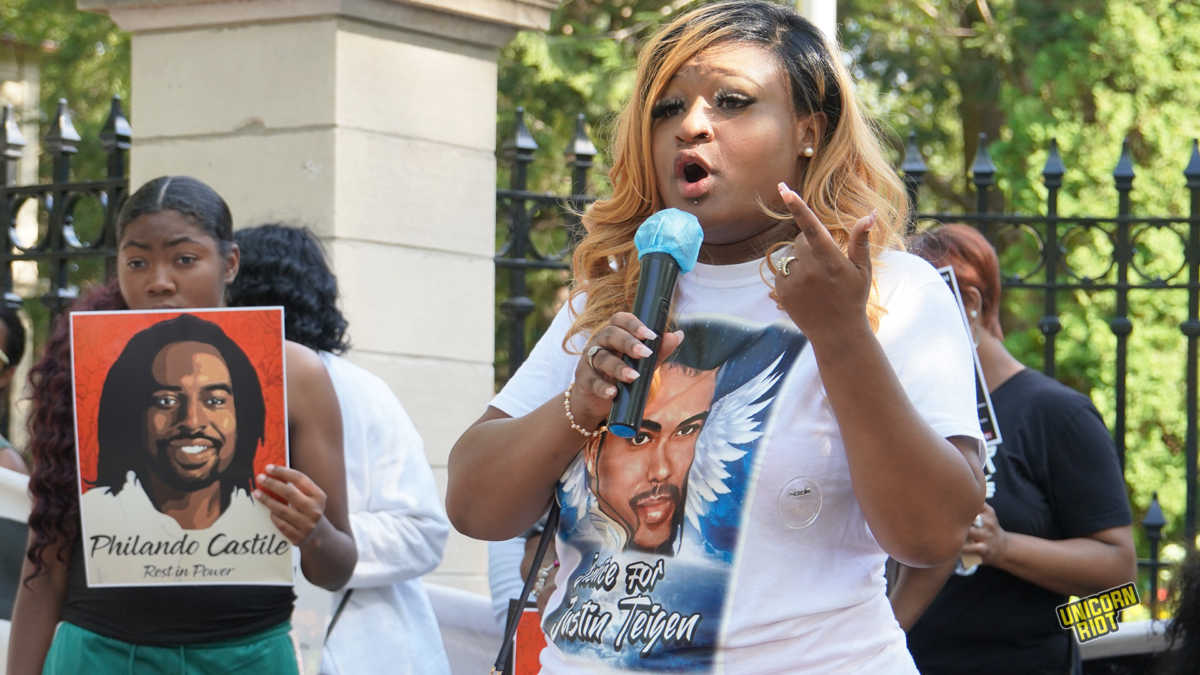 Hosting the speaking portion of the protest outside of the Governor's Residence was founder of Families Supporting Families Against Police Violence, Toshira Garraway. Justin Teigen, the father of Garraway's son, was found dead after an interaction with Saint Paul Police in 2009.
Garraway paid homage to three women for helping her become a community leader that organizes and hosts events; Michelle Gross of Communities United Against Police Brutality (CUAPB), Kim Handy-Jones, whose son Cordale Handy was killed by Saint Paul police, and Monique Cullars-Doty.
Among other speakers were members of the wrongfully incarcerated and overly sentenced families council, including loved ones of Marvin Haynes, Cornelius 'Corn' Jackson, and Gary Griffin Jr. [Unicorn Riot is working on a longer form piece about Marvin Haynes – Continue to follow us.]
The mother of Victor Brawner spoke about mistreatment from Minneapolis Police after they came to the scene of Victor's death. And Corhea Taylor, the mother of Ralph Bell who went missing three years ago and whose death was ruled a suicide after he was found with multiple stab wounds to his chest in a wooded area of Roseville, said the authorities are "covering up his death."
Teri and Deborah Watts, cousins of Emmett Till, who was lynched by a white mob in 1955 in Mississippi, spoke about their never-ending quest for justice. They shared how how their family, along with the Emmett Till Legacy Foundation, discovered an unserved arrest warrant for Carolyn Bryant Donham, the last living accomplice, for kidnapping Emmett Till. Deborah stated they "had to go where the FBI, the DOJ and other investigators never went" – the basement of Mississippi's Leflore County courthouse.
Despite the discovery of the warrant amidst continued lack of interest by authorities to help Till's family receive some sort of justice, Deborah said they "stand [there] without hate, without malice" and pushed the families to never "give up fighting."
"We've been fighting for 67 years and I want to say to all the other families – do not give up fighting."

Deborah Watts, Cousin of Emmett Till
Trahern Crews, the uncle of Hardel Sherrell, called for an "independent investigation of all police shootings that have resulted in death" and for the cessation of violence by authorities against Black people.
"We just want justice for our children."

Corhea Taylor, Mother of Ralph Bell (found dead in the woods in 2019)
After the short speeches outside of the Governor's Residence, the crowd marched around the block before going back to their cars to caravan to the State Capitol. As the caravan was lining up, Gabriel Black Elk, the brother of Paul Castaway, killed by Denver Police in 2015, spoke about the importance of holding the public protests and gatherings. Black Elk mentioned the recent police killing of Shane Netterville in Fargo, North Dakota and said they were "out there" for them.
A gathering was held on the grounds of the Minnesota capitol building. CUAPB unfurled their massive scroll of names of people in Minnesota that have been killed by police. In a follow-up piece, we showcased the scroll along with information on their investigative unit.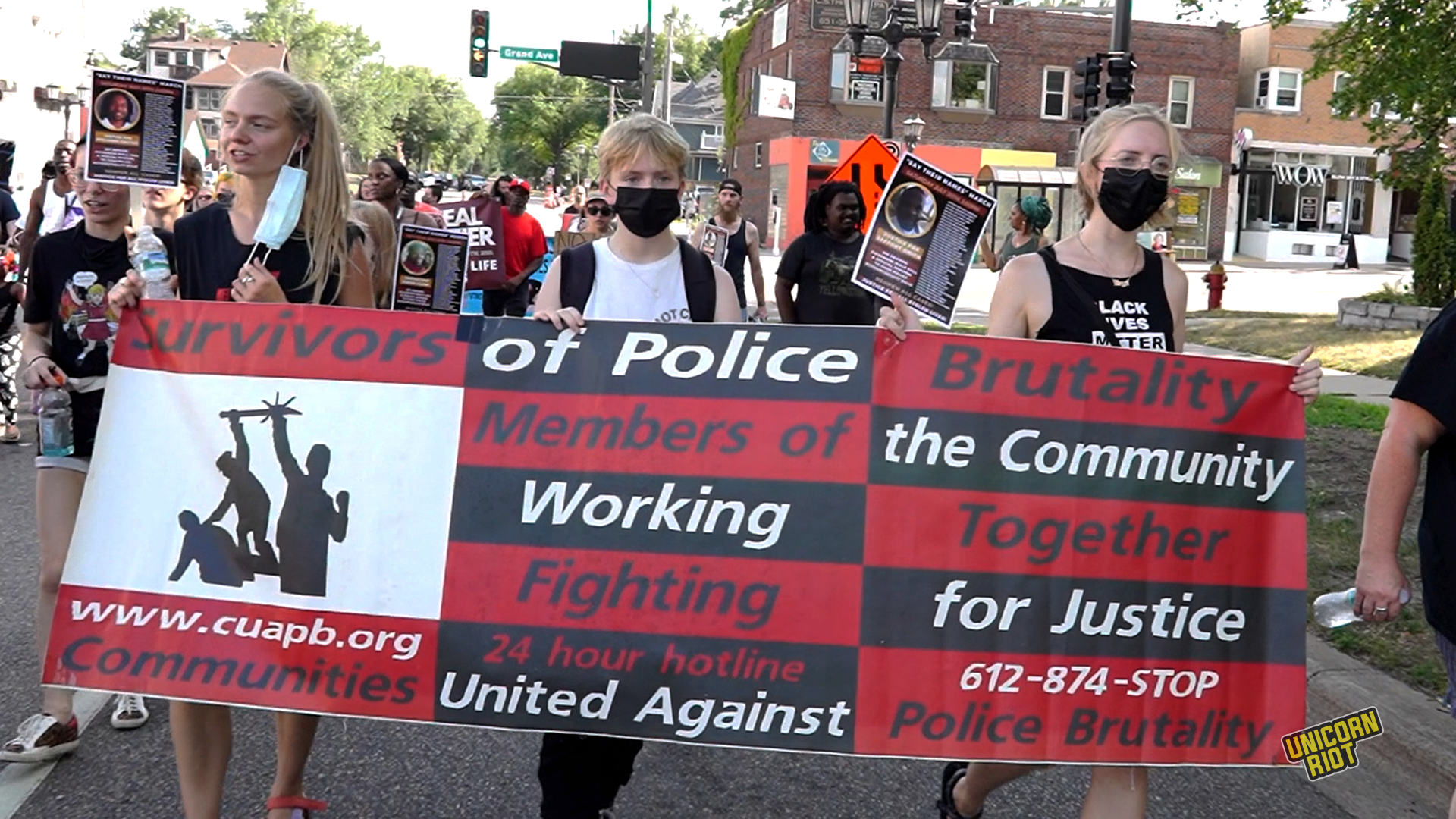 ---
To honor Mother's Day in 2022, Unicorn Riot released its first 10-episode season of The Mothers Podcast, featuring the stories of ten mothers who've lost their children to police violence. Listen to all episodes across podcast platforms and find them at the link in the image below.

---
Cordale Handy Banquet – July 9, 2022
For the fifth year straight, a massive banquet was thrown by the Cordale Q. Handy In Remembrance of Me Foundation, which drew together dozens of impacted family members for a "weekend of renewal."
A creation of Kim Handy-Jones, the banquet is the feature Saturday evening event during an intentionally planned weekend which included a vigil and a banquet alongside private healing events and church services for family members.
Highlights of the banquet include the introductions of the family members, the giving of headstones to families, keynote speeches, family member speeches, musical and spoken word performances, and food.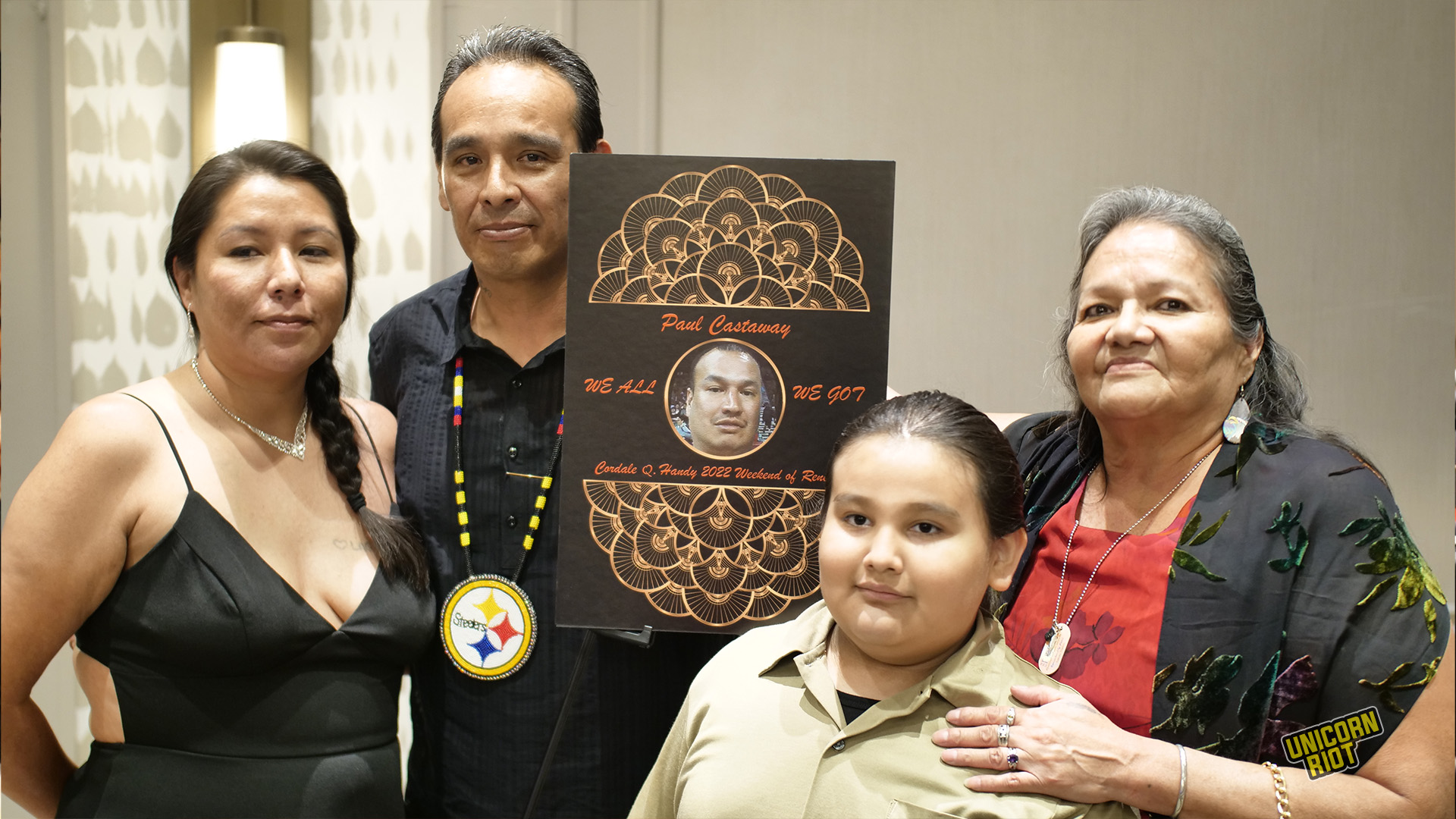 The families of over 50 lost loved ones, a majority of those to police violence, were in attendance during the 2022 banquet, they included: Gary Hopkins Jr., Jonathan Victor, Korryn Gaines, Kobe Heisler, Jayvis Benjamin, Hardel Sherrell, Andrew Joseph III, Kwamena Appah Fynn Ocran, Alan Blueford, Terrol Massey, Eric Garner, Martin Johnson, King Douglas, Malcolm Webb, Marc Sabian Allen, Gabriel Jackson, Amir Brooks, Noah Kelley, Delrawn Small, Raymond Scott, Paul Castaway, Kendrick Johnson, Vedo Hall, Angelo Miller, Jamaal Byrd, Henry Green V, Marcoz Paromo, Le'Den Boykins, Dontaylo Wright, Phil Quinn, Billy Hughes, Jarvis Lykes, Sierra and Jordan Gonzales, Che'Reonna Thomas, Duane Tyson Jr., Kevin Peterson Jr., Donald McCaney, Che Taylor, Xavier Hill, Charleena Lyles, Jesse Sarey, Giovonn Joseph-McDade, Iosia Faletogo, Carlos Hunter, Jabril Robinson, Andrew Junior Smyrna, Isak Aden, and Marcus Golden.
View the first three years of Unicorn Riot's coverage of the Cordale Handy banquets below.
In 2021, after the fourth banquet we spent hours hearing from numerous impacted family members and activists (link where first batch of interviews starts, link for second batch).
---
Impacted Families Hold "Night of Honor" – May 26, 2022
On Saturday night, May 26 at the Aloft Hotel in downtown Minneapolis, Families Supporting Families Against Police Violence and the George Floyd Global Memorial held "A Night of Honor" where impacted families gave "thanks and tribute to the movement" against police terror. Along with the dozen plus families in attendance, were community activists and organizers.
The night featured food, musical performances and emotional 'thank you's to-and-from activists and families. Represented among the families and loved ones were Paul Castaway, Philando Castile, George Floyd, Oscar Grant, Demetrius Hill, Noah Kelley, Marcoz Paramo, Hardel Sherrell, Jaffort Smith, Emmett Till, and Daunte Wright. Watch the families gathering below.
As popularity of movements fade away, the grieving families never lose their pain. Aside from the growing number of support groups, many of the mothers we've spoken to said the best way to show them support is to show it directly, by contacting them through social media accounts, sending money directly to them, and showing up for them if you're in their area.
---
Follow us on X (aka Twitter), Facebook, YouTube, Vimeo, Instagram, Mastodon, Threads, BlueSky and Patreon.
Please consider a tax-deductible donation to help sustain our horizontally-organized, non-profit media organization: