The Price to Oversee ICE: 200+ Protesters March in Aurora Suburb Home to GEO Group ICE Warden
Aurora, CO – On September 19, 2019, as the sun set over the suburban home of Johnny Choate, CEO and warden of the GEO Group's local ICE detention facility, more than two hundred community members gathered with signs, banners, and musical instruments to condemn the warden and the facility.
The protesters congregated outside the Tollgate Crossing Clubhouse where James Rotten, an organizer with Denver Communists, set the tone for the march:
"We want to start with a land acknowledgment. We're on stolen Arapaho, Cheyenne, and Ute land. This is also a reminder that we are not only here to protest the cruel warden of a notorious concentration camp, but to oppose settler-colonialism and support Indigenous sovereignty."

Rotten continued, "Business as usual is murder, and it's perfectly legal and normalized in this sick society." He described the protesters' plan to exercise their constitutional rights to free speech and freedom of assembly. "It's pretty simple, we're going to march to the ICE warden's house, make some noise, then march back informing his neighbors all along the way."
In addition to working as CEO and warden of the private detention facility, Choate also sits on the Aurora Chamber of Commerce's Board of Directors.
The for-profit Aurora facility, or "notorious concentration camp" as Rotten put it, has been violating basic human rights through medical incompetence and neglect. Two recorded deaths have led directly from lack of adequate medical care — Evalin-Ali Mandza and Kaymar Samimi. Detainees' basic human rights have been violated in other alleged or proven ways which can be examined in the five lawsuits filed against the center since 2016 [1] [2] [3] [4] [5].
Three of the lawsuits are active, including a class-action lawsuit alleging the facility has been forcing its detainees to help maintain and upkeep the facility for pay not exceeding $1 per day. The Department of Homeland Security (DHS) allotted ICE nearly 9 billion times that day rate in their budget for the 2019 fiscal year (PDF).
Nine former detainees brought the first suit on behalf of more than 60,000 people. Alejandro Menocal, one of the nine, said "us detainees, we kept Geo running" at a 2014 press conference when the lawsuit was filed.
The second ongoing lawsuit is on behalf of a former detainee Mohamed Dirshe, who was targeted and attacked by other detainees for being gay, and who was not sufficiently protected by guards who knew he was vulnerable. It wasn't until a month after being attacked that he was finally taken to Denver Health where, according to a new report by the American Civil Liberties Union (ACLU) of Colorado (PDF),
"The Denver Health doctor diagnosed Mr. Dirshe with a head injury due to trauma, a neck injury, vertigo due to brain injury and double vision. Mr. Dirshe also received an MRI that showed sensitivity to light, blurriness and pain in the right orbit of his eye. When Mr. Dirshe returned to [the Aurora facility], he requested the lights in his cell be dimmed to ease the discomfort from his light sensitivity. GEO denied his request." – ACLU Colorado in Dirshe v. The GEO Group, Inc.
The third active lawsuit is on behalf of another former detainee René Lima Marín, who according to the official complaint "was suffering so greatly and receiving so little care" that he resorted to legal assistance to try to force the detention center into providing him medical relief.
"Undersigned counsel sent a letter around February l6, 2018, to the detention center's Warden, Johnny Choate, outlining the situation and urging detention center staff to provide Mr. Lima Marín the medical care necessitated by his serious injuries. It was not for two weeks, however, that the detention center doctor finally saw Mr. Lima Marín." – Danielle C. Jefferis, Esq., attorney for René Lima Marín

The new ACLU of Colorado (PDF) report, published one day before the march through Choate's neighborhood, noted that approximately 85% of the nearly 1,500 Aurora facility detainees are asylum-seekers or awaiting other civil legal proceedings.
Another story highlighted in their report is that of Iranian immigrant Kaymar Samimi, who had been a Legal Permanent Resident (Green Card holder) of the U.S. since 1979, but passed away on December 2, 2017 in ICE custody. The ACLU of Colorado filed a lawsuit against ICE on April 9, 2019 (PDF) under the Freedom of Information Act (FOIA) for records about Samimi's death.
ICE released the records one month after the lawsuit was filed. Records showed that five hours after Samimi was detained (for being convicted twelve years earlier for possessing less than a gram of a controlled substance), he was taken to see a nurse, where he informed her that he was having withdrawal symptoms.
Twenty years prior he had endured a serious back injury from a car accident. To manage the severe chronic pain his doctor had prescribed him methadone, a strong opioid, of which he had been taking between 150–190mg daily.
Hours after speaking to the nurse, Samimi met with the sole doctor employed by the facility, who decided to abruptly discontinue Samimi's two decades of daily methadone intake. Fourteen days later, Samimi passed away after suffering through excruciating withdrawal symptoms.
The ACLU report Cashing in on Cruelty: Stories of Death, Abuse and Neglect at the GEO Immigration Detention Facility in Aurora (PDF) also highlights the many outbreaks of mumps and chicken pox over the past eight months:
"The outbreak [of mumps and chicken pox] led to a lengthy quarantine at the facility, which prevented hundreds of detainees from leaving their pods for court hearings, recreation time, or visits with family or attorneys. At least 50 detainees launched a hunger strike to protest the lock-down."
"When immigrants are under attack, what do we do? Stand up, fight back!"
As the march left the neighborhood clubhouse parking lot, Aurora police officers on motorcycles and in cars followed the crowd down East Belleview Avenue toward Choate's house.
The march was followed also by a few neighbors recording on their phones, as well as a handful of individuals associated with far-right group the Proud Boys.
Once the march arrived on Choate's block, there was a group of about 30 neighbors drinking publicly and singing and dancing to Bruce Springsteen's Born in the USA. Springsteen wrote the song as a critique of the country's imperialist military and lack of veteran support, quite the opposite of a patriotic and nationalist celebratory song.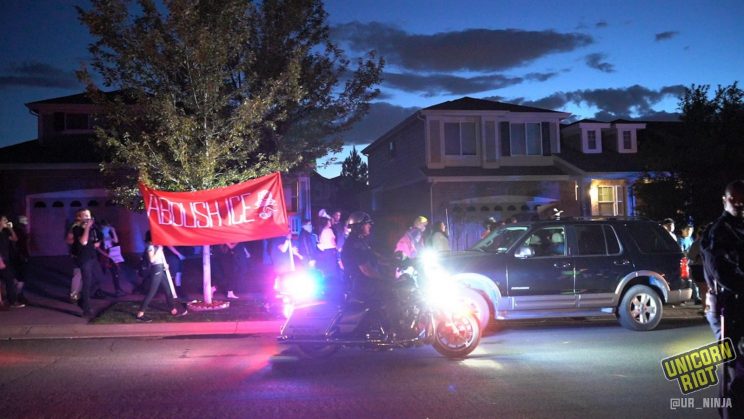 As the neighbors were throwing up their middle fingers behind the protection of armed police officers in riot gear, the protester's continued on marching, chanting "no cops, no KKK, no fascist USA!"
The march reached the end of the block and crossed the street to attempt to return down East Belleview Avenue to the clubhouse parking lot to end the protest. However, the police officers in riot gear had been instructed by their lieutenant to create a riot line to block in the march.
At that point, more intoxicated neighbors began approaching those marching, many recording the crowd with their cell phones. The number of noticeably far-right-identifying individuals had also grown to about 10; they were standing in the street heckling the marchers, saying those protesting settler colonialism and the medical neglect of the private ICE prison should be "ashamed of themselves."
The anti-ICE march crossed the street in front of the riot line and marched passed Choate's house again, where about five police officers in riot gear remained standing guard in his driveway. Protesters marched to the end of the block, and as they started back toward the riot line, the lieutenant gave a dispersal order to the crowd.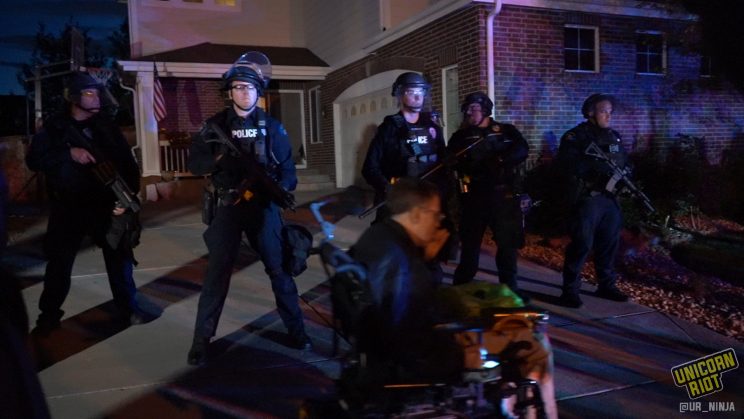 There were about fifteen parade marshals whose duty was to keep protesters safe during march. One marshal approached the lieutenant and explained that the march was in fact attempting to leave, but that the line of riot cops was blocking them and preventing them from doing so. The lieutenant shouted for them to leave in the other direction, and a few seconds later, the riot line began moving forward chanting "Move!" in synchronization.
The march turned around and began moving in the other direction. They had been followed the entire time by the police officers on motorcycles and in cars, and were now also being followed on foot by the police riot line.
Once the march arrived back at the clubhouse parking lot, a few community members shared speeches, and the crowd cheered and celebrated a safe and successful march. People began to make their way to their cars to leave Choate's neighborhood by 9 p.m.
One Detainment and Two Arrests
Kalin Gerrish had just gotten into the passenger seat of his friend's car when he noticed a couple police officers on motorcycles behind them strobing their lights. After Gerrish's friend pulled over, one of the police officers walked up to the driver side door and informed Gerrish of a busted tail light.
A few moments later, one of the commanding officers approached the passenger side door and immediately asked Gerrish where his "little mask" was, where his goggles were, and where his laser pointer was. Gerrish told Unicorn Riot about the incident:
"I showed him the laser. He pulled me out of the car, he pat me down. He told me to sit on the sidewalk. Four police officers were standing around me looking down on me. I heard them say, 'what can we get him with?'"
The police decided they shouldn't arrest him for having been armed with a laser pointer, so instead they gave him a state citation for obstruction of a police officer.
Gerrish added that he was thankful for having "diverted others from possibly getting arrested."
"To take the blow away from members of the community who can't have that happen, because [the police] were just trying to pin something on us. It sucks, but I'll be alright. I know there's some folks whose lives would have been ruined." – Kalin Gerrish
Sidney Farber and Colin McIntosh were inside one of the last few cars of marchers to leave Choate's neighborhood. McIntosh backed out of his parking spot, and right as he pulled forward, at least two police officers got out of a police car and were shining their flashlights in both McIntosh's and Farber's faces.
McIntosh asked the officer by his driver side door if they had done anything illegal, to which the officer replied, "playing music too loudly."
By this time 6–8 police officers were nearby McIntosh's car. The police officer nearest to McIntosh asked to see his ID, and as he was reaching to grab it, the officer yelled "Put your hands where I can see them!"
McIntosh put his hands on the steering wheel. A few moments later, the officer reached into the car and grabbed McIntosh's left wrist. Two other officers pointed long rifles at him.
On the passenger side, Farber asked the officer closest to him if he was being detained, to which the officer said "Yes." Farber told Unicorn Riot that when he asked what for, the officer said "obstruction," then told Farber that if he didn't follow the exact instructions to get out of the car, "I'll dump you."
Farber followed the instructions and exited the vehicle. While he was being cuffed, another officer held a bottle of pepper spray in front of his face. He was then put in the back of a police car.
At this time both of McIntosh's arms were being pulled by two officers through the window of the driver side door, while he was still seat-belted in. Finally one of the police officers unbuckled McIntosh, unlocked his door, and pulled him out of the car and onto the grass.
He too was placed in handcuffs. McIntosh told officers multiple times that,
"my wrists have had chronic problems, but they still kept twisting my wrists and they left my handcuffs too tight."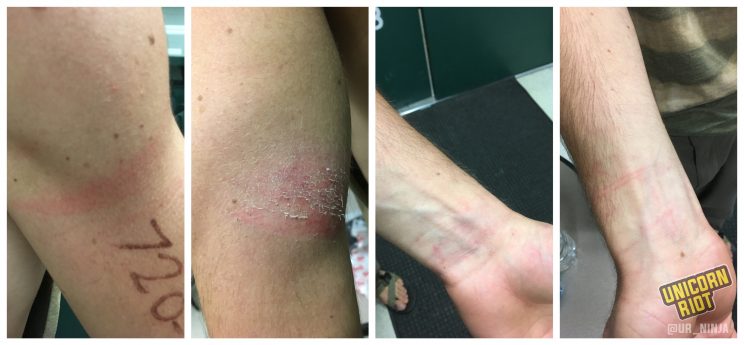 One officer finally loosened his right-hand cuff, but reportedly couldn't figure out how to loosen the left one.
While McIntosh was brought to jail, Farber was driven to a command center set up in a nearby school parking lot where about 30 police officers were standing around. Farber overheard some officers asking "Why is the kid detained?" He then overheard a few of them talking about what to charge him with, saying he couldn't be charged with obstruction because he hadn't been breaking that law. Farber overheard, "Let's get him for violating the noise ordinance. No, not that; disturbing the peace."
"They took my whistle, fingerprinted me, and gave me a court date on a Sunday." – Sidney Farber
Police then drove Farber back to McIntosh's car near the neighborhood clubhouse. Even though Farber had already told the officers that he did not have a driver's license, the officers told Farber that McIntosh had said Farber could drive his car.
An officer asked where the car keys were, then realized they were in the evidence lock-up at the jail. Farber asked how he was supposed to get home, to which an officer responded "Well, you're walking." Fortunately for Farber, he had just enough phone battery left to call a friend for a ride.
"The only reason we were being so loud with our whistle and drum was to drown out the loud Proud Boys yelling derogatory words into a megaphone at all of us." – Sidney Farber
McIntosh was released from jail at 12:30 a.m. on September 20, 2019, after a $500 bail bond had been paid. He went to the doctor later that day to get his wrist checked, and the doctor concluded that his left wrist was sprained.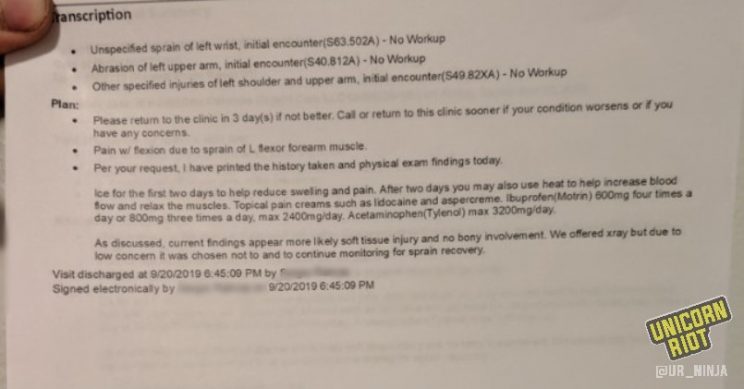 McIntosh said that the police "wanted the protest to look out-of-control, and like we weren't obeying their rules, so they could say 'three arrests'."
The Online Outcry
The march had been publicized through Facebook with the event title "¡Confront La Migra Where They Live!" The event garnered a high amount of attention from media outlets, far-right individuals, politicians, the ACLU, and more, starting as early as a week before the event itself happened.
The editorial board of Sentinel Colorado published a harsh critique a week prior to the march comparing the protesters' tactics to "exactly those of the German Nazi Party and the Third Reich." The editorial board also called the impending protest a "thinly veiled act of extortion and terrorism."
There has been an uptick in popularity by non-leftists of referring to anti-fascist activists/Antifa as 'domestic terrorists' ever since U.S. Senators Ted Cruz (R-TX) and Bill Cassidy (R-LA) introduced a resolution on July 18, 2019 that would classify activists in the anti-fascist movement as such. Cruz and Cassidy's resolution comes two years after the New Jersey Office of Homeland Security labeled Antifa as 'Anarchist extremists'. The 2017 labeling prompted an array of media coverage reinforcing the notion of Antifa as terrorists.
However in the same year, DHS and FBI produced a Joint Intelligence Bulletin declaring:
"WSEs [White Supremacist Extremists] were responsible for 49 homicides in 26 attacks from 2000 to 2016, more than any other domestic extremist movement." 
More recently, FBI Director Christopher Wray testified in July 2019 before Congress that "a majority of the domestic terrorism cases we've investigated are motivated by some version of what you might call white-supremacist violence."
Conservative journalist Andy Ngo tweeted three days before the march to Choate's house, asserting "the group is recruiting people on Facebook." Far-right website Breitbart News published an article two days before the march, its author commenting similarly to Ngo about the alleged use of Facebook in this manner.
U.S. Rep. Jason Crow (D-CO6) expressed his disagreement with the protesters' tactics in a statement: "We need more oversight of ICE facilities, not the protest of individuals at their private home."
Even the very nonprofit organization which just released the scathing report on the Aurora GEO Group's ICE Detention Facility (PDF) expressed disapproval of the protest. Colorado ACLU's Public Policy Director Denise Maes told CBS4 that the protest in Choate's neighborhood was "certainly not something we are supporting, we want them to go to their congressman, Congress people and legislators and ask for change."
Maes even wrote a letter to Johnny Choate prior to the protest stating,
"I do want you to know that the ACLU is in no way supportive of this protest and we certainly are not encouraging it or supporting it in any way."
Members of Congress have been attempting to hold ICE accountable, however their efforts do not seem to be working. In June 2018, then-member of Congress Jared Polis (now-Colorado Governor) sent a letter to Thomas Homan, Acting Director of ICE. Polis demanded to know what actions would be taken by Homan to ensure that ICE upheld its Constitutional duty to provide adequate medical care to detainees, as per the Due Process clause of the Fifth Amendment.
Just months later, during his six-month detainment at the Aurora facility, Dan Courson (U.S. Marshal detainee) was experiencing shortness of breath and chest pains. According to his own account (PDF) as a person who served as a state- and nationally-certified physician's assistant for six years, the staff were "completely incompetent."
"They couldn't operate the gurney, didn't give me any oxygen, nitroglycerin or aspirin. The nurse couldn't even operate the EKG. I had to put on my own leads." – Dan Courson
On May 23, 2019 at the Aurora facility, Miguel Angel Avila Arce's left hand, middle and ring fingers were broken after a guard allegedly slammed them in a cell door. After 30 minutes of neglect, the guard brought him to receive medical attention.
That day Avila Arce had been planning to meet with his lawyer Luis Angel Reyes Savalza to prepare for Avila Arce's hearing regarding his pending application for asylum, which was scheduled for the next day. Because of the incident, he was not able to meet with his lawyer, and therefore, the asylum hearing was delayed.
Pablo Paez, a GEO vice president, released a statement on behalf of GEO Group about the Choate protest:
"These misdirected attacks and intimidation of our employees must stop and we encourage our local leaders to stand against these hateful tactics and push for a return to civil discourse. Remember, our employees are also your neighbors, friends and colleagues, who share the same compassion and professionalism that many other Coloradans pursue in their trades." 
Much of the condemnation of the detention facility has been coming from major political players, not merely from frustrated members of the community. On July 10, 2019, the U.S. House Oversight Committee sent letters to the three for-profit detention companies that contract with ICE: CoreCivic (PDF), GEO Group, Inc (PDF), and DC Capital Partners, LLC (PDF).
The letter to the GEO Group (PDF) mentioned "problems that undermine the protection of detainees' rights, their humane treatment, and the provision of a safe and healthy environment."
Exactly one month before the march to Choate's house, a nationwide class-action lawsuit was filed against ICE, DHS, and others acting in their official capacities regarding the lack of medical care provided to detained immigrants. The lawsuit was filed by the Civil Rights Education and Enforcement Center (CREEC), Disability Rights Advocates, Southern Poverty Law Center (SPLC), and Orrick, Herrington & Sutcliffe, LLP in the U.S District Court for the Central District of California.
As written on the CREEC website:
"The lawsuit challenges the federal government's failure to ensure detained immigrants receive appropriate medical and mental health care, its punitive use of segregation in violation of the Fifth Amendment of the U.S. Constitution, and its failure to ensure that detained immigrants with disabilities are provided accommodations and do not face discrimination as required by Section 504 of the Rehabilitation Act of 1973."
Keeping the Light Shining on ICE
Whether some people view the actions of anti-ICE protesters as uncivil and/or hateful, this does not seem to stifle protesters' continuing commitment to bringing ICE's operations and activities out of the shadows. Protesters' tactics are just one loop in a chain of politicians, lawmakers, business owners, and even GEO Group shareholders (such as JPMorgan Chase & Co.) who are all seeking more accountability and oversight over the actions of the federal law enforcement agency.
"Why should a leading immigration-enforcement official get to have a nice, quiet dinner with their kids after a busy day of abducting parents as they drive their kids to school?
Why should an agent of state terror get to retreat to their safe, luxurious suburban home after overseeing the imprisonment of our neighbors in disease-ridden, life-threatening conditions?" – Coalition that organized protest against Warden Johnny Choate
On September 25, 2019, New York Attorney General Letitia James and Brooklyn District Attorney Eric Gonzalez jointly filed a lawsuit against ICE "challenging the legality of the agency's practice of making civil immigration arrests without a judicial warrant or court order in and around New York State courthouses," according to a statement published by Attorney General James' office.
The statement also mentions a second lawsuit filed by The Legal Aid Society and Clearly Gottlieb which "seeks a permanent injunction ordering the halt of ICE courthouse enforcement on behalf of an individual plaintiff — a noncitizen domestic violence survivor who needed to appear in court for an order of protection, but feared the risk of an ICE arrest coming to a courthouse."
In May 2019, GEO majority shareholders passed a resolution that demanded more accountability from the company regarding its human rights policies and violations. JPMorgan Chase & Co. vowed to make no further investments in the private prison industry, including GEO Group, as a response to the Trump administration's "zero tolerance" immigration policy.
"'Just following orders' is no excuse. That defense didn't work at the Nuremberg Trials and it doesn't work now!" – Coalition that organized Johnny Choate protest
---
Please consider a tax-deductible donation to help sustain our horizontally-organized, non-profit media organization:

Unicorn Riot's Coverage of the Sanctuary Movement and Immigration: