Family Hosts Press Conference/Vigil to Find Alexis Whitehawk-Ruiz
Minneapolis, MN – The mother of Alexis Whitehawk-Ruiz says her daughter has been missing for over a month and the family fears the worst. In an attempt to bring awareness to Whitehawk-Ruiz' disappearance, her family held a press conference and vigil on Dec. 21 at noon at the location she was last known to be at.
Alexis, who also went by the name Lexi, became missing on Nov. 16, 2022. She was last seen in North Minneapolis leaving a house on 24th Avenue and Irving Avenue North at 8:00 p.m. and her cell phone was last located at 919 W. Broadway Avenue North at 8:16 p.m. before the phone was turned off.
She was said to have been in an argument with someone on the phone before leaving. The distance and timing indicate that she walked to that location. She hasn't been seen or heard from since. Whitehawk-Ruiz, 21, is a 5'3″ Native American woman.
Watch the press conference and interviews with the mother, cousin, and friends of Alexis: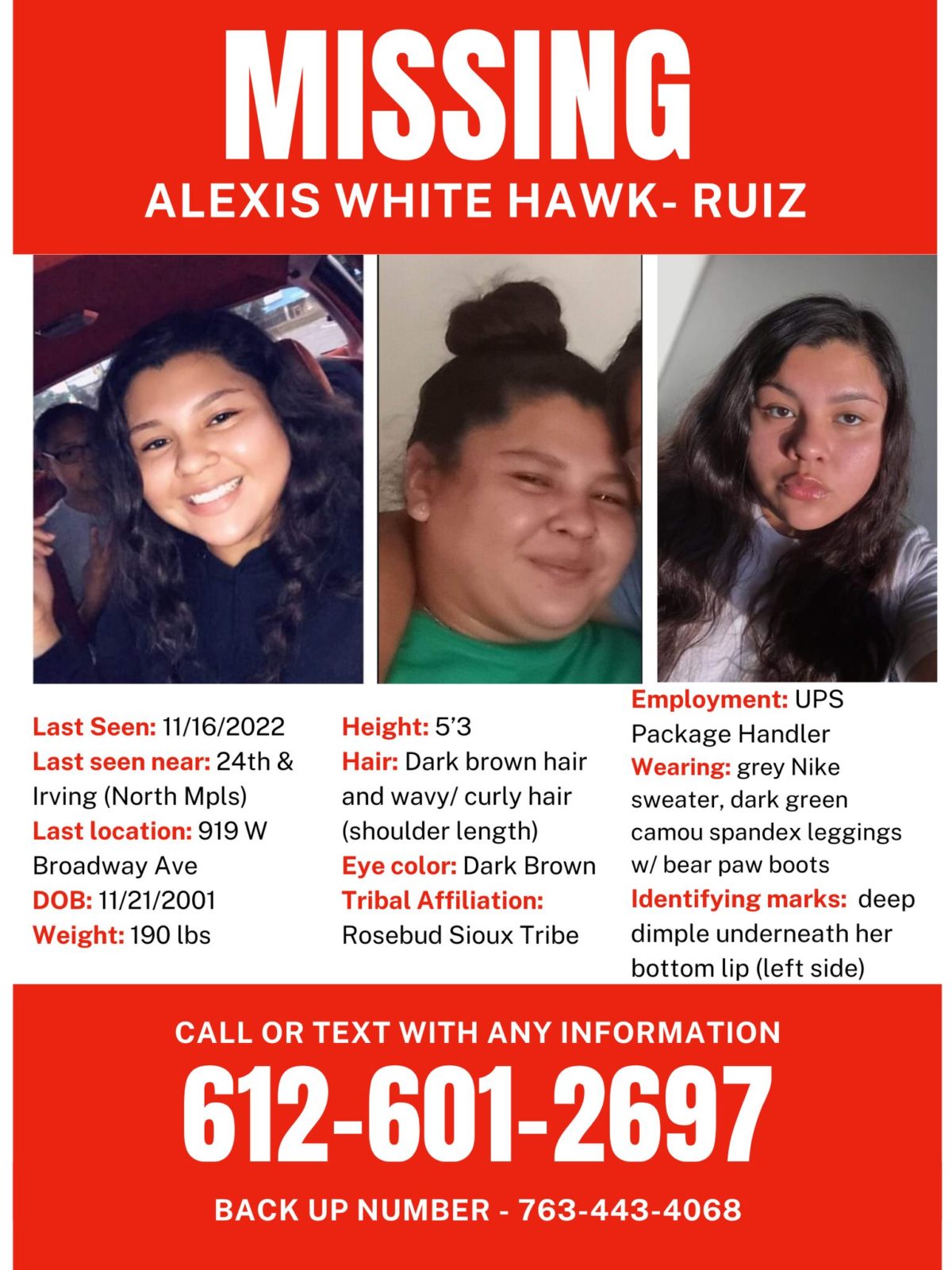 The Minneapolis Police Department (MPD) posted on Facebook on Nov. 22 that they were seeking the public's help to locate Alexis. MPD is investigating her disappearance along with the Minnesota Bureau of Criminal Apprehension.
Teamsters Local 638 posted to Facebook on Dec. 9 about Whitehawk-Ruiz, who was a union member working at UPS, using the hashtag #MMIW, or "missing, murdered Indigenous women."
The family of Alexis has created a Finding Alexis Whitehawk-Ruiz Facebook page to help raise awareness and seek answers and also a GoFundMe page asking for help to hire a private investigator. It's been well-researched that there remains a bias by apathetic law enforcement to respond accordingly to missing persons of color.
The family sent out the following press release before the press conference and vigil:
The mother and family of Alexis White Hawk-Ruiz are hosting a press conference and vigil on Wednesday, December 21st, 12:00 PM – 12:15 PM. We want to bring awareness to the suspicious circumstances of her sudden disappearance, and to find people who may have seen Alexis or heard something or recall seeing anything out of the norm around the time she went missing.

Family, friends and coworkers have not heard from Alexis since November 16th, 2022 which is very unusual as she lives with her mother and keeps in regular contact with family and friends, and is a dependable employee at her place of employment. Her family filed a missing persons report with Minneapolis police after she hadn't returned home and they could not reach her by cell phone. November 21st, 2022 was Alexis' golden birthday, and she was looking forward to turning 21 and going out, but her family, friends and coworkers did not hear from Alexis on her birthday.

It has been over a month, and no one has had contact with Alexis, and she has not used her phone or been on social media since 11/16/22. Her phone was turned off on 11/16/22 at 8:16 PM at 919 W Broadway Ave N. She left home on foot from 24th and Irving Ave N at 8:00 PM, and was arguing with someone on her cell phone. Alexis does not have a car and uses the bus or walks.

Alexis' family still has no information regarding where Alexis is and why she has not been home and has not contacted family, friends or coworkers. A GoFundMe was created to assist with raising funds to hire a private investigator as it is feared that someone may have harmed Alexis; her family wants to bring Alexis safely home now!

A Facebook page was created to raise awareness and to assist with Finding Alexis Whitehawk Ruiz: facebook.com/profile.php?id=100088775440450&mibextid=LQQJ4d.

Alexis was last seen at 8 p.m. on Wednesday, November 16th. Alexis was in an argument on her cell phone when she left her house on the 2400 block of Irving Ave N. She has not been seen or heard from since. Alexis has shoulder-length, curly brown hair and often wears it in a bun. Each of her ears is pierced twice. She was last seen wearing a gray pullover sweater, camouflage yoga pants, and black Bearpaw boots. Alexis has a noticeable dimple on her left cheek.

Alexis uses public transportation or rideshare services. She often spends time at an apt on the 1400 block of Spruce Place. The MPD GO# on this case is 22-274949.

MISSING – Alexis White Hawk-Ruiz
21 years old, Native American
Last contact was 11/16/22
Last seen leaving 24th & Irving Ave N, Minneapolis
Height is 5'3" and weight is 190-200 pds
Brown curly hair and brown eyes

***

Please call any of the numbers below and contact family if you know anything about Alexis' disappearance or saw her the evening she went missing.

CrimeStoppers 1-800-222-TIPS (8477)
Aunt Veronica 651-392-1290
Grandmother Audrey 612-788-4006
Myrna Cetan Ska on facebook
---
Ongoing Coverage around Murdered and Missing Indigenous Women and Relatives:
Follow us on X (aka Twitter), Facebook, YouTube, Vimeo, Instagram, Mastodon, Threads, BlueSky and Patreon.
Please consider a tax-deductible donation to help sustain our horizontally-organized, non-profit media organization: