Three MMIW events in Minneapolis Demand Justice
Minneapolis, MN – Our journalists documented a series of events that are part of a push for justice for "Missing and Murdered Indigenous Women, Girls, Boys, LGBQI, Two Spirit and Transgender Relatives" in Minnesota.
2019 Missing and Murdered Indigenous Women Event from Unicorn Riot on Vimeo.
Since last year's annual MMIW events, state legislatures in Washington, New Mexico, North Dakota, Montana and Nebraska have put forth bills to create task forces to collect data on Murdered and Missing Indigenous Women. At the federal level, a previously defeated bill has been reintroduced that would require annual reporting on statistics around specific MMIW issues in the United States. Currently, in Minnesota, bill HF70, which would create a task force focused around MMIW issues, is working its way through legislative committees.
HF0070-1

It's uncertain how any of the bills and task forces efforts will unfold, but in Minnesota, indigenous communities continue to hold events to hold space for, and address, the ongoing epidemic of murdered and missing indigenous women. The events Unicorn Riot documented this year consisted of an art build, a march, and an art exhibit.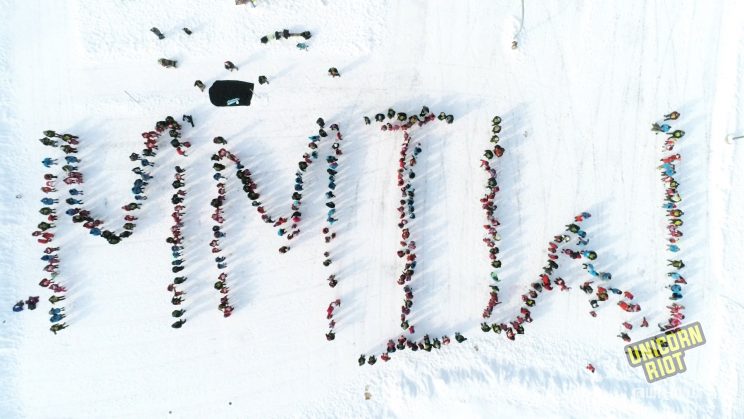 The art build was held at the Minnesota Indian Women's Resource Center (MIWRC) and organized to prepare for the "March for Missing and Murdered Indigenous Women, Girls, Boys, LGBQI, Two Spirit and Transgender Relatives." [Recorded Livefeed of February 13, 2019 Art Build. Runtime – 33:38]
The small gymnasium in MIWRC was filled with community members, some working at tables covered with art supplies, and others chatting softly over food.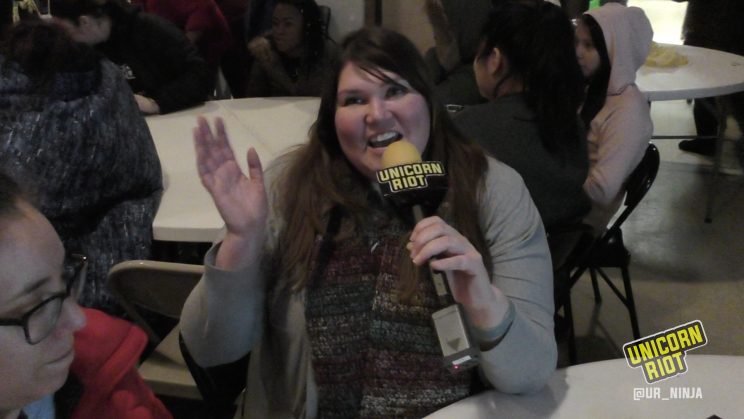 We asked Elizabeth Day about the event and she told us,
"It's such a incredible sense of community. Everyone wants to really participate and be creative together and visit together and just join and eat there's a ton of laughter and tons of conversations about serious things. But together, as a community. It's a great way to process, and to hold a space for this topic."
One corner of the gym had multiple tables where artists worked together with community members to screen print "Justice for Missing and Murdered Indigenous Women" on articles of clothing.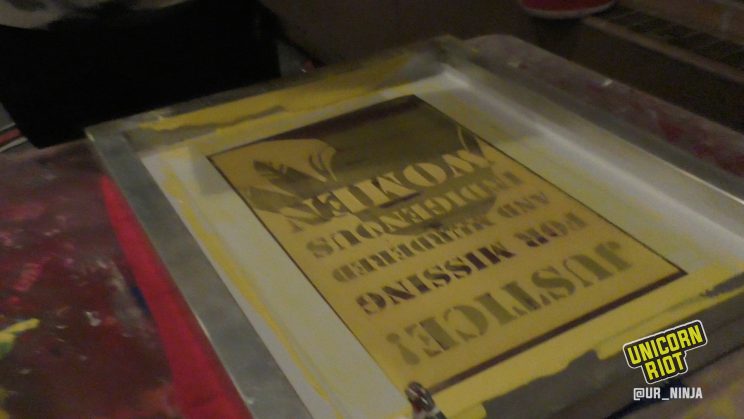 We spoke to one of the artists about the process of screen printing the image onto clothing. She told us,
"The screen-printing is a tool to communicate with other people. And the message today is that the lives of women, indigenous women are important and they've gone missing and they've been murdered. And so for us to be able to have that image, and wear it publicly is really powerful, and showing others how to do that is powerful too."
The following day, our team arrived at the Minneapolis American Indian Center to document the 'March for Missing and Murdered Indigenous Women, Girls, Boys, LGBQI, Two Spirit and Transgender Relatives'. [Recorded Livefeed of February 14, 2019 March & Rally. Runtime – 1:51:21]
The family of Corrina Day-Earley spoke at the rally before the march. They told those gathered about Corrina, whose life was taken May 22, 2018, in Tower, Minnesota, and their Father Clyde George Day, who was murdered November 10, 1973, in Virginia, MN.  The family members said they had yet to receive justice for their loved ones.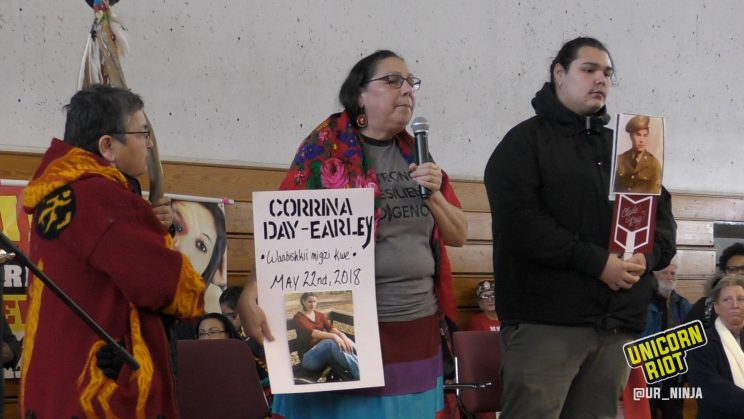 Doreen Day told those gathered,
"I would like to encourage you all, to think of about those that have gone on now whose lives have been cut short, those that have left us in the most violent way, but yet they are they our ancestors. I advise, I beg you, I suggest to you, to say their name."
Another speaker, Scheherazade Tillet, from A Long Walk Home, a Chicago nonprofit whose members have been tracking violence against black women and girls asked those gathered, "What does it mean to really show up for one another as indigenous and black girls? And how does our solidarity impact the future for our liberation?"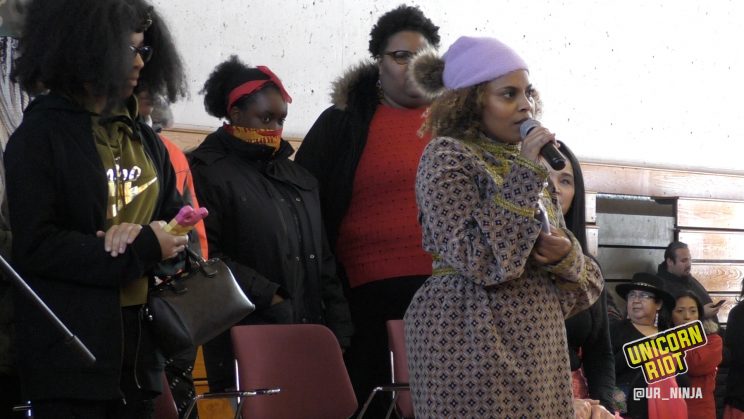 Minnesota Lt. Governor Peggy Flanagan took the stage and stated that the government needed to see and invest in indigenous women.
"It is time for our leaders to see #Indigenous women.." – @LtGovFlanagan spoke about the creation of a Task Force for Missing & Murdered Indigenous Women (#HF70) during the #MPLS2019MMIWR.

See our #Livestream of #Minneapolis' #MMIW rally & march: https://t.co/i8ZbV5WJwX pic.twitter.com/tfzmNhMdjB — Unicorn Riot (@UR_Ninja) February 15, 2019
After the speakers, people marched out of the American Indian Center and followed the youth and elders on the march.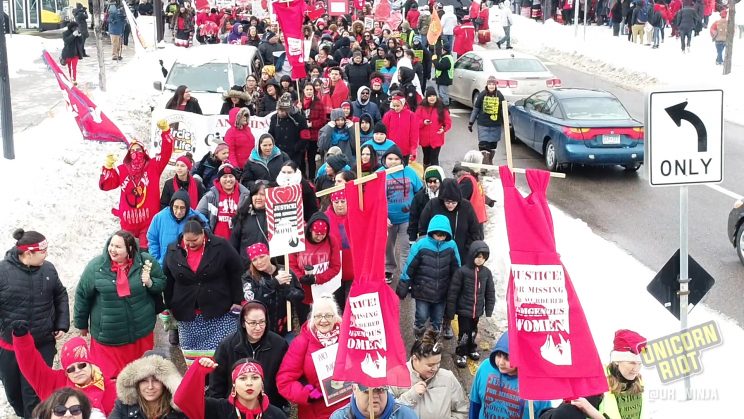 Singers sang a 'Women's Warrior Song' throughout the march. The history of this song was described in the event information:
"The Song we sing on the Walk has multiple names: The MMIW Song, the Indigenous Women's Warrior Song, and others. To honor our Herstory, we share the origins, as we know it. We came to learn the song through Karlee Fellner (Cree/Metis) from Devon, Alberta. She came to know this song through Young Leon (Cree & Anishinaabe) and Dorothy Christian (Secwepmec). They taught her that the song came through ceremony to the women of the St'at'imc (pronounced "stat-leum") Nation in 1990 during the Oka crisis, when the Mohawk people were defending their territories against the Canadian military."
The last MMIW event we documented, on February 14, 2019, was an opening of the art exhibition "Bring her home: Stolen Daughters of Turtle Island".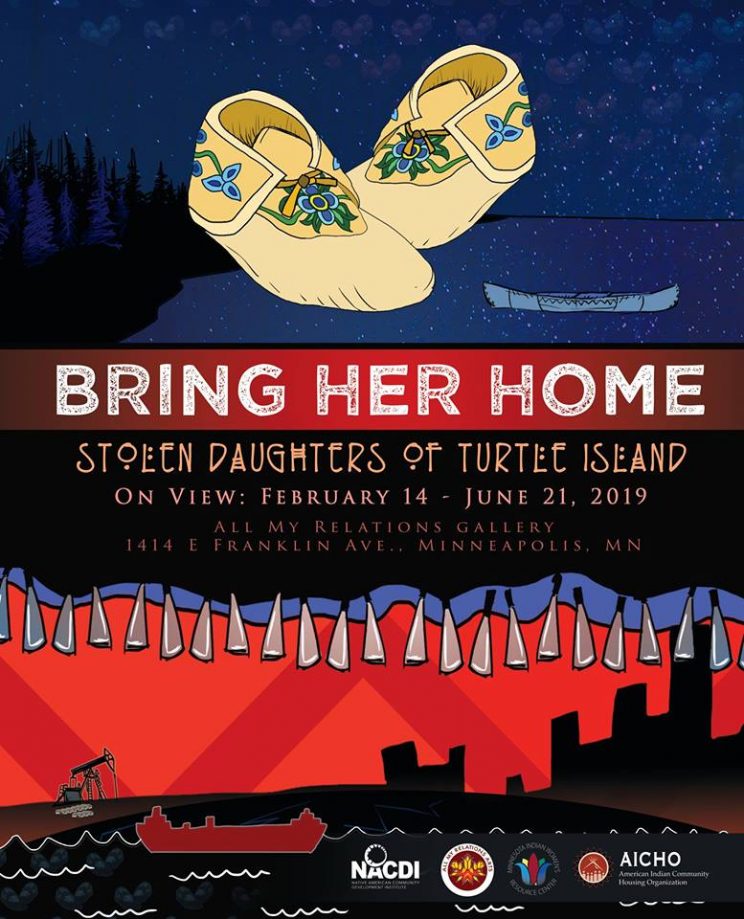 We were able to speak to the curator, Angela Two Stars, who returned for their second year of curating the exhibition at All My Relations gallery. The exhibition features art by Jaune Quick-to-See Sith, Avis Charley, Molly Murphy Adams, Karen Goulet, Angela Babby, Wade Patton, and Leah Yellow Bird whose work highlights the ongoing MMIW epidemic. Curator Angela Two Stars told us about the exhibit,
"I thought about the audiences that was coming to see the show. I wanted them to be able to experience this in  safe place, to be able to experience those emotions and to raise awareness to the public that this is an ongoing issue."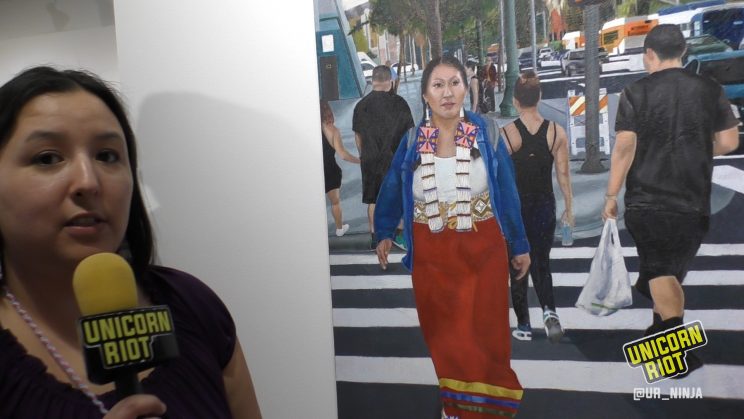 [Recorded Livefeed of February 14, 2019 Art Exhibition. Runtime – 39:18]
The march, art build, and exhibit, are just a small cross section of the ongoing organizing around Murdered and Missing Indigenous Women, Girls, Boys, LGBQI, Two Spirit and Transgender Relatives in Minnesota. These yearly marches and events continue to bring this call for justice to the forefront of conversation. Keep following Unicorn Riot for more updates.
---

Ongoing Coverage around Murdered and Missing Indigenous Women and Relatives: