Kim Potter Sentenced to 24 Months in Prison for First-Degree Manslaughter
Minneapolis, MN – On Friday, former Brooklyn Center police officer Kim Potter was sentenced to 24 months in prison for the April 11, 2021 fatal shooting of unarmed 20-year-old Daunte Wright during a traffic stop. Judge Chu cried after sentencing Potter, watch the hearing below. Potter's anticipated release date from prison is now April 24, 2023.
"It is the sentence and judgement of this court that you shall be committed to the custody of the commissioner of corrections for a period of 24 months, you shall serve 2/3 of that time or 16 months in prison, and 1/3 on supervised release, assuming no disciplinary offenses or conditional release violations."

Judge Regina Chu's sentencing of Kimberly Potter
Before the sentencing by Judge Regina Chu was announced, Wright's parents, two of his siblings, and Daunte's son's mother, read aloud victim impact statements to the court.
Daunte's mother Katie Wright (Bryant) spoke first. She gave an emotional statement relaying her feelings since Potter killed her son. She said she's had many sleepless nights contemplating what she would say during the victim impact statements.
Katie referred to Potter as the "defendant" and mentioned how Potter never said Daunte's name when she took the stand, only referring to him as "the driver." So, she said she wasn't going to call Potter by her name and give her that respect.
Katie spoke about seeing her son's body dragged from the car and having to watch from behind the crime scene tape. She said she continually feels a sinking feel like how you lose your child in a grocery store, you can't feel him or see him, and you don't know if he's okay.
While Daunte was dying, Katie said the defendant was rolling on the ground on the grass crying for herself rather than calling out or crying for Daunte and for people to go save him.
Katie said the defendant didn't seem sympathetic at all and never made eye contact with the family during the trial. Katie asked Judge Chu to sentence defendant Potter to the highest accountability.
Aubrey Wright, Daunte's father, spoke about watching his son sleep and imagining how he would grow up, how he had watched Daunte walk as a baby and then saw Daunte's child be born. He said his heart hurts now thinking about how Daunte's son won't have his father in his life and will only remember his dad through stories because of Kim's "recklessness."
He said Potter didn't only kill Daunte but that her shooting him in the heart also damaged his whole family's heart, and every time they get together now "it always ends in tears."
Damik Bryant, Daunte's oldest brother, spoke about playing games with Daunte and growing up with him. He read a poem aloud, which included the line: "If our love could have saved you, you never would have died."
Daunte's sister Diamond Wright spoke about her heart being shattered from Potter's action, which she said was not an accident. She said that Potter should've been charged with murder, not manslaughter, and called for the highest sentencing amount. She said "he could light up a stadium with his smile and laugh." She said she now feels "like an empty body just taking up space."
The mother of Daunte's son, Chyna spoke. She shared how she shows Daunte Jr. pictures of Daunte and he responds by saying "dada." She also said how she suffers from severe PTSD and how when she's been pulled over, she has horrible anxiety about making any mistakes and fears being killed by police. Although, she said she doesn't want her son to be afraid of police. She hoped Kim Potter would be sentenced to the highest amount for executing her son's father.
Both Katie and Damik mentioned how disrespected they felt seeing Potter smile in her mugshot photograph after being convicted.
Our twitter threads from the sentencing can be viewed below.
After the sentencing, Daunte's parents spoke about feeling disappointed and let down by the justice system because of the low sentence.
With the sentencing, Potter is slated to get out of prison before May 2023. She will likely continue being housed in the administrative segregation unit as opposed to general population. This is done for fears of potential reprisal attacks against Potter if she were in the prison's general population.
"I believe the sentencing in the Kim Potter trial represents a "doubling down" on systemic injustice for Black Americans."

Anonymous resident said to Unicorn Riot after hearing of the sentence
See the court's sentencing documents (Sentence Order, Sentence, and Departure Report) merged into one document below:
Kim-Potter-Sentencing-documents

Potter was found guilty of both first and second-degree manslaughter on December 23, 2021, after a two week jury trial. For Unicorn Riot's coverage of the Kim Potter trial, see here.

Potter's attorneys Paul Engh and Earl Gray filed motions on January 31, 2022 requesting the court sentence Potter to less time than the standard range of 6 to 8 1/2 years, or sentence her only to probation.
In the motions for durational departure and for dispositional departure filed by Engh and Gray, they cite Daunte Wright as "an aggressor in the incident" and Potter as already "branded for the rest of her life," saying how a prison sentence of any length will make her vulnerable "to victimization," make her "a walking target," and in addition, further the demoralization of Minnesota law enforcement.
Charles "Chuck" Valleau, acting president of the Law Enforcement Labor Services Local #82 union, wrote an e-mail to Attorney General Keith Ellison, which Engh and Gray quoted in part in their motion for dispositional departure.
"I urge you to send a strong message of support to the law enforcement officers in this state and have Kim Potter sentenced to probation. Kim Potter was trying to do her job, a very difficult job that many people are walking away from right now. She made a tragic mistake that has already ruined her life and career. Putting her in prison will not change what happened and will not stop an accident from happening again in the future."

Charles "Chuck" Valleau, acting president of the Law Enforcement Labor Services Local #82 union
Kim Potter was a police officer for 26 years, and had received firearms proficiency training each of those years, and taser proficiency training every year for nearly 20 years. The prosecution argued these facts during the trial, which concluded with Potter being found guilty of first and second-degree manslaughter.
The maximum sentence for first-degree manslaughter in Minnesota is 15 years, yet the prosecution requested the presumptive sentence of 86 months (7.16 years) in accordance with state guidelines. (Under Minnesota law, a defendant can only be sentenced on the most serious conviction.)
"Daunte Wright's death must not be ignored or even minimized. The degree of Defendant Potter's recklessness in handling her firearm and causing Daunte Wright's death cannot be excused or even minimized. The presumptive sentence takes into account the main elements of the conviction: the death of Daunte Wright and Defendant's recklessness."

State's Memorandum of Law Regarding Sentencing
Although the state expressed preference in a prison sentence, they offered necessary minimum conditions if the court decided to sentence Potter to probation:
Defendant should serve one year in jail to reflect the seriousness of Daunte Wright's death
Defendant should speak publicly about the dangers of weapons confusion to law enforcement agencies
Defendant should make herself available to the Wright family if they decide, at a time of their choosing, to speak with her about their loss
Defendant must remain law abiding
Defendant should be placed on probation for a period of 10 years
Minnesota's Attorney General Keith Ellison wrote in the state sentencing memo that they don't support the durational departure, yet they recognize "this is a unique case given the context."
Potter's "recklessness" led to a week-long rebellion outside the Brooklyn Center Police Department (BCPD), which happened concurrently with the Derek Chauvin Trial for killing George Floyd. The location where Wright was killed is also only a few miles from the courthouse.
Incensed by Potter's actions, outrage from the community was swift and widespread despite a large National Guard and law enforcement build-up called Operation Safety Net that reigned over the Twin Cities for over a month.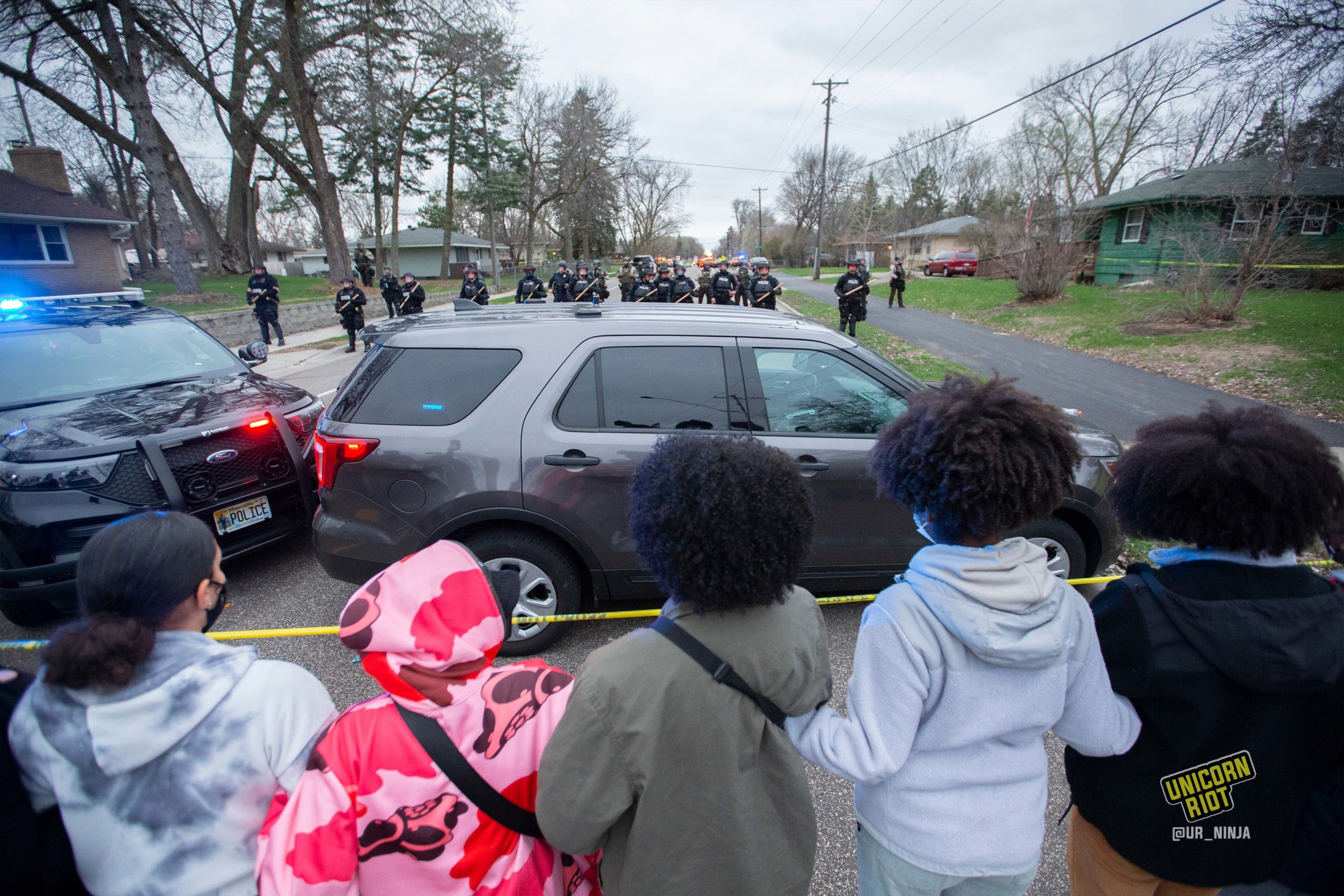 After protests moved from near the scene of the killing to BCPD, police unleashed a barrage of violent attacks on the crowd. Hundreds of "less-lethal" crowd control munitions were shot at the hundreds that gathered. Dozens of people were injured the first night, including at least one person who was concussed from being shot several times in the upper extremities.
Subsequently, shops across the metro area had goods expropriated from them. Roving bands of cars drove up to stores and passengers filled their arms with merchandise.
For the next week, an array of law enforcement met protesters seeking justice for Daunte Wright and the press documenting the unrest with particular violence.
Body camera footage from Kim Potter killing Daunte Wright was released to the public the day after the incident. Brooklyn Center's police chief and city manager were sacked, and Potter was allowed to resign and charged with second-degree manslaughter (culpable negligence creating unreasonable risk).
Potter was then booked into the Hennepin County jail on April 14 and bonded out within a few hours. Acting as personal security, law enforcement posted at Potter's house as guards and concrete barricades were placed around her suburban home after her release. Potter lived with her husband who was a police officer for 27 years.
On September 2, Potter was charged with an additional felony: first-degree manslaughter predicated on alleged reckless use/handling of a firearm. Jury selection in the trial of State of Minnesota vs. Kimberly Potter started on November 30, 2021.
Since her conviction on December 23, she's been incarcerated in the Shakopee Women's Prison (MCF-Shakopee).
In the immediate aftermath, Brooklyn Center Mayor Mike Elliott started the process of reforming the public safety system in Brooklyn Center with The Daunte Wright and Kobe Dimock-Heisler Community Safety and Violence Prevention Resolution.
Unicorn Riot's Coverage of Daunte Wright - Killed by Police:
---
Follow us on Twitter (aka 'X'), Facebook, YouTube, Vimeo, Instagram, Mastodon, Threads, BlueSky and Patreon.
Please consider a tax-deductible donation to help sustain our horizontally-organized, non-profit media organization: