Vigil Marks Three Years Since Police Killed Philando Castile
Falcon Heights, MN – Three years to the day after the police killing of Philando Castile, a 32-year-old school cafeteria worker, about 100 people gathered in remembrance. At the site of Castile's death in a St. Paul suburb, his family was joined by community members, activists, school teachers, children and elders, a Ramsey County Sheriff's Deputy and the Ramsey County Sheriff himself, Bob Fletcher.
On the grass near the site of Philando Castile's death is a Peace Garden that has been tended for three years now, with flowers and a memorial. A newly laid flower art installation was created by the healing and artist group, Flower Power. At the vigil, Valerie Castile, Philando's mother, thanked the crowd for coming and for supporting her during these last three years, saying that they've been the "inspiration" for her actions that include paying lunch debts and fighting for change in policing.
Among those who spoke at the vigil were Alysza Castile, Philando's sister; Monique Cullars-Doty, whose nephew Marcus Golden was killed by St. Paul police; John Thompson, who worked with Philando for 11 years in the schools; and renowned singer Jamela Pettiford, who concluded her speech with a song. A prayer was held and an announcement was made that there will be a blue bench dedicated to Philando at the Minnesota State Fairgrounds, near the grandstand.
Valerie has been a mother on a mission since the killing of her son. Valerie created the Philando Castile Relief Foundation, which helps victims of gun violence and pays off children's school lunch debt, honoring her son's legacy as a cafeteria worker who knew the importance of students being well-fed. She has pushed hard in the public eye for police reform and also helped build a network of grieving mothers and family members of police shooting victims who support each other.
"If y'all didn't come out here and support me, it would have been so much easier for me to just withdraw into my hurt and pain and my decisions, but I got y'all pushing me and coming out and supporting me. And that's why I do what I do, because it's my responsibility, your responsibility, your obligation, to take care of our children." – Valerie Castile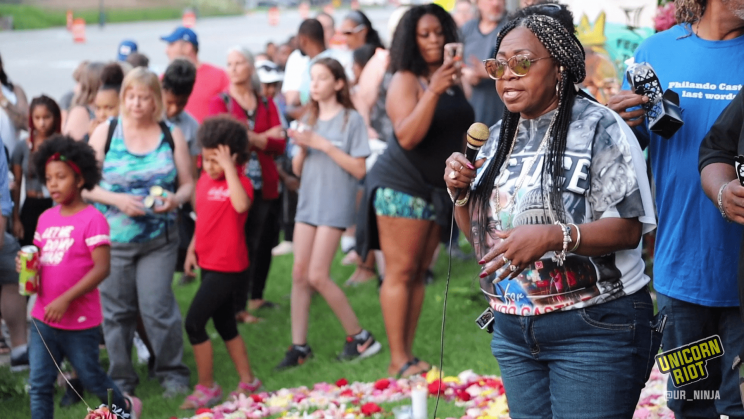 Valerie spoke about how difficult it has been to be raising Black children and how she lived in fear every time they left her sight.
"To be a Black mother or have a Black child, to know when they leave out of the door that your heart stops, you just have that anxiety that, you know, you just feel so tense, and you can't have a release until your child comes back in the door. And that's the way we live. Stress. Stress. Day after day stress. That's how our Black mothers feel."
On July 6, 2016, Philando was driving down Larpenteur Avenue with his girlfriend and her daughter when he was pulled over by St. Anthony Police Officer Jeronimo Yanez. Yanez said he pulled Philando over for a busted taillight and then said that Castile, with his "wide-set nose" "fit the description" of a person wanted for robbery. When Yanez was asking for Castile's ID, Castile mentioned he had a registered gun. As Castile reached for his ID and registration, Yanez fired seven shots at Castile, killing him within seconds.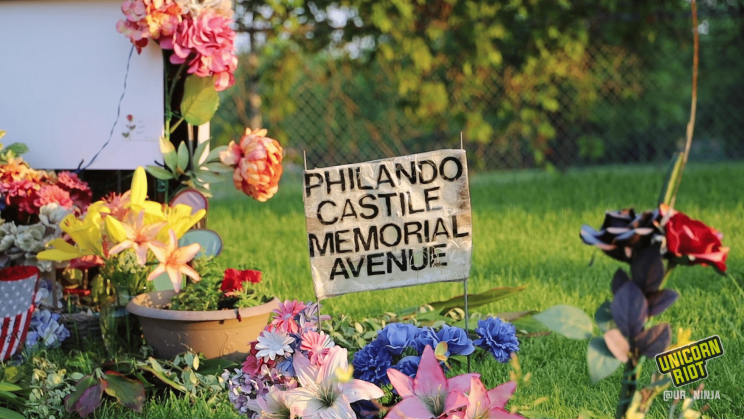 Philando's last moments and breath were broadcast on Facebook live by his girlfriend Diamond Reynolds, whose baby girl was in the back. Both Diamond and her four-year-old daughter were inches away from being shot.
A massive protest movement would engulf St. Paul during the subsequent months after Castile's killing. Police targeted perceived protest organizers and arrested about 200 people in their attempts to quell dozens of protest actions and disruptions, including a riot on Interstate 94, the blockading of Interstate 35, and an extended occupation of space outside of the Governor's Residence in St. Paul.
Jeronimo Yanez, the officer who shot Castile, was charged with second-degree manslaughter and two felony counts of dangerous discharge of a firearm by Ramsey County Attorney John Choi. After a tense and emotional trial and five days of deliberation by the jury, Yanez was found not guilty on all counts.
During a livestream two days before the Yanez decision was made, we spoke with Pastor Danny Givens Jr. about his interpretations of the Yanez trial. Pastor Givens' little brother had been best friends with Castile.
It emerged that Yanez had attended a 'fear-based' police training course called 'Bulletproof Warrior' two years before killing Castile. After Philando's death, the training became a focal point for community activists. Some police departments later stopped allowing officers to attend the trainings.
Communities United Against Police Brutality (CUAPB), a Twin Cities based organization that helps community members deal with violence by law enforcement, released the full Bulletproof Warrior training manual to the public during a protest demanding an end to the trainings. Valerie Castile spoke at this event in front of the Mall of America, and said that they were training the police "to become terrorists".
Two months later, in July 2018, CUAPB hosted an event called 'The Truth About Fear-Based Training: A Forum on Police Education' which featured a panel and significant audience responses in regards to police and police training. Professor Dr. Raj Sethuraju spoke about the Western world's conceptualization of fear that has held grips over the mechanisms of the police force in the United States of America and further drives implicit biases.
"The idea of fear is based on racialized ideology, white supremacist ideology, that has been perpetuated in this past 400 years is still very much alive. So, when we train law enforcement officers, when people make associations with fear-based training, we continue to harness that racism in all our training." – Dr. Raj Sethuraju
The stretch of Larpenteur Avenue that Castile was pulled over on has a troubled past, with local police engaging in high rates of racial profiling. The suburb of Falcon Heights had arranged for their town to be patrolled by police officers from the nearby city of St. Anthony; Jeronimo Yanez was one of those St. Anthony Police officers patrolling that area when he killed Castile. The city of Falcon Heights cancelled their contract with St. Anthony in late 2017, and signed a new one with the Ramsey County Sheriff's Office.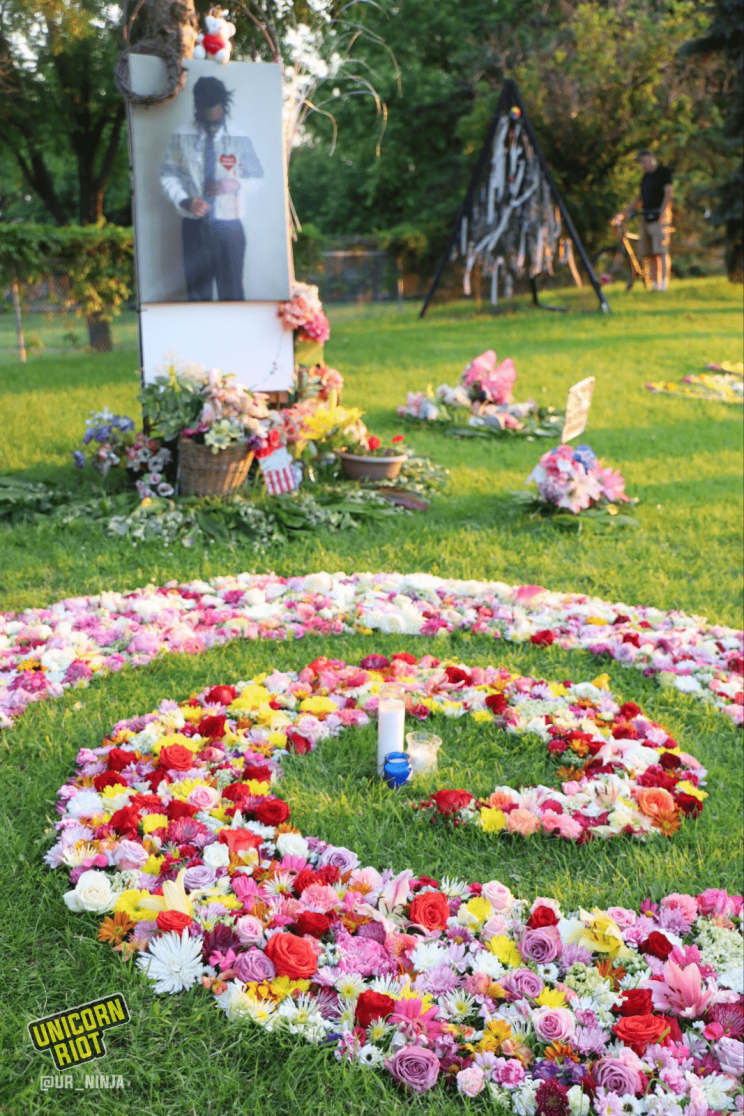 Philando's killing led to an uproar in the Twin Cities community, triggering several massive protests and riots, as well as international outrage. Although Castile's mother and family were not able to get justice for Philando in the courtroom, his legacy lives on through actions, artists, prayers, and positive changes. Two weeks after Yanez's acquittal, Valerie Castile receive a near $3 million settlement from St. Anthony's insurance carrier and has used it to help create the Philando Castile Relief Foundation. In addition to paying off student debts, the Foundation pushes for police training and policy reform, has created police killing tool kits to help investigations against police, and helps build community among many family members of victims of police killing.
---
Unicorn Riot coverage of Philando Castile's Killing by St. Anthony Police Officer Jeronimo Yanez:
---
Please consider a tax-deductible donation to help sustain our horizontally-organized, non-profit media organization: