The Daunte Wright Shooting: What We Know So Far
Brooklyn Center, MN – On Sunday, April 11, 2021, in the Minneapolis suburb of Brooklyn Center, former police officer Kim Potter shot and killed 20-year-old Daunte Wright. After pulling him over for expired tags, Brooklyn Center Police (BCPD) officers on the scene learned that Wright had an active arrest warrant. As police tried to arrest Wright, a struggle ensued which resulted in Potter shooting and killing Wright with a single shot from her standard-issue Glock pistol. Wright's girlfriend was with him in the passenger seat at the time of the shooting.
Potter, a BCPD field training officer, claimed that the shooting was an accident as she supposedly thought she drew her taser, not her firearm. News of the shooting quickly spread through social media and word of mouth, leading to a large protest Sunday afternoon. The protest started at the scene of the shooting and ended up at the Brooklyn Park police station in the evening. Widespread expropriation of goods from corporate stores occurred Sunday night across the metro area, primarily in South Minneapolis and Brooklyn Center. 100 National Guardsmen were deployed to Brooklyn Center on Sunday night.
In response to protests, the BCPD in conjunction with the Minnesota State Patrol deployed riot teams to protect the police station; officials at a later press conference called this a 'mobile field force'. Unicorn Riot was on the scene to record the first of numerous ongoing clashes between community members and police. Many among the protesters used umbrellas and makeshift barricades to protect themselves from police pepper spray, gas, and munitions. Some protesters threw water bottles, rocks or other items at police, often in direct response to cops shooting munitions at the crowd.
Police confrontation with the community has so far led to more than 134 arrests and an unknown number of injuries. Some of those arrested have been cited and released, others have been held for 36 hour holds on probable cause riot charges. Many of the riot charges appear to be based merely on possession of a gas mask.
Numerous buildings, including parts of the police station, were vandalized and over 20 businesses were looted throughout the Twin Cities. Solidarity demonstrations were also held in several major U.S cities including Portland, San Diego, New York City, and Philadelphia.
See Previous Coverage On Daunte Wright
State Response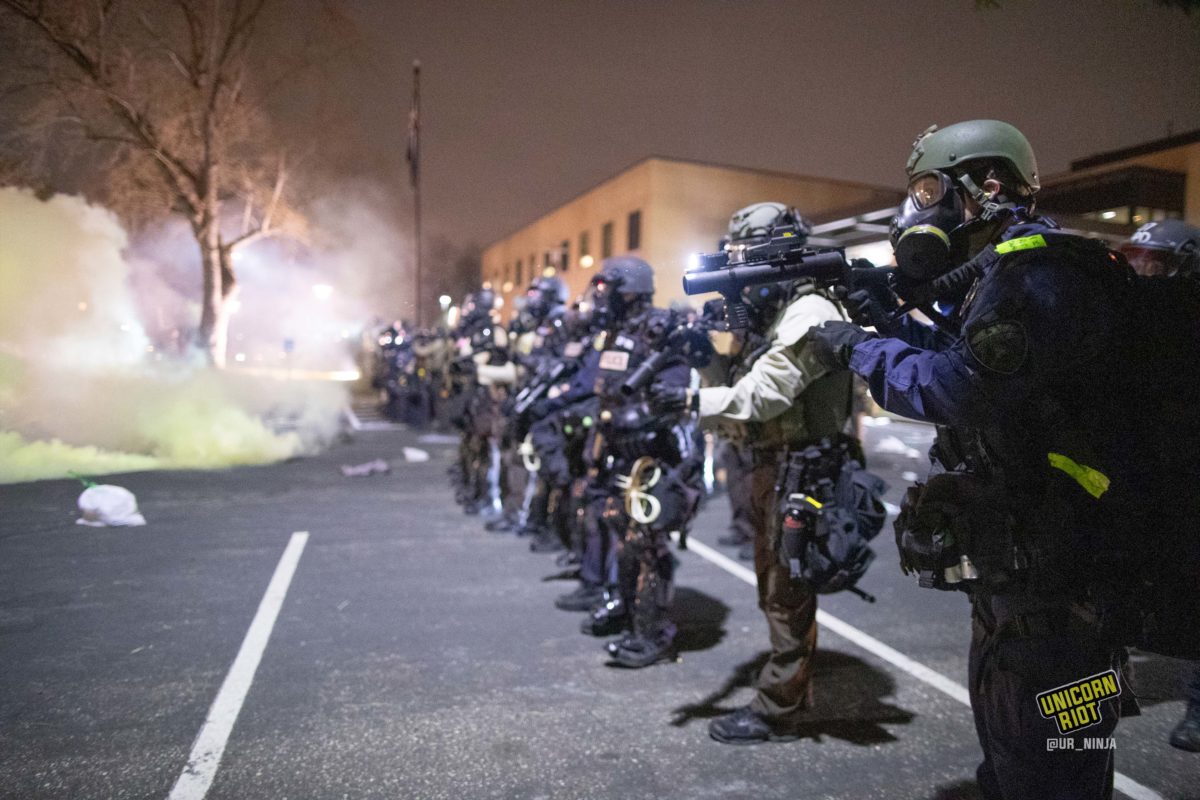 Hours after the shooting, Brooklyn Center Mayor Mike Elliot held a press conference with then-police chief Tim Gannon where they showed a select portion of the bodycam footage and also announced a curfew from 7 p.m. Monday until 6 .m. Tuesday. Gov. Tim Walz later announced that this curfew would apply to all 2.5 million residents within the Twin Cities metro core, specifically Hennepin, Dakota, Ramsey and Anoka counties. Chief Gannon resigned on Tuesday, and Brooklyn Center City Manager Curt Boganey was fired the same day.
Members of the Minnesota National Guard have been supporting the large police forces in Brooklyn Center, which have included numerous different city and county agencies. On Thursday, the National Guard announced that 3,000 guardsmen had been activated to occupy urban streets across the metro to support "Operation Safety Net". ('Operation Safety Net' is a branded front for the multi-agency police operations that arose when state and local authorities found themselves unable to control the Twin Cities area during the George Floyd uprising in May and early June of 2020.)
As is standard policy with police shootings, the Minnesota Bureau of Criminal Apprehension (BCA) initiated an investigation. The prosecution was moved to Washington County under an agreement to swap cases among metro county attorneys. Pete Orput, the county attorney in Washington County, charged Potter with felony second degree manslaughter. Orput is also the longtime attorney of the Minnesota Chiefs of Police Association, raising questions of a conflict of interest.
Potter was released on Wednesday, the same day of her arrest, after posting $100,000 bond.
The police have used a wide variety of "less-lethal" munitions on the grieving and frustrated crowd. Made from Combined Systems, Safariland, and Defense Technology, the munitions have included but not limited to: CS gas, HC gas, 40mm marker rounds of various colors, diversion devices, inert balls, inert grenades, and pepper spray.
Various officials have used the multi-agency nature of 'Operation Safety Net' to shift responsibility away from themselves. If Brooklyn Center Mayor Mike Elliott and Minneapolis Mayor Jacob Frey are to be believed, Hennepin County Sheriff Mike Hutchinson is the one actually commanding law enforcement on the ground.
Community Response
In spite of the curfew and harsh weather conditions, many people, mostly youth, continued to gather and protest in the streets on Monday, Tuesday, and Wednesday nights. Unicorn Riot was live in Brooklyn Center to cover a demonstration where riot police clashed with protesters around the Pump n' Munch gas station at 69th Ave. N. and Humboldt Ave. N.
What the Bodycam Shows
The footage shown during the initial press conference was filmed from former BCPD Officer Kim Potter's body camera. The video shows two unknown male police officers, along with Potter, surrounding Daunte Wright's vehicle. As the three officers move to arrest Wright, Potter tells the officers that Wright has a warrant. In the process of the arrest the officer stops and tells Wright, "don't do it".
Wright does not appear to be struggling at this point as he tells the arresting officer, "I'm not doing nothin". Shortly afterwards Potter approaches Wright and grabs his right arm at which point Wright quickly shakes off the officers and gets back in his vehicle. Back inside his vehicle, it appears that Wright is trying to drive away but is instead pinned to his driver's seat and as the struggle ensues Potter pulls out what clearly appears to be a Glock pistol and screams "I'll tase you" twice, then yells "taser taser taser," before fatally shooting Wright.
The officers back off as Wright's vehicle begins to accelerate and crashes into another vehicle. At the end of the video Potter is heard saying "oh shit, I just shot him."
Kim Potter's background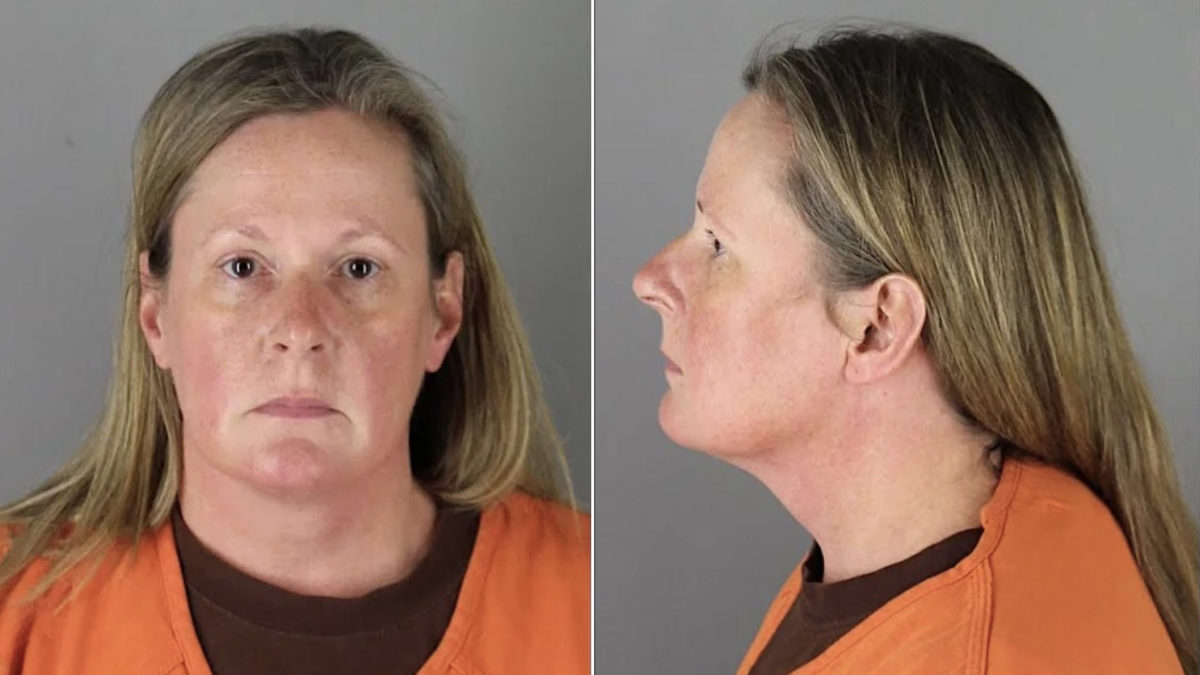 46-year-old Kimberly Ann Potter served on the Brooklyn Center force for over 26 years. She is a former president of the Brooklyn Center Police Officers Union as well as the police association, and was involved in the police killing of Kobe Dimock-Heisler in 2019. Kobe Dimock-Heisler was a 21-year-old Brooklyn Center resident who was shot and killed by BCPD officers after he was reported experiencing a mental health crisis.
Previous coverage on Kobe Dimock-Heisler
The four other officers involved were identified as Brandon Akers, Steven Holt, Cody Turner, and Joseph Vu. None of these officers were given criminal charges for reasons outlined in Hennepin Country Attorney Mike Freeman's Aug 2020 report, which his office used to justify declining to charge any of the officers. Potter's name is mentioned six times in this report as she was among the first officers to arrive on the scene after the shooting.
Potter is quoted as instructing the officers involved to "get into separate squad cars, turn off their body worn cameras and to not talk to each other."
The officer's complied with Potter's direction and all would later give voluntary statements to the BCA. The report later notes that Potter was present at both officer Vu and Holt's interviews, acting in her capacity as police union president and a professional representative for those two cops. Officers Akers and Turner elected to use their own personal attorneys instead. Cody Turner was the fatal shooter cop in this incident.
Daunte Wright's Background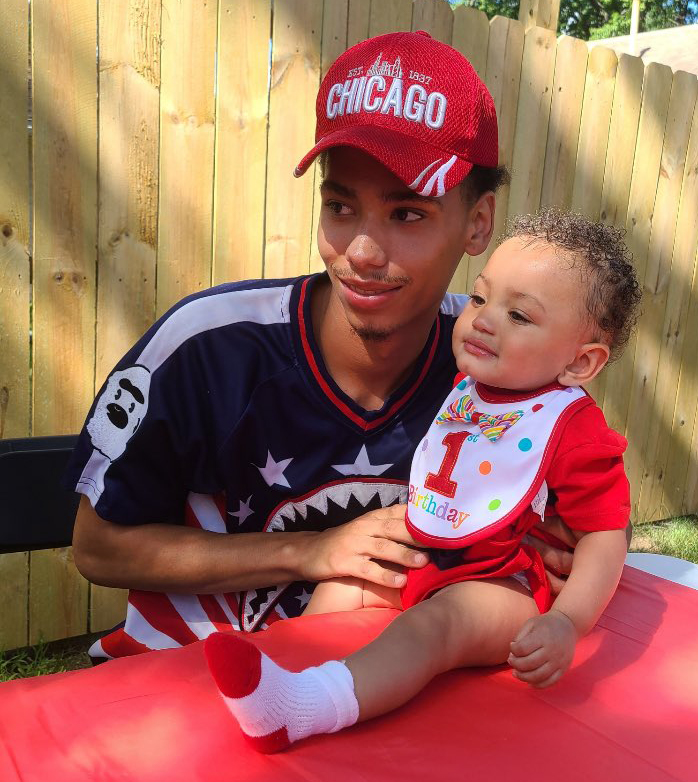 Daunte Demetrius Wright was a 20-year old Black man and father of one. In a surreal twist of fate, the Washington Post reported that George Floyd's girlfriend, Courteney Ross had once been Daunte Wright's teacher at Edison high school. At a recent press conference, Wright's mother, Katie Wright said of her son:
"He was a son, he was a brother, he was an uncle, he was a grandson and he was so much more."

Katie Wright – Mother of Daunte Wright
At the presser Ms. Wright said that her son had called her as soon as he was pulled over. She said that when she asked why he was being pulled, over he told her, "because i had air fresheners hanging in the rearview mirror" and that the police were also asking about insurance.
She told him to take down the air fresheners and "when the police officers come back put him on the phone and i can give him our insurance information." When the officer came back he ordered Daunte to exit the vehicle. Daunte asked "for what?" to which the officer replied that he would "explain after he exited the vehicle."
Daunte complied with the officer and put the phone down after which Ms. Wright said "I heard scuffling, and I heard police officers say, 'Daunte, don't run,'" The call was lost after this incident, When she dialed his number again, his girlfriend who was in the passenger seat, answered and told her he was dead in the driver's seat.
Prior to his death Wright was fighting charges of 1st-degree aggravated robbery with a gun. Court records show that Wright was scheduled to have a Zoom court due date on April 2. On the same day, police issued the warrant for his arrest, suggesting that Wright did not show up for the appearance. Wright's court appointed attorney Arthur Martinez says he nor his client were ever made aware of this warrant. Police also alleged in his case file that Wright had violated the terms of his release for possession of a loaded firearm without an open carry permit and fleeing police in Minneapolis. The case was officially closed after Wright's death.
Police Target Press
Press have consistently been targeted by police. Among the dozens of injuries sustained by press, videographer Mark Vancleave required surgery on his hand after police shot him with a "less-lethal" munition in the first days. On the third day of protests Unicorn Riot's live reporter, Niko Georgiades, sustained an injury by a 40mm marker round to his leg. On the fourth day, at least five journalists were detained after large forces of police cleared the area around the police department: The Neighborhood Reporters, Chris Juhn, Extensive Knowledge Productions, and Niko from UR.
Niko and The Neighborhood Reporters were released following their brief detainment by Brooklyn Center police officers near the Pump N Munch at Humboldt Ave. N. and 69th Ave. N. After being detained they found that microphones belonging to Unicorn Riot and Neighborhood Reporters that have been taken by officers were damaged and left discarded by the side of the road, with some parts missing.
Current Situation
Potter's first pre-trial hearing happened on Thursday, April 15. Her next court appearance is scheduled for May 17 before District Court Judge Regina Chu. Groups of protesters have continued to gather. The BCPD station on Humboldt Ave. N. has been the main hotspot as protesters have clashed with police there for going into five consecutive nights.
Unicorn Riot will continue to bring you updates as they become available.
---
Unicorn Riot's Coverage of Daunte Wright - Killed by Police:
Follow us on X (aka Twitter), Facebook, YouTube, Vimeo, Instagram, Mastodon, Threads, BlueSky and Patreon.
Please consider a tax-deductible donation to help sustain our horizontally-organized, non-profit media organization: