Community Members Craft Messages of Love for Daunte Wright's Family Outside the Courthouse
Minneapolis, MN – When the Kim Potter trial for killing 20-year-old Daunte Wright began in late November, two activist-archivists made it their duty to make sure the Wright family felt solidarity from the community. Jeanelle Austin and Sharolyn Hagen spent the day outside the Hennepin County Government Center collecting heartfelt messages and art from the community with plans to give it all to the family.
Austin and Hagen, who both celebrate a birthday on November 30, the same day jury selection in the Potter trial began, are fixtures at George Floyd Square. Austin has been preserving protest art as one of the founders of the George Floyd Global Memorial for over a year and a half.
Unicorn Riot spoke with Hagen during the evening of November 30 after a protest demanding justice for Daunte Wright. She said when she and Austin found out they celebrate the same birthday, they decided to do their action called 'Write It Forward: A Birthday Solidarity Action for Daunte Wright' to give something as a gift to the Wright family.
"You are not alone. We are standing with you. We are outside. We are holding you in our hearts. We are in pursuit of justice with you. You are not alone."

Message written to the family of Daunte Wright on November 30, 2021
The two set up a public art station in the grass on the South Plaza of the government center and provided paper, pens and markers for the community to write a message of their choosing to the family of Daunte Wright. The messages were then attached with pins to a string tied between trees.
The messages that day ranged from, "We got your back!!! We stand with you!!" to "Daunte's smile could unite a whole city," "We stand, we march, we shout in solidarity with you," and "Me and my kids stand with you." There were even messages from children who drew partial shapes and some letters. Hagen said those were her favorite. She noted that every piece that each community member created is sacred and part of giving love to the Wright family.
"We wanted to do something as a gift from us to the family. So we had people all day today, write notes, or draw and hang them up for people to see. Then we are collecting them all, putting them in a binder, and gifting them to the family to show solidarity."

Sharolyn Hagen, co-creator of Write It Forward
The messages from the community continued past Hagen and Austin's birthday into the next week of trial.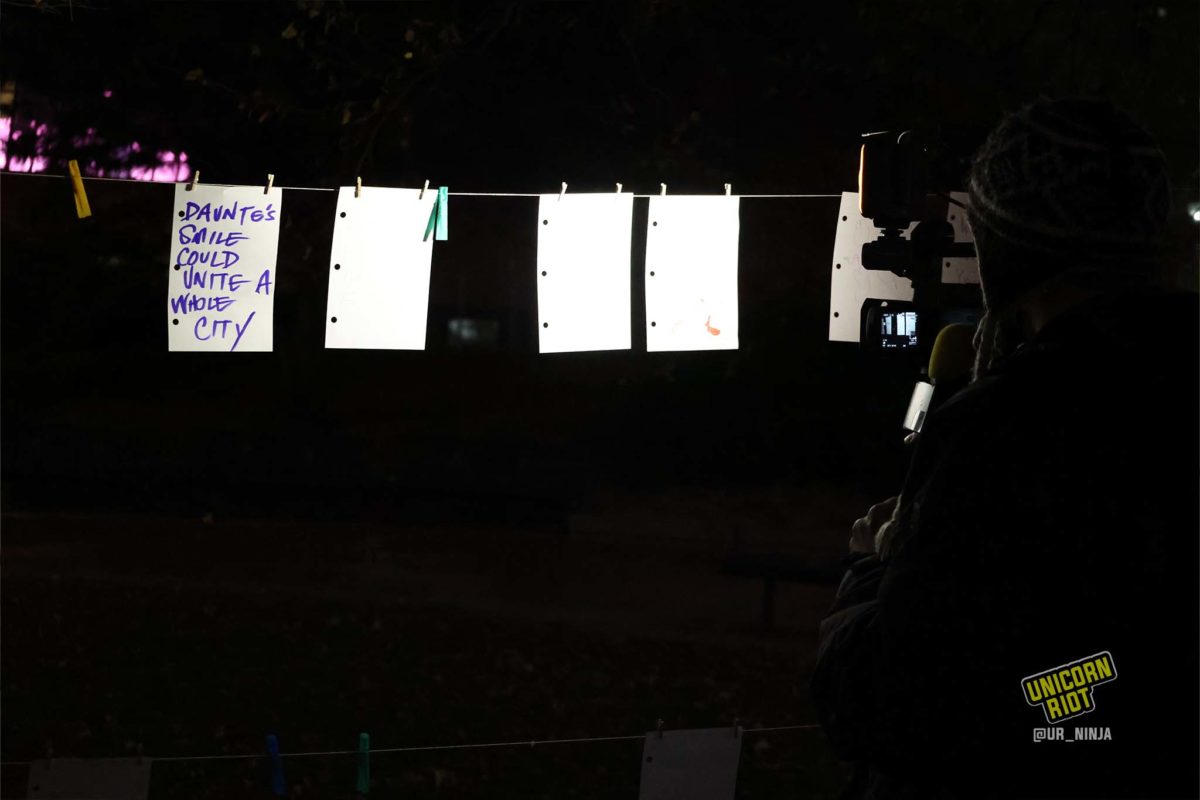 For more on the work that Austin did at George Floyd Square, see an interview below with Austin during a Black and Asian solidarity rally on April 18, a week after Daunte Wright was killed.
For Unicorn Riot coverage of the Kim Potter trial, click on the image below.

---
Unicorn Riot's Coverage of Daunte Wright - Killed by Police:
Follow us on X (aka Twitter), Facebook, YouTube, Vimeo, Instagram, Mastodon, Threads, BlueSky and Patreon.
Please consider a tax-deductible donation to help sustain our horizontally-organized, non-profit media organization: