Daunte Wright's 21st Birthday Brings Healing and Reflection
Brooklyn Center, MN – A celebration for what would have been Daunte Wright's twenty-first birthday took place on Wednesday, October 27, 2021, at the Brooklyn Center Community Center not far from where he was killed by police six months earlier.
Friends and family, including Daunte's parents, Aubrey and Katie Wright, gathered to celebrate the life of Daunte. There was food, music, dancing, and a ceremonial balloon release outside at the end of the event.
Daunte Wright was 20 years old when he was fatally shot by Kim Potter, a 26-year veteran of the Brooklyn Center Police Department. During a traffic stop, Potter says she mistook her gun for a taser and she shot Wright when he attempted to get back into his vehicle during an attempted arrest.
Potter is free on a $100,000 bond and is charged with two counts, first degree manslaughter and second degree manslaughter; early in September the first degree charge was added. Potter's trial starts on November 30 and after controversy over a lack of transparency, video and audio coverage will be allowed. Opening statements are scheduled to start on December 8, 2021.
The birthday celebration for Daunte was co-organized by groups like Visual Black Justice, SWOP Mpls, Reverie, the Daunte Wright Memorial collective, and Families Supporting Families Against Police Violence (FSFAPV). Toshira Garraway, the founder of FSFAPV, said celebrations of life were important events to "uplift the families."
"We know that prior to Daunte, there had been many many more killings where they swept the murders under the rug which led up to the death of Daunte Wright. So we are going to continue to have events such as this to uplift the families."

Toshira Garraway, founder of Families Supporting Families Against Police Violence
Katie Wright expressed that they should be celebrating with her son Daunte himself, but the Brooklyn Center police had failed them. Naisha Wright, Daunte's aunt, expressed the need for community support in whatever form available.
Johnathon McClellan, the President of the Minnesota Justice Coalition (MJC), also spoke. MJC has been lobbying on a number of bills towards police reform. Two of these passed in the last session: HF-1762 – End No Knock Search Warrants : This bill prohibits police officers from obtaining no knock warrants except under narrow circumstances; and HF-1267, the Hardel Sherrell Act, drafted by the Department of Corrections and Del Shea Perry, whose son Hardel Sherrell died while in custody, which reforms the care provided in the incarceration system.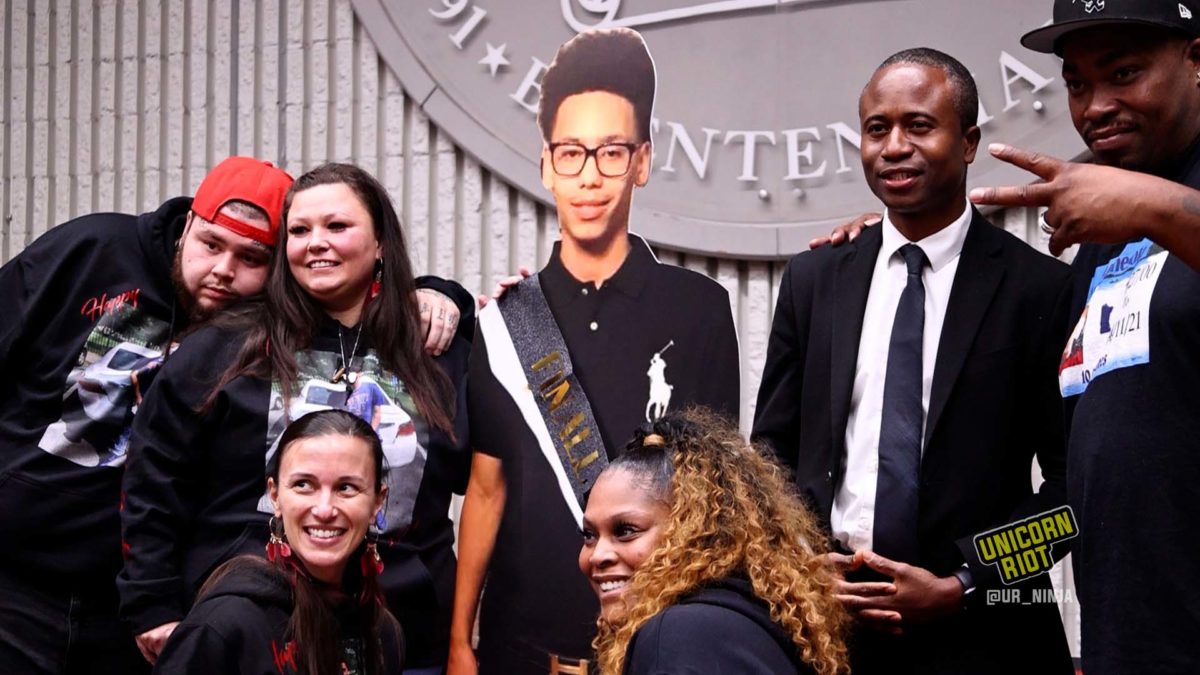 Brooklyn Center Mayor Mike Elliott, a Liberian refugee, was in attendance and posed for pictures with the Wright family. After Wright's killing, Mayor Elliott pushed to get the release of the body camera video, pushed for Potter to be fired, and is now in the process of reforming the public safety system in Brooklyn Center with The Daunte Wright and Kobe Dimock-Heisler Community Safety and Violence Prevention Resolution.
Brandyn Tulloch was among the local artists that performed during the celebration. He received a standing ovation following his performance of a spoken word piece that he wrote after hearing about Wright being killed by Potter.
A press conference was held during the celebration event, watch it in it's entirety below:
Niko Georgiades contributed to this report.
---
Unicorn Riot's Coverage of Daunte Wright - Killed by Police:
Follow us on X (aka Twitter), Facebook, YouTube, Vimeo, Instagram, Mastodon, Threads, BlueSky and Patreon.
Please consider a tax-deductible donation to help sustain our horizontally-organized, non-profit media organization: