Protest After First Day of Kim Potter Trial Attacked by Car Driver
Minneapolis, MN – A person drove his car through a crowd of protesters outside the courthouse after the first day of the Kim Potter trial ended, injuring several people. A half hour before the car attack on November 30, a fourth juror was empaneled by the court, selected to serve on the trial. Potter, a former 26-year veteran officer with the Brooklyn Center Police Department, is facing two manslaughter charges for killing 20-year-old Daunte Wright during a traffic stop in April 2021.
Protesters had gathered throughout the day outside the Hennepin County Government Center, where the trial is being held. Art installations were put on display on the South Plaza of the building and after court let out, a nighttime march attended by upwards of 100 people featuring families who've lost their loved ones to police violence was attacked. The driver drove around car blockades onto the sidewalk and into the crowd.
Serious injuries were evaded but at least one person was left with a broken wrist that may require surgery and many more emotionally traumatized after still reeling from the car attack months ago that killed Deona Marie at a protest about a mile away from downtown.
Starting before 9 a.m. protesters and artists set up two stations of art displays. Activist non-profit Visual Black Justice, erected a large art display with several banner images of Daunte Wright, and a painted banner reading "9mm ≠ Taser" in the middle of two enlarged car air fresheners.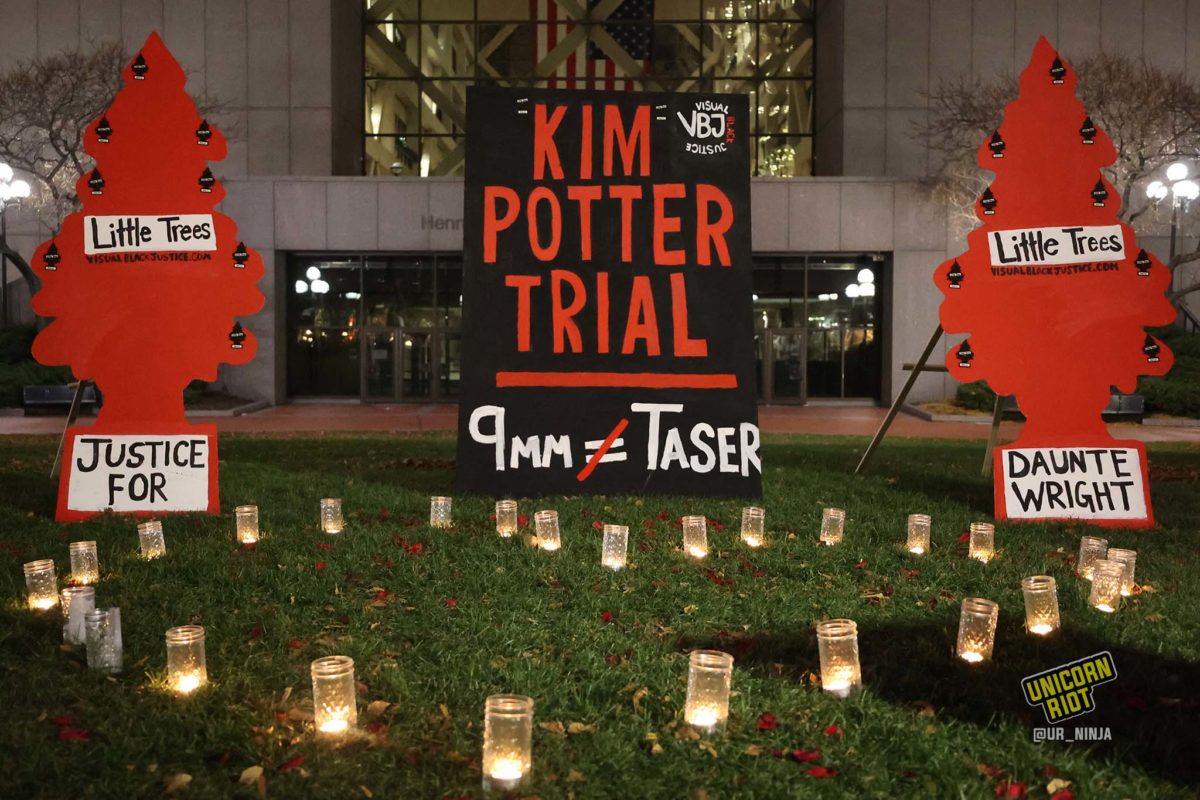 Daunte Wright said he had gotten pulled over initially because of a car air freshener hanging from his rearview mirror, Wright's mother heard this herself while on the phone with him during the stop. Minnesota is one of a number of states with laws that prohibit drivers from hanging objects from their rearview mirrors on the grounds that the items could obstruct their view. The trees have since become a symbol for Daunte Wright in the hopes that he gets justice.
Activist-archivists Jeanelle Austin and Sharolyn Hagen held an artistic event near the large art display seen in the above pictures. Austin and Hagen, who both celebrate a birthday on November 30, which was the same day jury selection began in the Potter trial, called their action 'Write It Forward: A Birthday Solidarity Action for Daunte Wright.'
Both Austin and Hagen are fixtures at George Floyd Square and Austin has been preserving protest art as one of the founders of the George Floyd Global Memorial for over a year and a half.
"We wanted to do something as a gift from us to the family. So we had people all day today, write notes, or draw and hang them up for people to see. Then we are collecting them all, putting them in a binder, and gifting them to the family to show solidarity."

Sharolyn Hagen, co-creator of Write It Forward
For their 'Write It Forward' action they set up strings between trees and had pins holding papers with messages written to the Wright family from community members. At the end of the night as she was taking the individual art pieces down, Unicorn Riot spoke with Hagen about the activity. She said every piece is sacred and part of giving love to the Wright family. On December 2, Hagen said the activity was still occurring during the daytime in the South Plaza of the government center.
A rally was held in the morning by a dozen or so activists on South Plaza. Red rose petals were scattered around the center of the grassy courtyard. Red was Daunte's favorite color. Signs saying 'Justice for Daunte Wright' were scattered around the perimeter and some of the protestors were wearing sweaters reading 'Black Lives Matter' and 'no good cops in a racist system.'
Anishinaabe activists were also visible doing morning prayer in the form of song. There were two speakers that summarized events and educated the public on how we got to this point.
Inside the government center on the 18th floor, the first day of jury selection in the Kim Potter trial started and four jurors were empaneled. The process works in a way where a pool of potential jurors are brought into the courtroom in small group panels and given an introduction to the case, the state and the defense, and given a rundown of the proceedings and 'importance of jury duty.'
Jurors were selected very quickly and three jurors were empaneled before the lunch break. As of 10:00 a.m., 'juror number 2' was the first juror empaneled. He's a white male in his 50s. A few minutes before noon 'juror number 6' was chosen as the second juror. She's a white woman in her 60s. Around 12:30 p.m. 'juror number 7' was empaneled. 'Juror 7' is a white 29-year-old male operations manager at Target who's in a rock band. A fourth juror, an Asian woman in her 40s was chosen around 4:20 p.m.

Around, 4 p.m. outside the court, protesters were gathering on the South Plaza and taking space on 7th St. in between 4th and 3rd Avenues. Led by the loved ones of people killed by police violence, many spoke during the rally including an elder family member of Daunte Wright.
During the rally, Courtney Ross, who was the former girlfriend of George Floyd who testified during his trial, spoke knowing Daunte while she was a teacher at Edison High School.
"I worked with him every single day. One of the last times I saw Daunte, my arms would be around him and I didn't know that'd be my last time seeing him."

Courtney Ross, Daunte Wright's high school teacher
Shortly after the first group of speakers finished and the march was about to move, a driver directed their vehicle past safety barricades, onto the sidewalk and drove into the group of protesters as they were getting ready to start marching downtown.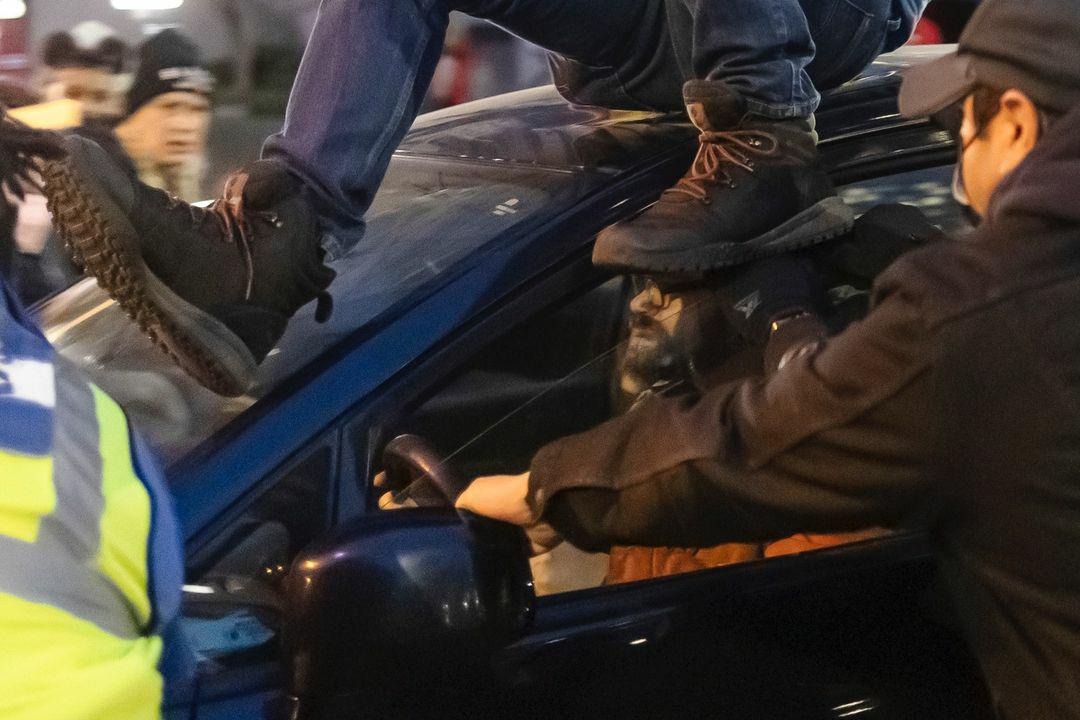 Minneapolis Police Department Public Information Officer Garrett Parten said after the incident that police were not investigating as the protesters didn't have a permit to march in the street.
Watch the jury selection from the first day of the trial and the protest that took place outside afterwards:
Akičita Šuŋka-Wakaŋ Ska contributed to this report.
Unicorn Riot's Coverage of Daunte Wright - Killed by Police:
---
Follow us on X (aka Twitter), Facebook, YouTube, Vimeo, Instagram, Mastodon, Threads, BlueSky and Patreon.
Please consider a tax-deductible donation to help sustain our horizontally-organized, non-profit media organization: