With Nearly 60 Frostbite Injuries in Unhoused Community, Advocates Encourage Denver to Do Better
Denver, CO – Thursday's weather is expected to be one of the coldest on record in the city of Denver due to an arctic cold front, bringing temperatures to well below zero degrees with the wind chill. In the weeks leading up to this potentially record breaking cold, medical health professionals with Denver Health and Hospital Authority and the Colorado Coalition for the Homeless (CCH) wrote a joint letter to two city directors recommending the city "take immediate steps to address current deficiencies in 1) criteria used to determine when warming centers are open, and 2) policies and procedures related to forced displacements of unhoused individuals during cold-weather months."
The letter sent on Dec. 12 stated that when unhoused individuals "spend a prolonged amount of time in damp clothing and/or shoes as often occurs following forced displacement from tents," their "risks for weather-related illness and injury increase exponentially."
A data point the physicians included was that from Dec. 2021 through Nov. 2022, there were 58 unhoused patients treated at Denver Health for frostbite injuries.
Since the Unauthorized Camping Ordinance (camping ban) was signed into law by Mayor Michael Hancock during his first term in 2012, it's common for Denver police officers, DOTI (public works) employees, park rangers, contracted private clean-up company employees and occasionally inmates to force outdoor encampments to pack up their belongings and move elsewhere. However instead of citing the camping ban as the legal reason for sweeping people, the city usually justifies their actions with what's colloquially known as the 'encumbrance ordinance' (DRMC Section 49-246).
On Tuesday, for example, the city conducted downtown sweeps in a pentagonal loop from Arapahoe St. to 22nd St., then N Broadway St. to California St., and then back to Arapahoe St. via 18th St., trashing at least three tents and displacing dozens of people. (Relatedly in Minneapolis, at least two encampments were evicted on Tuesday during a blizzard advisory.)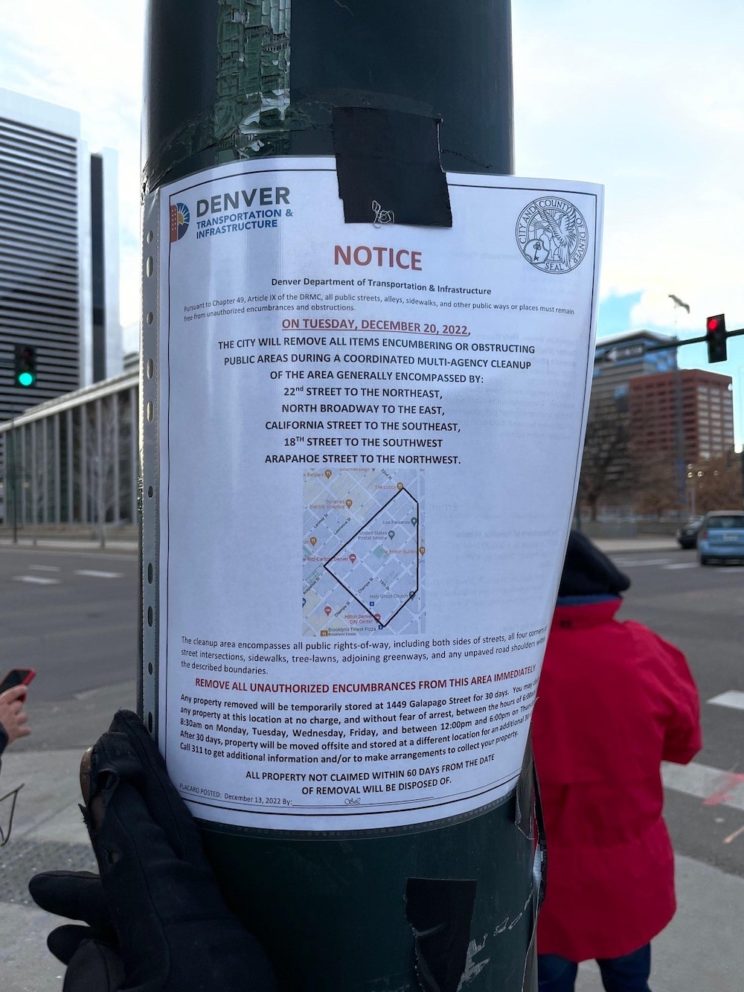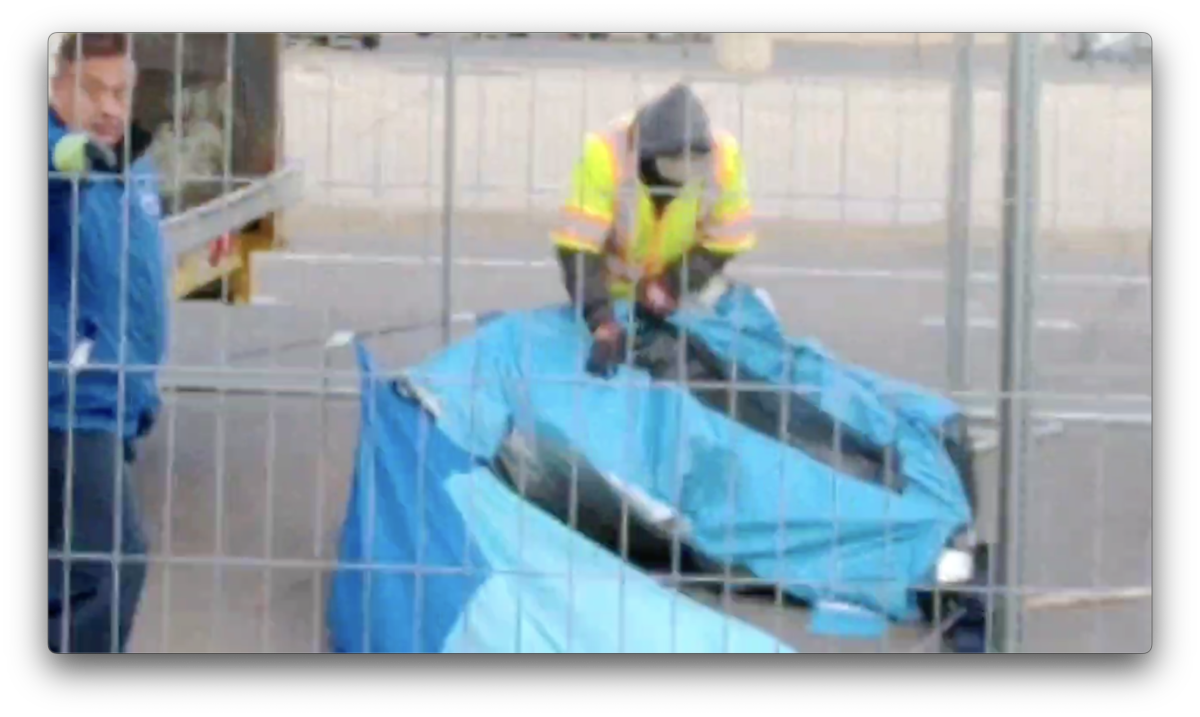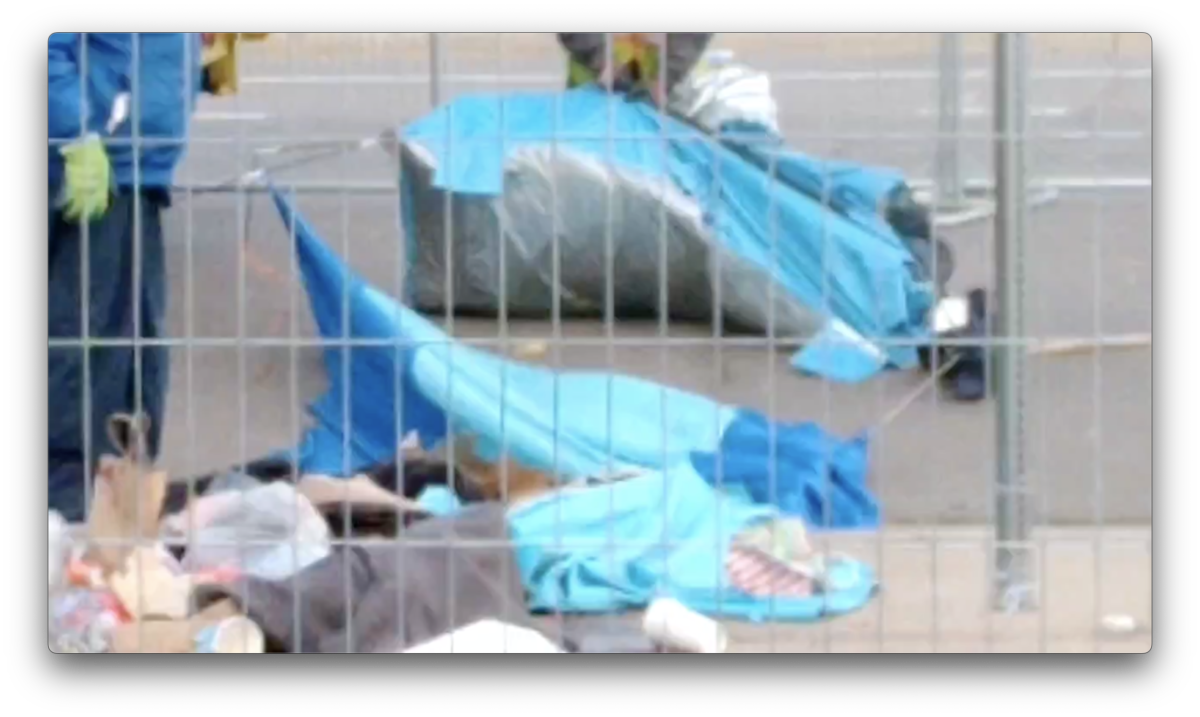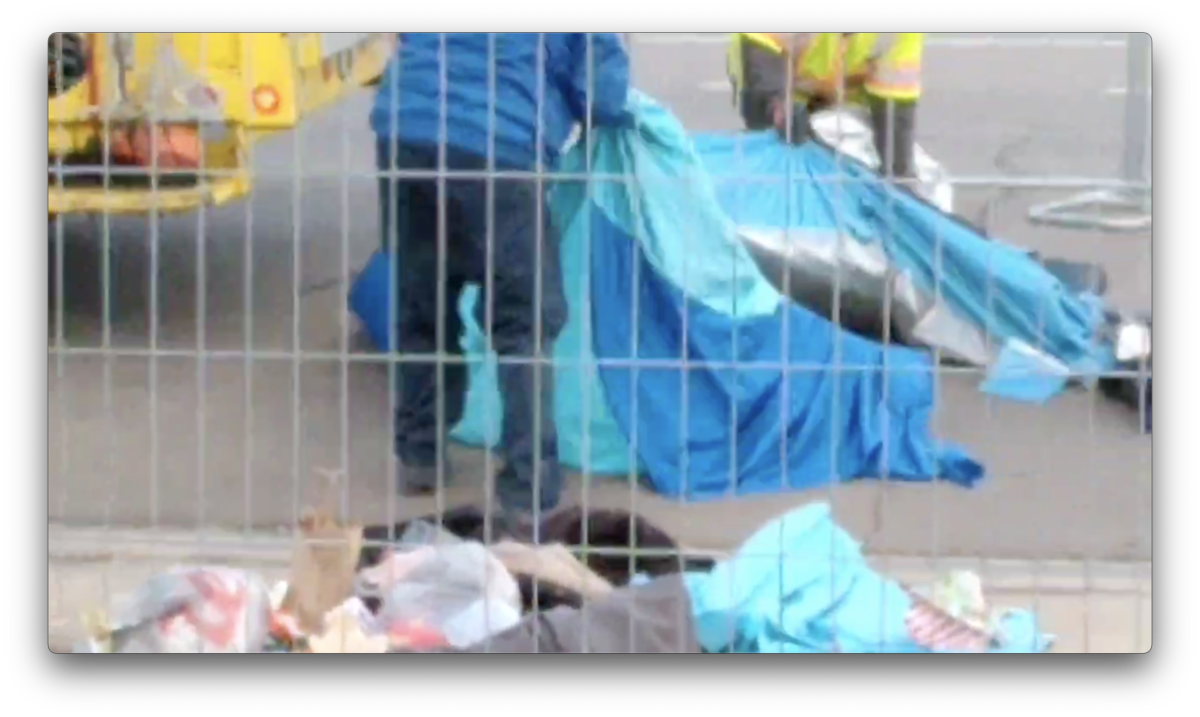 At least two tents being thrown into a dump truck by contracted and city workers on Tuesday, Dec. 20.
In a separate letter sent the same day, 32 organizations including CCH asked the Denver City Council to activate the city's "emergency cold weather response by opening warming centers and halting sweeps any time it is under 32 degrees."
The letter went on to remark that "the current standard of 10 degrees or 6 inches of snow is unconscionable!!"
Mayor Hancock and his administration held a press conference on Wednesday outlining their response to the irregular weather, focusing on their plan to provide shelter to those who seek it. During the conference, he said that Denver "is a city that hasn't stopped taking care of our unhoused community." In the same breath, Mayor Hancock added that advocates are being disingenuous by saying the city's doing anything differently.
The five physicians who authored the letter to Director Britta Fisher of the Department of Housing Stability and Director Bob McDonald of the Department of Public Health and Environment, wrote how the "forced removal from sleeping bags and tents causes people to face the elements without adequate covering, and loss of dry clothes to change into leads to prolonged time in damp clothing and shoes which significantly increases risk for hypothermia and frostbite."
"For these reasons, we recommend a policy of halting forced displacements when temperatures are projected to be below 32 degrees Fahrenheit."

Physicians' Letter to Britta Fisher and Bob McDonald
For months last winter, people who were unhoused and their advocates asked the city to open 24-hour warming shelters, among other demands they saw as life-saving, but received no response. Determined to be heard, they decided to conduct a sit-in at the Carla Madison Recreation Center on the evening of March 10, 2022. The city reached out the next day.
Candi CdeBaca, who is a Denver city councilwoman for District 9, attended the sit-in, which was in her district, to "be in solidarity with my community that is unhoused as they ask for, or demand, alternatives to shelters that are warming centers in our public spaces like rec centers on nights like tonight where it is below freezing, where people are on the streets dying, losing limbs."
In the letter sent to the City Council, the 32 local organizations mentioned how last winter "the City canceled some sweeps in cold weather, but conducted others in weather as cold as 4 degrees," saying that they "cannot count on verbal commitments from City departments to not conduct sweeps in extreme cold."
"Policy needs to be set in place to ensure a safe standard is followed regarding cold weather response, including the policy for halting sweeps of houseless people's property in cold weather. City Council's job is to set policies for our City and this is a critical policy to set for the safety of our community."

Letter from Local Advocacy Organizations to Denver City Council
During the press conference on Wednesday, Britta Fisher shared that the Denver Coliseum, which has a capacity of 225 guests, will be a 24-hour congregate shelter from Wednesday morning until at least Saturday morning. She also said the city has plans for overflow shelters in additional locations with partner organizations, if needed.
Although opening vacant indoor spaces for extra shelter seems in-line with what advocates are requesting, there is concern about what will happen to the property of those who decide to go inside a shelter.
As part of the ask to cease sweeping in below-freezing temperatures, the 32 organizations who signed onto the letter to City Council warned that people may choose to stay outside for fear of losing their property.
"Houseless people are being prevented from going inside in the freezing cold to get warm because they have to stay out to keep the City from taking all their property in a sweep."

Letter from Local Advocacy Organizations to Denver City Council
In the physicians' letter to the city, they applauded "Denver's recent actions to designate recreation centers as overnight warming centers," but highlighted that the city only made the rec centers available overnight two times in November, "despite multiple days of cold weather accompanied by freezing rain and snow."
The concerns from the city's longtime unhoused residents and their advocates are also felt by the recent influx of migrants arriving in the city who also don't have permanent housing.
On Dec. 15, Mayor Hancock issued an emergency 7-day declaration for the city and county of Denver, which according to the declaration, has received approximately 600 migrants and asylum seekers over the last three months.
No matter what actions the city takes on Thursday, from what they admitted in the press conference about their lack of capacity, and from what advocates and health professionals have said, it seems to be universally understood that the city needs to do more to "protect the lives of houseless people in [the] community."
In the meantime, grassroots advocates in Denver continue to provide heaters, tents, handwarmers and other survival gear to people living outside. A local group called Mutual Aid Monday is collecting and distributing items around Denver, and is asking others, who are able, to do the same.
---
Unicorn Riot coverage on Denver's housing crisis:
---
Follow us on X (aka Twitter), Facebook, YouTube, Vimeo, Instagram, Mastodon, Threads, BlueSky and Patreon.
Please consider a tax-deductible donation to help sustain our horizontally-organized, non-profit media organization: