In late 2019, a new strain of infectious virus was identified as having passed to humans from nonhuman animals. The first coronavirus that affects humans was discovered in 1965 and appears to date back to the 1950s. "Corona" is a reference to the club-like spikes that cover the entire surface of the virus particles, giving them a halo-like appearance visible via electron microscope.
First detected in November 2019 in the Hubei province of China, the new coronavirus infectious disease has been abbreviated COVID–19 to mark its year of discovery. Symptoms of infection include fever, cough, shortness of breath, abdominal pain, sore throat, diarrhea, and loss of sense of smell.
---
Unicorn Riot's Latest Coronavirus coverage
---
Severe cases of COVID–19 can lead to pneumonia, multiple organ failure, and death. As of August 2020, the mortality rate is around 3.1% in the United States, based on number of diagnosed cases and total known coronavirus-related fatalities.
The likelihood of mortality in patients increases with age and the presence of other underlying conditions. It is not known how many individuals have been infected worldwide due to the general unavailability of testing.
While coronaviruses affect both birds and mammals, symptoms differ between species; in both humans and chickens, the viruses infects the respiratory tract and can cause disease. Flying animals such as birds and bats are thought to be ideal hosts and transmitters of coronaviruses.
SARS-CoV-2 is the designation of the new coronavirus, which does not always cause symptoms and can be spread to others before a person knows they are infected. As of April 2020, it is known that the virus may be contracted from close contact with someone else who is infected, or from touching a contaminated surface and then one's face.
The severe acute respiratory syndrome (SARS) epidemic of the early 2000s was caused by the first-identified strain of SARS coronavirus, now called SARS-CoV-1. The rate of infections worldwide from this new coronavirus increased exponentially in 2020 from January to March, causing the World Health Organization (WHO) to classify COVID–19 as a pandemic on March 11, 2020.
Unicorn Riot has been covering the spreading effects of the new coronavirus pandemic since March 2020, including socially distanced demonstrations and a live interview about living unhoused during the pandemic.
See more of our COVID–19 coverage below. Contact Unicorn Riot if you have information to share.
---
Unicorn Riot's Coronavirus coverage

Unicorn Riot's COVID–19 Coverage: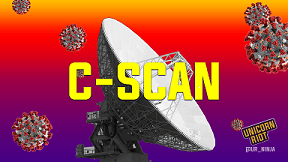 ---
Resources:
Citizen Journalist Maps:
---
Follow us on Twitter, Facebook, YouTube, Vimeo, Instagram, and Patreon.
Please consider a tax-deductible donation to help sustain our horizontally-organized, non-profit media organization: