Union Infighting Threatens to Derail South African Workers Movement
Durban, South Africa – On Tuesday, Nov. 22, three of South Africa's largest trade union federations in the Federation of Unions of South Africa (FEDUSA), the Congress of South African Trade Unions (COSATU) and the South African Federation of Trade Unions (SAFTU) initiated a one-day strike demanding a 10% wage increase from government. The strike came in response to the government's recent announcement that it would only be offering 3% wage increase for its public sector workers. The union alliance representing a combined 800,000 public servants delivered their demands to the government giving them seven days to respond before escalating to further unspecified protest action. The Western Cape was the only province in South Africa that didn't see protests related to the strike due to an unrelated taxi workers' strike occurring at the same time which effectively shut down public transportation in the area.
Activists and organizers with the union movement argue that wage increases are necessary due to economic inflation and the rising cost of living. These economic pressures, initially caused by the COVID-19 pandemic, have only accelerated as a result of the ongoing Russian-Ukrainian war which has sent severe economic shock waves across the world. As such, the South African government is under steadily increasing pressure to cut spending – the reason for the Western Cape taxi strike is due to the collapse of the popular "blue dot program" which aimed to formalize and modernize the province's outdated public transportation system.
Unions counter that the money is available, and that the government's latest offer is not in proportion to the raising costs of living and inflation. The prices of essential resources like food and fuel have seen dramatic increases well above 3%.
The country's increasing struggles with keeping the lights on in the ongoing South African Energy Crisis is also having a significant impact on food prices, as agricultural businesses have passed the cost of having to constantly run backup generators on to the consumer. These generators generally run on diesel fuel, another essential resource which has been subject to enormous price hikes. As a result the government estimates that around half of South Africa's total population is experiencing some form of food insecurity.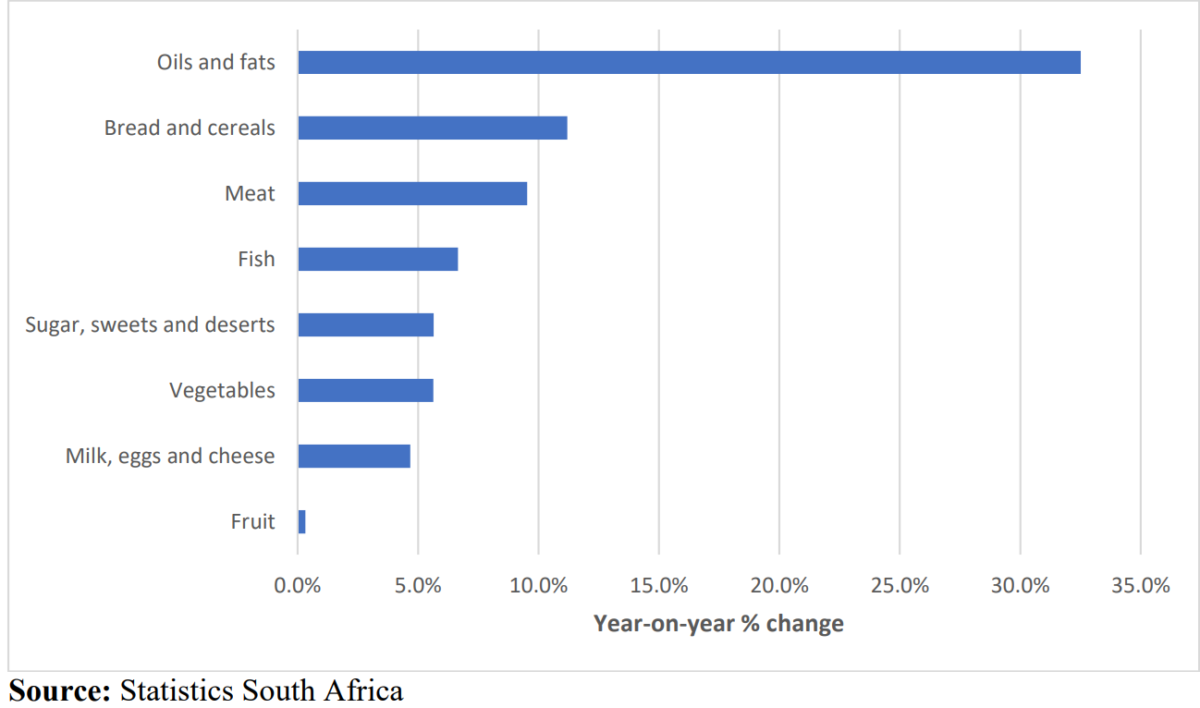 Despite these disturbing statistics and increased union pressure, the government allowed the union's seven-day deadline to pass without adjusting its offer. In response, union leaders met on Nov. 29 to discuss escalation plans, though to date, no further plans have been announced by COSATU, SAFTU or FEDUSA. This could be due to intensifying internal divisions within the union alliance, in particular, SAFTU.
---
Divisions In SAFTU
On Dec. 1, 2022 the South African Policing Union (SAPU) announced that it was leaving SAFTU for unclear reasons. A SAPU spokesperson went on to cite SAFTU's increasing involvement in party politics as a prime reason for its decision to disassociate from the federation. Representing some 84,000 members, SAPU was one of the largest single unions in SAFTU. Its departure represented a tremendous blow to the federation. Some analysts believe that the police union's sudden departure from the federation may be related to an ongoing internal dispute between SAFTU union leaders Zwelinzima Vavi and Irvin Jim.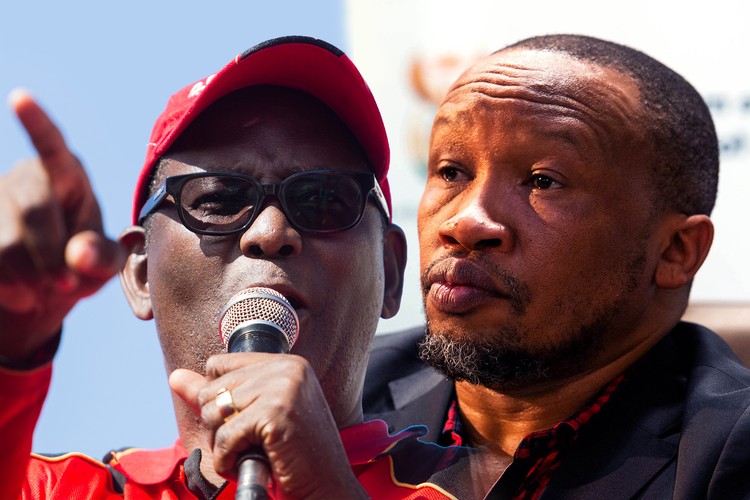 Vavi formerly served as the secretary-general of the nation's largest union federation, COSATU. He was later expelled from the senior position after publicly criticizing COSATU's decision to expel the National Union of Metalworkers of South Africa (NUMSA) in 2014. He would later go on to join NUMSA in co-founding the country's second largest union federation, SAFTU. He currently sits as the general-secretary for SAFTU, one of the most important leadership positions in the federation.
Irvin Jim is also a former member of COSATU and currently serves as the general-secretary for NUMSA, the largest single union in SAFTU. Jim also previously held posts within the South African Communist Party (SACP) and the ruling-party African National Congress (ANC), firmly cementing his position within the country's political elite. The split between Jim and Vavi appears to originate from Jim pushing for SAFTU to get more involved in South African politics. In particular, Jim's faction wants SAFTU to officially endorse NUMSA's vanguard political party, the Socialist Revolutionary Workers Party (SRWP) a NUMSA front which seeks to challenge the ANC in national elections.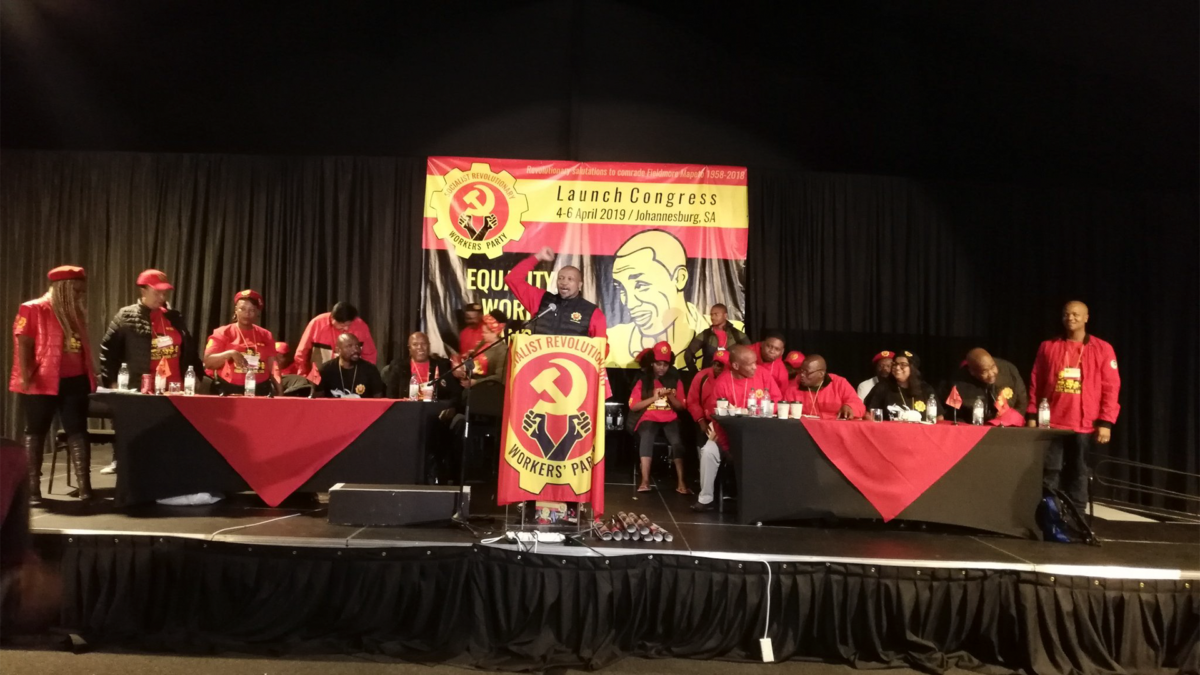 This push, however, was firmly shut down by Vavi and his supporters who reiterate that SAFTU remains independent of any and all political parties. Jim and NUMSA responded by suspending Vavi in an attempt to push him and his allies out of SAFTU. This attempt failed as Vavi was soon reinstated and would go on to be re-elected as SAFTU's general-secretary at the federation's hotly contested 2nd national congress. Ultimately the union elections resulted in a 50-50 split between the two factions for control of SAFTU's leadership positions, further exposing the internal divisions within SAFTU.
---
The Current Situation
Despite the bitter and complicated political battles within South Africa's union movement, opposing sides will momentarily put their differences aside to fight a common enemy, hence the most recent joint one-day strike. However, this is not the first time such collaboration between these rivals has occurred. Two years ago, Unicorn Riot covered a previous one-day strike organized by SAFTU which had, at very least, the verbal support of COSATU and FEDUSA among others.
Since that 2020 strike, numerous other one-day strikes have been organized by these unions, each one failing to achieve its core stated goals. This, of course would change if the unions were to actually engage in a full blown indefinite strike, which would see all union workers withdraw their labor indefinitely until the unions' demands are met. But despite repeated threats to do so, union leadership continues to hold back perhaps because of its own internal divisions, as well as the undeniably massive economic effects a such a strike would have not only on the economy but on the unions themselves.
For the time being, SAFTU has now switched focus to calling on embattled President Cyril Ramaphosa to resign over the ongoing "Phala Phala scandal." The scandal came about after it was revealed that a robbery of the president's game farm in Namibia took place on Feb. 9, 2020 where an alleged four million dollars (60 million rand) in cash was stolen from the premises. The suspects were eventually tracked down, interrogated and allegedly received separate payments to keep quiet about the affair. This was because the stolen foreign currency had not been formerly declared with the reserve bank, which is required for such a large amounts of money according to South African regulations. Ramaphosa acknowledges that the robbery did take place but counters that only $580,000 was stolen, and claims he kept it quiet because he didn't want to the public to "panic." The incident was only made public after the former head of the State Security Agency and Jacob Zuma ally, Arthur Fraser, filed a criminal complaint against Ramaphosa on June 1, 2022.
Although COSATU has stopped short on calling for Ramaphosa's resignation, it has officially withdrawn it's endorsement for him, an ironic twist of fate considering the billionaire President was once a leader in the union movement – Ramaphosa served as former secretary for the National Union of Mineworkers (NUM) and played a major role in the founding of COSATU itself.
By dumping Ramaphosa, it's likely that COSATU and SAFTU believe this will usher in a new president who will be more receptive to the unions' demands. Now that Ramaphosa has been reassured of his continued support from top ANC leadership, the chance of him being removed from office seems little to none.
Regardless of who the president is, the current strategy of initiating one-day strikes in hopes of negotiating better deals behind the scenes have not borne much fruit. Unless an increased direct action campaign occurs, the status quo is unlikely to change anytime soon. As the price of critical necessities rise to all time highs, it may only be only a matter of time before rank and file workers begin to escalate and take action on their own.
---
Unicorn Riot's South Africa Coverage: