Coronavirus, Corruption, and Resistance: Life Under South Africa's Lockdown
Durban, South Africa – Five months ago South Africa's President, Cyril Ramaphosa, declared a national state of emergency and announced a "21 day lockdown" in order to stem the spread of the coronavirus in South Africa. The lockdown's time frame has since been extended multiple times and has morphed into one of the longest, harshest and most legally complex in the world.
On August 15, 2020, the president once again addressed the nation to announce that effective Monday, August 17, the country would move down from lockdown level 3 to level 2 (Lockdown level 1-5 and what it means). He also said that the National State of Emergency would be extended until Sept 15th. The new regulations represent an easing of the following restrictions:
All restrictions on inter-provincial travel lifted.
Accommodation, hospitality venues and tours will be permitted according to approved protocols to ensure social distancing.
Restaurants, bars and taverns will be permitted to operate according to approved protocols as to times of operation and numbers of people.
Restrictions on the sale of tobacco will be lifted.
The suspension of the sale of alcohol will be lifted subject to certain restrictions.
Alcohol will be permitted for on-site consumption in licensed establishments only up until 10 p.m.
Liquor outlets will be allowed to sell alcohol for off-site consumption from Monday to Thursday during the hours of 9 a.m. to 5 p.m.
Restrictions on family and social visits lifted.
The decision to ease restrictions comes in the wake of reduced infection rates, according to statistics from the health department. Mounting public pressure on the government to ease restrictions may have also played a part in Ramaphosa's decision.
South Africa's longtime issues with government corruption, poor government service delivery and decaying public infrastructure has become more pronounced as the lockdown goes on. These events have produced a state of escalating mass protests perhaps not seen since the days of Apartheid.
Drastic societal changes are happening as COVID-19 continues to spread with over 579,000 confirmed infected and over 11,500 recorded dead to date, making South Africa the fifth (5th) most impacted in the world, and the most impacted country in Africa.
---
Effects On Healthcare
The pandemic continues to overwhelm South Africa's fragile healthcare system. The Eastern Cape province has been hit particularly hard, with the BBC reporting on July 15, that their healthcare system was on the brink of collapse.
There have been numerous reports of strikes and protest actions led by healthcare workers and unions. Healthcare workers have been protesting over horrific hospital conditions, lack of Personal Protective Equipment (PPE) and unfair pay. The issue of PPE availability for hospital staff is a particularly sharp one, considering that healthcare workers are on the frontline and make up 1 in 20 of all COVID-19 cases.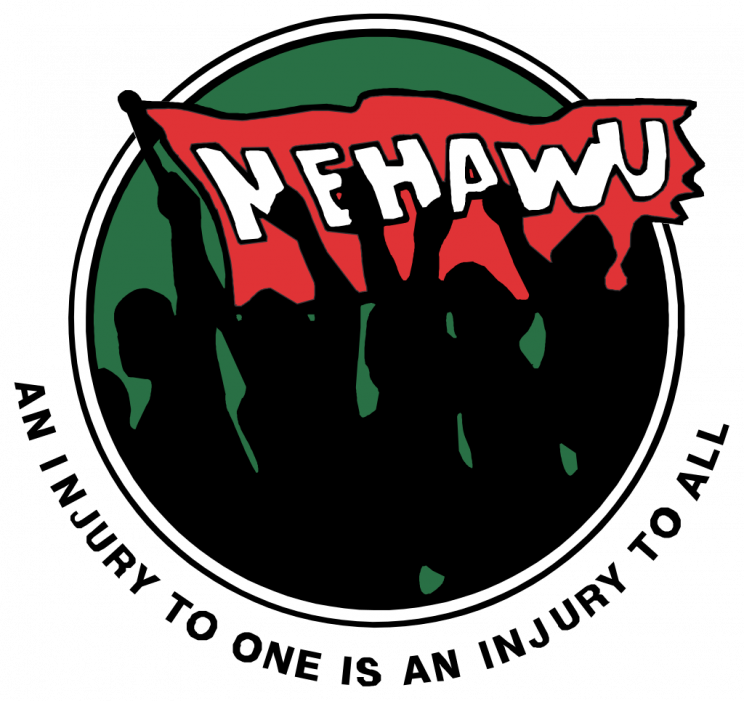 These grievances led one of the nation's largest public sector unions, NEHAWU, to organize a coordinated call into work or 'Sick-in' nationwide on August 21 with further "lunch-hour protests across all sectors" to follow that weekend between Aug 24-27.
If the union's demands are not by September then they will go on a national strike. Many analysts believe such a strike would cripple the health sector. Recent reports of corruption with regards to government issued PPE production contracts has only added more fuel to the fire.
Some potential relief from the Department of Health would seem to indicate a national drop in the rate of infection. Public health officials hope that this marks an end of what has been dubbed the "second wave" of COVID-19 infections. Until a vaccine is found, however, many health officials warn that coronavirus will continue to spread.
Russian Federation President Vladimir Putin recently announced that his government had produced a viable vaccine and that mass production of this vaccine was to start immediately. Many governments, including South Africa's, have voiced skepticism, considering the supposed vaccine has not passed the third and final stage of trial testing.
Since the first person from South Africa was administered a trial vaccine back in late June, the country has continued its own frantic search for a vaccine.
---
Effects on the Economy
South Africa's economy, of course, has also sustained massive damage. Unemployment, inflation and corruption continue to rise since the government announced a R500 billion (US $26.9 billion) stimulus package. This money was pledged towards various coronavirus relief efforts such as increased financial benefits for the unemployed, increased production/distribution of personal protective equipment (PPE) and free food deliveries to those most impacted by hunger.
Efforts to provide these critically needed resources has been severely hampered by negligence, incompetency and corruption at all levels of government. This is a country where the current president's predecessor, Jacob Zuma, is still embroiled in arguably the largest corruption scandal in South African history.
After Ramaphosa ascended to power in August 2018, he immediately launched a massive investigation into his former rival's allegedly corrupt business dealings. This public investigation or public inquiry is known as the 'Zondo Commission' and is ongoing.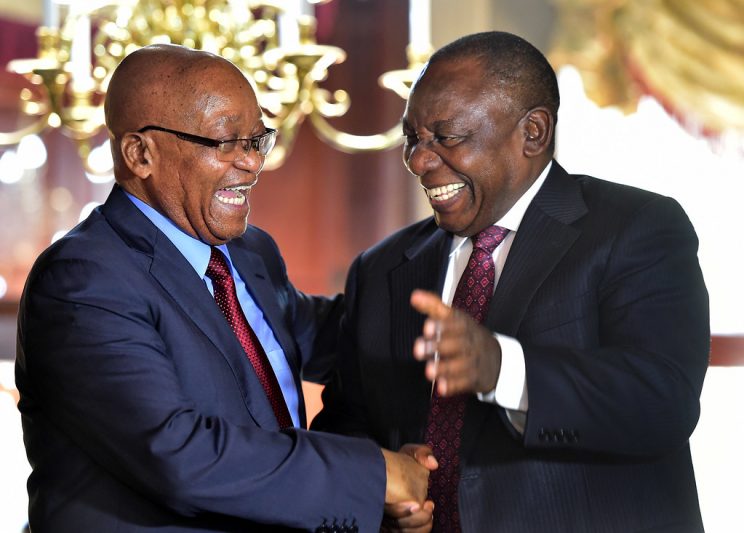 Recent accusations of high profile corruption in relation to stimulus money spending forced Ramaphosa to sign a proclamation on July 23 authorizing the Special Investigations Unit (SIU) to look into all potential misuse of COVID-19 funds.
Three days later, on July 26, the Sunday Times reported that presidential spokesperson, Khusela Diko's husband, King Thandisizwe Diko. was awarded a R2.2BN (US $126M) contract to produce PPE by Gautang province. The contract was approved by Guatang MEC for health, Dr. Bandile Masuko, some five days after the national lockdown was announced. The report further alleges that the Masuko – Diko families have deep ties to each other and that this represents a clear conflict of interest.
A day after the report went public on July 27, presidential spokesperson Khusela Diko announced she was stepping down. Bandile Masuko was placed on "special leave" for two weeks while investigations against him and several other high level officials are pending. SIU claims that they are currently investigating hundreds of companies and have filed charges against three to date.
---
Eskom Power Failures and Gupta Family Corruption
The lockdown has produced at least one positive effect in the form of reduced energy demand. Less workers and businesses operating has resulted in reduced power consumption. While this effect has helped ease the strain on the national grid, it has not solved the South African energy crises.
On August 13, South Africa's largest state owned enterprise and primary energy supplier, Eskom announced another round of pre-planned rolling blackouts or what they call 'load shedding'. The half private/public energy company typically states that load shedding is necessary in order to make urgent repairs on ailing infrastructure as well as to reduce the strain on the power grid.
Eskom's infrastructural issues combined with its refusal to increase its supply, production and distribution in the face of growing demand brought about the South African energy crises.
Since 2007, the country has experienced countless periods of load shedding, a trend that experts predict will last at least another 5 years.
Eskom has been the center of multiple high-level corruption scandals. Recent SIU investigations has led the unit and Eskom to file suit in Pretoria's high court against numerous former high level Eskom executives and their Gupta family allies.
The SIU and Eskom are seeking to recoup R3.7BN (USD $218M) they say was diverted from Eskom and put into numerous companies controlled by the Gupta's and their associates.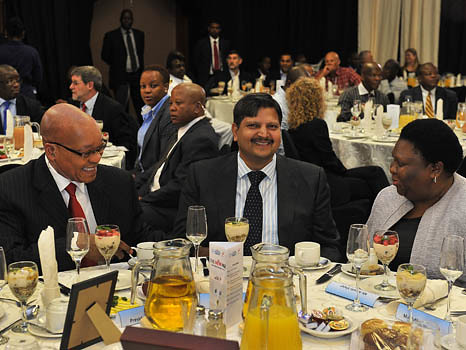 The Guptas are a wealthy Indian family, with significant business interests in South Africa. They migrated to South Africa a year before the end of Apartheid in 1993. The family was known to be very close with embattled former president Jacob Zuma. Since Zuma's fall from grace, the Guptas have been implicated in numerous corruption scandals not only in South Africa but also in the U.S.
The family is currently believed to be operating out of Abu Dhabi, the capital of the United Arab Emirates, which makes them more difficult to pursue legally. Eskom's head, Andre De Ruyter, has already stated bluntly that they may not be able to recoup the money they are seeking.
---
IMF to the Rescue, For a Price
A day after these corruption scandals were revealed on July 27, the International Monetary Fund (IMF) announced that they had approved South Africa's request for a $4.3 billion dollar (R70.6BN) loan. This came at a politically sensitive time when many are questioning the government's ability to track and account for large sums of taxpayer money.
The details of this loan have yet to be revealed. What is known, is that these loans never come without major economic strings attached. Usually this means increased taxes while simultaneously cutting government spending and services, as well as privatization.
It should be noted that South Africa has been in the continual process of de-funding its public sector since the end of Apartheid in 1994. This has resulted in the reduction or wholesale elimination of public sector workers rights and benefits on the job.
The financial drain and sale of South Africa's public infrastructure to private companies has so far failed to stop its decay. In fact, many would argue that the 'privatization' of the public sector has only accelerated that decay.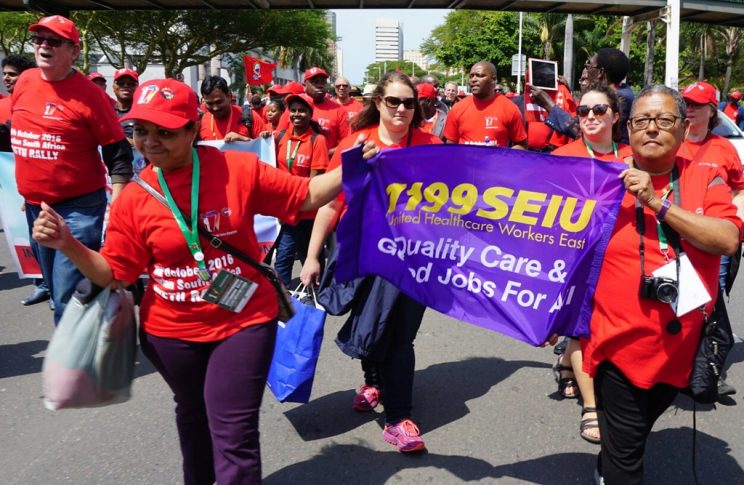 South Africa's major political opposition parties have all voiced their criticisms and distrust of the loan. Perhaps most significantly, the nation's largest trade union federation and ANC political ally, 'COSATU' has come out against the loan. Months before the loan was approved COSATU had cautiously voiced support for the IMF loan with conditions. Since the loan was approved, however, representatives of the trade federation have critiqued the IMF, stating:
"We don't believe that the IMF is the relevant institution to be financing a country like South Africa. They are just not on board with some of the progressive policies that we want to see put in place." — COSATU organizer, Lebogang Mulaisi
The government has continued to stress that the money is urgently needed to boost South Africa's failing economy. Treasury Director-General Dondo Mogajane stated, "we will certainly be able to live up to the expectations and the commitments that we made in getting this loan."
The exact "expectations and commitments" that the government made in order to secure the loan have yet to be made public. This is normal operating procedure in IMF loan negotiations because they know that their proposed economic reforms will likely not be accepted by the wider public.
---
Workers, Unemployed and Immigrants Take To The Streets
While the politicians and elites squabble at the top, a wave of popular anger and resistance has been steadily growing from below. People most impacted by the current crises, workers, rural communities and immigrants alike, have taken to the streets in ever-increasing numbers since the lockdown began in April.
Last month, thousands of restaurant workers took to the streets nationally to demand that the service industry be allowed to return to work in full, as well as the reversal of the alcohol ban. These protests were organized by the Restaurant Association of South Africa (RASA) which is sponsored by various multinational corporations. The protests were also politically and publicly supported by the opposition Democratic Alliance (DA).
Since June 1, South Africa has allowed restaurant workers to return to work under strict guidelines. Many workers and owners have complained that these regulations are too restrictive. The ban on alcohol is another source of contention that workers and owners feel is unfair and in effect destroying their livelihoods.
"We're urging the government to allow us to trade past the curfew, and we are begging them to give leniency on the alcohol ban. Estimates say that from March 30-40% of restaurants will not re-open. If this carries on the restaurants that are left will not carry on either. Fear is worse for some but the facts are more important for me." — Jo-Ann Hinis, owner of "Expresso Cafe Distro"
Most of the demonstrations included marches and rallies along with some blocking of roads. Most ended peacefully, while at least one demonstration in Cape Town was attacked by SAPS units using stun grenades, tear gas and a water cannon.
Stun grenades and water canon used to disperse protesters outside Parliament. Protesters from the hospitality and tourism industry are protesting. @GroundUp_News #serveusplease pic.twitter.com/DQkFtnUDra

— Ashraf Hendricks (@AshrafRSA) July 24, 2020
---
KawDukuza: A Case Study For Rural Communities
Recent strikes and protest activity in the town of KwaDukuza, or 'Stanger', is a familiar story for many. Plagued by generations of poverty, crime and a lack of adequate infrastructure, the community has voiced its anger on countless occasions.
Tensions began rising after garbage collection services were suspended due to seven sanitation workers testing positive for COVID-19. That tension reached a boiling point after the community's water supply was suddenly cut off due to emergency repairs of the town's plumbing system last week.
"The people were very upset. They started burning tires in the streets and the taxis called for a strike which meant I could not travel to work. The water has since returned but people are still struggling. Since the lockdown we only received 1kg of rice and 1 liter of oil per family. Some but not all unemployed people are receiving R350 ($20) monthly benefits. This is not enough for us to survive on." — Sizwe (Kwadukuza resident)
While water and garbage collection services have since returned to KwaDukuza, it's unlikely that this will be the last time that these interruptions occur.
Urban areas have experienced comparatively less of these service interruptions, but this does not mean they are immune. In the nearby provincial capital of Durban, for example, power and water outages have become more frequent, with residents reporting widespread water outages last month.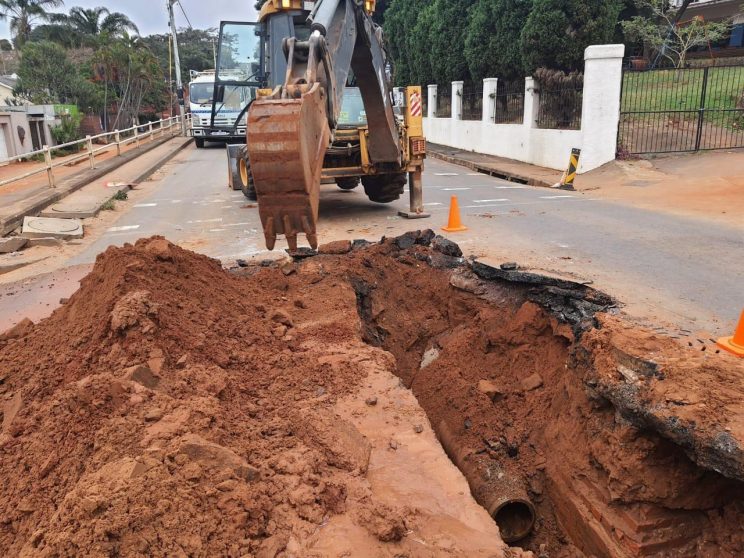 ---
Conclusion
While coronavirus did not cause South Africa's socio-economic and political issues, it certainly did not help. Even after the pandemic has subsided, many predict it will take years before the country and indeed the world can recover from the shock.
For now there are still many unanswered questions regarding South Africa's present state of affairs. Will the government reverse track and escalate back up to level 3 or higher? How will the people of South Africa react to all of this? Will this produce a political storm strong enough to bring about a full blown revolution?
Coronavirus may not be responsible for South Africa's corruption, income inequality and poor infrastructure, but it may just be the match that blows the lid off the entire system.
Follow us on X (aka Twitter), Facebook, YouTube, Vimeo, Instagram, Mastodon, Threads, BlueSky and Patreon.
Unicorn Riot's COVID–19 Coverage: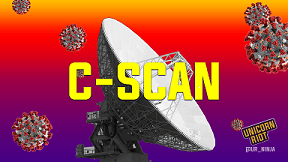 Please consider a tax-deductible donation to help sustain our horizontally-organized, non-profit media organization: