'Bowl Patrol': Dylann Roof Fans Hope to Inspire More Mass Shootings
On June 17, 2015, 20-year-old Dylann Roof shot and killed 9 people at the Emanuel African Methodist Episcopal (AME) Church in Charleston, South Carolina. Roof, an avid reader of neo-Nazi websites such as Stormfront and the Daily Stormer, quickly admitted to the killing and later wrote, "I do not regret what I did. I am not sorry." Roof told investigators that he targeted the AME church, which once hosted Martin Luther King, Jr., because of its historical role in supporting the civil rights movement.
Himself radicalized into racist ideology online, Roof has now become a martyr-like symbol for the more hardcore neo-Nazi elements of the alt-right. Memes and jokes celebrating and uplifting Roof – often referencing his 'bowl' or bowlcut haircut – were already circulating online before Unite The Right in Charlottesville in 2017. Since then, Dylann Roof and his haircut have become even more of a rallying point for white supremacists more eager to partake in, or encourage, 'lone wolf'-style murder attacks.
Roof has now become a martyr-like symbol for the more hardcore neo-Nazi elements of the alt-right.
One particular subset of the alt-right that promotes Dylann Roof imagery is the 'Bowl Patrol', an informal crew of neo-Nazi agitators who convene in online chats and sometimes record podcasts. Bowl Patrol invokes an elaborate symbolism of support for Roof's actions, and also serves to encourage copycat attacks based on the Charleston shooting. Bowl Patrol particularly celebrates Roof's targeted killing of African American community leaders in Charleston, comparing them to other contemporary black leaders they would like to see killed.
In the years since Roof's massacre, other deadly racist attacks have been carried out, and would-be killers have also been arrested for hatching murder plans in Roof's name. The alt-right meme culture surrounding Roof, while presenting itself as dark humor, serves as a platform to encourage similar massacres.
Content Advisory: explicit racism, violence and sexual assault
[UPDATE – July 7, 2020: Antifascist researchers with the Anonymous Comrades Collective have identified Bowl Patrol leader 'Vic Mackey' as 27-year-old Andrew Richard Casarez of Orangevale, CA.]
"A Dry Run For Things To Come"
References to Dylann Roof and the 'bowlcut' or 'bowl' have turned up in at least five recent criminal cases. In February 2017, FBI agents in South Carolina arrested Benjamin Thomas Samuel McDowell after he reportedly said he wanted to carry out a shooting "in the name of Dylann Roof". In November 2018, Jeffrey Clark, Jr., of Washington, DC was arrested on federal weapons charges after his family told authorities he had expressed an interest in killing Jewish people and carrying out a mass shooting. Jeffrey Clark, Jr. had also posted that Robert Bowers' Pittsburgh synagogue shooting was "a dry run for things to come".
The arrest of Jeffrey Clark came two weeks after the suicide of his younger brother, Edward Clark, who is believed to have killed himself upon learning that his communications with Robert Bowers could be discovered by investigators. Before his arrest, Jeffrey Clark, Jr. was known to post on the Nazi social media site Gab with the username 'DC Bowl Gang' – a reference to Dylann Roof's haircut and the meme culture celebrating Roof's murders.
References to Dylann Roof and the 'bowlcut' or 'bowl' have turned up in at least five recent criminal cases.
In December 2017, the Clark brothers were seen at a Nazi rally in Washington, DC alongside Mark Daniel Reardon aka 'Illegal Aryan' of Bowl Patrol.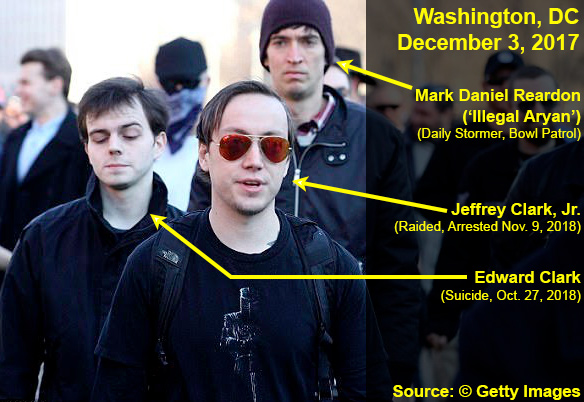 In December 2018, Elizabeth Lecron, age 23 of Toledo, Ohio, was arrested for allegedly planning a mass killing, charged with transporting explosives and explosive material for the purposes of harming others, according to federal prosecutors. Lecron allegedly told an undercover FBI agent that she was planning to carry out an "upscale mass murder" at a bar in Toledo, Ohio, according to The Miami Herald. She had also allegedly discussed carrying out a bomb attack and began to buy parts to make explosives. Lecron had exchanged letters with Dylann Roof in prison, telling him "stay strong" and "you have a lot of people that care for you beyond those walls".
Lecron's boyfriend, Vincent Armstrong, age 23, was also arrested a few days later for also participating in the alleged mass murder plots. According to prosecutors, Armstrong wrote in an online journal that he was possessed by "a vision to kill." Armstrong is also alleged to have purchased caps for making pipe bombs. Lecron and Armstrong were both indicted "for their roles in a conspiracy to use explosives and firearms to kill and injure others", according to a Department of Justice press release.
Also in December 2018, Dakota Reed, age 20, was arrested in Washington state after allegedly posting online that he would be "pulling a Dylan Roof" and carrying out a mass shooting at a local school or synagogue. Reed reportedly also expressed being inspired by Robert Bowers, the shooter who killed 11 Jewish worshippers at the Tree of Life synagogue in Pittsburgh, PA in October 2018.
Bowl Patrol: Worshipping Hate
A look into the online circles of Dylann Roof enthusiasts shows a cross-section of groups and individuals tied to violent alt-right rallies over the last few years.
Unicorn Riot has obtained and published leaked chat logs from a 'Bowl Patrol' Discord server, showing private conversations between January and February 2018. Many of the racist and alt-right individuals in the Bowl Patrol chat also show up in other leaked alt-right Discord records, such as chats associated with planning Unite The Right in Charlottesville, as well as groups such as Patriot Front and the Traditionalist Worker Party.
While Bowl Patrol's Discord server seems to have been reported to Discord abuse staff and shut down in February 2018, the loose-knit group of Nazi murder enthusiasts have continued to convene over various online platforms and is still quite active on platforms like Gab and Telegram and occasionally releases episodes of a podcast called the Bowlcast.
The alt-right meme culture surrounding Roof, while presenting itself as dark humor, serves as a platform to encourage similar massacres.
The group often refers to Dylann Roof as "Saint Roof" and using photoshopped images of his bowlcut, they have created an esoteric symbolism around celebrating the racist mass murderer. "Honestly my religion is the bowl" posted Discord user 'Spiritchef' in February 2, 2018.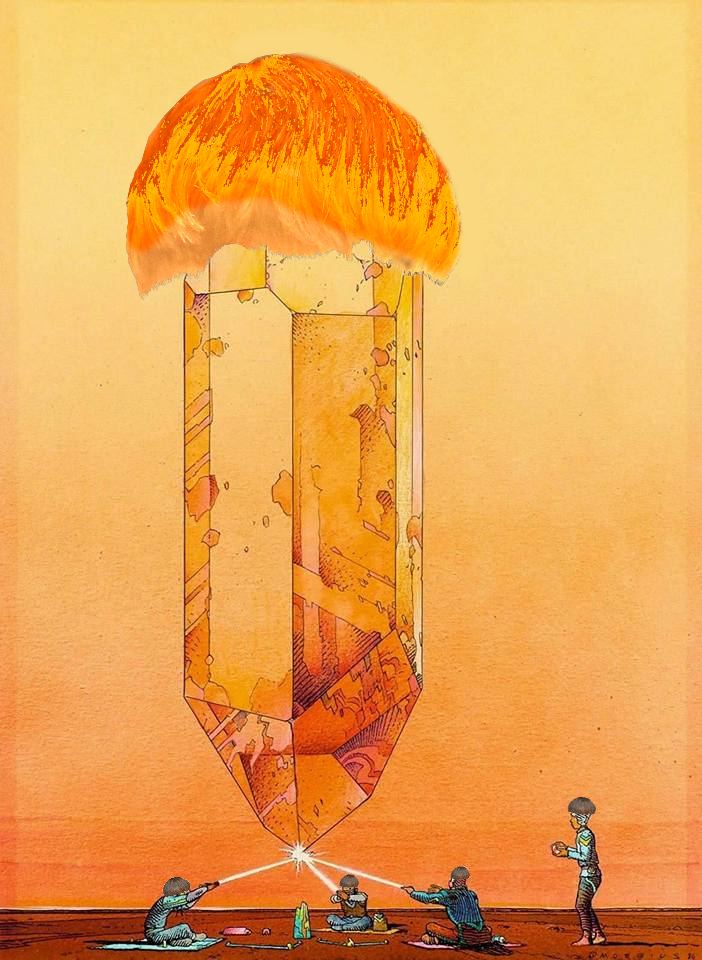 Bowl Patrol has created its own language of Roof references, such as "disrespect the bowl, pay the toll" and "take 'em to church", all intended to encourage racist violence while masquerading as dark ironic humor. The server's creator 'Vic Mackey' directly tied the psychological tolerance of violent imagery in memes to assessing a person' ability to carry out real-world racist violence:
"How are they gonna handle stomping a ni*let's head like a grape gusher if a meme is too much for them?" – 'Vic Mackey'
The self-described "founder" of Bowl Patrol goes by the alias Vic Mackey, a name taken from a fictional corrupt police officer who is the main character of the TV show The Shield. Various Discord comments by 'Vic Mackey' claim that he has a degree in finance and lives in California (Unicorn Riot has not confirmed whether these statements are true). In one of his podcast appearances in 2018, Mackey boasts of his former involvement with the neo-Nazi website The Daily Stormer, saying that he used to donate funds and help create content for the site. Mackey said in a podcast that he "used to be really close friends with [Daily Stormer owners] weev and Anglin" but that disagreements over "optics" had exacerbated conflict between the groups, and led to the Bowl Patrol breaking up with The Daily Stormer.
Mackey's previous close collaboration with the Daily Stormer is evidenced by an audio file found in the leaked chat logs. An earlier 'Bowl Patrol'-themed voice chat recording from a Daily Stormer Discord server, shared in the Bowl Patrol Discord chat and dated May 10, 2017, features Vic Mackey speaking alongside Daily Stormer staff including Andrew Auernheimer or 'weev'. The recording shows its participants involvement in preparing for Unite The Right in Charlottesville, telling those listening that "we need people to go to Virginia". The Daily Stormer's owner, Andrew Anglin, didn't seem to post in the Bowl Patrol Discord server in the logs we obtained, however messages sent to him by Mackey in the server suggest that he was present in the chat.
Since Charlottesville, however, Mackey has spoken against "goon marches" and suggests "flying under the radar, leaderless resistance cells, that kind of thing". "Leaderless resistance" in white nationalist circles is a euphemism for lone wolf-style terror attacks such as the Oklahoma City bombing carried out by neo-Nazi Timothy McVeigh in 1995. Bowl Patrol memes have also celebrated McVeigh, adorning him with a photoshopped bowlcut taken from pictures of Dylann Roof.
The creator of the Bowl Patrol Discord server directly tied the psychological tolerance of violent imagery in memes to assessing a person's ability to carry out real-world racist violence.
Also featuring prominently in Bowl Patrol chats and radio shows is a man posting under the username 'Tactical Bowlcut'. In leaked chat logs from the alt-right Discord chat 'Vibrant Diversity', 'Tactical Bowlcut' admitted to another person in the chat that his name is 'Kehne Moeller.' His full name is Robert Kehne Moeller, a resident of Melbourne, Florida. Moeller was involved in organizing a caravan from Florida to drive up to Virginia to attend Unite The Right in Charlottesville in 2017; the Florida caravan heavily overlapped with 'The Gators', an informal regional alt-right club.
Typical Discord messages shared in Bowl Patrol by Moeller include calls to "hang a ni**er in the yard" and genocidal sentiments such as "mud children don't matter". 'Tactical Bowlcut', who addresses his mates on Discord as "my fellow ni**erdeathers", has an extensive criminal history stretching back over a decade. Charges on Moeller's rap sheet include destruction of property, indecent exposure, entering a house to commit assault & battery, assault, unlawful wounding, and firearms violations. He also has a long list of other charges related to manufacturing and selling drugs, probation violations, disorderly conduct, as well as drunk driving charges. He currently faces misdemeanor and felony charges after his December 2018 DUI arrest in Florida, which is a potential violation of his probation from a previous firearms conviction.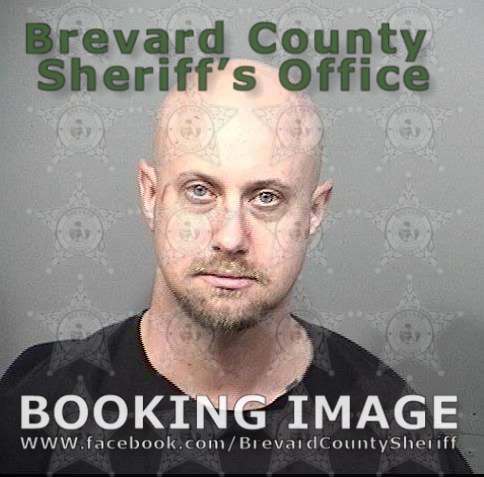 Moeller aka Tactical Bowlcut also created a Discord chat server "for WN [white nationalist] crypto traders" to discuss, trade, and manipulate various cryptocurrencies. Logs from Moeller's 'BOWL COIN' Discord chat are now available to view and search at Unicorn Riot's Discord Leaks database.
Another mainstay in 'Bowl Patrol' is Mark Daniel Reardon, a neo-Nazi once based in Philadelphia who goes by the username 'Illegal Aryan'. One photoshopped image typical of content shared by Reardon on Discord shows him smiling in front of a pile of dead bodies at a Nazi Holocaust concentration camp. Reardon attended the Nazi rally in Pikeville, Kentucky in April 2017, as well as Unite The Right in Charlottesville in August 2017; while in Charlottesville he stayed at a Red Roof Inn with a group of other Nazis. Reardon also claimed to be a former illustrator for the Daily Stormer.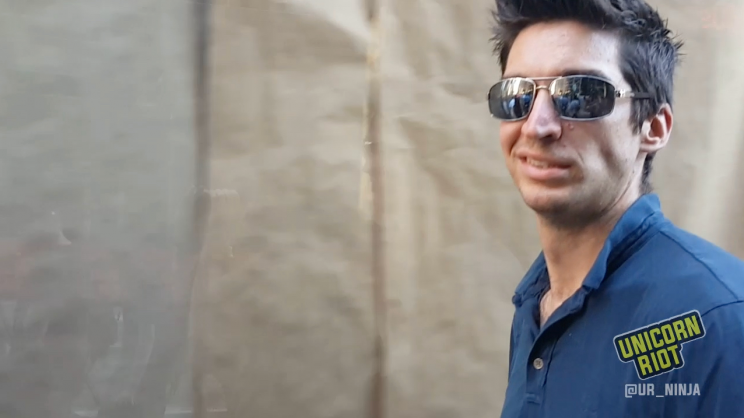 Reardon's real identity was exposed by antifascists in summer 2017 after he was revealed to be the person behind Nazi and anti-semitic flyers posted on University of Pennsylvania campus in West Philly. One of the flyers posted by Reardon was from the Atomwaffen Division (AWD), a neo-Nazi terror group that advocates 'lone wolf'-style murders and bombings. Atomwaffen has been tied to at least 5 deaths in the US, and its members have been exposed planning attacks on infrastructure such as water treatment plants.
Atomwaffen has notable overlap with those involved in the Bowl Patrol chats. Michael Lloyd Hubsky aka Komissar, leader of Atomwaffen's Nevada cell, was present in the Bowl Patrol server. On February 2, 2018, Bowl Patrol founder 'Vic Mackey' wrote "I think we might just become unofficial AWD affiliates at this point" after discussing his group's cozy relationship with Atomwaffen, the self-described "right wing death squad".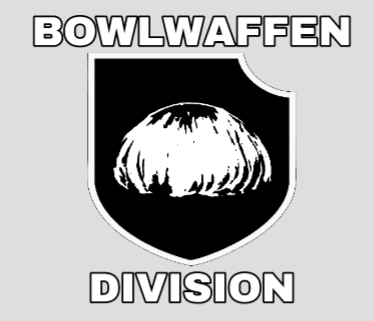 A few days later on February 11, 2018, Bowl Patrol Discord user 'LeftismisADisease' shared a meme featuring Atomwaffen member Sam Woodward with a bowlcut photoshopped onto his head. Woodward, who went by 'Arn' in Atomwaffen Discord logs obtained by ProPublica, is set to face trial for the murder of Blaze Bernstein, a gay Jewish college student whom he reportedly lured to his death using a dating app. (Blood matching Bernstein's DNA was reportedly recovered from a knife found in Woodward's bedroom.) Another meme shared in the chat by Discord user 'The Final Bowlution' featured Dylann Roof alongside a screenshot of news coverage of Atomwaffen.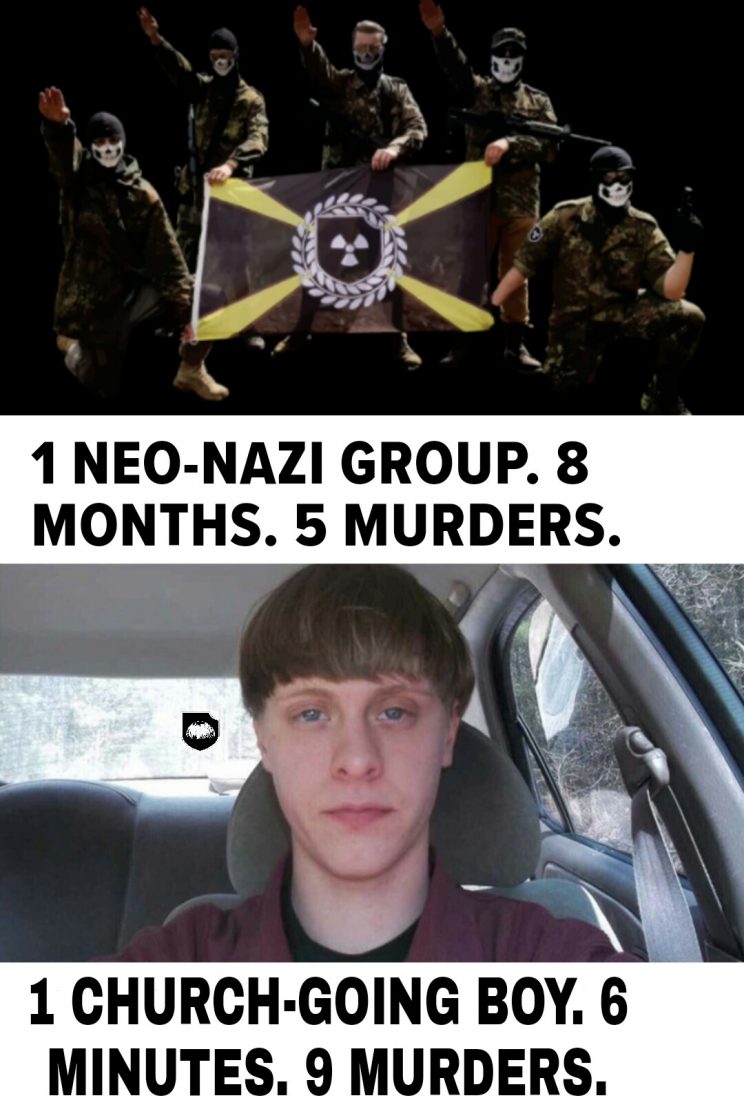 The Bowl Patrol Discord chat also overlaps with other violent neo-Nazi and alt-right groups. Vic Mackey and others from Bowl Patrol were present in leaked chats from the Traditionalist Worker Party (TWP), a Nazi organization that collapsed in March 2018. Mackey and others would eventually be banned from the TWP's Discord server after they engaged in extensive cyberbullying targeting Zaine Deal aka 'Fevs', a teenager who administrated the TWP's Discord chat.
Several TWP members were also present in the Bowl Patrol chat, including Dave Fassler of Ohio, as well as the neo-Nazis behind the usernames 'Hadrian' and 'Kombat-Unit'. Also present in Bowl Patrol was William Fears (aka 'Antagonizer'), a Texas-based neo-Nazi who was charged with attempted murder after shots were fired at anti-racist protesters following white supremacist Richard Spencer's talk at the University of Florida in October 2017. Another Texan alt-right activist in Bowl Patrol chats was username 'Chef Goyardee', a white supremacist who helped arrange travel from Texas to Unite The Right and is connected to the fascist group Patriot Front. 'SonderSchutz TX', a  username tied to another member of Patriot Front, also shows up in the Bowl Patrol chat records.
Other known white supremacist Discord users found in the Bowl Patrol chat include Dillon Irrizarry aka Dillon Hopper, the 'CEO' of Vanguard America, the Nazi group seen marching in Charlottesville alongside convicted murderer James Alex Fields. Johnny Monoxide aka John Ramondetta, a neo-Nazi podcast personality involved with The Right Stuff network, also shows up in the logs. So does D'Marcus Leibowitz, a pseudonymous alt-right organizer behind the "elite" alt-right 'Vibrant Diversity' Discord chat server, as well as 'Timmy Matlock', a neo-Nazi podcaster tied to the Daily Stormer.
The Bowlcast: "Hail Saint Bowers, Hail Saint Roof"
In the first episode of the 'Bowlcast', Bowl Patrol's on-again, off-again internet radio show, Vic Mackey and other 'bowlthers' joined famous "crying Nazi" Christopher Cantwell to praise Dylann Roof. Mackey praised Roof's planning for the church shooting, calling it a "masterful stroke" because of Roof's deliberate targeting of black community leaders for, Mackey said, being involved in the "most heinous anti-white organizations". Mackey further stated that black churches are a good target for shootings because of their historical support for slave revolts.
The Bowl Patrol Discord chat also overlaps with other violent neo-Nazi and alt-right groups.
In Bowlcast Episode 3, Vic Mackey and a guest enthusiastically expressed their apparent obsessions with sexually assaulting Jewish women. The desire to kidnap, torture, and rape Jewish women or "yentas" is a common trope throughout the chats and online content associated with Bowl Patrol. Some Discord users shared images of bullets and talked about wanting to shoot Jews.
The two men also share their praise for "Saint Roof" – "he did well," said Mackey. They also discussed how what they saw as tactical positives of Roof's shooting could be re-applied if a similar act was carried out today. Specifically they praised Roof's killing of Clementa Pinckney, a South Carolina State Senator, civil rights activist, and pastor at Charlston's predominantly African American AME church. Mackey compared Pinckney to Wes Bellamy, a black politician who sits on Charlottesville's city council and who was the city's Vice Mayor during Unite The Right. Bellamy was heavily targeted by white supremacists in the leadup to the August 2017 rally in Charlottesville, receiving many death threats. To this day "Wes Bellamy is a ni**er" is n inside joke amongst some of the alt-right, serving as a nostalgic reminder of the harassment and intimidation visited upon Charlottesville residents and city officials in 2017.
In the most recent episode of the Bowlcast, dated December 25, 2018, the speakers on the podcast, possibly intoxicated, took a more direct approach to advocating for repeats of mass killings like those by Dylann Roof and Robert Bowers. Vic Mackey shared his personal experience of learning about the Pittsburgh synagogue shooting, which he said "totally reinvigorated me":
"The night before that wonderful thing happened, before Saint Bowers went to Synagogue, me and some other bowls on bowl patrol were talking with each other and saying…It's a shame that their hasn't been a Saint Roof event, another 'take me to church' event, and that we're really due for another one." – 'Vic Mackey'
After describing what seemed to him like the spiritual significance of Bower's shooting, Vic Mackey went on to joyfully describe how he wanted to see more massacres like it in the future: "Robert Bowers is not going to be the last, not by far, he's not gonna be the last . . . there is going to be a million Bowers flowers blossoming." Mackey also proudly described how he had interacted with Bowers on Gab, and bragged about how Bowers followed him and shared Dylann Roof memes that had been made by the Bowl Patrol group.
While the 'Bowl Patrol' Discord server was taken offline last year, the Bowlcast is part of the Radio Wehrwolf neo-Nazi podcast network, which relies on third-party services such as ZenCast, Streamlabs, Libsyn, and YouTube to deliver content to its audience. ZenCast.fm, which provides .mp3 hosting for the Bowlcast, did not respond to a request for comment about whether the show violates their Terms of Service, which forbids users from uploading "hate speech".
---
The Bowl Patrol chat logs can be browsed and searched online at the Unicorn Riot Discord Leaks database at discordleaks.unicornriot.ninja. Other Unicorn Riot reports based on leaked alt-right Discord chats have exposed the planning for Unite The Right in Charlottesville, as well as internal communications of neo-Nazi groups such as Vanguard America, Patriot Front, the Traditionalist Worker Party, the Daily Stormer, National Socialist Legion, and Anti-Communist Action (Anticom).
---
Title image photograph via Wikimedia Commons/by EvanGuthrie – Own work, CC BY-SA 4.0, Link
---