COVID Commission Finds Bolsonaro Committed "Crimes Against Humanity"
Thousands of Black people occupied the streets of several cities throughout Brazil on November 20, a national holiday called Black Consciousness/Awareness Day. A month earlier, investigations into President Jair Bolsonaro's handling of the coronavirus pandemic found him guilty of "crimes against humanity" and recommended indictments on 78 others along with two companies for their alleged crimes during the pandemic.
Drawing awareness to Brazil's Black population, the largest in the world outside of the continent of Africa, November 20 also featured rallies shouting for social improvements and calls for the departure of current president Jair Messias Bolsonaro from power.
In addition to the well-known cry "Fora Bolsonaro" (Bolsonaro Out), the anti-racist protesters drew attention to the genocide of the Black population in the country, the rise in food prices, state violence by the police, the economic crisis devastating the country, and the increase of hunger and misery among the people.
Once again, the name of ex-president Lula was present among the protesters and demonstrations, thus strengthening Lula as the most probable candidate of the left in the next elections, and one who many believe has a real chance of victory.
The 7th Fora Bolsonaro national demonstration was organized by Coalizão Negra (Black Coalition) in partnership with Frente Fora Bolsonaro, trade unions, students, community leaders, among other movements. (For coverage of some of the other national protests see here).
Ribeirão Preto Protest Coverage
The November 20 protest was the first demonstration organized by social movements in a community in the municipality of Ribeirão Preto in the Bolsonaro era. Ribeirão Preto, a cultural center, is a city of over 700,000 in the interior of the state of São Paulo located about 315 km (196 mi) from the capital city São Paulo (same name).
Protesters gathered early morning in Jardim Aeroporto, a suburb of the city, known as one of the most precarious in terms of basic sanitation, unemployment, hunger, police violence, among other problems.
Protesters marched through the streets of the territory, distributing leaflets, talking to local residents and shouting their dissatisfaction with the current government. Activists and local residents also made speeches and performed spoken word poetry.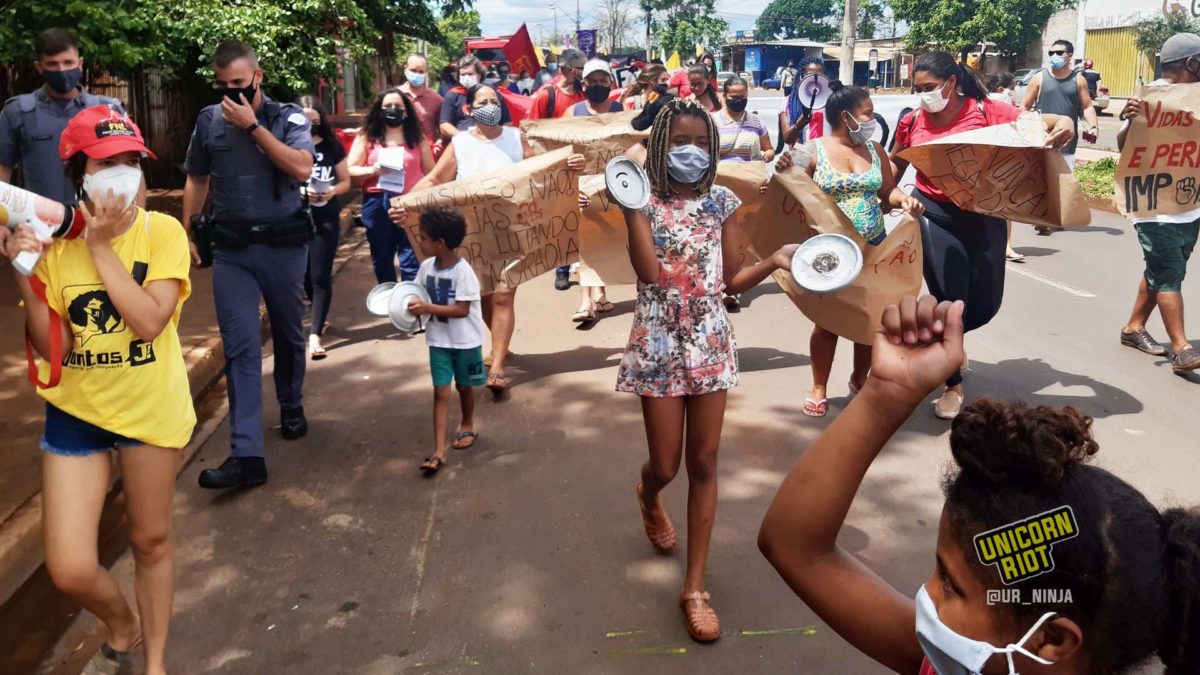 Parliamentary Commission of Inquiry (CPI) on COVID Management
As previously reported, a Parliamentary Commission of Inquiry (CPI) investigation into the Brazilian government's response to the coronavirus pandemic has been underway since early May 2021.
After six months of investigations, the final report, approved by the Brazilian Senate and presented on October 26, 2021, pointed out 9 specific crimes including "crimes against humanity," allegedly committed by President Bolsonaro during the pandemic including: Crime of responsibility; Incitement to crime; Irregular employment of public funds; Forgery of private document; Crimes against humanity; Prevarication; Quackery; Crime of infraction of sanitary measure; and Epidemic Crime.
The 1,289 page report also seeks the indictment of 78 people and two companies for their alleged crimes during the pandemic, although the commission doesn't have the power to give punishment. In early December, the Brazilian Supreme Court opened an investigation into Bolsonaro for his claims that COVID vaccines could give people AIDS for taking them.
A key COVID CPI witness, Health Ministry whistleblower Luis Ricardo Miranda, had to leave Brazil on October 28 through a witness protection program for fear of reprisals for his contributions to the CPI. Miranda was receiving constant death threats for accusing President Bolsonaro of ignoring allegations made by Miranda and his brother, Congressman Luis Miranda. The allegations were about a corruption scheme in the Ministry of Health for the purchase of the Covaxin vaccine.
While Brazil approaches the mark of 618,000 dead as a result of COVID-19, which has infected over 22 million Brazilians so far, the complex political climate continues to churn on the eve of presidential elections set to take place in 2022.
COVID-19 Data From Brazilian States
Since our last report from Brazil published on October 9 during a time when Brazil exceeded 600,000 coronavirus deaths, the numbers dramatically slowed down in the country. With nearly 618,000 dead, Brazil has the second highest number in the world behind the United States (nearly 800,000 deaths).
Six Brazilian states have a recent increased number of cases: Ceará, Maranhão, Mato Grosso do Sul, Pará, Piauí and Sergipe, according to coronavirus statistics as of December 12. Another six states are stable: Mato Grosso, Minas Gerais, Paraná, Pernambuco, Rio Grande do Norte and Roraima. While 15 states showed a drop in the number of cases: Acre, Alagoas, Amapá, Amazonas, Bahia, Federal District, Espírito Santo, Goiás, Paraíba, Rio de Janeiro, Rio Grande do Sul, Rondônia, Santa Catarina, São Paulo and Tocantins.
The most lethal states are as follows:
São Paulo: number of cases – 4,449,706 | number of deaths – 154,760
Rio de Janeiro: number of cases – 1,349,520 | number of deaths – 69,259
Minas Gerais: number of cases – 2,155,777 | number of deaths – 56,479
Paraná: number of cases – 1,588,513 | number of deaths – 40,830
The states with the fewest reported deaths are:
Acre: number of cases – 88,272 | number of deaths – 1,849
Amapá: number of cases – 125,420 | number of deaths – 2,007
Roraima: number of cases – 128,751 | number of deaths – 2,063
Omicron Variant
Brazil was the first country in South America to detect the Omicron variant (B.1.1.529), a new variant of COVID-19 which may have a higher transmission rate, however studies are ongoing. This new variant was first reported to the World Health Organization (WHO) on November 24 and detected for the first time on Brazilian soil a few days later, November 27.
It reportedly came into Brazil from unvaccinated travelers who had recently arrived from South Africa, where the Omicron variant was first detected. This then led to a series of travel restrictions on six countries in the African continent and quarantines for those infected.
Currently, Brazilian authorities report at least eight cases of the new variant. The amount of cases reported is causing some apprehension among the population due to the overall mishandling of the pandemic.
The state of São Paulo has registered two cases of Omicron. The Federal District and the Rio Grande do Sul registered two cases each, and there are still two cases being investigated in Goiás; one in São Paulo and one in Minas Gerais.
Vaccination
According to data, 160,174,846 (75.09%) of Brazilians received at least the first dose of vaccination against COVID-19. Another 139,536,958 people are fully vaccinated (65.41% of the population). The booster dose was given to 20,222,395 people (9.48% of the population) and a total of 299,711,807 doses were applied. The most advanced states in COVID-19 vaccination are: São Paulo, Santa Catarina, Paraná, Distrito Federal and Minas Gerais.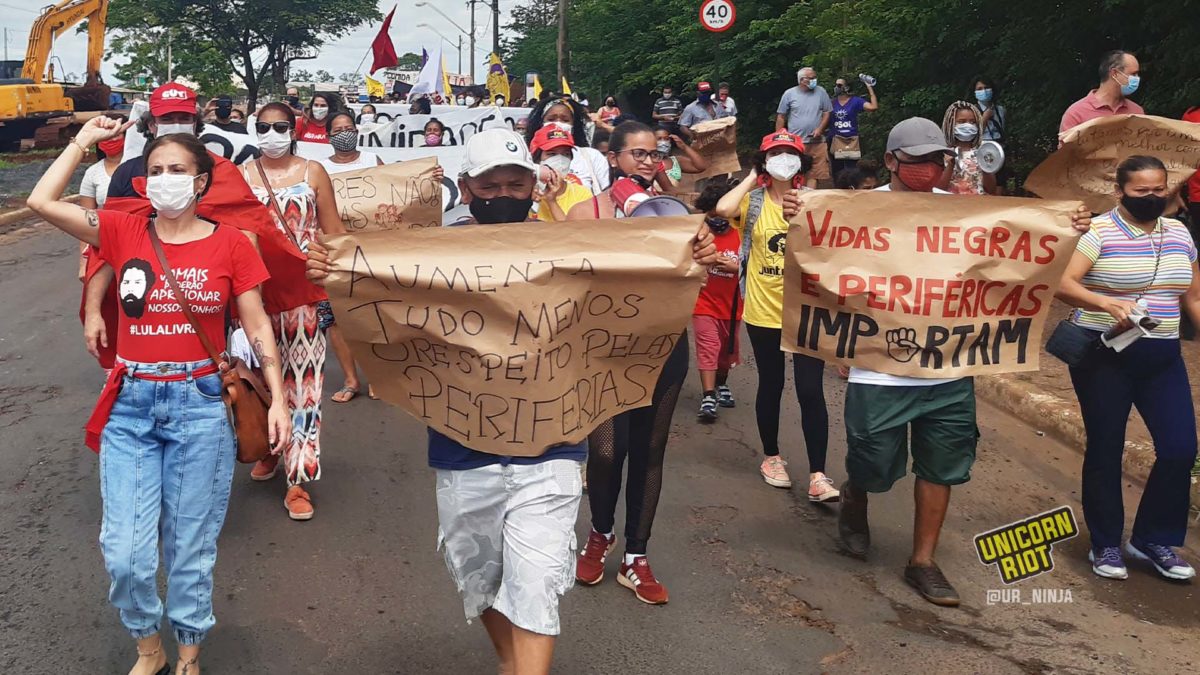 Niko Georgiades of Unicorn Riot contributed to this report.
---
Follow us on X (aka Twitter), Facebook, YouTube, Vimeo, Instagram, Mastodon, Threads, BlueSky and Patreon.
Unicorn Riot's Coverage From Brazil:
Please consider a tax-deductible donation to help sustain our horizontally-organized, non-profit media organization: