Hubbard County Barricades Private Property, Imprisons Water Protectors
Hubbard County, MN – At around 6 a.m. Monday, Hubbard County Sheriff's deputies delivered a notice to the Namewag Camp, a privately-owned property of water protectors, stating that the sole entrance would not be "open to vehicular traffic per Hubbard County's Land Use Ordinance."
"The trail will be barricaded beginning on June 28th 2021 at 10:00am. Vehicles will not be allowed to enter for any reason after this time. Vehicles driving on this Hubbard County owned trail are in violation of the Hubbard County Land Use Ordinance and enforcement action will be taken by the Hubbard County Sheriff's Office."

Notice from Hubbard County Sheriff Cory Aukes and Hubbard County Land Commissioner Mark Lohmeier
We spoke with Hubbard County Land Commissioner Mark 'Chip' Lohmeier to find out more details pertaining to this abrupt notice.
"Hubbard County is classified as limited [in terms of tax forfeiture] which means if there is not a specific sign posted on that road then that road is closed to motor vehicle traffic. There is no sign on that road, therefore motor vehicle traffic is not allowed."
When we pressed him about the timing of the notice, he told us that "there hasn't been a sign on that road ever," which alludes to there being more reason as to why this apparent lack of an easement is only being enforced now.
Tara Houska, founder of the Indigenous women and two spirit-led Giniw Collective, told us that "it appears Minnesota is willing to deny right of access to private property in its defense with the private oil company, Enbridge, it's currently billing to."
Most law enforcement costs associated with protecting Line 3 are being paid by the Enbridge corporation via funds the Canadian oil giant deposits into an escrow account managed by state officials. According to documents obtained by The Intercept, "Enbridge reimbursed $1,086,361" to local sheriffs, police and other agencies as of the end May 2021.
"This is a blatantly unlawful attempt to target and repress Indigenous-led efforts to defend our land and water. The state of Minnesota appears to not understand treaty law, it also seems Minnesota doesn't understand U.S. property law either."

Tara Houska, Giniw Collective
We asked Lohmeier if it is common practice to barricade property owners on their property when there is not an easement, which he replied: "we are not barricading the land owners on their property." The notice, however, uses that term. "They can walk across tax-forfeited land all they want . . . it's their vehicles that are the issue," Lohmeier continued.
He added that Hubbard County easements do not transfer automatically, and since the name on the land deed changed, they need to request a transfer for that easement. We asked how long that process typically takes, and he said about 1-2 months.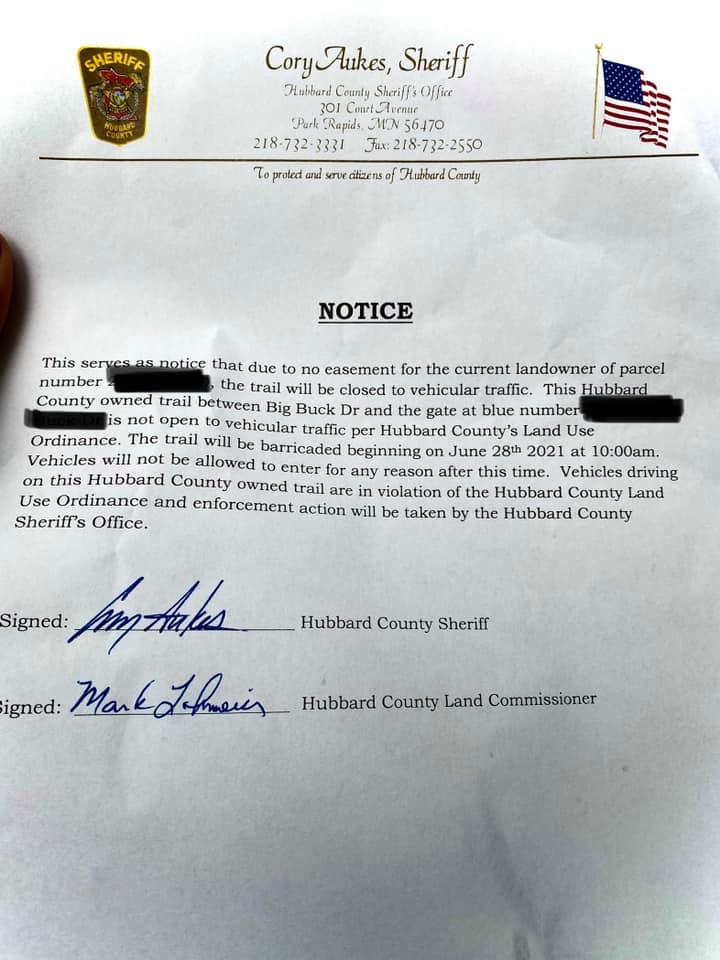 Being selective in what laws to enforce and when to enforce them isn't remarkable for Sheriff Cory Aukes. On June 15, 2021, when two water protectors locked down to a truck carrying massive drill bits for a horizontal drill intended to bore water crossing pathways for the new Line 3 pipeline, approximately thirty other water protectors who were rallying off the side of the road in a grass ditch were also arrested.
About 20 minutes into the rally and lockdowns, sheriff's deputies with Hubbard County crossed the road and told everyone they were under arrest. One water protector asked Hubbard County Sheriff Cory Aukes why an arrest warning or dispersal order wasn't given. He replied by saying: "We don't need one!"
The rallying arrestees received three misdemeanor charges: Public Nuisance 609.74(2), Unlawful Assembly 609.705, and Disorderly Conduct 609.72.1(3).
Unicorn Riot streamed the action on June 15, which you can watch below.
We also streamed during the most recent non-violent direct action in Hubbard County against Enbridge's new Line 3 pipeline on June 23, 2021. Three water protectors locked down to a horizontal directional drill near the Straight River. Check out our stream below.
---
Follow us on X (aka Twitter), Facebook, YouTube, Vimeo, Instagram, Mastodon, Threads, BlueSky and Patreon.
Please consider a tax-deductible donation to help sustain our horizontally-organized, non-profit media organization:

Unicorn Riot's Line 3 Oil Pipeline Coverage: