Ex-Cop Derek Chauvin Sentenced to 22.5 Years for George Floyd Murder
Minneapolis, MN – In a landmark ruling, Minnesota Fourth District Judge Peter Cahill sentenced convicted murderer and former Minneapolis Police officer Derek Chauvin to over 22 years in prison for the killing of George Floyd. This is now the longest sentence ever given to a former cop for a killing committed in the line of duty in Minnesota. Chauvin was sent straight to prison with 199 days time served for time he's already served in jail. Chauvin also faces federal civil rights prosecution which has yet to go to trial.
Chauvin was found guilty of unintentional second-degree murder, third degree murder, and second-degree manslaughter in one of the most historic murder trials of the century that concluded on April 20, 2021. Similar to the trial, the sentencing on June 25, 2021, was streamed nationally, you can watch the sentencing below [1HR 30MIN].
Four victim impact statements were presented to the court from the prosecution side before Judge Cahill's sentencing decision was announced. Prosecuting attorney Jerry Blackwell, who did the state's opening and closing arguments in the Chauvin trial, introduced the lineup of impact statements to the court.
A pre-recorded video statement from George Floyd's 7-year-old daughter, Gianna Floyd, was played. Gianna said she misses her father and recalled having "dinner meals every single night before we went to bed" and she smiled and said "my daddy always used to help me brush my teeth."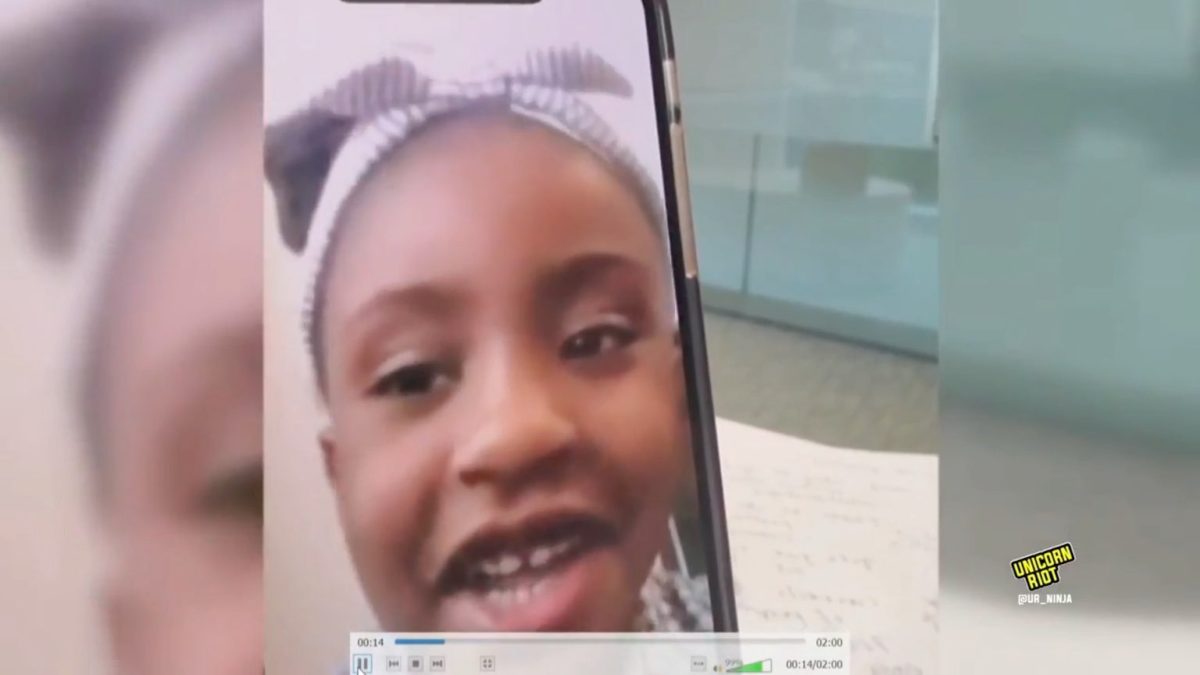 George Floyd's nephew Brandon Williams told the court that he won't get any more "laughter, guidance, hugs, advice" from his uncle and that his family "is forever broken" due to their loss.
George Floyd's brother Terrence Floyd told the court how losing his brother has negatively affected his family. He said his last conversation with George Floyd was about setting up a play date for both of their daughters.
"Why? What were you thinking? What was going through your head when you held your knee on Floyd's neck?"

– Terrence Floyd, George Floyd's brother
Another brother of George Floyd, Philonise Floyd, said he loses sleep often from reliving the murder, having been subjected to videos of his brother being killed "over and over" in media coverage and during the trial.
All three of Floyd's grown relatives who addressed the court asked for the harshest sentence possible to be imposed.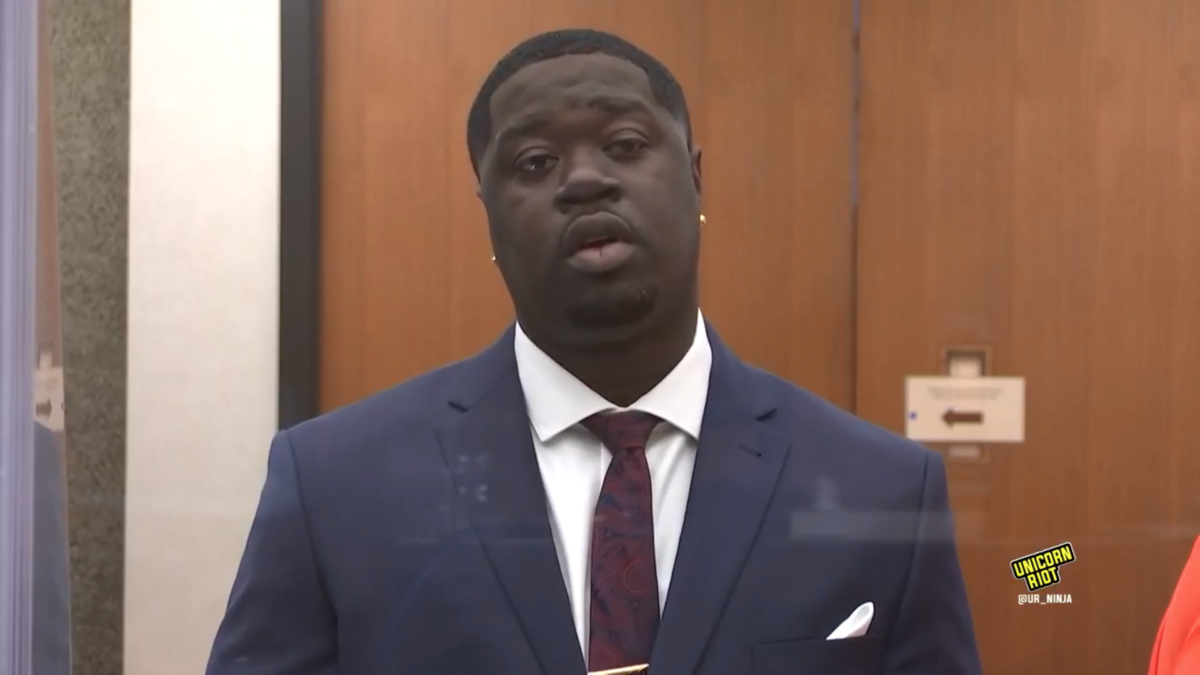 Assistant Minnesota Attorney General Matthew Frank then made sentencing arguments on behalf of the state of Minnesota. Frank said Minneapolis Police officers who testified during the trial went "above and beyond the call of duty" to testify against their colleague Derek Chauvin. He commended investigators from the Minnesota Bureau of Criminal Apprehension (MN-BCA) as well as the Floyd family, who he said had "tolerated" trying court proceedings and had shown "grace" throughout the trial.
Frank said Judge Cahill had discretion to "give a more serious sentence" than state sentencing guidelines recommend and spoke about four aggravating factors to the conviction before asking for "double upward" departure from the sentencing guidelines and for a maximum 360 month sentence (the minimum is 180 months). The four aggravating factors cited by the prosecution were:
Abuse of authority – "An abuse of a position of trust and authority"
Torture – Chauvin treated Floyd with "particular cruelty" and his actions amounted to "torture"
Children were present and witnessed the murder – "it's particularly bad to commit a crime in front of children"
With the involvement of three or more persons – Former officers Thomas Lane and Alexander Kueng were "holding Mr. Floyd down" while former officer Tou Thao kept "bystanders at bay" and stopped "people from giving help"
"It's time for the criminal justice system to say this is more serious than a typical second-degree unintentional murder."

– Matthew Frank, prosecuting legal team

Defense attorney Eric Nelson then introduced Derek Chauvin's mother, Carolyn Pawlenty, who spoke publicly for the first time. Pawlenty stated she was there "to speak on behalf of [her] entire family" and claimed her son Derek Chauvin was "a good man" with a "big heart" and that he's been improperly portrayed in the media and by the prosecution as "heartless" and "racist."
Pawlenty said Chauvin had devoted his life to the Minneapolis Police Department and would call into the precinct "even on his days off." She said she could see "the toll" it was taking on Chauvin since he's been in jail and asked Judge Cahill for leniency when sentencing him.
Carolyn Pawlenty then directed all of her attention to her son and told him that the two most important moments in her life were giving birth to him and pinning the badge on his chest when he became a police officer.
"Derek, I want you to know that I've always believed in your innocence and I will never waver from that."

– Carolyn Pawlenty, Derek Chauvin's mother
Pawlenty also told her son that she's "read numerous letters from people around the world that also believe in your innocence."
During her statement Pawlenty mis-cited the date of George Floyd's murder, leading to Chauvin's arrest a few days later, as November 25, 2020 (it was in May). Chauvin's mother didn't mention George Floyd by name, nor did she acknowledge Floyd's family.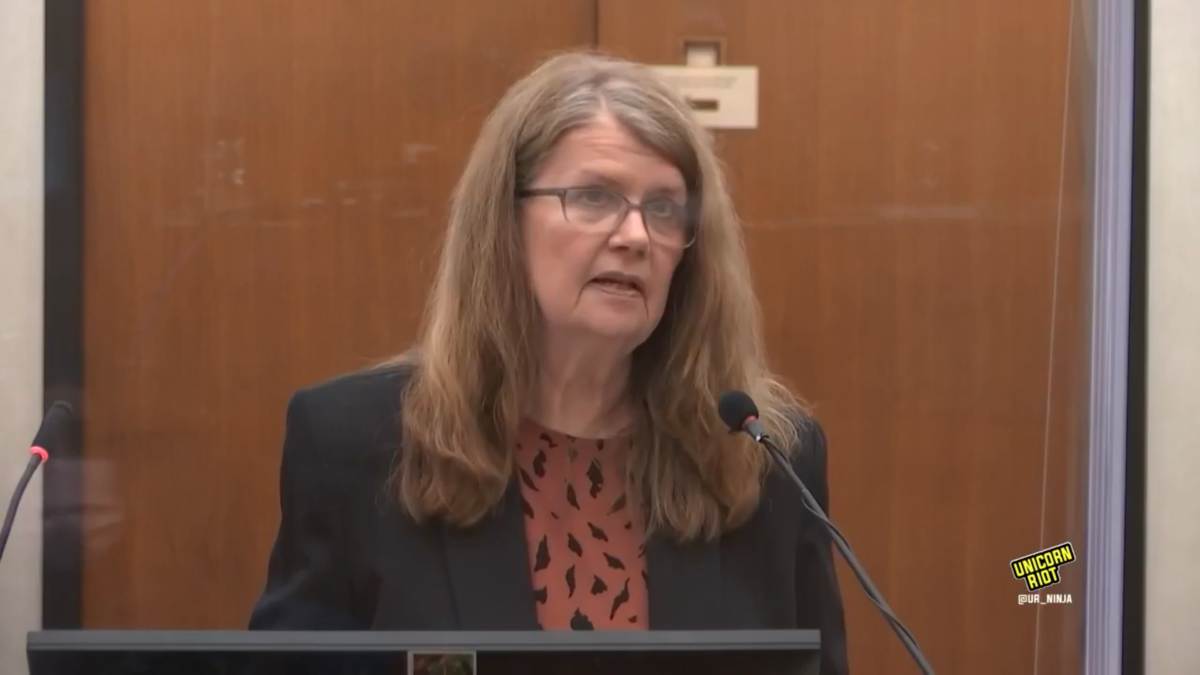 Chauvin's lawyer Eric Nelson then gave his sentencing arguments and asked Judge Cahill to stay within the sentencing guidelines.
"This case is at the epicenter of a cultural and political divide. We tried to keep a lot of that out of the courtroom during the trial … there are a great number of people who will avoid any sentence as overly lenient … there is an equal number of people who will view the sentence as draconian and overbearing."

– Eric Nelson, Derek Chauvin's defense attorney
Nelson said "the impact this case has had on this community is profound" and has "weaved it's way into merely every facet of our lives." He also told the court "justice is blind, law is built on reason and common sense and it cannot afford to be assailed by public opinion."
Chauvin's lawyer said that his client "loved being a police officer" and that during his time representing him, other MPD officers contacted Nelson to tell him Chauvin was a "solid police officer" that "did his job" and didn't complain. He said Chauvin was given awards for saving lives and "attempted to live an honorable life."
On May 25, 2020, the day he killed George Floyd, Chauvin wasn't even scheduled to work, Nelson said, but he came in because MPD was short-staffed.
Derek Chauvin, with a freshly buzzed haircut and grey suit, was then asked by Judge Cahill to speak to the court. Chauvin said he couldn't give a formal statement due "additional legal matters" (likely a reference to his federal case) but said he wished to give "condolences to the Floyd family" and hinted towards some information provided in the future that could be "of interest."
"Due to some additional legal matters at hand, I'm not able to give a full formal statement at this time. I want to give my condolences to the Floyd family, there's gonna be some other information in the future that would be of interest and I hope things will give you some peace of mind."

– Derek Chauvin
After a recess, Judge Cahill announced that he would be imposing a prison sentence of 270 months, or 22.5 years, against Derek Chauvin. Cahill said that he took into account the aggravated factors of an "abuse of a position of trust and authority" as well as Chauvin's deliberate cruelty towards George Floyd. Chauvin will also be required to register as a "predatory offender" and will be permanently forbidden from owning any firearms or explosives.
You can read Judge Cahill's 26-page sentencing memo here.
Chauvin is being held in segregation at MCF-Oak Park Heights, Minnesota's only maximum security prison. According to the MN-Department of Corrections, his anticipated release date with good time is December 10, 2035.
---
Unicorn Riot's Derek Chauvin Trial Coverage:
Follow us on X (aka Twitter), Facebook, YouTube, Vimeo, Instagram, Mastodon, Threads, BlueSky and Patreon.
Please consider a tax-deductible donation to help sustain our horizontally-organized, non-profit media organization:

Unicorn Riot's George Floyd Coverage: