'Community' Committee Cheers Police Violence as Authorities Repress Resistance to 'Cop City'
Atlanta, GA – As the movement to prevent the destruction of a huge swath of forest outside Atlanta grows more powerful, the authorities are scrambling to contain it. As they do, they are resorting to increasingly violent measures — including the killing of an Indigenous protester, Manuel Terán, also known as Tortuguita, on January 18 and charging 19 protesters with trumped up domestic terrorism charges. 
All the while, the majority of the members of the Atlanta Police Foundation's Community Stakeholder Advisory Committee (CSAC) have cheered on the increased police presence and harsh repression of community members who oppose the project, with one member praising the police's deployment of "shock and awe."
Shock and awe is a wartime military strategy which relies upon the spectacular deployment of overwhelming force to paralyze an enemy's will to fight. It is also called "rapid dominance."
"So one of the things we charged them with, to include criminal trespass, was domestic terrorism charge that we put on them," said Assistant Chief Carven Tyus of the Atlanta Police Department, during a December 15, 2022 meeting of the CSAC.
"So going forward, that is one of the charges that we will be using," Tyus continued.
In his presentation to the committee just days after a raid on the forest encampments that led to six arrests, Tyus explains why he and other law enforcement officers have chosen to arrest the protesters for "domestic terrorism" — they aren't from Georgia.
"None of those people live here; they don't have a vested interest in this property and we show that time and time again. Why is an individual from Los Angeles, California concerned about a training facility being built in the state of Georgia? And that is why we consider that domestic terrorism," Tyus explained.
Tyus' statements are particularly ironic given a recent revelation by the Atlanta Community Press Collective that the proposed training center will recruit 43% of its trainees from out of state. If built, the training center would increase the power of police not just in Atlanta, but throughout the region and the country. 
The Atlanta Police Foundation is the primary organization behind the Atlanta Public Safety Training Center, often referred to as 'Cop City' by opponents. To construct the 85-acre facility, part of Weelaunee (the South River Forest) will be razed.
The video of the Stakeholder's Committee meeting was first released by the Atlanta Community Press Collective. 
Police reports from the December 13 raid on the forest obtained by Unicorn Riot also confirm protesters' reports of police use of chemical agents on tree sitters. "GBI and SRS ordered chemical agent to be used in the treehouse in an attempt have her surrender without further incident," the report reads. The tree-sitter "was provided numerous warnings, offers of assistance to get down, and provided with safe routes of egress. However, [the tree-sitter] continually refused to get down and said, "No," when ordered to get down."
Police then fired repeated rounds of chemical munitions "using a city-issued PepperBall Launcher." But the tree-sitter proved to be more resilient than police anticipated. They "refused to have a dialogue with [Georgia Bureau of Investigation] agents and refused to surrender. Sgt Krieger gradually increased the amount of PepperBall agent in the treehouse in hopes that [the tree-sitter] would surrender. After it was determined the PepperBall agent was ineffective, APD SWAT arrived and took over all chemical munitions."
Another report confirmed that officers hit tree sitters with the chemical munitions. "Officer N. Palencia, Officer G. Jackson and Officer T. Cone were all advised by supervisors to strike the tree with chemical agents, PepperBall, in an effort to make [the tree-sitter] uncomfortable and come down on his own," the report reads. "All Officers who launched Pepperball, did strike [the tree-sitter] as well due to the unpredictable flight of the Pepperball, but caused no injuries."
According to the reports, none of the protesters were threatening the police in any way. One tree-sitter "was playing music, dancing, and periodically stuck his head out to yell at police," according to the reports.
In the December meeting, Tyus also admitted to arresting an individual on a technicality during the December 13 raid because he tried to film the police, which is a protected First Amendment right. "We had an individual who was out attempting to film our officers," said Tyus, "so we were able to get him with the hands free law as he drove by filming our officers. So we were able to lock him up."
This is only the most recent occasion of police attacks on journalists and others who seek to document police activities in the midst of the movement to defend the forest in Atlanta. Reporting by Saporta Report documented a number of instances of such attacks, including the arrest of a Unicorn Riot contributor during a protest in Atlanta in May 2021. 
Just hours after police killed Terán on Jan. 18., someone was arrested near the entrance of Intrenchment Creek Park. Before they were placed into a Georgia State Patrol vehicle, they told a Unicorn Riot contributor that they had only been filming.
There have also been defections from the otherwise universal saber-rattling of the committee. One member, Nicole Morado, resigned from the committee shortly after police killed Terán, according to recent reporting by Saporta Report.
"Really I did not want to be affiliated with a project that is using police violence and taking lives…," Morado told Saporta Report. "I'm still an interested resident. I just don't want to be affiliated with that group any longer."
Another Committee member, Amy Taylor, filed an appeal against the construction project on February 6 with the DeKalb County Zoning Board of Appeal citing concerns about water run-off into Intrenchment Creek Park. 
---
In arrest warrants, officers explained why the "domestic terrorism" charge was applicable to forest defenders. The majority of the warrants begin by describing the "terrorist" activity as involving "participating in actions as part of Defend the Atlanta Forest (DTAF), a group classified by the United States Department of Homeland Security as Domestic Violent Extremists."
However, as reported by Forever Wars, the Department of Homeland Security clarified in a statement that it "does not classify or designate any groups as domestic violent extremists." Instead, the department uses the term to refer to "the conduct of groups or individuals."
Yet, in many of the warrants, it's unclear what that "terrorist" conduct entails. One of the warrants reads, "The accused affirmed their cooperation with DTAF by criminally trespassing on posted land and was arrested while sleeping in a hammock with another defendant."
The same warrant also appears to criminalize Constitutionally protected political positions: "Said accused is also a known member of a prison abolitionist movement."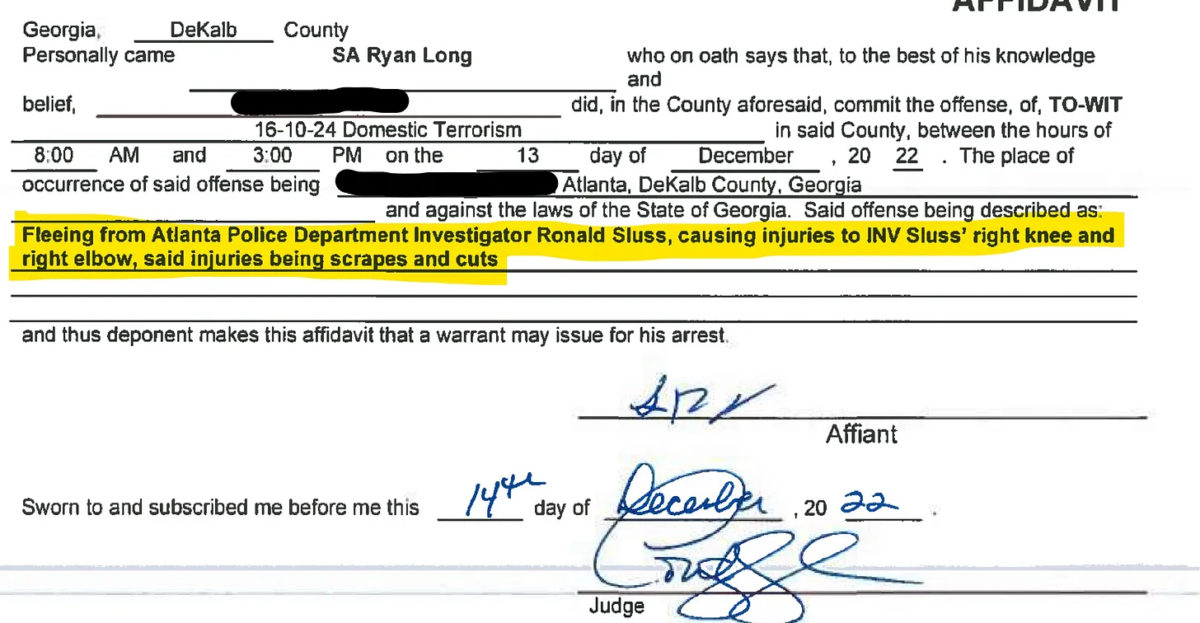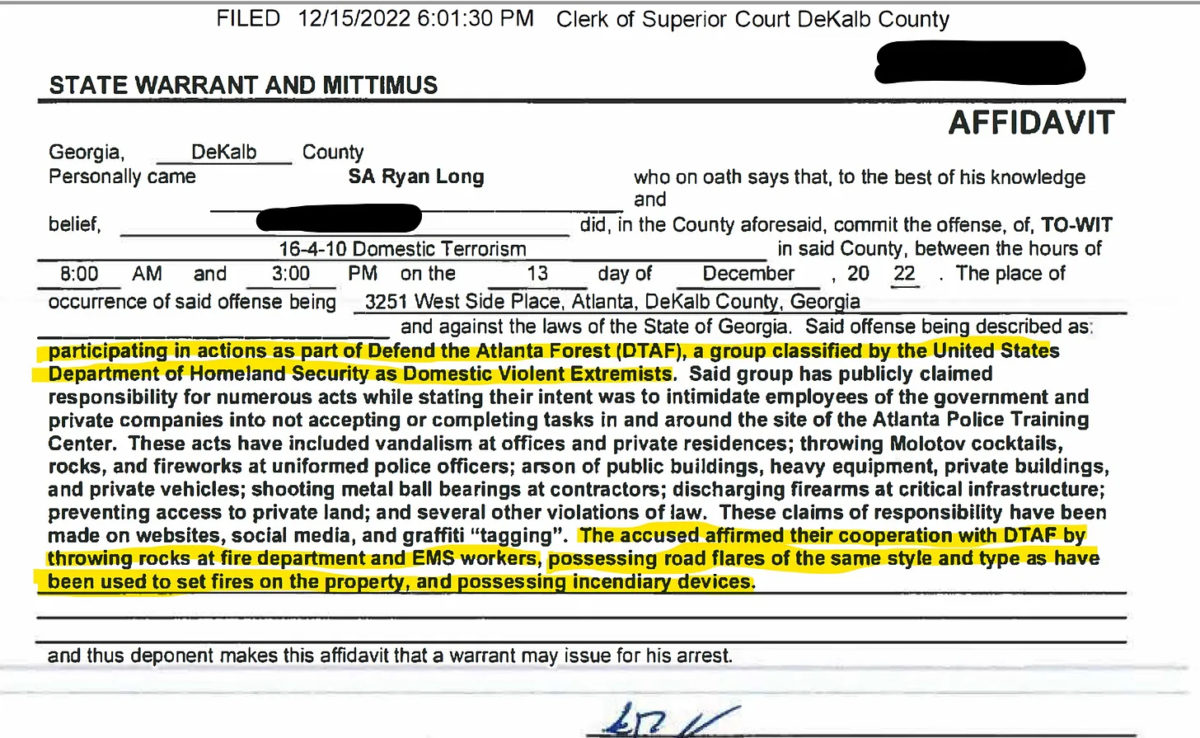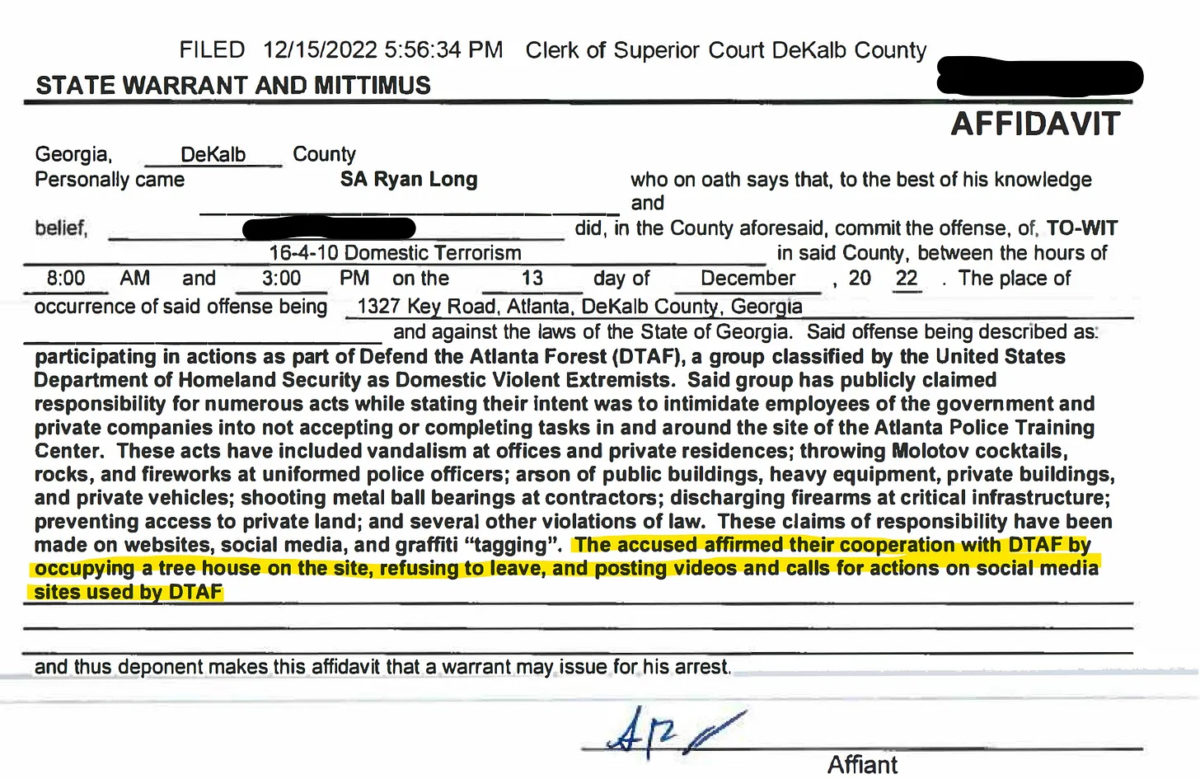 The majority of the warrants are submitted by Special Agent Ryan Long, of the Georgia Bureau of Investigation (GBI). Ryan Long joined the GBI in 2019 after leaving his former job as an officer with the Lilburn Police Department. According to the Lilburn PD's administrative records and Facebook photos, his full legal name is most likely Gerald Ryan Long.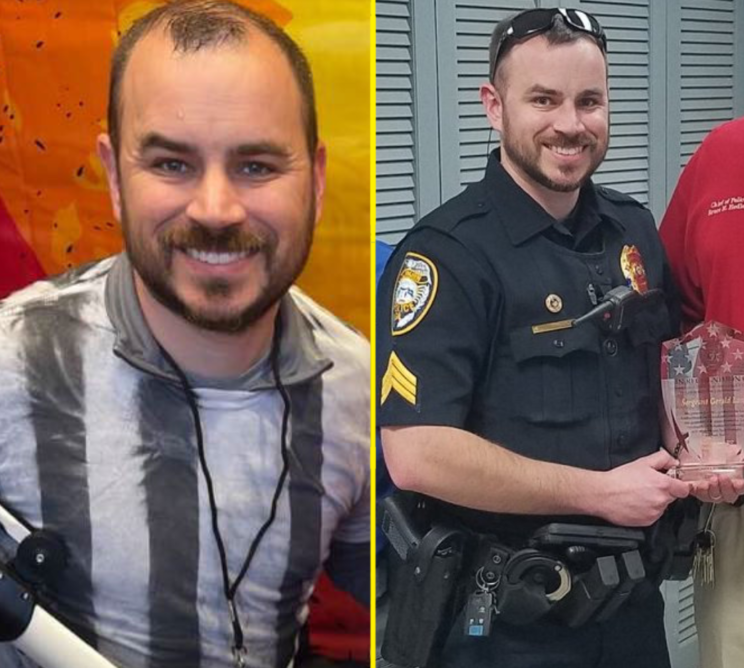 In response to a Unicorn Riot public records request, Lilburn PD stated that no disciplinary proceedings or allegations of misconduct took place against Ryan Long during his time there. However, Lilburn PD records confirm that Long fired two shots at a vehicle being driven by a person named Jesse Allen on January 18, 2018. According to the Atlanta Journal-Constitution, Long was also involved in a brawl with a pastor inside a church on March 25, 2018.
One protester arrested on Dec. 15 was charged with domestic terrorism based only on the report that they had been "fleeing from Atlanta Police Department Investigator Ronald Sluss, causing injuries to INV Sluss' right knee and right elbow, said injuries being scrapes and cuts."
Ronald C. Sluss is part of Atlanta PD's Homeland Security Unit and a member of the International Gang Investigators Association. According to his LinkedIn profile, he "analyze[s] call detail records, plot cellular device locations, and analyze digital forensics of electronic devices [and] have testified as a subject matter expert in call detail records analysis, device geolocation, GPS and digital evidence."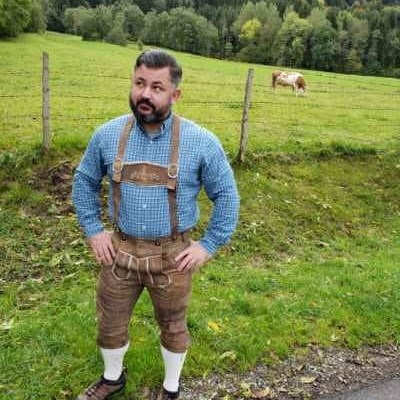 The majority of the domestic terrorism protester warrants are signed by Judge Fatima El-Amin, who is Chief Judge of the DeKalb County Juvenile Court. Judge El-Amin's judicial assistant, Kathy Reynolds, confirmed that the judge routinely sits in for Superior Court judges due, in part, to the court's long backlog due to COVID-19. Reynolds did not, however, explain how the judge makes decisions regarding the validity of warrants for extreme charges such as domestic terrorism.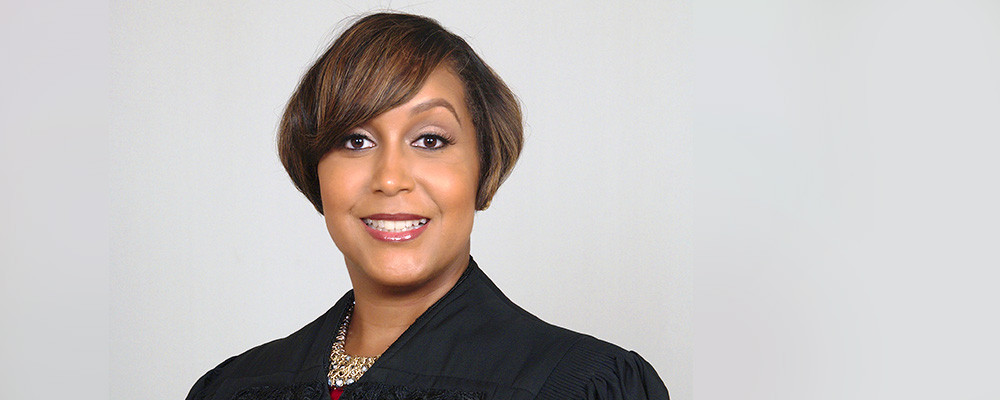 When asked whether Judge El-Amin was merely 'robo-signing' any warrant put in front of her, including those alleging domestic terrorism, Reynolds responded that the judge considers the validity of each warrant.
---
Despite the host of civil rights issues raised by recent police actions, members of the Community Stakeholder Advisory Committee at the December 15 meeting were thrilled to hear that police had begun charging protesters with domestic terrorism. None of the members present at the meeting balked at Chief Tyus' admission that his officers had arrested someone for filming the police.
"I just want to make a quick comment to say that I'm so pleased to see the level of charge being domestic terrorism," said Committee Chair Alison Clark.
Clark previously presided over the legally dubious removal of environmental engineer Lily Ponitz from the Committee in retaliation for notifying Atlanta media and local government about unaddressed concerns about soil and groundwater contamination in and/or around the proposed 'Cop City' site.
In an apparent conflict of interest, CSAC Committee Chair Alison Clark is married to Major Curtis Clark of the Fulton County Sheriff's Office, a local law enforcement agency likely to enjoy use of the proposed training facility. (Atlanta is the county seat of Fulton County.)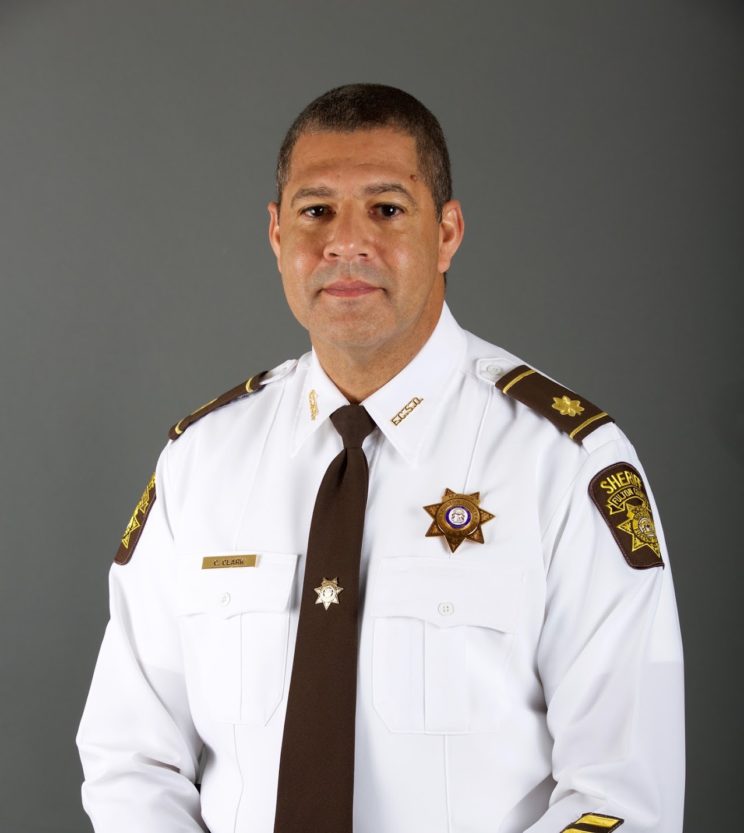 According to the Georgia Board of Public Safety, Curtis Clark is "a bomb technician, cross-trained in weapons of mass destruction."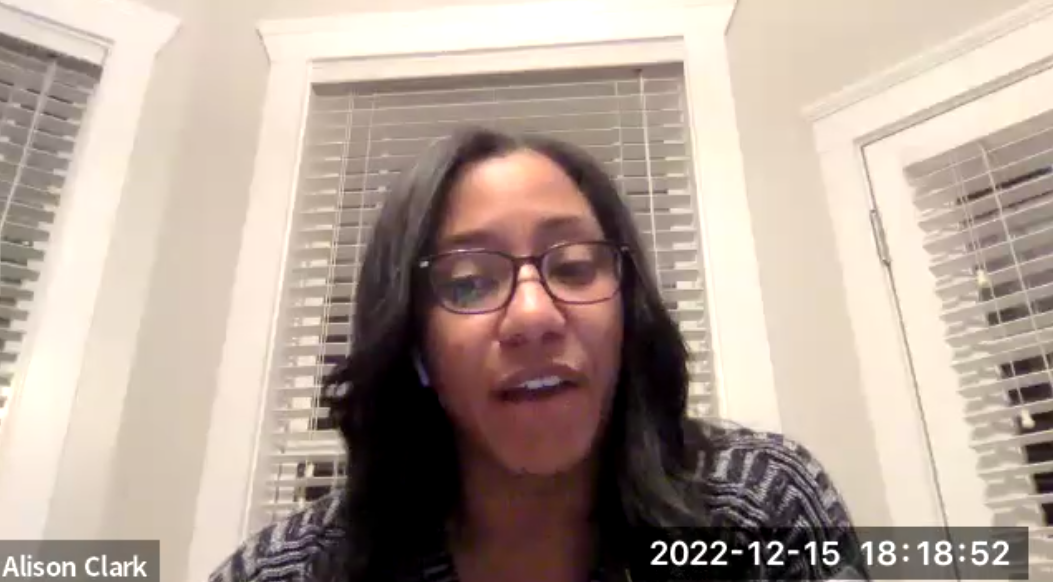 Another Committee member, Shirley Nichols, praised Chief Tyus for the violent police response to tree-sitters and their supporters. "I was beginning to feel that we were just being too soft with these people," Nichols said. "And I know that you are doing a lot of investigation and a lot of things behind the scenes we don't know about. I do applaud you, when I found out last night that they had arrested somebody, I was really pleased to know that had happened. Thank you very much for all that you're doing."
"I just wanted to say ditto to everything you just said," said Committee member Sharon Williams. "I was happy to see this show of force."
At the January meeting of the committee, Williams praised Tyus for having DeKalb County Police vehicles stationed at many locations surrounding the forest, calling the added police presence "shock and awe."
---
The Community Stakeholder Advisory Committee was scheduled to meet on Tuesday, February 21 but the meeting was cancelled with less than 24 hours notice. While required by law to meet every calendar month, the CSAC has yet to meet in February 2023. Its last meeting was on January 17, the day before Georgia State Patrol shot and killed forest defender Manuel 'Tortuguita' Terán. The cancelled February 2023 meeting would have been the committee's first meeting since the killing of Terán, the resignation of committee member Nicole Morado in protest of Terán's killing, and the Zoning Board appeal filed by committee member Amy Taylor.
---
Unicorn Riot's coverage on the movement to defend the Atlanta Forest:
---
Follow us on X (aka Twitter), Facebook, YouTube, Vimeo, Instagram, Mastodon, Threads, BlueSky and Patreon.
Please consider a tax-deductible donation to help sustain our horizontally-organized, non-profit media organization: