Three Face Felonies for Allegedly Flyering Near Home of One Georgia Trooper Tied to Killing of Forest Defender
Bartow County, GA — More than 3 ½ months after Georgia State Patrol agents killed forest defender Manuel 'Tortuguita' Esteban Paez Terán during a raid on the Weelaunee Forest, officials still refuse to name the officers responsible for their death or take any steps toward bringing them to justice.
---
Update: On May 15, two of the three arrested for allegedly flyering trooper Jonathan Salcedo's neighborhood were granted $20,000 bond in a bail hearing before Bartow County Superior Court Judge Suzanne H. Smith, according to court reporting by the Atlanta Community Press Collective. Their bond conditions are reported to include no contact with anyone involved with the 'Defend the Forest' movement and no contact with the six state troopers implicated in Terán's killing. The third arrestee was reportedly denied bond because Georgia Deputy State Attorney General John Fowler alleged that they had received reimbursements for protest-related expenses from the Forest Defense Fund and were being investigated for their alleged political affiliation with the 'Defend The Forest' movement.
---
After months of waiting, it appears that activists and community members have begun stepping up to provide transparency themselves.
In late April, researchers with the Atlanta Community Press Collective released the names of six Georgia State Patrol SWAT agents believed to be involved in Tortuguita's killing. The officers' names are Bryland Myers, Jerry Parrish, Jonathan Salcedo, Mark Lamb, Ronaldo Kegel, and Royce Zah. The Collective discovered the names after receiving a Georgia Bureau of Investigation Gun Shot Residue (GSR) report through a public records request to the DeKalb County Medical Examiner's office.
On April 28, three people were arrested in Bartow County, Georgia for allegedly providing the public with information about the officers who killed Tortuguita at the neighborhood level. The three are accused of distributing fliers naming one of Tortuguita's suspected killers, Jonathan Augusto Salcedo, who lives in a small bedroom community outside Cartersville called White, Georgia.
The three are charged with "Intimidate Law Enforcement officer/family in retaliation to discharge of duties by force," a felony, and misdemeanor stalking. During a bond hearing before Bartow County Magistrate Judge Brandon Bryson on last Monday, all three were refused bond and will continue to be held in Bartow County Jail until their bond hearing in Superior Court.
The felony intimidation charge GA Code § 16-10-97 (2018) carries a sentence of up to 20 years in prison depending upon which section of the statute prosecutors plan to apply. The part of the statute that is specific to law enforcement officers carries a minimum sentence of one year and a maximum sentence of five years as well as a $5,000 fine. Warrants filed in the case do not specify which section they are applying.
The flier the trio are accused of distributing printed information informing neighbors that Salcedo had "murdered" Tortuguita, according to individuals familiar with its contents.
After the incident, Salcedo told prosecutors that he "felt harassed and intimidated by individuals handing out these fliers," according to court documents.
In criminal arrest warrants filed in Bartow County Magistrate Court, prosecutors accused all three arrestees of "providing fliers in the neighborhood that Jonathan Sacledo [sic] on mailboxes [sic] that were claiming Jonathan was a murderer due to an incident that occurred in Atlanta." (Salcedo's name is misspelled by prosecutors throughout the warrant).
Bartow-County-Mag-Court-Arrest-Warrants-redacted

They also state that "said accused was in the Highland Point neighborhood where Jonathan Sacledo [sic] resides" and "did knowingly, willfully, without consent and with the purpose of harassing and intimidating Jonathan Sacledo [sic], make contact with individuals in his neighborhood through fliers with no legitimate purpose."
The warrants, which are signed by Bartow County Prosecutor Leona Clark, are simply initial declarations by a law enforcement officer intended to establish probable cause for arrest. Many of the statements in the documents will likely be contested by the defense in court as well as by the public in the court of public opinion — for example, whether those arrested did or did not have a "legitimate purpose" to be in the officer's neighborhood and whether informing neighbors that someone on their block killed someone is constitutionally protected speech.
The charges and the continued incarceration of the three individuals maintain a pattern of Georgia law enforcement using increasingly brutal tactics against people opposed to 'Cop City' and participants in the movement to stop it, including charging 42 activists under a rarely used state domestic terrorism statute. Until now, most of the repression against activists appears to be coordinated by the Georgia Bureau of Investigation (GBI), although the Federal Bureau of Investigation (FBI) has also been involved in the ongoing investigation.
Those arrested in Bartow County were interrogated by FBI officer David King as well as an unknown GBI agent. The three refused to give any information to the officers, according to a source with knowledge of the incident. The majority of the domestic terrorism warrants against Stop Cop City protesters, or people allegedly involved in the movement, have been signed by Special Agent Ryan Long, who appears to be heading the case for the GBI.
In March, following an historic direct action that targeted the construction site of the 'Cop City' project, law enforcement arrested 23 individuals at a music festival also taking place in the forest on the same day. Of those 23, three individuals remained in DeKalb County Jail up until earlier this week. Following preliminary hearings for all three on May 3, one was released on bond.
One other individual who was arrested in January and charged with domestic terrorism for their alleged participation in the movement was also released from Fulton County Jail Wednesday.
"As part of their ongoing repression campaign, the police have resorted to effectively kidnapping and holding defendants without bail, without cause, in order to prevent more information about the murder of Tortuguita from coming to light."

Movement participants in a written statement released to Unicorn Riot
In order to call attention to the escalating repression, groups such as the Mass Defense Committee of the National Lawyers Guild and others have launched a new campaign called 'We Are all Forest Defenders,' calling on supporters to publicly express solidarity with those arrested. "In many cases the police cited ridiculous things in arrest warrants like 'having muddy boots' or 'having a legal support number written on them,'" wrote supporters in a public announcement of the campaign.
As part of the campaign, activists are encouraging supporters to post photos of themselves with muddy boots or with a jail support number written on their arm to social media.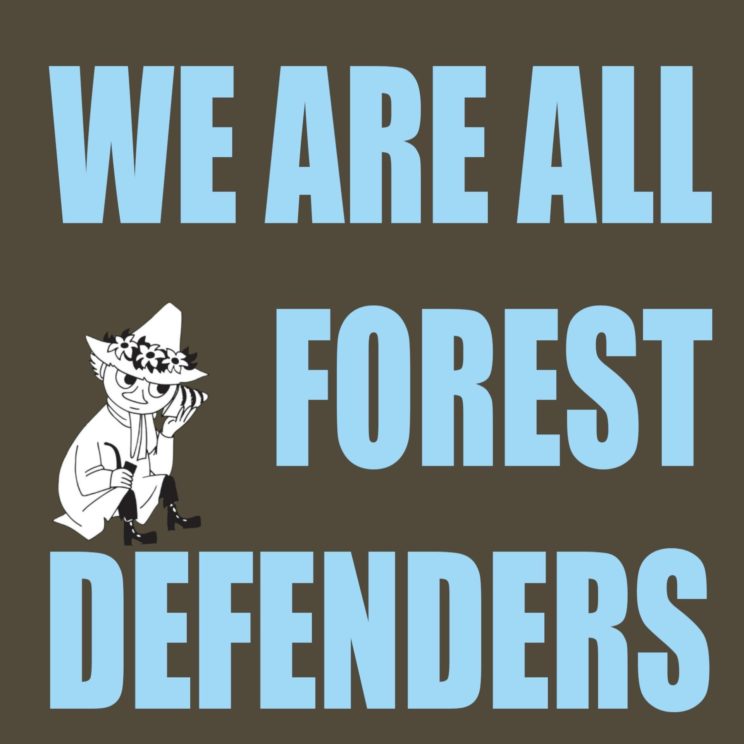 "The protest repression in Atlanta is one of many instances of the state deploying legally aggressive tactics to isolate, silence, and intimidate progressive activists," said the Mass Defense Committee of the National Lawyers Guild in a statement about the campaign sent to Unicorn Riot.
"These repressive arguments from Georgia prosecutors are part of a centuries-long legacy of the U.S. legal system unjustly punishing people who speak out against harmful government actions."

The Mass Defense Committee of the National Lawyers Guild in a statement sent to Unicorn Riot
Although the Bartow County incident called attention to State Trooper Salcedo, he is only one of five officers suspected of participating in the shooting death of Tortuguita. One of the others, Trooper Royce Zah, is currently being sued in federal court for shooting Georgia State University journalism student Mikaela Dyett in the face with a plastic bullet during a May 29, 2020 George Floyd protest in Atlanta.
"Despite the fact that Ms. Dyett was not committing any crime and did not pose a threat, Trooper Zah fired a round from his FN Herstal 303 at her, striking her in the face just below her left eye," wrote Dyett's attorney in a civil complaint. "The polystyrene projectile shattered when it struck Ms. Dyett's face, causing extreme pain and damage to her face and eye. Plastic shards and bismuth pellets from the projectile embedded in her facial tissues. She ran away, bleeding from her face and eye. The damage to Ms. Dyett's face and eye caused by Trooper Zah's FN Herstal 303 projectile has required her to undergo extensive medical procedures and has caused permanent facial disfigurement."
As three more people sit in Georgia county jails waiting to hear whether they'll be spending years of their lives in prison, it remains to be seen how far those in power will go to ensure that their increasingly unpopular vision for a 'Cop City,' and the world it represents, comes to fruition. The opposition, for their part, shows no signs of stopping.
---
Unicorn Riot's coverage on the movement to defend the Atlanta Forest:
Follow us on X (aka Twitter), Facebook, YouTube, Vimeo, Instagram, Mastodon, Threads, BlueSky and Patreon.
Please consider a tax-deductible donation to help sustain our horizontally-organized, non-profit media organization: