Protester Shot and Killed by Officers During Raid on Atlanta Forest
Atlanta, GA – A protester was shot and killed by police Wednesday morning, January 18, in the midst of a multi-jurisdictional raid on the Atlanta Forest, also known as the Weelaunee Forest, in DeKalb County, southeast of Atlanta.
---
Update 1/19/23 at 4:30 p.m. EST:
The protester killed by police has been identified as Manuel Terán, a forest defender who also went by the nickname Tortuguita or Tort. Terán was from Tallahassee, Florida and traveled to Atlanta to participate in the effort to protect the forest. Terán's identity was first reported by the Atlanta Community Press Collective.
For the past year, Terán spent their time between Atlanta and Florida, where they participated in Tallahassee Food Not Bombs and disaster relief efforts through building housing for low income communities hit by hurricanes.
"They were a trained medic, a loving partner, a dear friend, a brave soul, and so much more," wrote friends of Terán in a statement posted on Instagram.
"In Manuel's name, we continue to fight to protect the forest and stop cop city with love, rage, and a commitment to each other's safety and well-being."

Instagram statement by stopcopcity
Throughout the day and into the night, efforts to extract forest defenders from the trees continued, with arborists cutting down trees and tree houses in an effort to remove protesters. At least nineteen people were arrested throughout the day, six of whom were charged with "domestic terrorism," according to the Atlanta Solidarity Fund. Others were charged with "criminal trespassing."
An additional person was arrested near the entrance of Intrenchment Creek Park and taken into custody by the Georgia State Patrol. The person told a Unicorn Riot contributor that they were arrested for filming.
In the evening, community members mourned and held space for Terán at Findley Plaza in Little Five Points, Atlanta. The vigil turned into a march, as at least 100 people chose to hold space for the forest defender in the streets.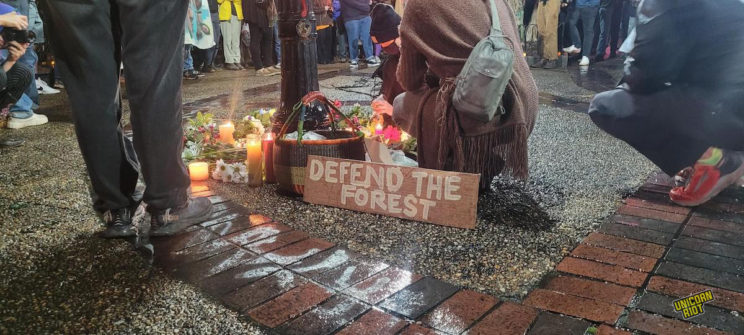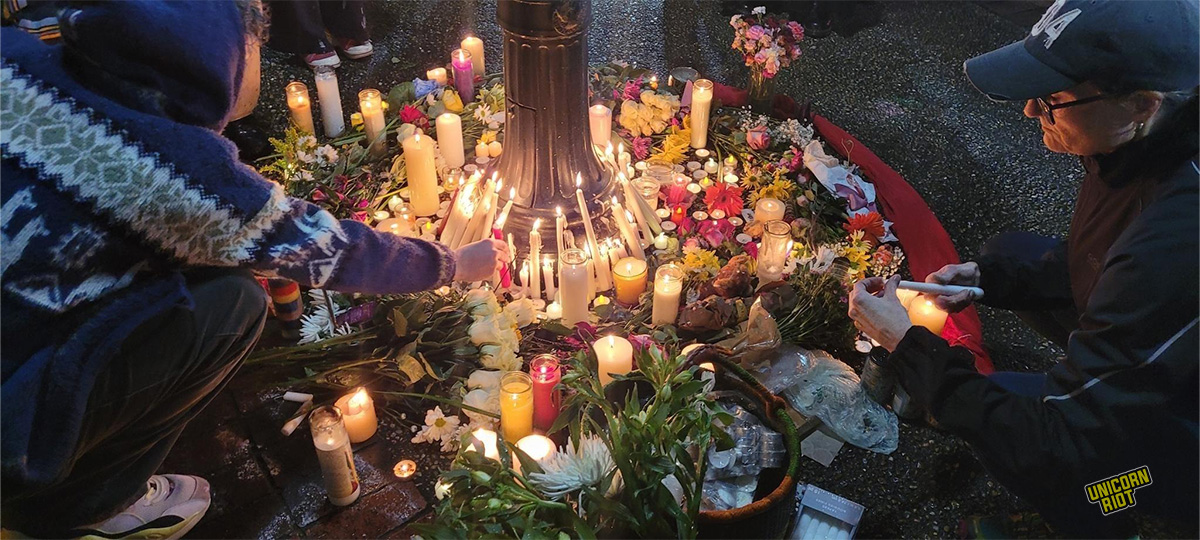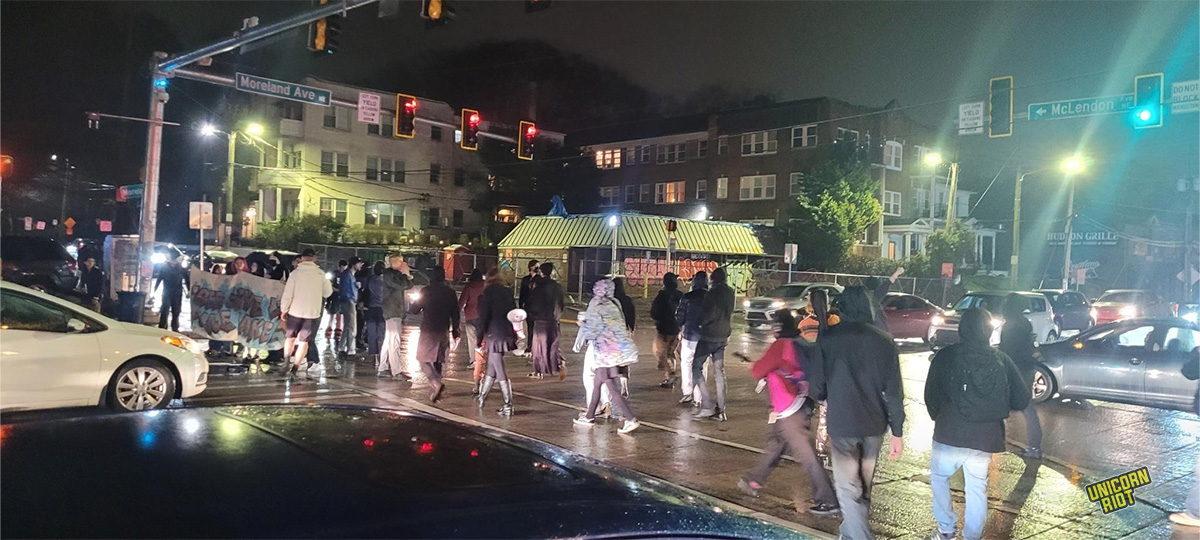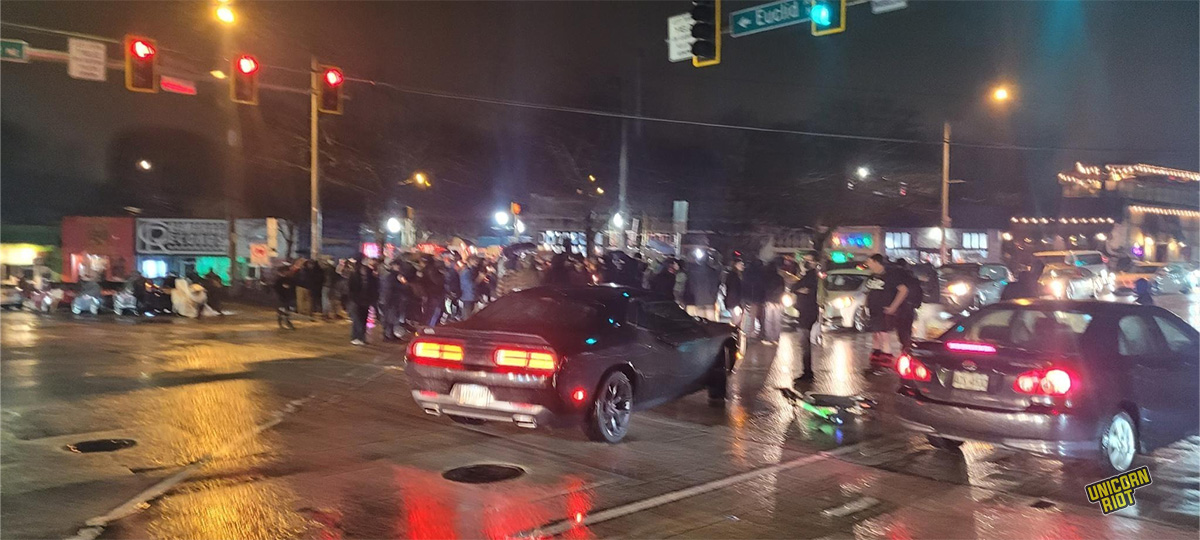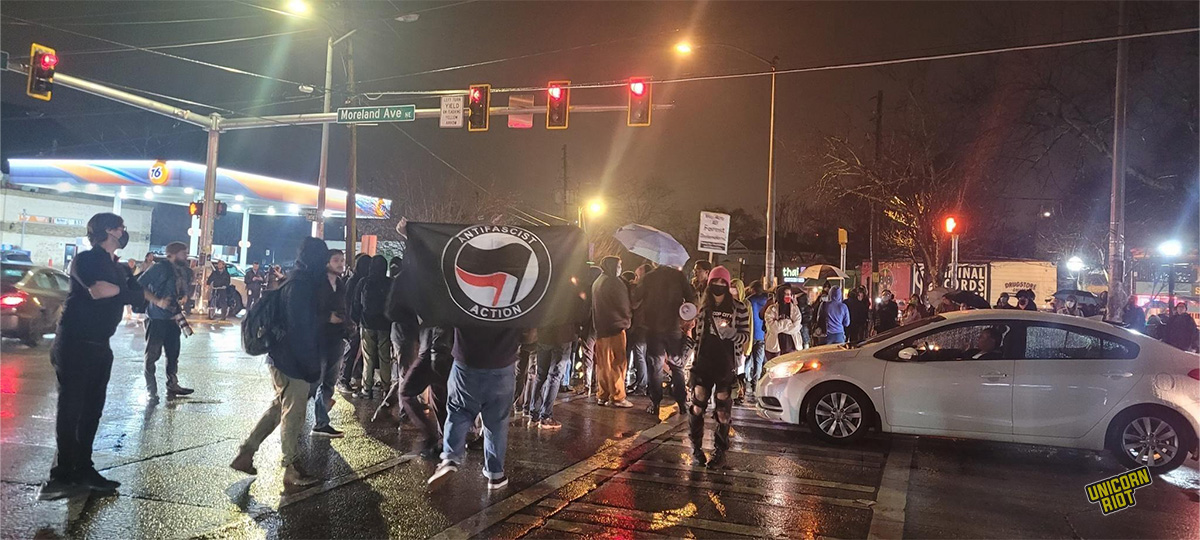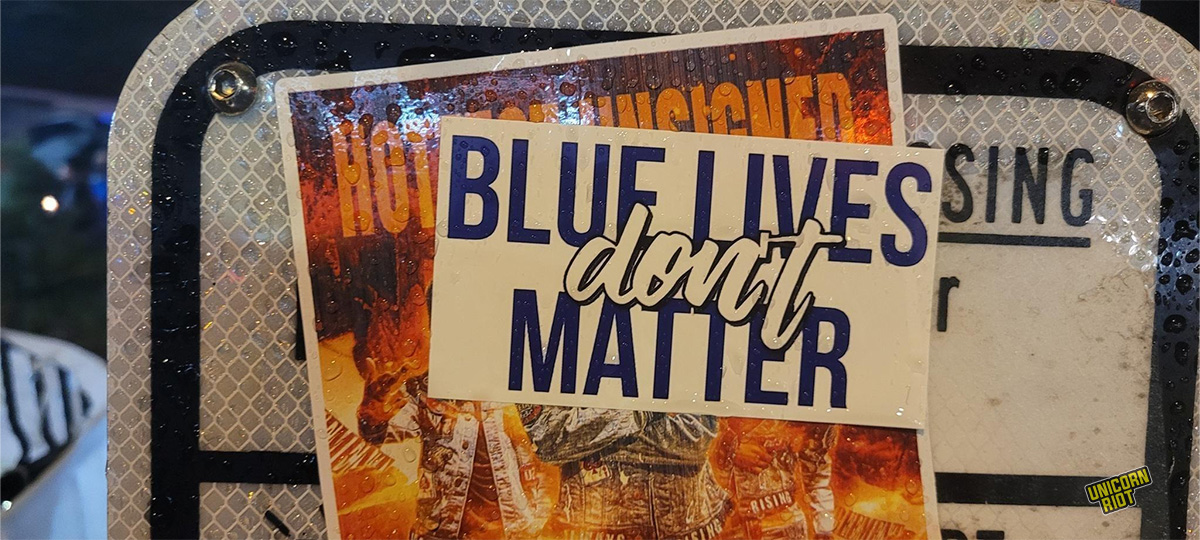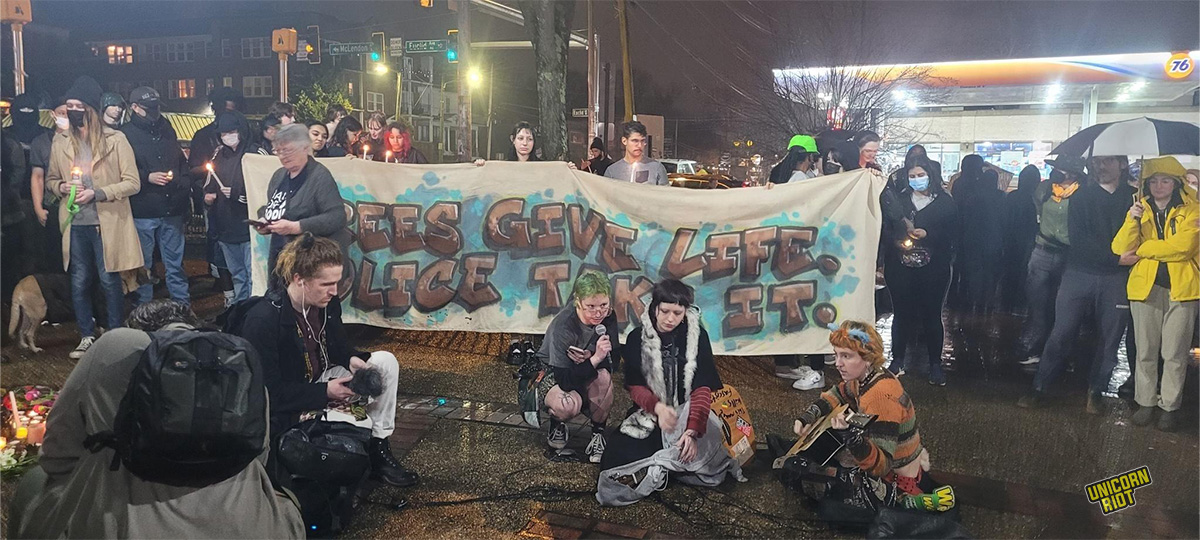 ---
A Georgia State Trooper was reportedly also shot during the raid and is currently undergoing surgery at Grady Memorial Hospital, according to police. At least three other protesters were reportedly arrested during the raid and were charged with "aggravated assault on a public safety officer" and "domestic terrorism."
A forest defender, who was present during the raid and spoke with Unicorn Riot under conditions of anonymity, reported hearing 10-12 gunshots all at once followed by a loud boom.
The Georgia Bureau of Investigation, which is leading the investigation into the incident, said that the killing occurred after police were fired on by the protester. Protesters, however, have questioned this narrative, "calling on legal observers and journalists" to launch an independent investigation of the incident.
"Since June 6, 2022, activists and community members fighting to Defend the Atlanta Forest and Stop Cop City have been demanding that officers stop bringing weapons into the forest after APD pointed their weapons at peaceful protestors," said the Atlanta Community Press Collective in a press release.
"This morning Georgia State Patrol officers killed a protester in the South Atlanta Forest," wrote the Atlanta Solidarity Fund in a statement.
"GSP has not released body camera footage or meaningful details, and we are concerned a police cover-up could be underway. We are preparing a legal team to investigate and pursue a wrongful death suit."

Atlanta Solidarity Fund
The forest has been the site of a yearslong campaign to prevent the destruction of the forest and the construction of a $90 million police training facility, dubbed "Cop City" by its opponents, and a sprawling Hollywood film studio project led by Shadowbox Studios, formerly Blackhall Studios, and Blackhall Real Estate Phase II, LLC.
Protesters have called for a vigil Wednesday night in response to the killing.
"No one can bring our friend back to us," read a flier circulated on social media calling for the vigil. "An innocent life has been taken and the machines continue. We invite you to come to a candlelight vigil to remember and grieve our lost friend. We will not go quietly into this dark night. RIP, with love and solidarity."
Police have demonstrated a pattern of escalating tactics as the movement against the Cop City project has built momentum. The killing of a protester in the forest is the most recent manifestation of that escalation.
In June 2022, Atlanta Police officers were caught on radio traffic justifying the use of lethal force against protesters who used molotov cocktails to defend themselves and the forest in the midst of a police raid. No forest defenders have been charged for use of molotovs or incendiary devices.
"I told you, deadly force encounter," said one officer. "That's why I brought it up, as long as we're all on the same page, Molotov cocktail's a deadly force encounter."
A "deadly force encounter" is a situation in which officers are legally allowed to shoot to kill.
On Dec. 14, following a previous raid on the forest, Marlon Kautz, an organizer with the Atlanta Solidarity Fund, cautioned the public about the rapidly escalating tactics used by police.
"Are we gonna end up in a situation where the police are murdering protesters in order to advance, not public safety, but their particular political agenda in building Cop City?"

Marlon Kautz
The killing follows a previous raid on the forest encampments on December 13 and 14 which resulted in six protesters being charged with "domestic terrorism."
---
Unicorn Riot's coverage on the movement to defend the Atlanta Forest:
---
Follow us on X (aka Twitter), Facebook, YouTube, Vimeo, Instagram, Mastodon, Threads, BlueSky and Patreon.
Please consider a tax-deductible donation to help sustain our horizontally-organized, non-profit media organization: