Killer Cop Kim Potter Hurriedly Released After 16 Months in Prison
Shakopee, MN — After serving sixteen months in Minnesota Correctional Facility-Shakopee for fatally shooting unarmed 20-year-old Daunte Wright during a traffic stop, former Brooklyn Center veteran police officer Kim Potter was released at 4:00 a.m. Monday morning.
Potter was convicted of first and second degree manslaughter in February 2022. Although she faced six to eight-and-a-half years, she was given a substantial downward departure sentence of 24 months in prison by Judge Regina Chu. She now lives in Wisconsin and will serve eight months on parole according to the Minnesota Department of Corrections (DOC).
In the lead-up to Potter's release, the DOC posted two new mugshot photos of Potter taken while she was incarcerated. After likely serving the whole 16 months in administrative segregation, Potter appeared thinner and with a straight face as opposed to the smile that she entered prison with. Her disheveled hair hung around a gray sweatshirt.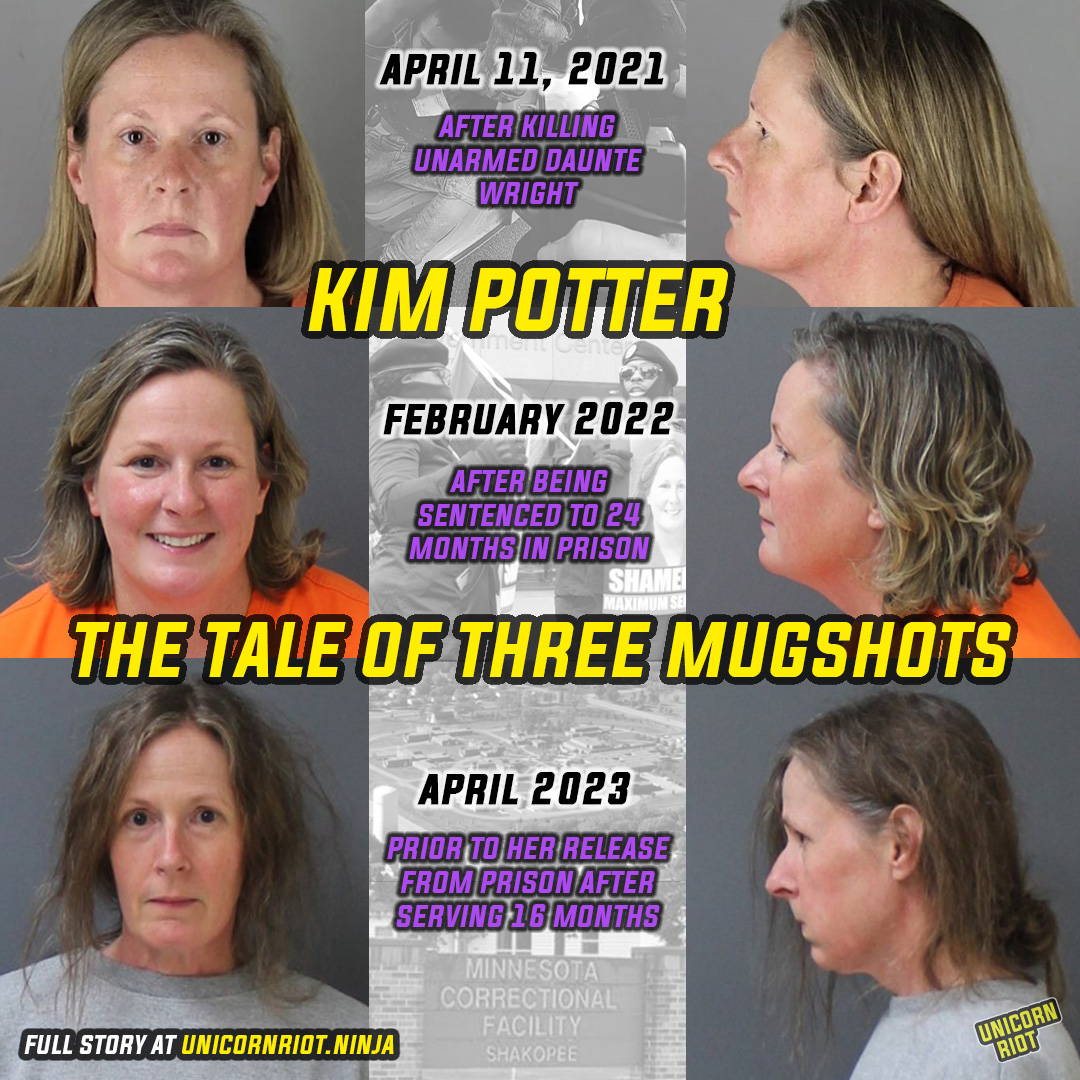 The DOC published a three page statement (pdf) regarding Potter's release. In the statement, they note that Potter was released before dawn "out of an abundance of caution" for her safety.
The statement noted that DOC spokesperson Andy Skoogman, said the DOC's criminal intelligence analysts closely monitored intelligence information in the days leading up to Potter's release. He stated DOC analysts obtained information that elevated concern for Ms. Potter's safety, including threatening comments directed at her and the potential for violent protests outside the Shakopee correctional facility. According to the DOC, Potter must abide by the following conditions:
Must maintain contact with the agent/designee as directed and comply with all agent directives and instructions. Must remain in the State of Minnesota unless granted written approval from the agent/designee, and the offender must keep the agent informed of his or her residence and activities.
Must submit to any unannounced visits or searches by the agent/designee of the offender's person, residence, possessions, cell phone, vehicle, or premises. The offender must comply with all drug or alcohol testing as directed by the agent/designee.
Must refrain from purchasing, possessing, accessing, or controlling any type of firearm, ammunition, or dangerous weapon, including replica weapons. The offender must not be found in the presence of a firearm, including those found in a vehicle where the offender is also present.
Must remain law abiding and refrain from engaging in any behavior that violates local, state, or federal law. Any credible evidence demonstrating that an offender has been charged with a violation of law is considered grounds to hold the offender in custody unless and until the offender is found not guilty. The offender must inform the agent/designee within 24 hours of any court appearance or contact with law enforcement.
Must refrain from engaging in any assaultive, abusive, violent, harassing, stalking, or threatening behavior, or other behavior that poses a risk to the public.
Must refrain from direct or indirect contact with any person deemed to be a victim by the Department of Corrections, any person listed in a criminal justice agency report as a victim, or anyone whom a court has determined is in need of protection as demonstrated by a current or previous order for protection, harassment restraining order, or domestic abuse no contact order, without prior documented approval of the agent/designee.
Further special conditions noted that she must comply with all rules of supervision as prescribed by the receiving state and that she must not leave the receiving state without written approval of the agent/designee from the receiving state.
Kim-Potter-Release-News-Release-FINAL-4.24.2023_tcm1089-574490

Wright's killing occurred on April 11, 2021 as the high-profile trial for Derek Chauvin was happening and led to a week of intense protests, police violence, curfews, and national guard deployments.
Potter's trial for manslaughter charges began on November 30, 2021 and opening statements were made on December 8. Two weeks later, on Dec. 23, the jury found Potter guilty of both first and second-degree manslaughter. See Unicorn Riot's daily coverage of the Kim Potter trial here.
Potter was sentenced on February 18, 2022. See our Twitter thread of separated video clips of victim impact statements that were read by the family of Daunte Wright, Potter's statement to the family and Judge Chu's sentencing statement.
"She pointed a gun to my son's chest & pulled the trigger, not only killing Daunte my damaging his heart … she also damaged my whole family's heart. Nothing will ever be the same. Everything we do as a family ends in tears."

During the sentencing hearing for Kim Potter after… pic.twitter.com/80bG82VCZ0

— UNICORN RIOT 🦄 linktr.ee/unicornriot (@UR_Ninja) April 11, 2023
On Feb. 18, 2022, during sentencing, supporters of Kim Potter with signs reading "Free Kim Potter," "We love you Kim – Support Black Support Blue," "I support Kim Potter" gathered outside the Hennepin County Government Center. Small arguments transpired between the supporters and protesters of police violence. See images from the sentencing day below in the gallery, contributed by Chris Juhn.
Small 'Free Kim Potter' protests took place on the weekends outside Shakopee women's prison in the beginning of Potter's incarceration and reportedly slowed down after some minor altercations with counter-protesters and family of Daunte Wright.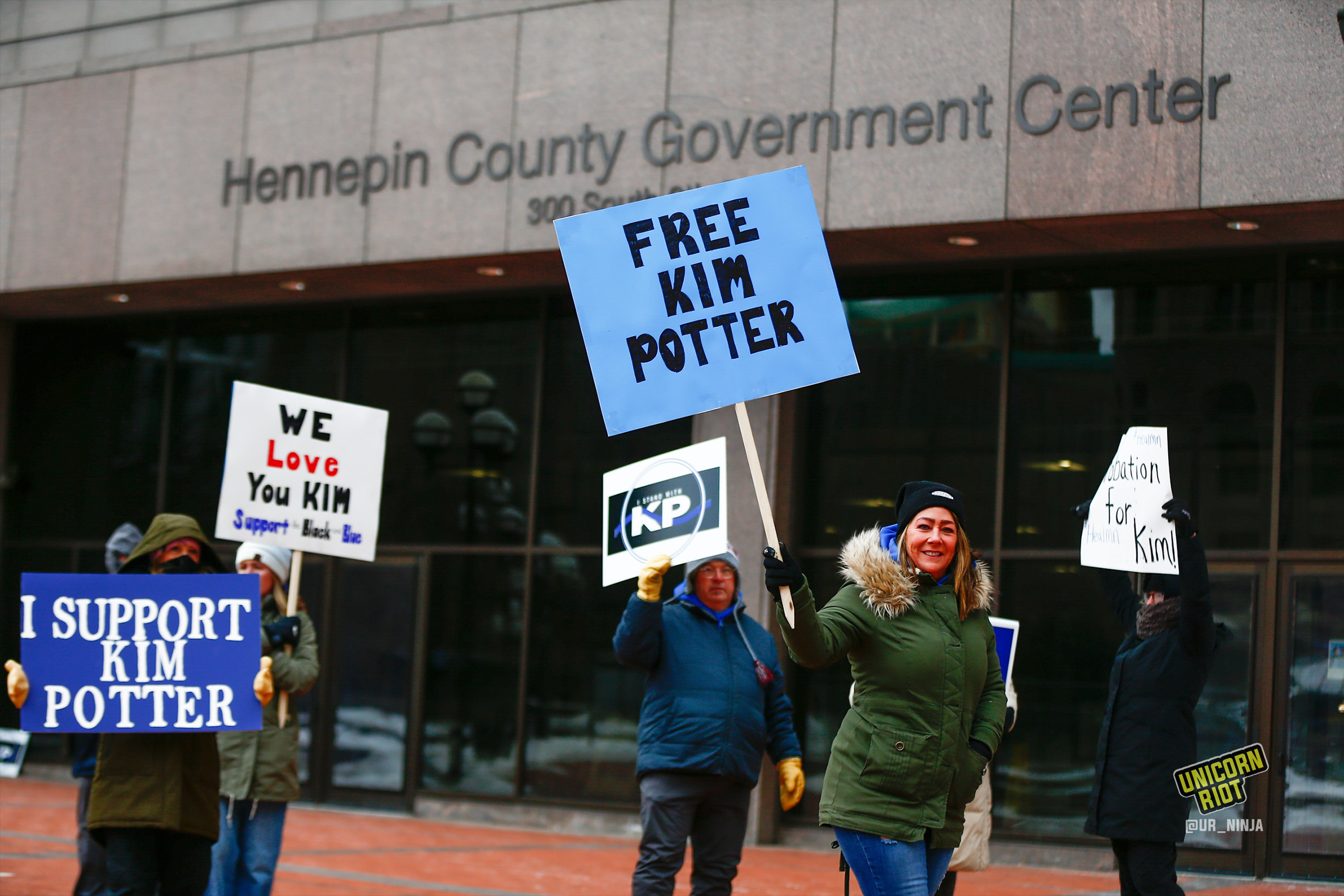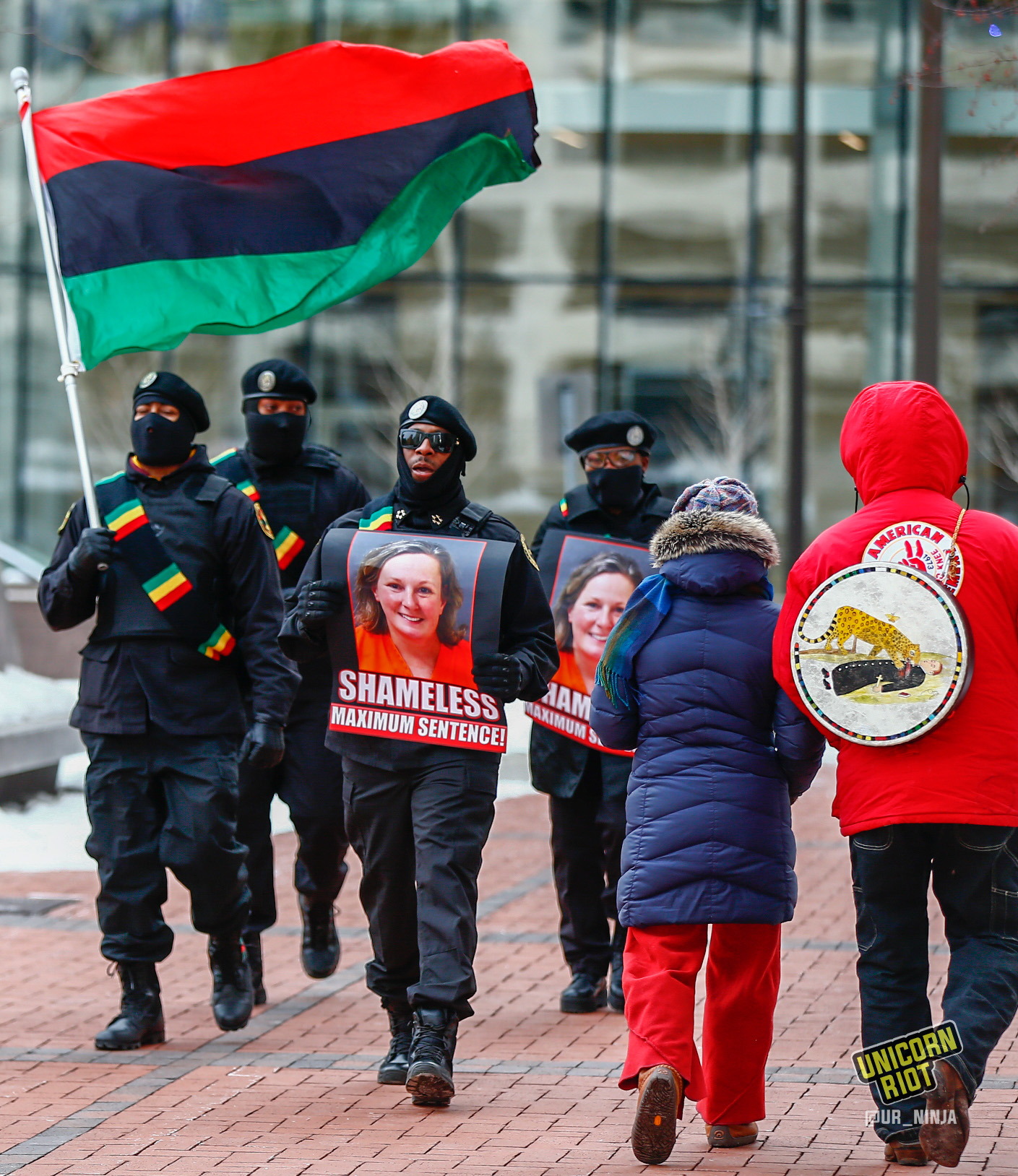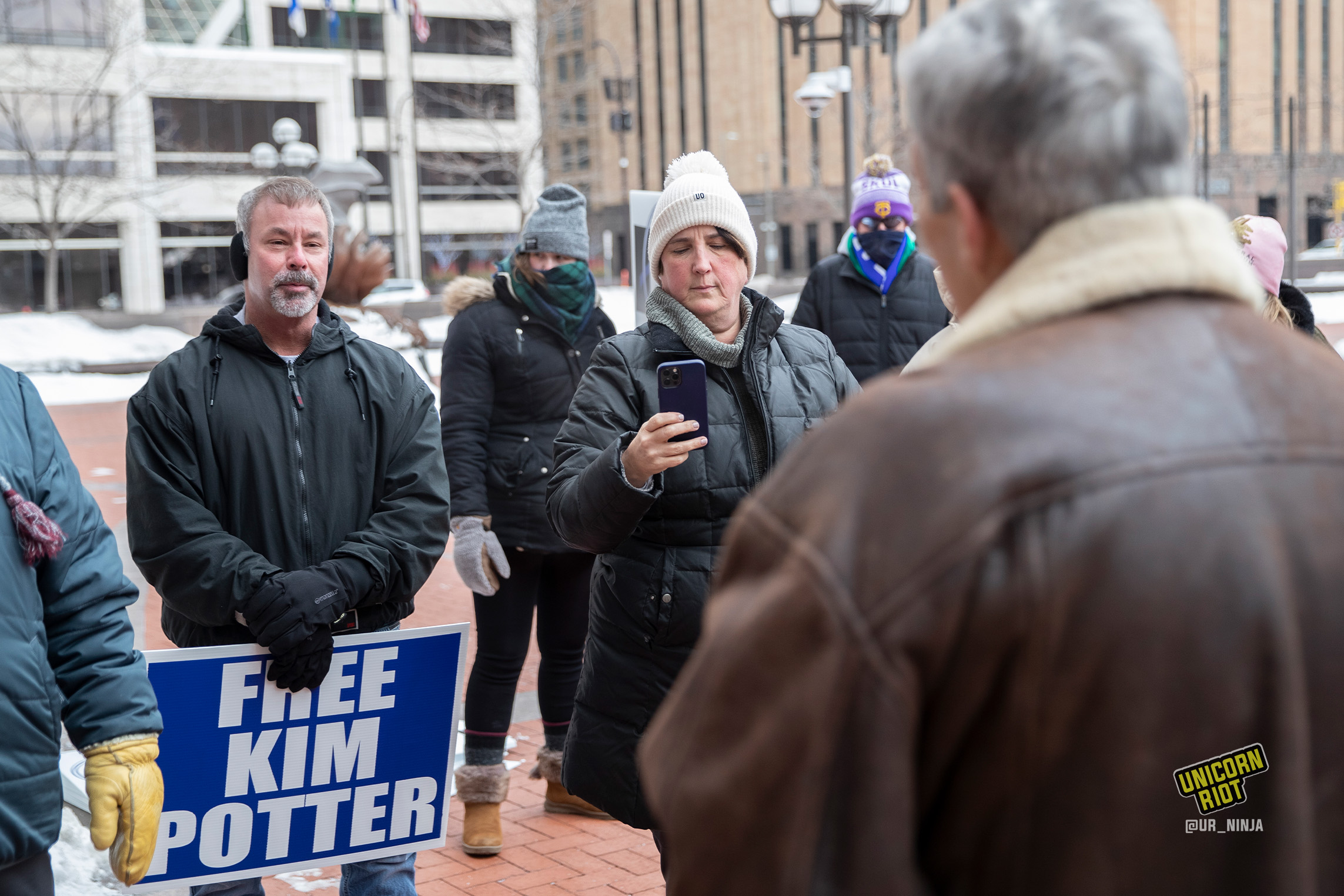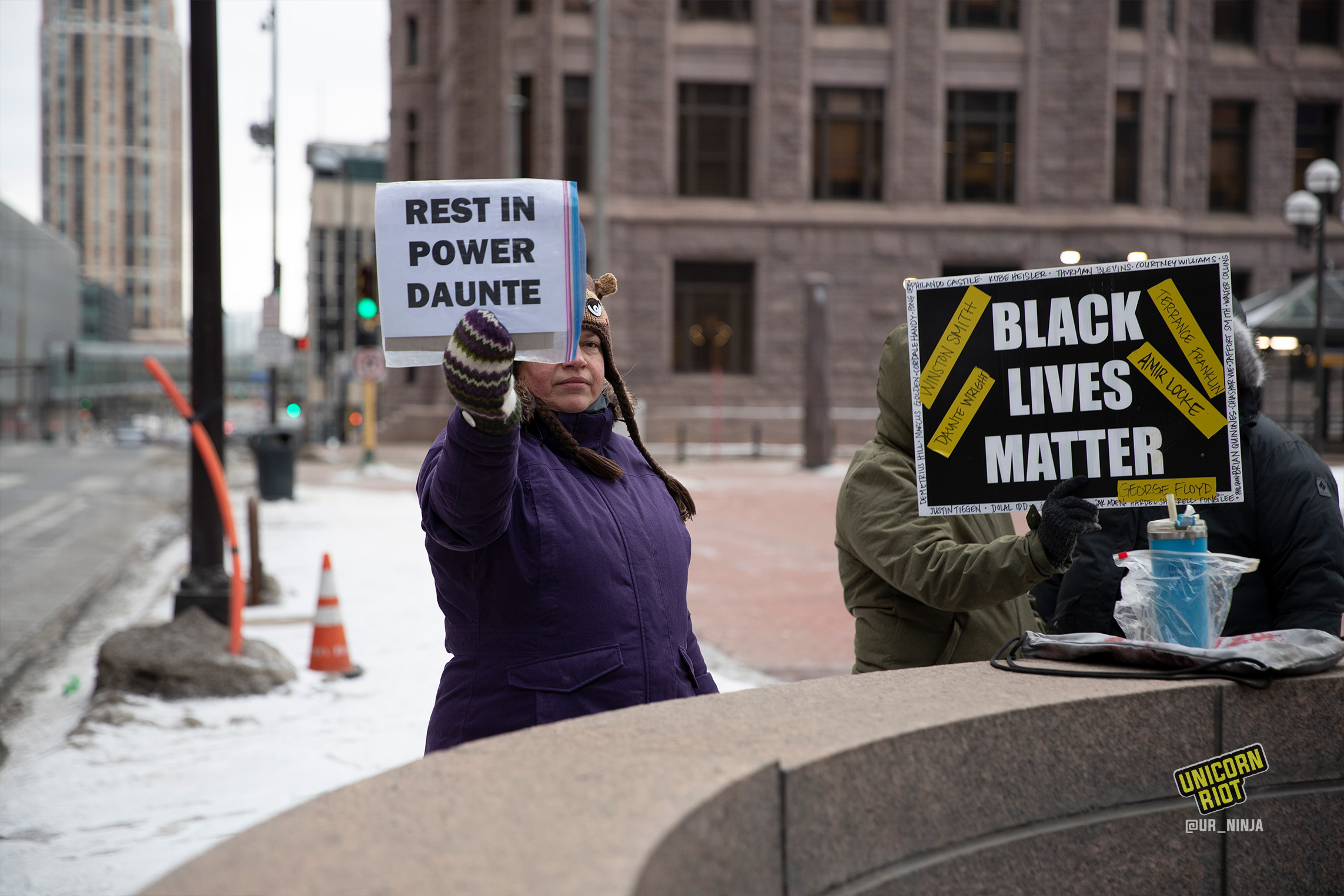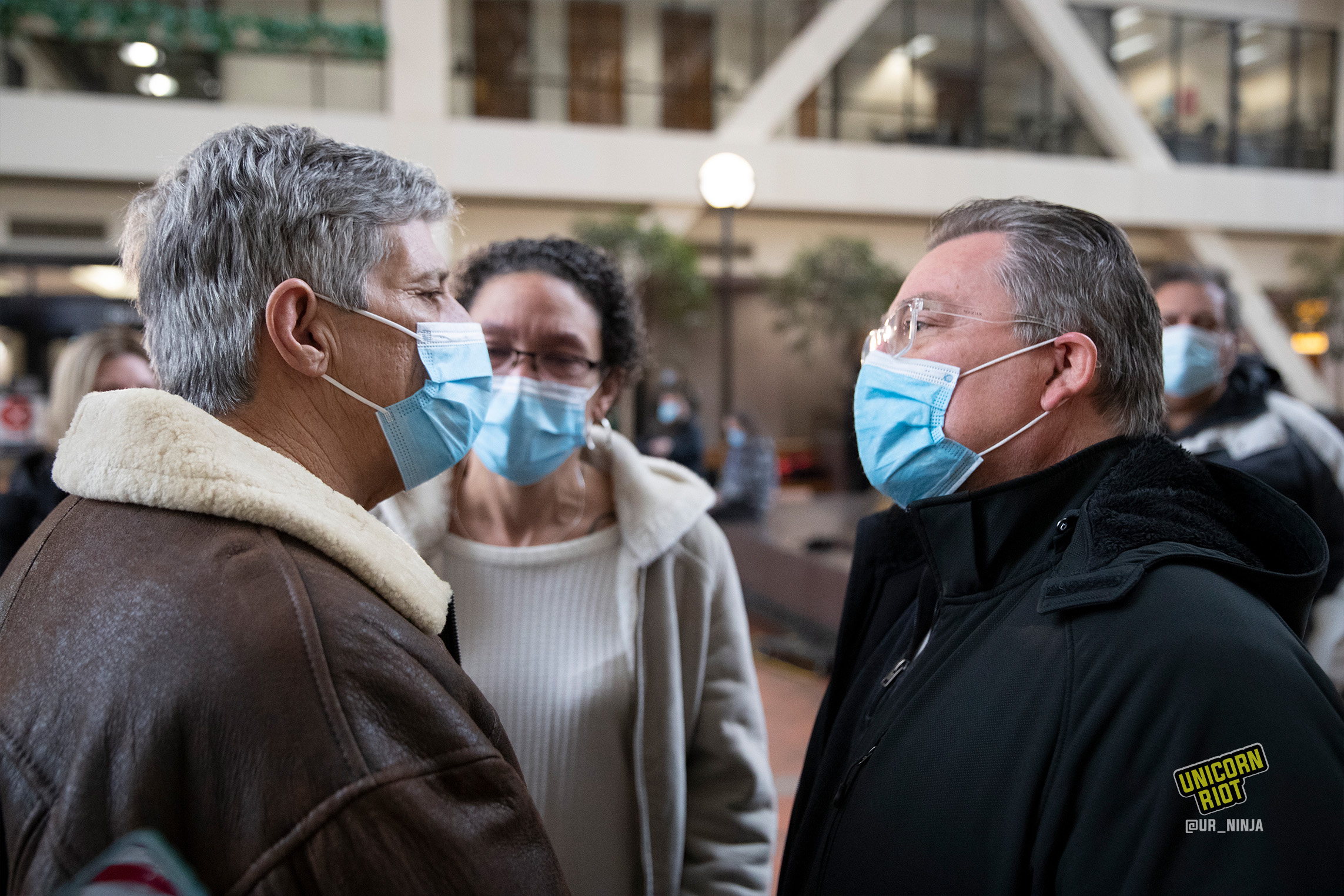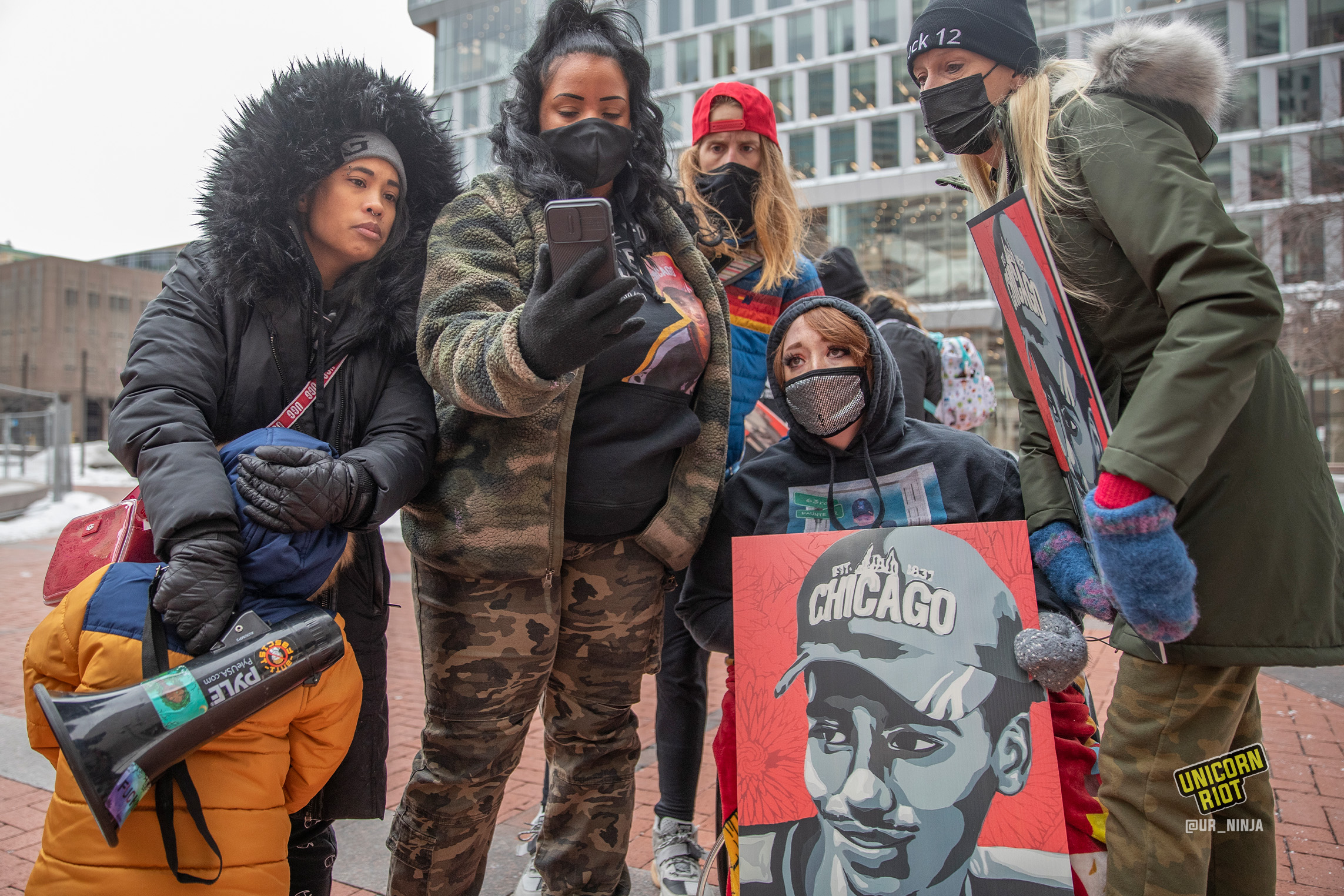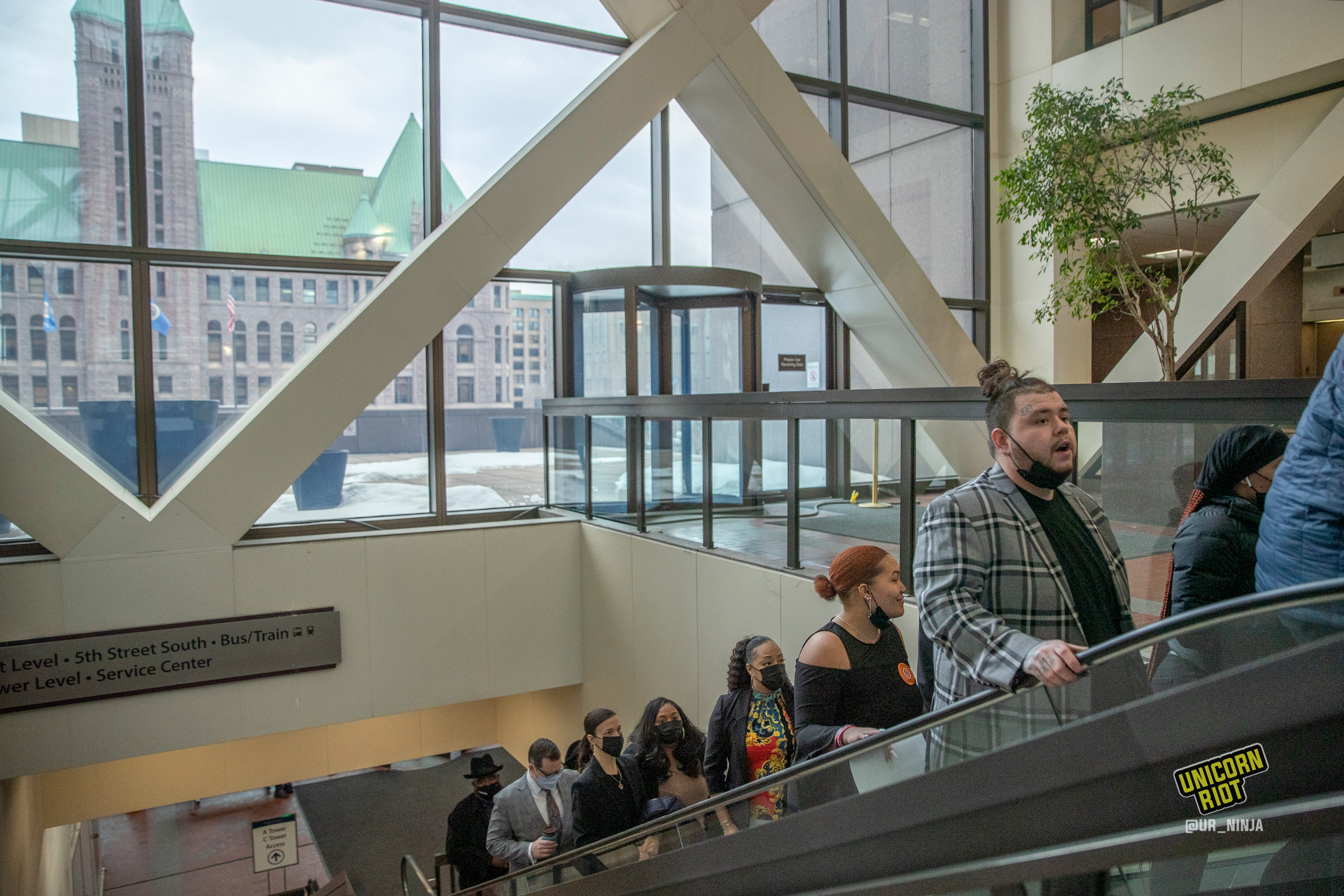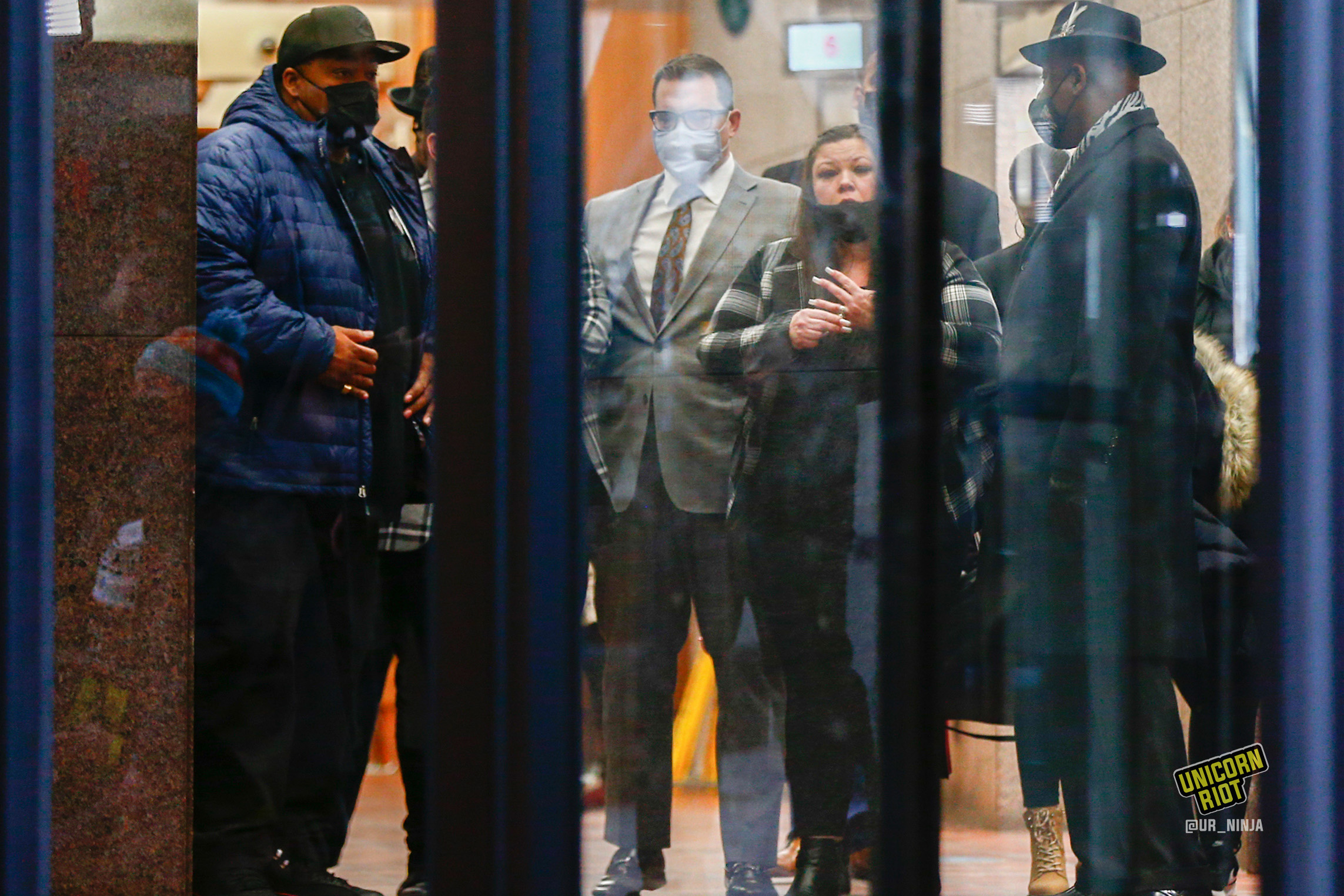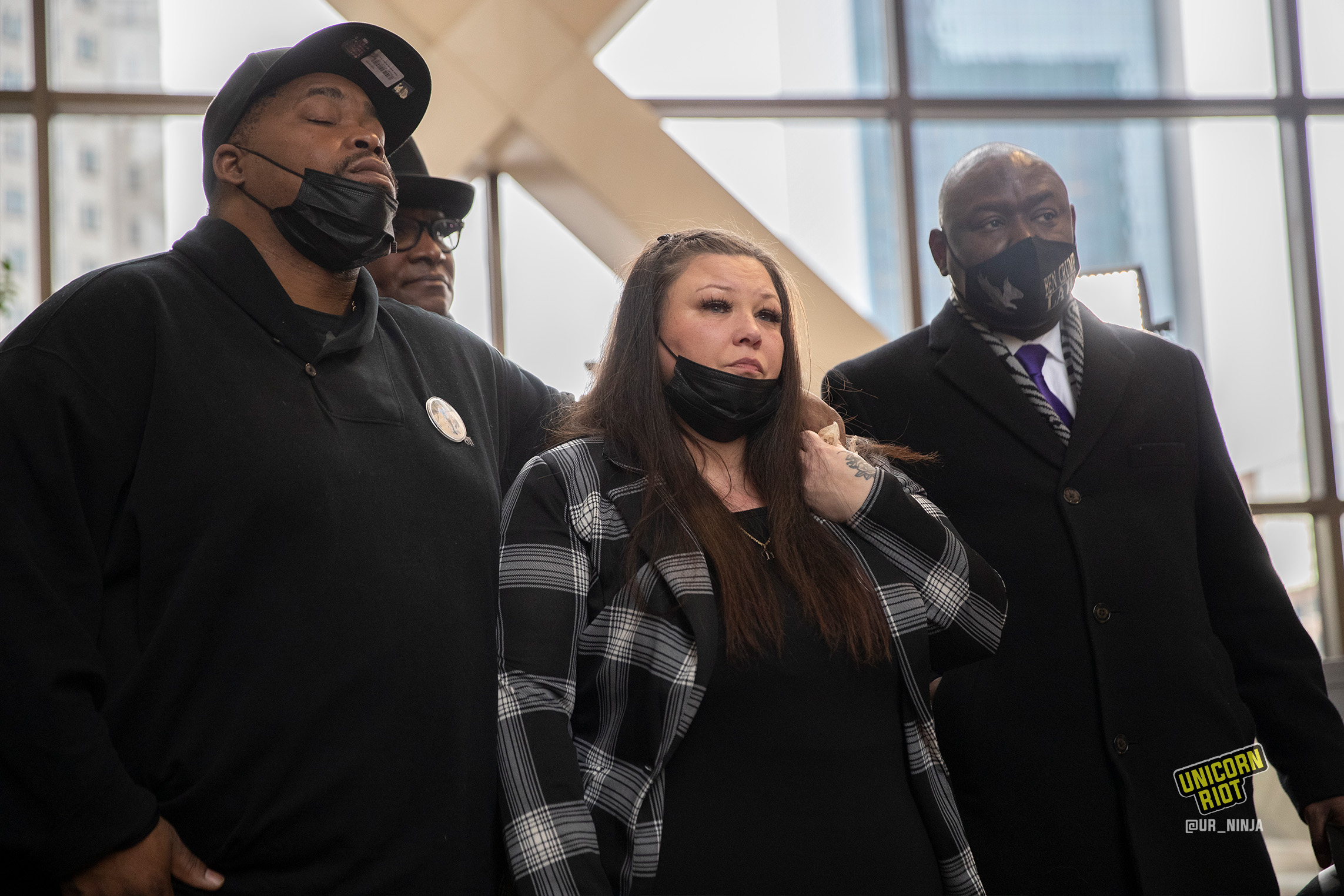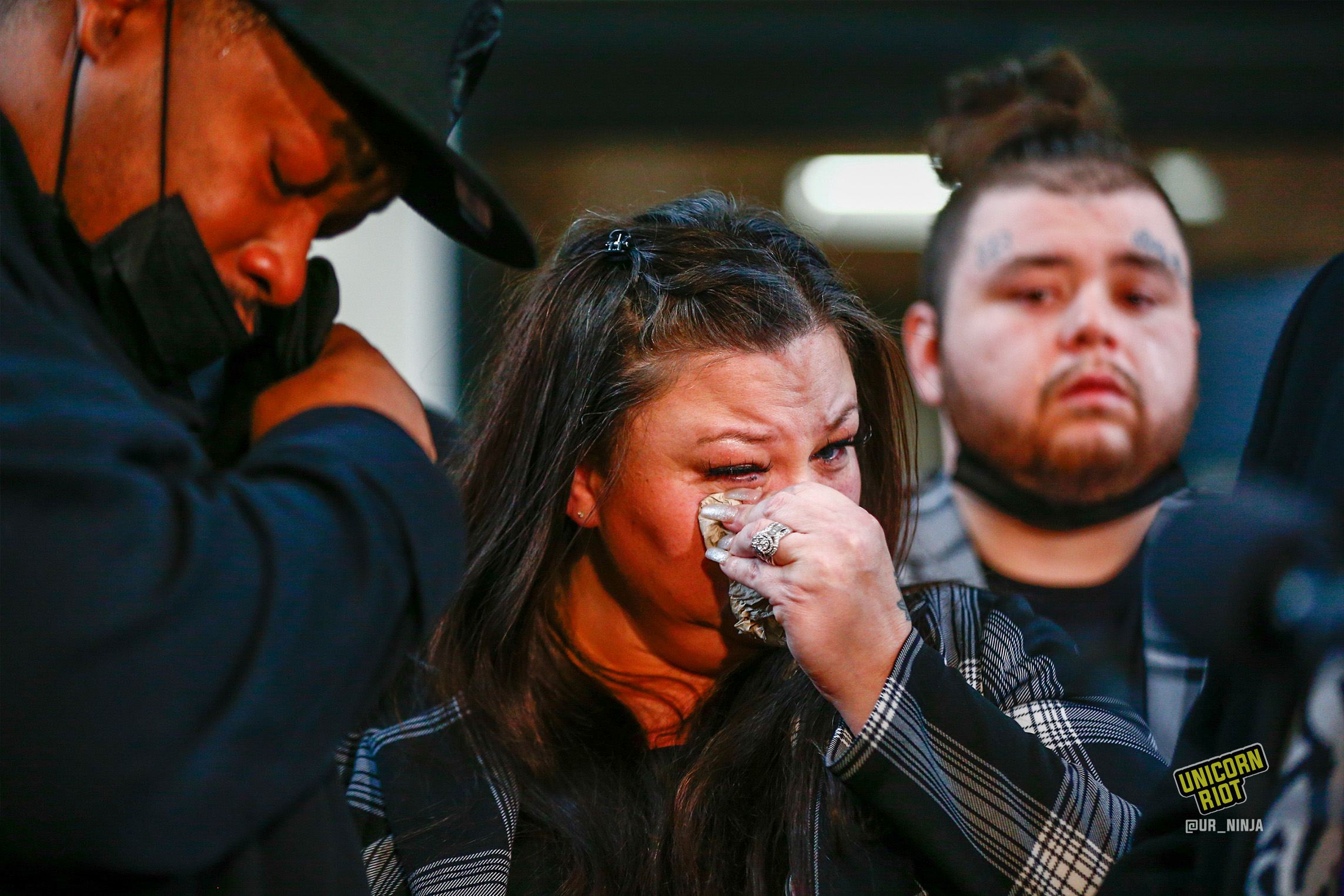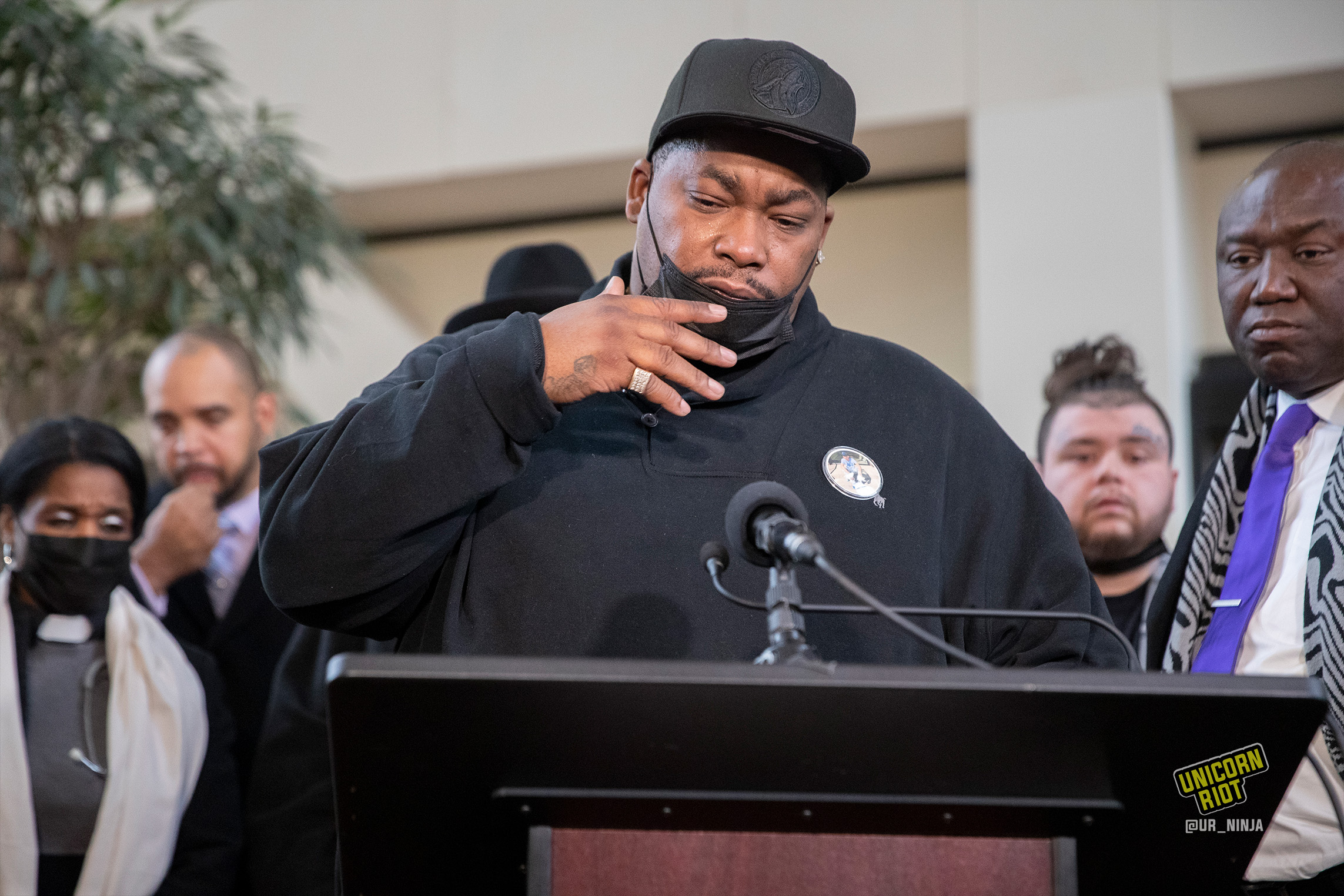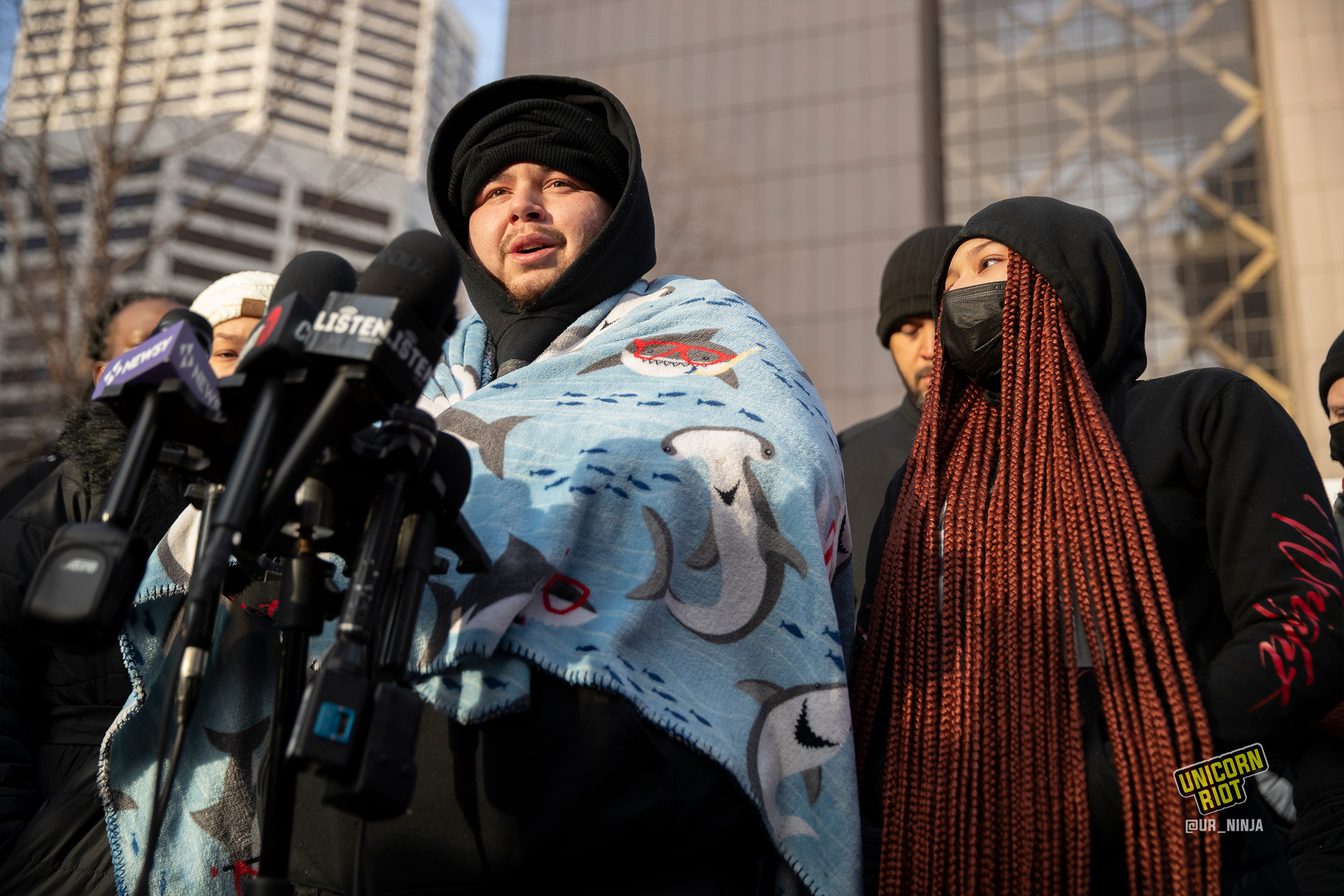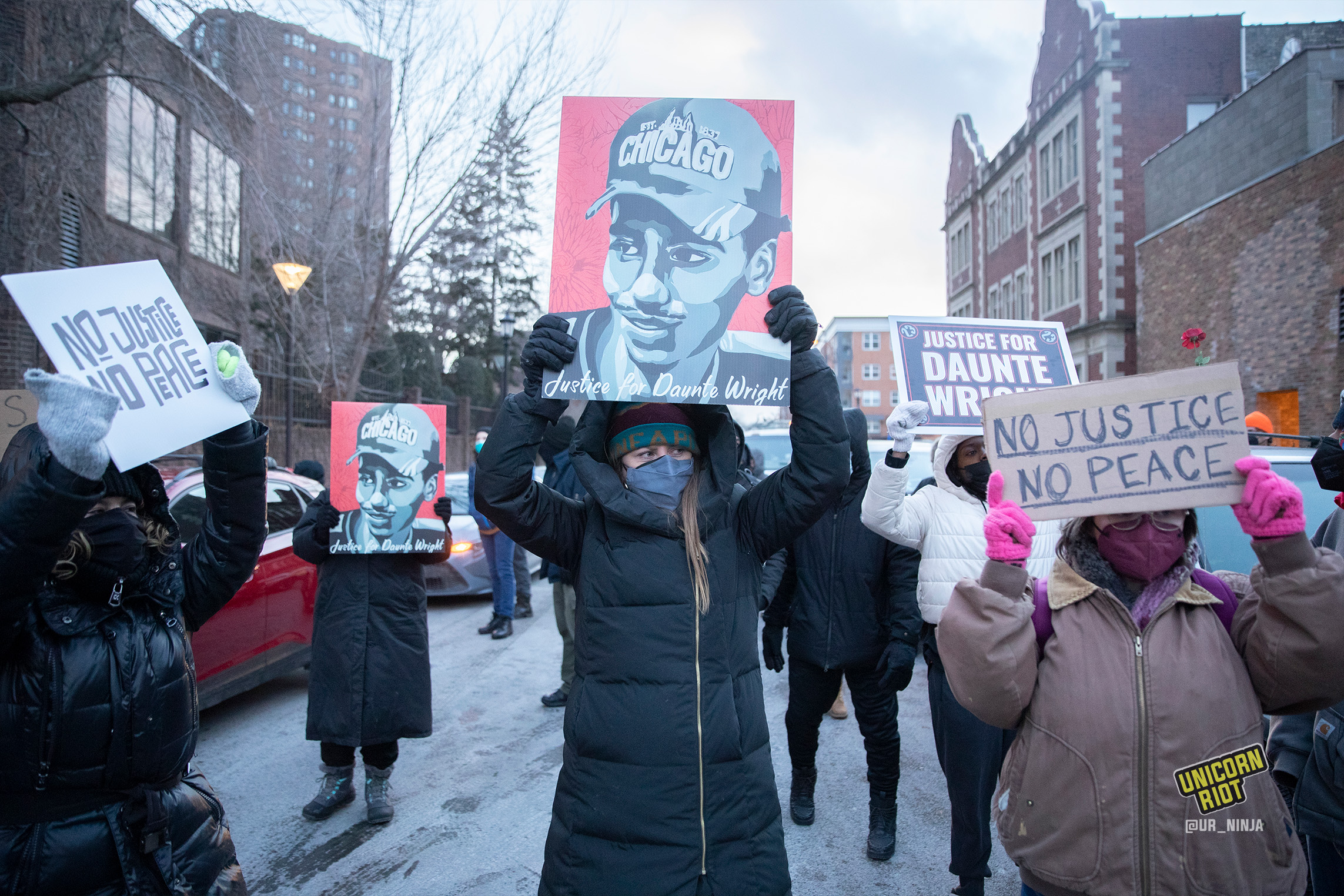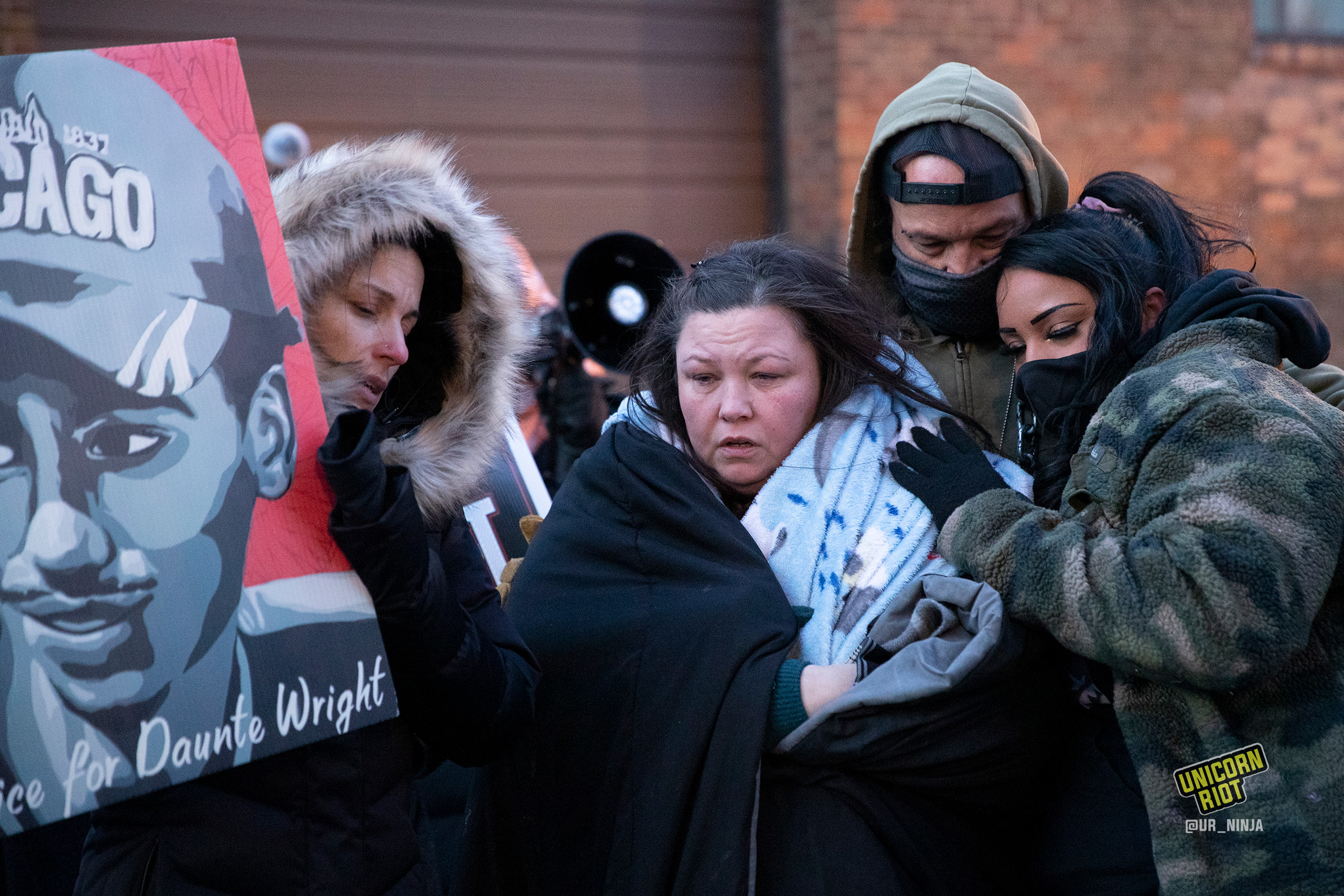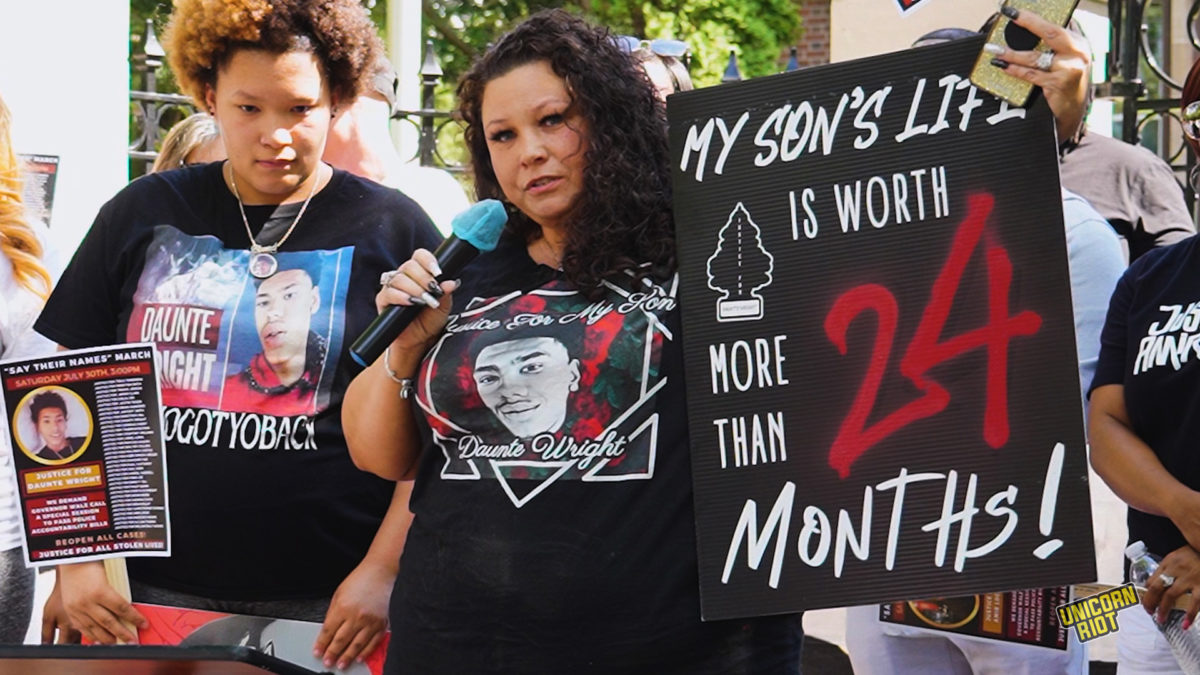 Cover image and Tale of Three Mugshots graphic created by Niko Georgiades for Unicorn Riot.
---
Unicorn Riot's Coverage of Daunte Wright - Killed by Police:
Follow us on X (aka Twitter), Facebook, YouTube, Vimeo, Instagram, Mastodon, Threads, BlueSky and Patreon.
Please consider a tax-deductible donation to help sustain our horizontally-organized, non-profit media organization: