Amir Locke Killing Draws Thousands Downtown, Presser Disruptions, and Protest Outside Police Chief's Home
Minneapolis, MN – Despite below freezing temperatures, community disdain over the killing of Amir Locke on February 2 has been widely shown to the authorities in a variety of ways in the days following.
Graffiti referencing Locke has been sprayed across the city landscape, including on the Minneapolis Police's First Precinct building. City press conferences were disrupted, thousands marched downtown, and two caravan protests have occurred in Minneapolis, with one stopping outside the house of Interim Police Chief Amelia Huffman on February 6.
Protests are expected to continue as a student-led walkout of high schools occurred on Tuesday, February 8 starting at St. Paul Central and ending at the Governor's Residence. A national solidarity rally is planned for 6 p.m. at the Hennepin County Government Center on Tuesday as well. Watch it live on Unicorn Riot:
22-year-old Amir Locke was killed by Minneapolis Police Officer (MPD) Mark Hanneman as he carried out a pre-dawn no-knock warrant with an MPD SWAT unit. Body camera footage was quickly released from the incident showing Locke was awake for about two seconds before being shot to death. Along with several of the other SWAT members, Hanneman has past deeds of wrongdoing towards the community, including giving illicit drugs to protesters in 2012 while he was an officer with Hutchinson Police Department.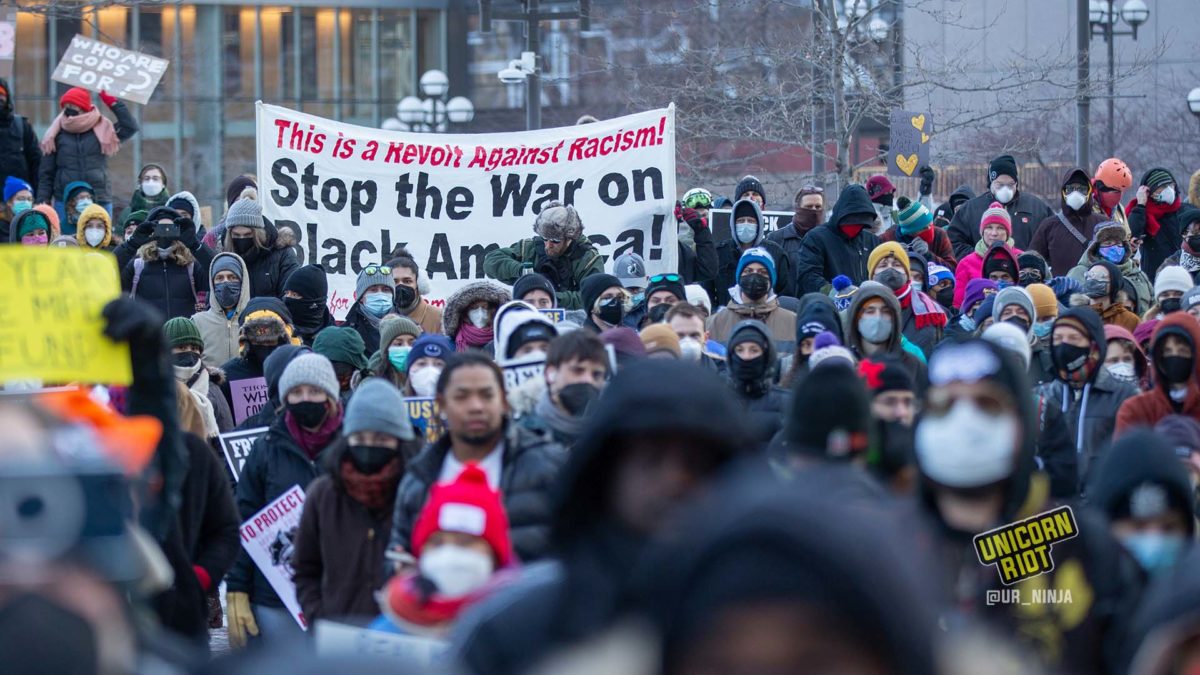 Thousands Protest Downtown on February 5
Several thousand people braved below-freezing temperatures and marched through downtown Minneapolis to demand justice for Amir Locke three days after he was killed by Minneapolis Police. The march began with a rally outside the Hennepin County Government Center where family members of Amir Locke spoke along with local activists.
Unicorn Riot live streamed the ending of the speeches and the march that transpired after.
Click on image below for gallery from February 5 protest.
The crowd stopped at MPD's 1st Precinct, blocks from where Locke was killed at. Speeches were made about accountability and change. Graffiti was seen sprayed onto walls as the march made its way back to the Government Center.
"Amir Locke," "Amir," and "1312" (numbers in the alphabet for ACAB) was spray painted on the metal doors that were shuttered in front of the 1st Precinct. According to jail support organizers two people were arrested from the protest for 'property damage.'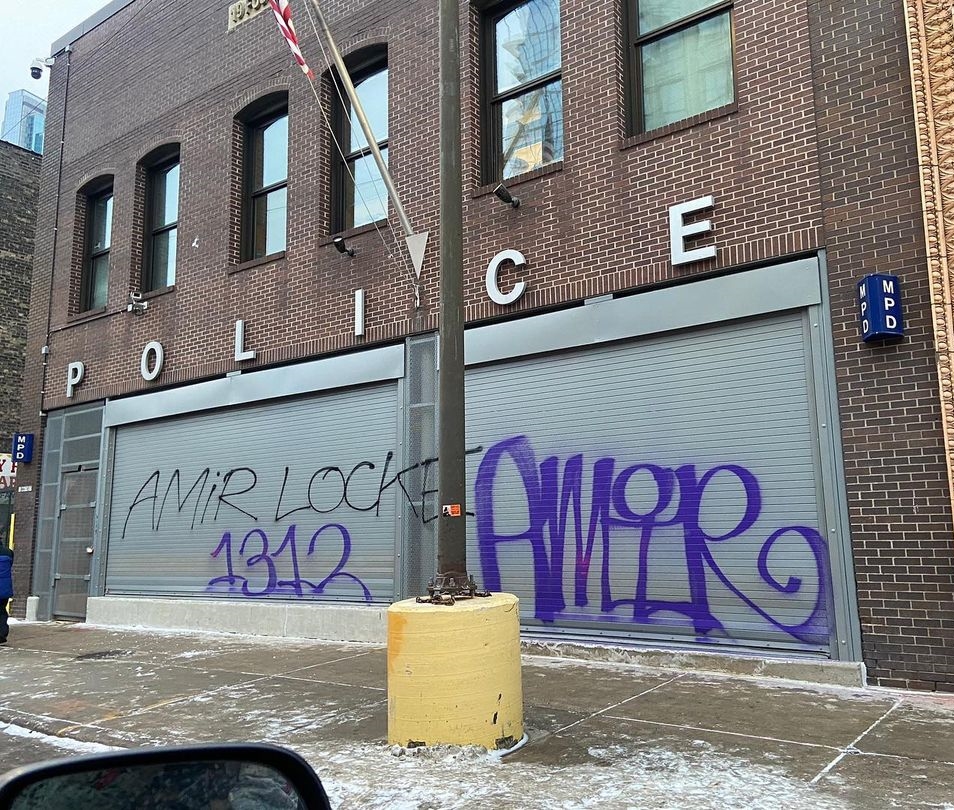 City Press Conference Disrupted, Community Safety Workgroup Mentioned
Body camera footage was released on February 3, the night after the killing, and Mayor Jacob Frey and Interim Police Chief Amelia Huffman held a press conference in City Hall.
In the small crowd, activists and journalists who were filming asked questions. The presser was later interrupted by activist Nekima Levy Armstrong, who's the co-chair of the newly constructed Community Safety Workgroup. She said during her interruption that she joined the group because they promised transparency and she felt Huffman and Frey were taking part in a "coverup."
The Community Safety Workgroup has had its own issues over its transparency and former Mayoral candidate Sheila Nezhad quit the group after just two meetings because of their private nature. Nezhad wrote about the reasonings behind her resigning from the working group in an editorial published at MinnPost. Nezhad said the main two reasons she quit were the closed door meetings and it not being "a good use of city resources."
In City Hall, Mayor Frey and the Interim Chief walked out of the tense press conference after answering that Amir was wrongly referred to as a suspect in the first MPD press release because they were still gathering information. Activists Jaylani Hussein (CAIR-MN) and Michelle Gross (CUAPB) then took to the podium to call for accountability.
Car Protest Downtown and Caravan to Interim Chief's House
A protest car caravan calling for justice for Amir Locke was held downtown on Friday night February 4 and another one on Sunday. The Sunday night action featured upwards of 75 cars that drove from the site of the abandoned 3rd Precinct to the Interim Police Chief's house around Lake of the Isles.
Activists stopped around the house and held a rally outside calling on the Interim Chief to resign. Toussaint Morrison said they pulled up to her house because she is "complicit in the predation of Black men and our community members, gunning them down with impunity and then leaving press conferences early saying nothing."
Vigil & Family / Community Press Conferences
A vigil was held the night Amir was killed and numerous press conferences featuring the family of Amir Locke have occurred since. On Friday, February 4, over a dozen members of Locke's family spoke along with their legal representative, Jeff Storms and local activists.
After the presser, several activists went to the office of Mayor Jacob Frey in attempts to speak with him about firing Mark Hanneman, the officer who killed Locke and demanding the resignation of Interim Chief Huffman.
As documented by independent journalist KingDemetrius Pendleton (starting around 2:15:30 of this video), Mayor Frey never came out of his office. Instead, Frey called Nekima Levy Armstrong on the phone about 14 minutes after the crowd had gathered in the hallway to tell her he was busy.
During the afternoon of Monday, February 7, another press conference was held in City Hall featuring a coalition of Black women and mothers demanding accountability for the killing of Amir Locke.
Graffiti
Since the killing of Amir Locke, messages in remembrance of him and against police have been spray painted across a variety of city backdrops, including metal shutters on MPD's 1st Precinct. A large mural reading "Justice for Amir!" was painted on an I-94 retaining wall south of downtown Minneapolis.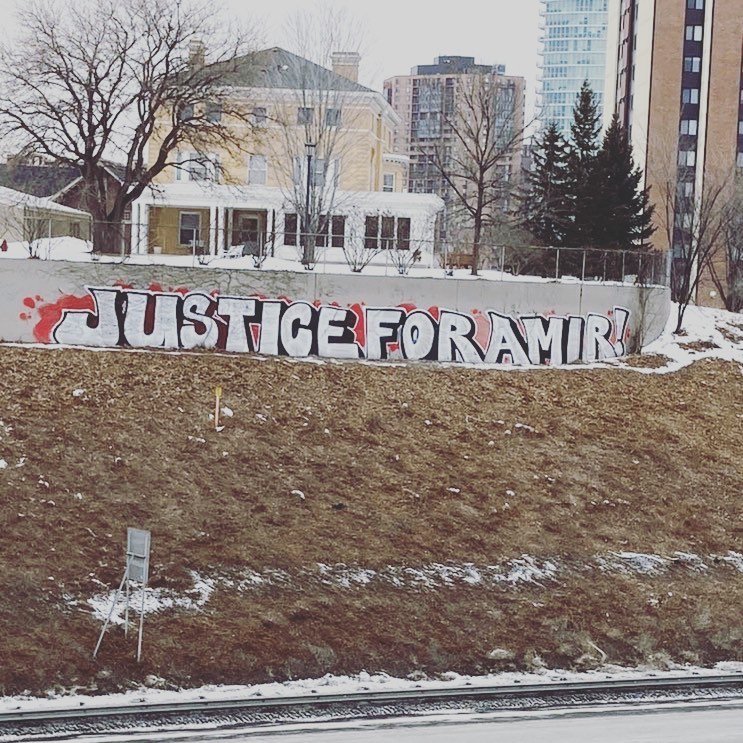 Discontent is often expressed via street art. A new era of anti-police graffiti in Minneapolis was spawned during the George Floyd Uprising. The art initially permeated the boarded up buildings and store fronts and has since continued on walls after recent police killings of Dolal Idd, Winston Smith, and now Amir Locke.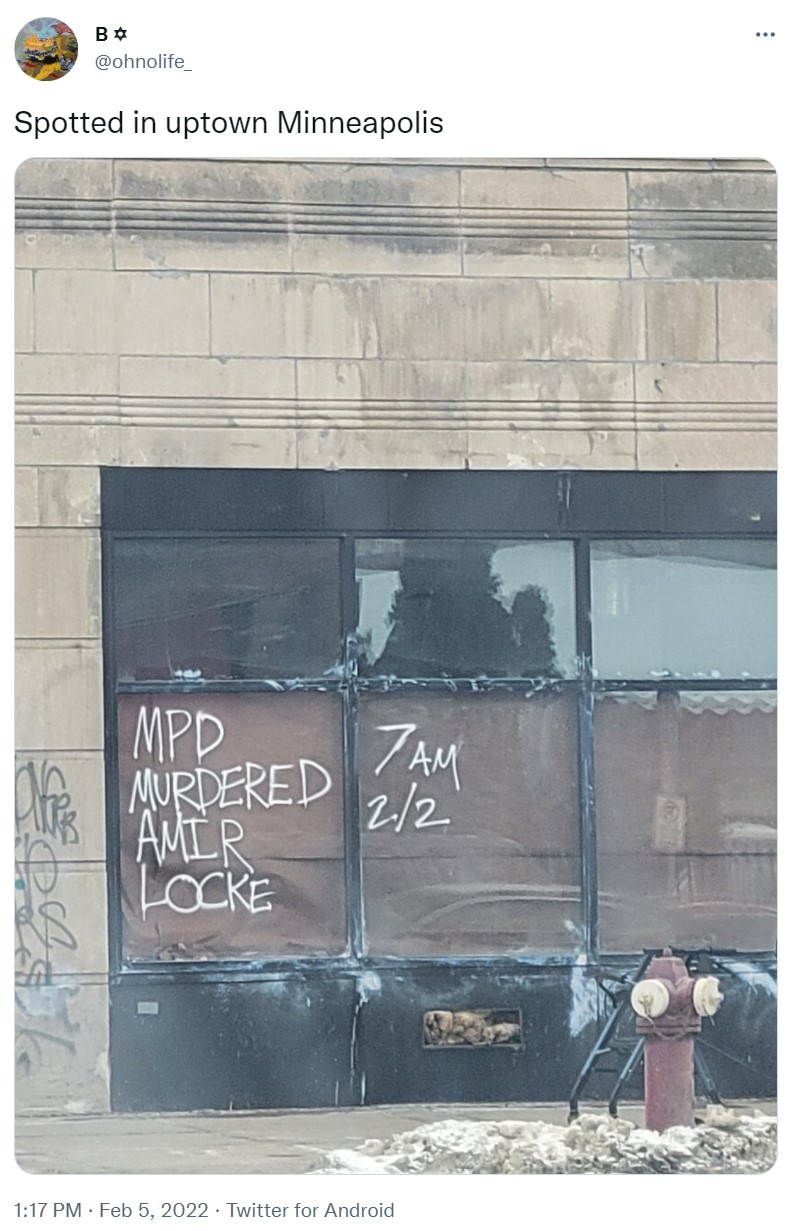 Graffiti reading "Amir," "Amir Locke," "RIP Amir Locke," and "MPD Murdered Amir Locke," are some of what's been posted to the internet. The images below represent only a small portion of the graffiti that can be seen in various places across Minneapolis.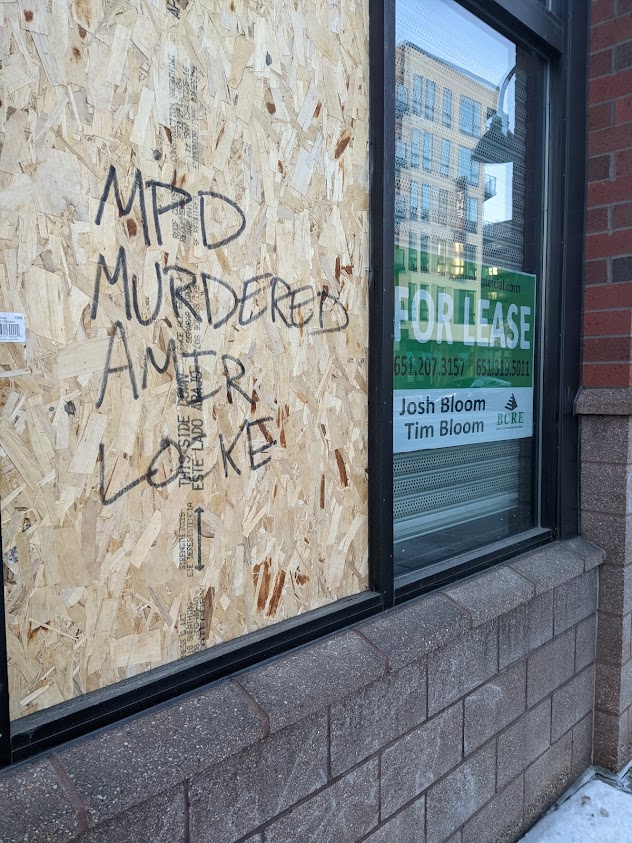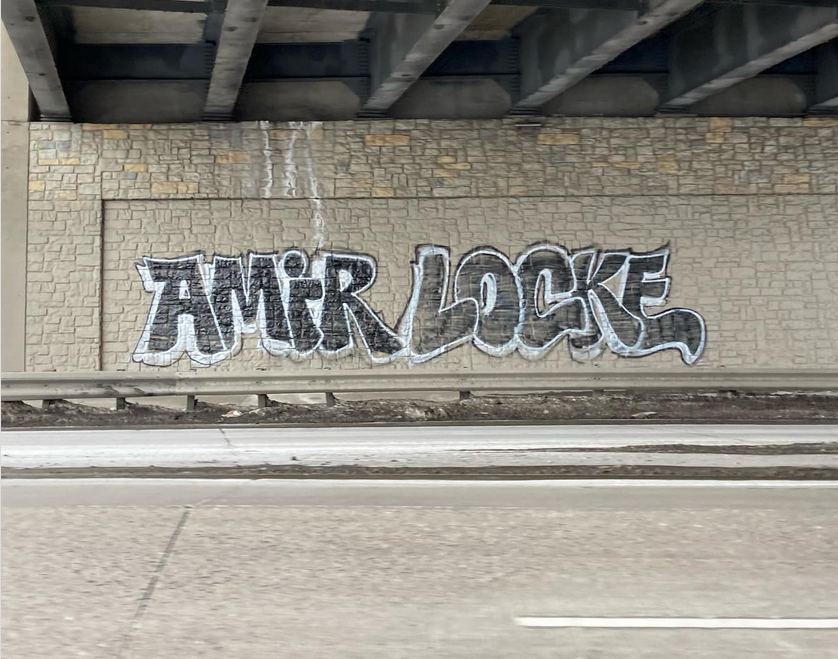 Protests and agitation are expected to continue from a community seemingly stuck in a perpetual grieving process.
Coverage of MPD Killing Amir Locke:
---
Follow us on X (aka Twitter), Facebook, YouTube, Vimeo, Instagram, Mastodon, Threads, BlueSky and Patreon.
Please consider a tax-deductible donation to help sustain our horizontally-organized, non-profit media organization: