Hundreds March to Building Where Police Killed Amir Locke
Minneapolis, MN – Nearly a week after a Minneapolis Police pre-dawn raid killed Amir Locke, hundreds marched in protest to the apartment building he was fatally shot in. The Tuesday night march circled from the Hennepin County Government Center in downtown Minneapolis to Bolero Flats Apartment Homes and back near the start before ending.
Unicorn Riot was live for the rally and march on February 8.
Amir Locke was killed by Minneapolis Police serving a pre-dawn no-knock warrant on February 2, 2022. Since his killing, numerous press conferences and protests have occurred.
The February 8 protest was peaceful and featured no interaction with police. There was a trail of graffiti in remembrance of Amir Locke and against the police that followed the march and a glass door of a four-star hotel was damaged. For a brief rundown on the first week of protests after Amir Locke's killing, see here.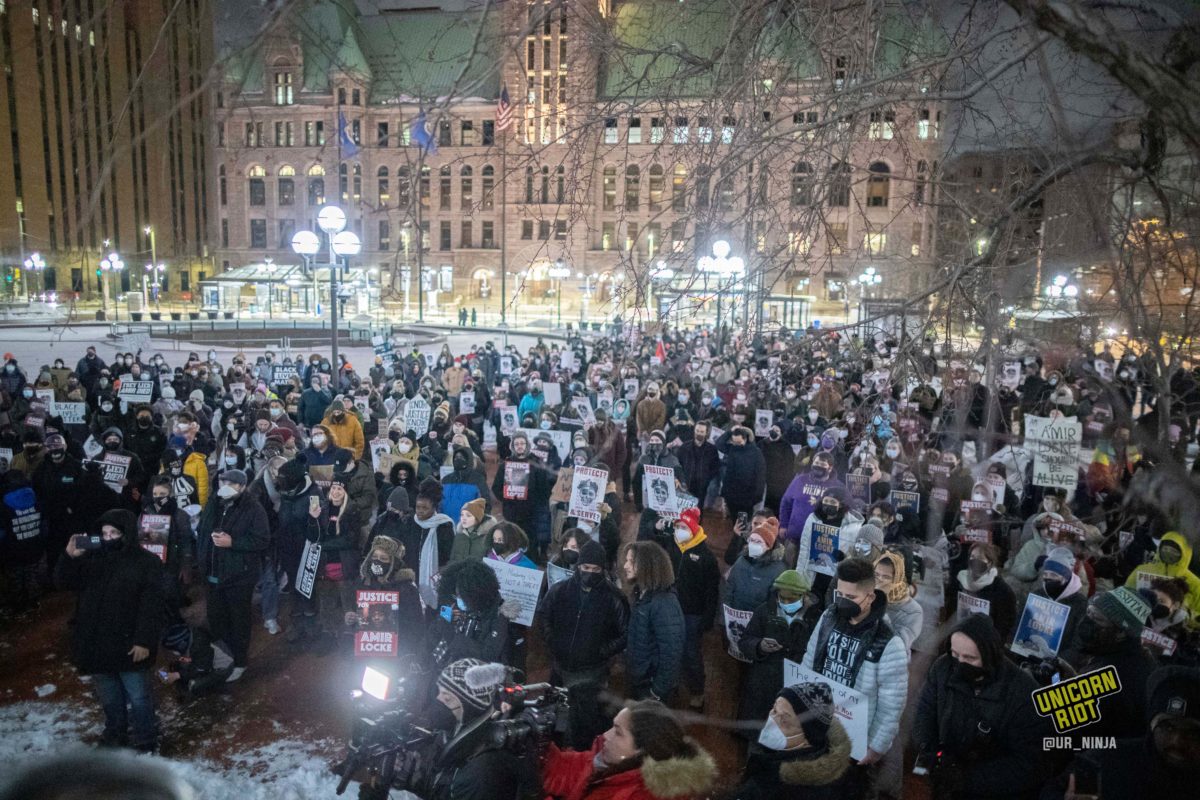 Starting at 6 p.m. on February 8 with a rally on the steps of the Government Center, activists from Black Lives Matter Minnesota, Twin Cities Coalition for Justice 4 Jamar, and Native Lives Matter made speeches about justice, change, and accountability before the march started.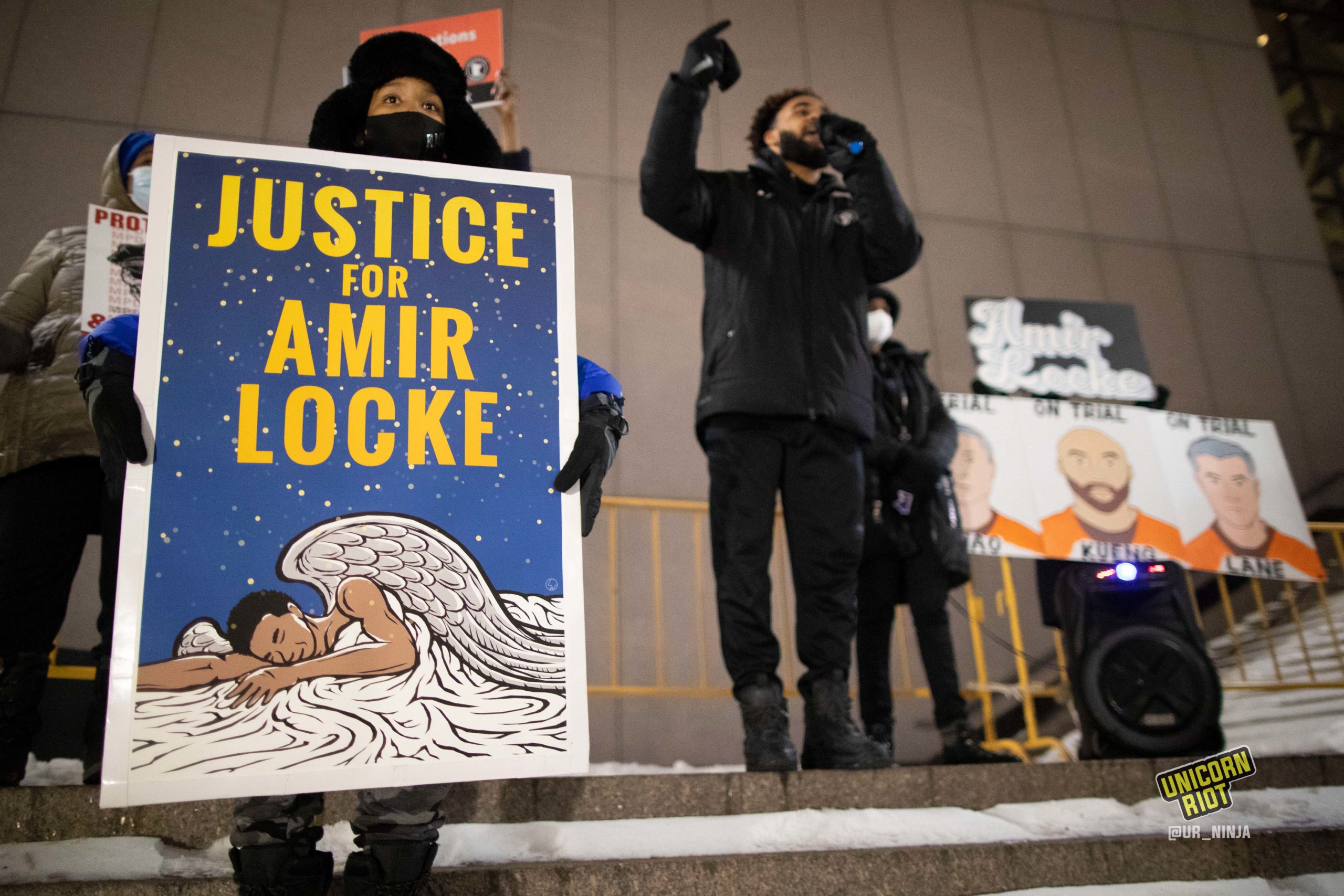 Families who've lost loved ones to police killings were in attendance. Monique Cullars Doty, the Aunt of Marcus Golden (killed by St. Paul Police in 2015) and with Black Lives Matter Minnesota organized and emceed the protest. [Black Lives Matter Minnesota is not associated with the national Black Lives Matter.]
Among other family members were Kim Handy Jones, the mother of Cordale Handy (killed by St. Paul PD in 2017), Bayle Gelle, the father of Dolal Idd (killed by Minneapolis PD in 2020) and Damik Bryant, the brother of Daunte Wright (killed by Brooklyn Center PD in 2021).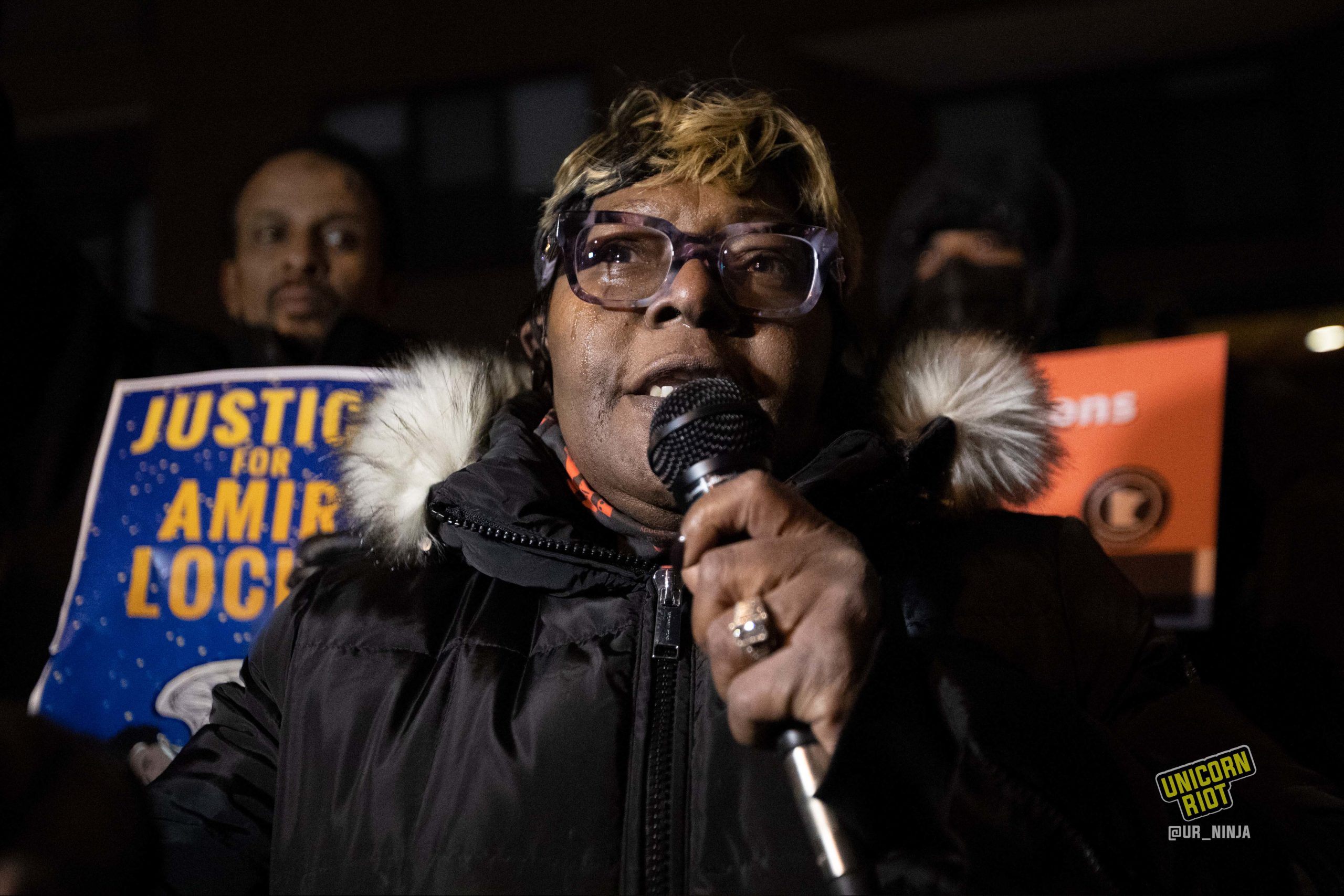 Gelle and Handy Jones both spoke at length about losing hope in reforming the system, the pain they feel from their loss and the hope for accountability and a new public safety system where their children aren't hunted.
While outside the Bolero Flats Apartment Homes, the protesters and speakers called out Judge Peter Cahill for signing the no-knock warrant that led to the killing of Amir Locke as well as the front office for giving the police the key they needed to get in.
Other grievances voiced during the protest were demands that Mayor Frey and Interim Police Chief Amelia Huffman resign, anger over the continued violence on the community that SWAT team members involved in Locke's killing have imposed, and anger that Locke's killer, Mark Hanneman, is employed by MPD after taking part in the DRE program as an officer in Hutchinson and supplying illicit drugs to people in 2012.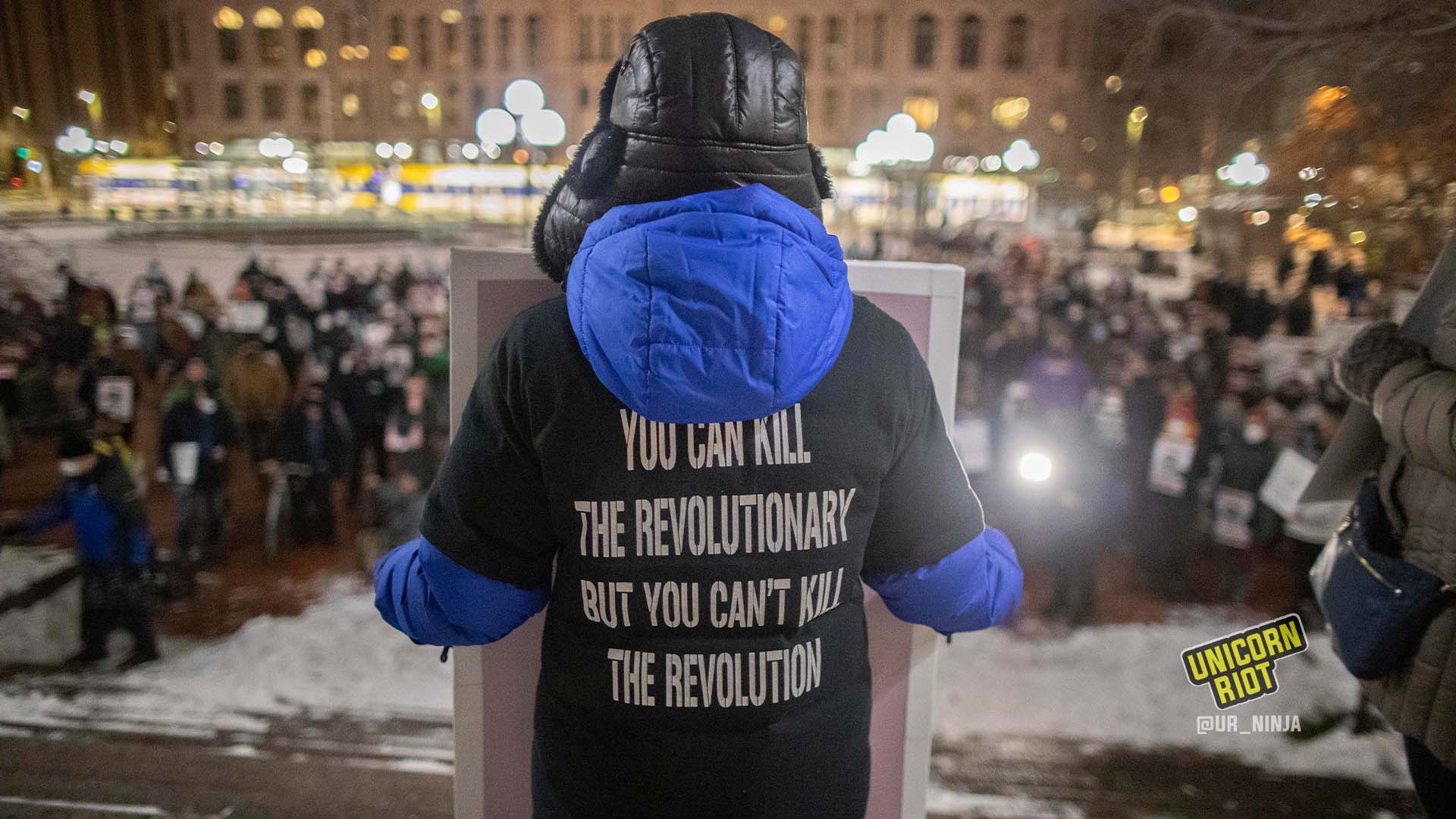 Riding in one of the dozens of vehicles in the back of the protest was Damik Bryant, Daunte Wright's brother. While speaking during the live stream, Bryant said the family was gearing up for Kim Potter's sentencing, on February 18 at 9 a.m., with victim impact statements being read in court as well.
Potter was found guilty of two counts of manslaughter on December 23, 2021 for fatally shooting 20-year-old Daunte Wright during a traffic stop in April 2021. Bryant also mentioned that pro-Kim Potter protests have been occurring outside the women's Shakopee Prison (MCF-Shakopee) calling for Potter to be released from her incarceration. In response, a counter-protest called "Stop Trying to Free Kim Potter" is scheduled to take place on Saturday, February 12, at 9 a.m. outside the prison.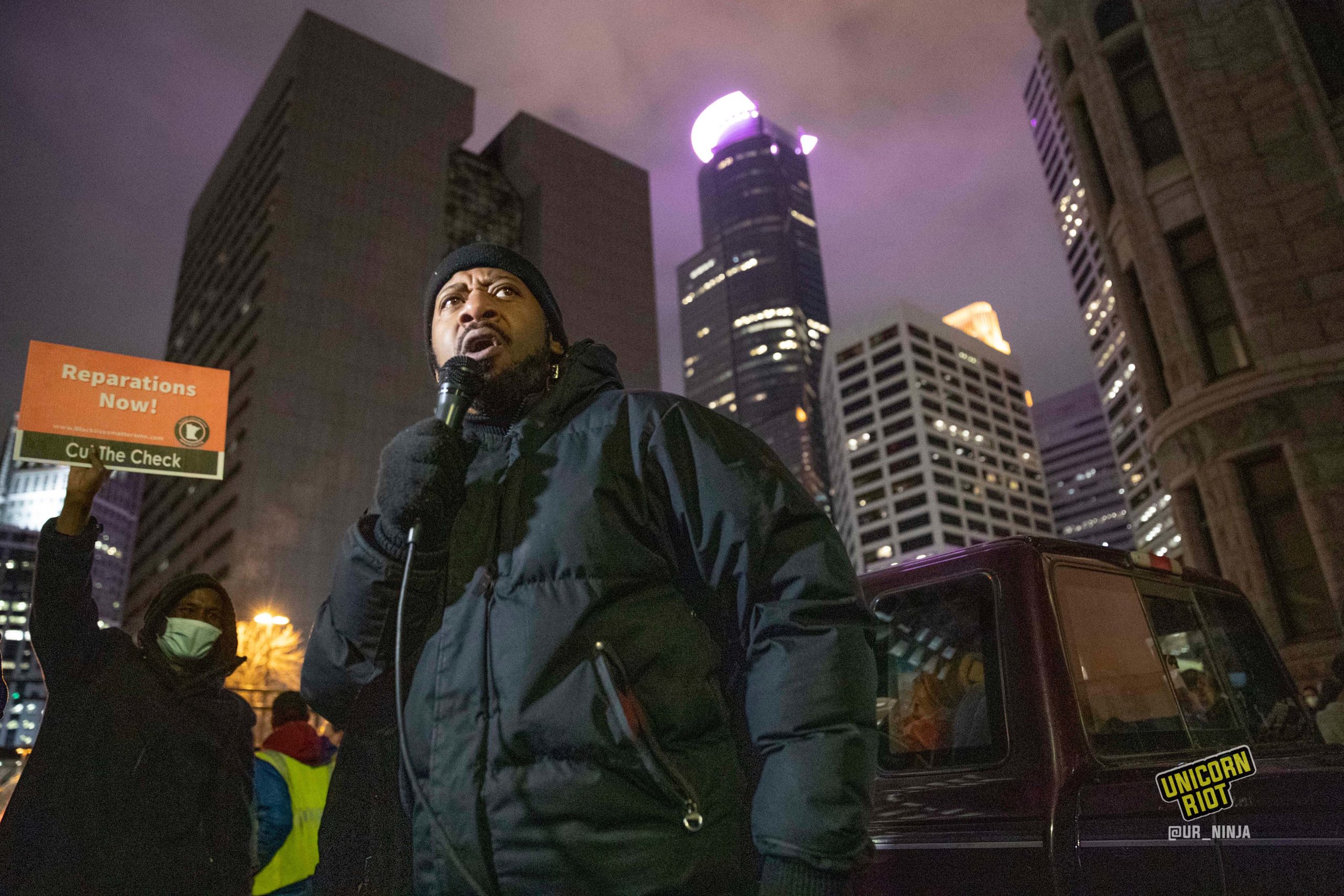 Photos contributed by Chris Juhn.
Coverage of MPD Killing Amir Locke:
---
Follow us on X (aka Twitter), Facebook, YouTube, Vimeo, Instagram, Mastodon, Threads, BlueSky and Patreon.
Please consider a tax-deductible donation to help sustain our horizontally-organized, non-profit media organization: