No Charges for Minneapolis Cop in Amir Locke Killing
Minneapolis, MN – Two months after Minneapolis Police officer Mark Hanneman killed Amir Locke, 22, while executing a no-knock warrant, prosecutors say they won't be charging Hanneman with a crime. Hennepin County Attorney Mike Freeman and Minnesota Attorney General Keith Ellison released a 44-page joint report on April 6 explaining their decision in the case. Also released was a report by retired police officer John "Jack" Ryan.
Locke was killed by Hanneman, who was part of a SWAT unit serving a pre-dawn no-knock warrant on February 2, 2022. Locke, a registered gun owner, was sleeping in a blanket on his cousin's couch before being awakened by a SWAT unit at 6:48 a.m. after they entered the apartment with a key. Hanneman killed Locke within 8 seconds of entering the apartment as Locke grabbed his handgun while being startled awake.
"Even assuming, without concluding, that Mr. Locke was intentionally pointing a firearm at Officer Hanneman, it is possible – and perhaps likely – that Mr. Locke was doing so in response to being startled by a group of people rushing into the apartment in which he was sleeping."

Pg. 43 of the Joint Report released by Hennepin County Attorney Mike Freeman and Minnesota Attorney General Keith Ellison
The no-knock warrant was signed by Judge Peter Cahill, the Hennepin County judge now known for presiding over Derek Chauvin's murder trial. Activists have said Cahill's record reveals "a disturbing pattern."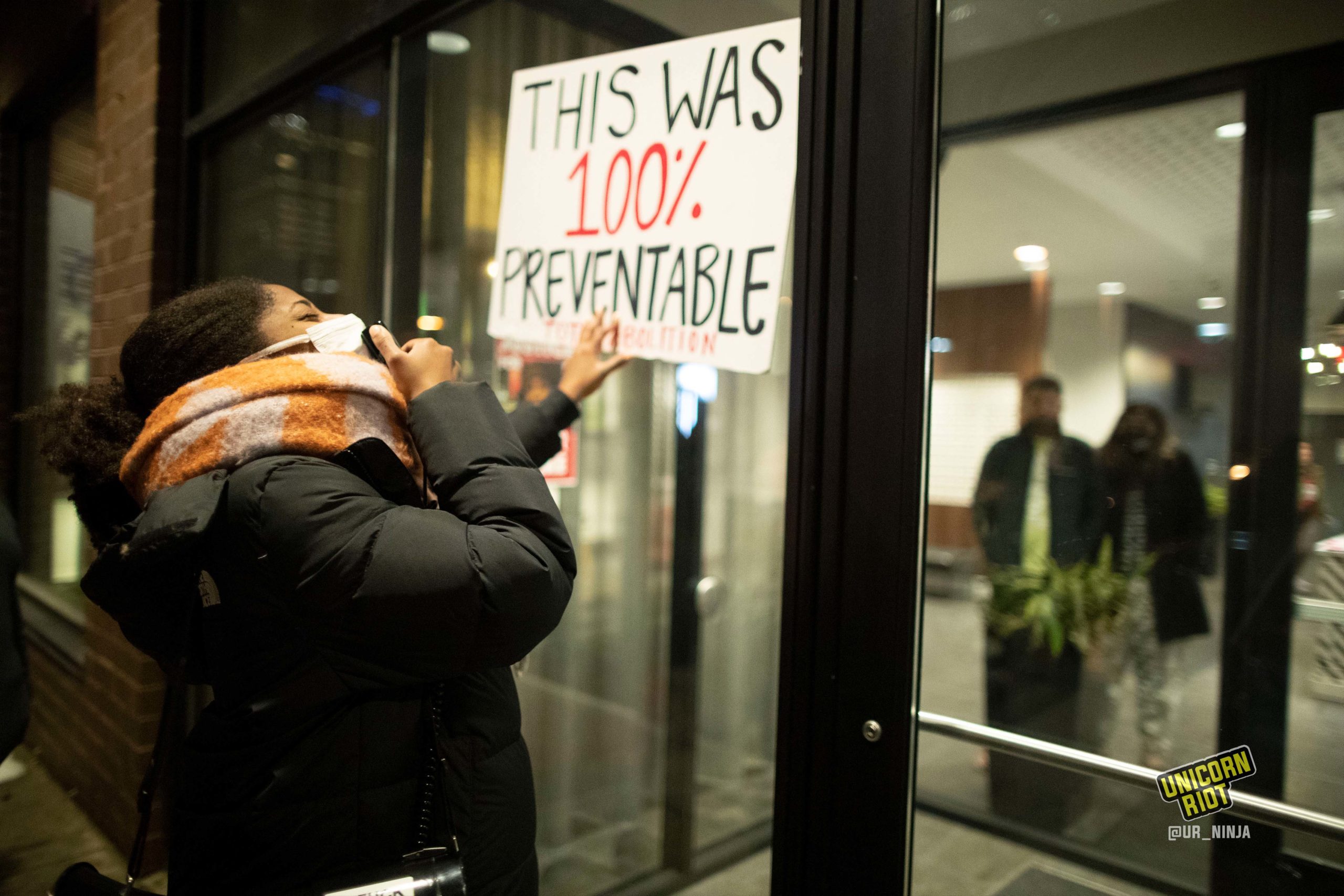 Prosecutors Hold Joint Press Conference, Release Joint Report
Both Freeman and Ellison held a press conference around 11 a.m. on Wednesday in which Ellison said they, as prosecutors, were limited by the language in the current laws because police are involved in this case: "current law only allows us to evaluate the case from the perspective of a reasonable police officer."
"We're not allowed to evaluate the case from the perspective of the victim. With all the available evidence, we would not be able to prove in court that officer Hanneman's use of force was not authorized under the law beyond a reasonable doubt."

Minnesota Attorney General Keith Ellison, April 6, 2022
The Minnesota Bureau of Criminal Apprehension (BCA) finalized its investigation, submitting its final report and evidence to both Freeman and Ellison's office on March 14, 2022. Freeman said they tapped "independent expert" and retired police captain Jack Ryan to aid in their findings. Freeman said Ryan had access to all of the evidence, including the body worn cameras and statements of the officers.
According to the reports, Mark Hanneman, the officer who fatally shot Locke, was assigned to work 1280, the SWAT unit, during the morning of February 2. After attending a pre-warrant-execution briefing at the Special Operations Center, the SWAT teams drove into downtown Minneapolis seeking four homicide suspects in three apartments in the Bolero Flats building.
Hanneman was the third officer into the apartment once they opened the door. Instead of going straight down the hallway, he cut into the kitchen to get to the living room and had view of the couch that Locke had been kicked off of while he was wrapped in a blanket and just awakening.
Hanneman's statement to the BCA was that Locke then had raised his handgun "and pointed it at me." Hanneman claimed he "feared for my life and the lives of my teammates." Hanneman shot Locke three times.
After Hanneman shot Locke he "jumped on Mr. Locke's back, tackling him to the floor." Hanneman then handcuffed a dying Locke before being escorted out of the room by other officers. As officers pushed Locke around and secured his hands, another officer in the SWAT unit, Aaron Pearson, said to Hanneman, "Hanne, good job, bud."
When asked in the press conference if the public would be able to see Hanneman's body worn camera. Freeman said it would be released by the BCA later today and that it would show Locke was "pointing" his gun at the officers. Ellison followed Freeman's statement by saying "the term pointing might imply a level of intentionality that we don't know whether Amir Locke had or not. We don't know what was on his mind."
Hennepin County's Chief Medical Examiner Dr. Andrew Baker conducted the autopsy on Locke and concluded his cause of death was a homicide by multiple gunshot wounds. Baker found five particular wounds from the three bullets shot into Locke by Mark Hanneman, suggesting bullets "may have passed through Mr. Locke's body in one spot and re-entered at another." Locke was shot in the face, fracturing his jaw, in the upper chest, fracturing his right clavicle and a rib and passing through his heart, and in his left shoulder, fracturing his left humeral head. Locke also had a graze wound on his right wrist.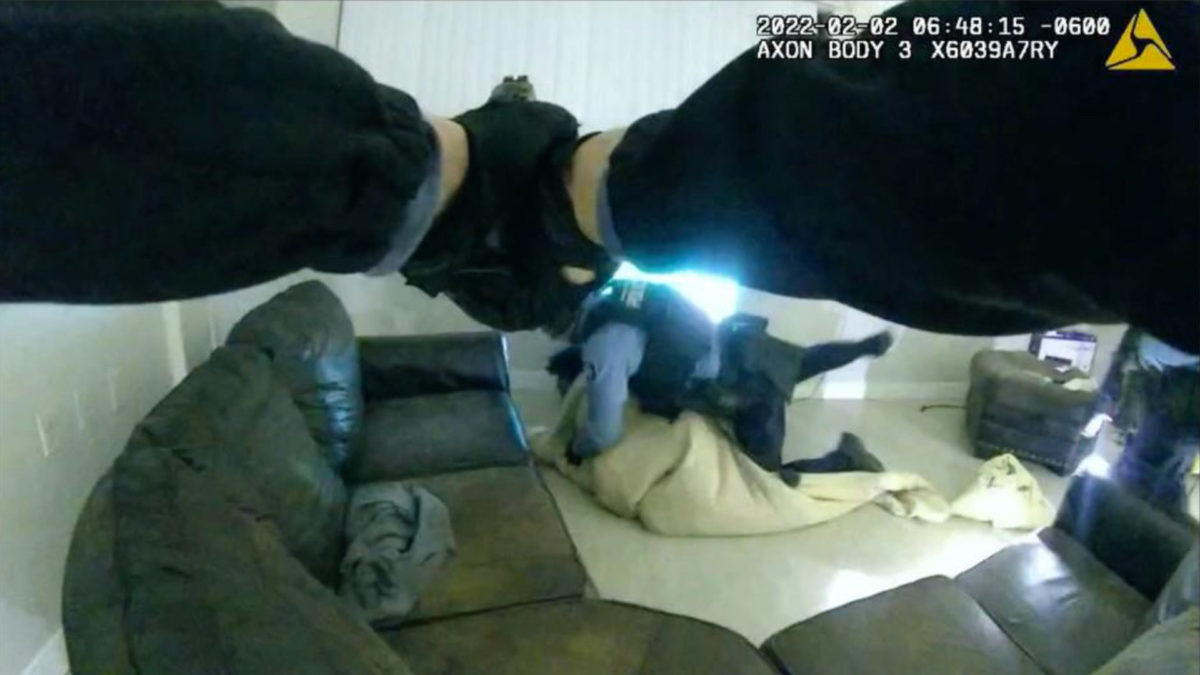 "They just came in my house"
Also in the apartment with Amir Locke were two others, Locke's cousin Marlon Speed and Tatyana Henderson, who lived there. They were in a bedroom sleeping prior to having their apartment broken into. Speed said he was "knocked the fuck out" before police came. Speed said in his interview with the BCA that it sounded like police came in unannounced, then shot "their fuckin guns" and then announced themselves.
"Mr. Speed recalled hearing a boom, then gunshots, then announcement of "police," in that order."

"They ain't knock, they ain't say police, or nothin. They just came through the door and got to shootin. And said police."

Marlon Speed statement after his cousin Amir Locke was killed by police
Henderson said that she thought people were breaking in and then she heard gunshots, she said was "literally just asleep and then we just heard people like just bust in." She and Speed then got on the ground at that point and put their hands in the air. The report states that Officer Conan Hickey entered their room pulled a blanket off Henderson, who was likely covering herself.
"They just came in my house . . . they shot somebody and then they like came in the room and then we were already on the ground. Cuz I just heard like yelling and stuff."

Tatyana Henderson statement after Amir Locke was killed by police in the living room of her apartment
Henderson and Speed were then forced by gunpoint to get on their stomachs and told to put their hands behind their head and were handcuffed. Officers also carried out similar no-knock raids on two other apartments in the same downtown Minneapolis apartment complex, Bolero Flats.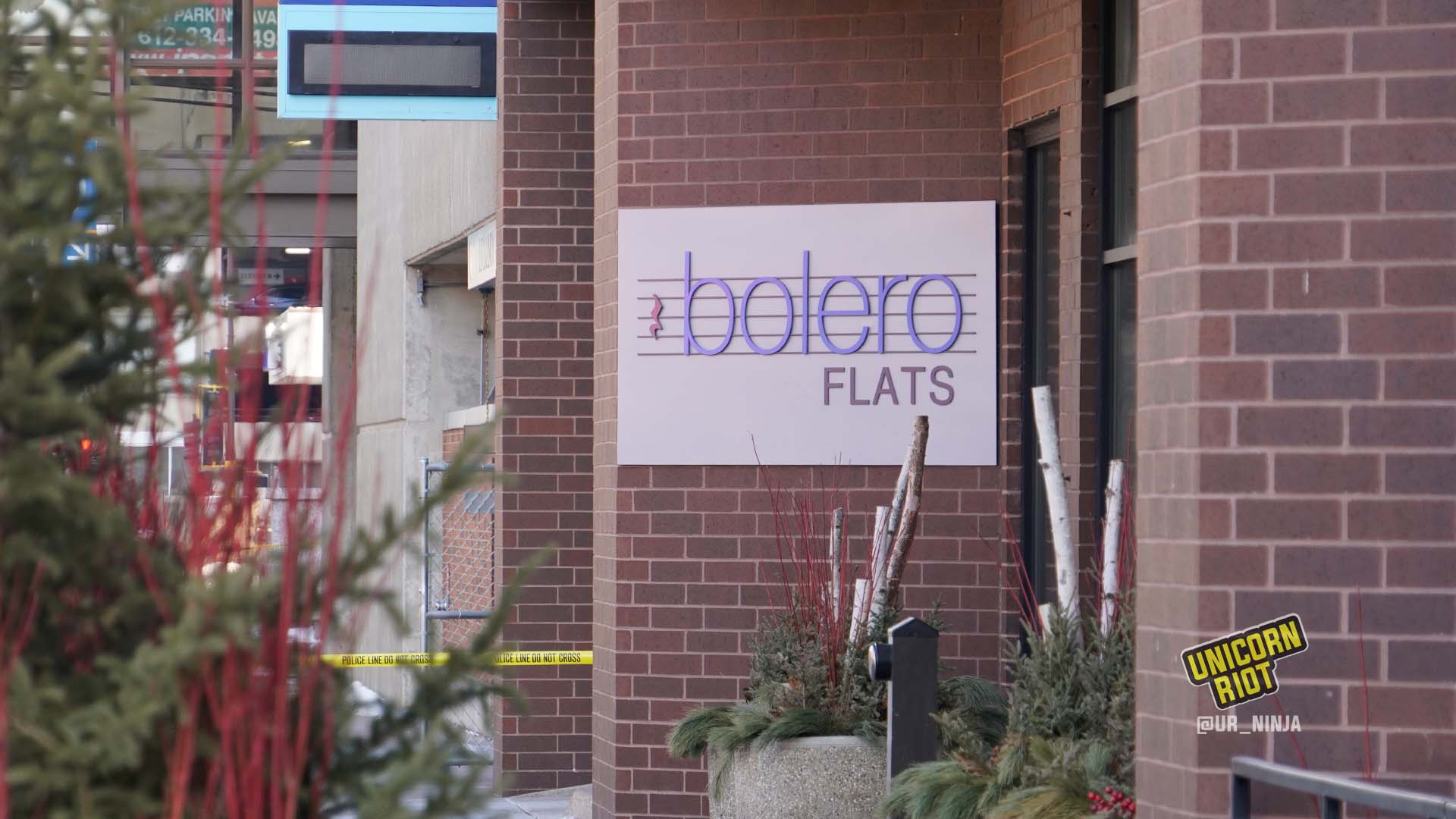 More Trauma, Little Change
As Unicorn Riot previously reported, several of the Minneapolis Police SWAT officers involved in the killing of Amir Locke have violent and checkered pasts. Hanneman had previously participated in a program that gave illicit drugs to homeless people and protesters during the Occupy movement in 2012; two other officers present for Locke's killing were involved in beating Jaleel Stallings nearly to death while 'hunting' Minneapolis protesters during the George Floyd Uprising. Among MPD officer Kyle Mader's many complaints is the fact that he violently assaulted an advocate for the unhoused at the Minneapolis' George Floyd Square vigil site in late 2020.
Before saying they couldn't charge any of the officers involved, Ellison said Locke's "life mattered." He said that Locke was "not a suspect" as was originally reported by the police and the corporate news, and that his killing leaves another "wound in our community" that's "been torn apart by the trauma yet again."
Ellison said that the continual "problems involving policing and communities of color in Minneapolis are long standing … it feels like nothing is ever done about it." He gave three steps that he believes will help bring accountability for police officers who kill people.
The first step is evaluating if no-knock warrants "are ever really needed."
The second, "Congress must pass the George Floyd Justice in Policing Act" and Minnesota needs to enact recommendations that Ellison and Department of Public Safety head John Harrington created in their working group on police killings in 2019. The working group recommendations Ellison speaks of were called "toothless" by local seasoned activists who say they "ignore critical concerns."
The third way to prevent another Amir Locke from being killed, Ellison said that prosecutors "need to continue to hold offenders accountable, and uphold the law, and uphold standards of justice."
Community activists held a press conference outside the Hennepin County Government Center this evening to denounce the decision.
Michelle Gross with Communities United Against Police Brutality said that law enforcement agencies shouldn't be investigating themselves and stated that the "outcome affirms the need for CUAPB's pending legislation that would create an independent prosecutorial office and investigative unit for police critical incidents." Gross said there is a double standard in how prosecutors chose to try cases in which police have killed people.
"Their specious explanation is they would not be able to prove beyond a reasonable doubt that Hanneman had committed a crime in violation of Minnesota law. However, that same consideration was not given when Freeman went forward with a prosecution of Jaleel Stallings, a victim of excessive force by police. Thus, it appears that these kinds of legal standards are only applied to police deadly force incidents."

Michelle Gross, Communities United Against Police Brutality
Locke was the third Black man killed by Minnesota police in a span of 66 days. He now joins the list of thousands of Minnesotans killed by law enforcement only for their loved ones to watch their killers walk free without consequences.
At the time of publication, the BCA has yet to release any of the evidence, which would potentially include images, body worn cameras, and their full final report. [Update: BCA file release]
AmirLocke_JointReport

Amir-Locke-Review4522Redacted

Jack-Ryan-Current-CV-Schedule-A-Cases

Frequently-Asked-Questions

Coverage of MPD Killing Amir Locke:
---
Follow us on Twitter, Facebook, YouTube, Vimeo, Instagram, Mastodon and Patreon.
Please consider a tax-deductible donation to help sustain our horizontally-organized, non-profit media organization: