Autonomous March for Amir Locke Marked One Month Since Locke Was Killed by Police
Minneapolis, MN – Two months have now passed since the Minneapolis Police killed 22-year-old Amir Locke while serving a contentious no-knock warrant. To commemorate the one-month anniversary of Locke's death, dozens participated in an autonomous march in South Minneapolis outside the 5th Precinct of the Minneapolis Police and down Lake St. The march dispersed with no arrests.
The March 2, 2022, march was similar to the February 11 autonomous march except that it was not publicized on social media and was also much smaller in numbers. During the February 11 march, a young activist told Unicorn Riot they felt these autonomous marches provided them "an outlet … as a Black woman to say 'I'm fuckin shit of this shit and the way we're treated by these fucking pigs.' Justice for Amir Locke! Fuck the MPD!"
Locke was killed by Minneapolis Police Officer (MPD) Mark Hanneman as he took part in a SWAT unit serving a pre-dawn no-knock warrant on February 2, 2022. Locke, a registered gun owner, was sleeping in a blanket on his cousin's couch before being awakened by a SWAT unit yelling various commands after they entered the apartment with a key. Locke was fatally shot by Hanneman within two seconds of waking up.
Officers carried out three warrant raids that morning in the same apartment complex in downtown Minneapolis and were not seeking Amir Locke.
Many of the officers involved in the SWAT teams present during the raid that killed Locke have checkered and violent pasts. The shooter, Mark Hanneman, was involved in DRE, a state run program where officers gave illicit drugs to houseless people and Occupy protesters in 2012.
After Locke was killed, numerous press conferences and protests occurred, including student walk outs, protests outside the building Locke was killed and a protest outside Minnesota's Board of Peace Officer Standards and Training (POST) demanding Hanneman's police officer license to be revoked.
Mark Hanneman, nor any other involved officer is facing departmental discipline stemming from the deadly incident.
During the autonomous march on March 2, dozens dressed mostly in black protested outside the fenced-in 5th Precinct and marched down Lake St. Flares were lit, some thrown at the precinct, and protesters formed small barricades with construction equipment and trash cans to prevent cars from attacking the march.
Graffiti was widely sprayed across available surfaces. Messages reading "Justice 4 Amir," "Fuck 12," and "Destroy MPD," were widely used. Some windows were broken out of a bus stop as well as a building under construction.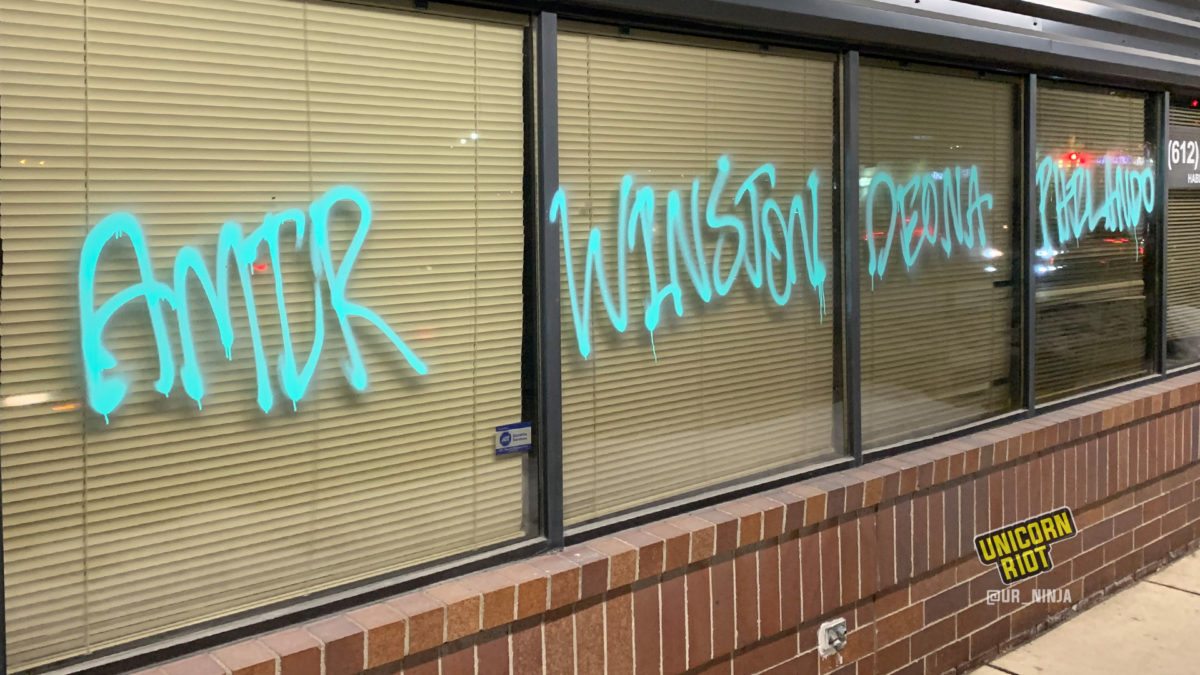 ---
Coverage of MPD Killing Amir Locke:
Follow us on Twitter (aka 'X'), Facebook, YouTube, Vimeo, Instagram, Mastodon, Threads, BlueSky and Patreon.
Please consider a tax-deductible donation to help sustain our horizontally-organized, non-profit media organization: