Autonomous March for Amir Locke Protests 5th Police Precinct and Uptown Minneapolis
Minneapolis, MN – An autonomous protest for Amir Locke marched to the Minneapolis Police Department's 5th Precinct and through the Uptown district, barricading the streets and leaving an array of anti-police messages painted in graffiti. The march on Friday night, February 11, featured around 100 people mostly dressed in black bloc attire. No arrests were made.
22-year-old Amir Locke was killed by Minneapolis Police Officer (MPD) Mark Hanneman as he took part in a SWAT unit serving a pre-dawn no-knock warrant on February 2, 2022. Locke, a registered gun owner, was sleeping in a blanket on his cousin's couch before being awakened by an intruding SWAT units yelling various commands. Locke reached for his gun as he was startled into waking and was fatally shot by officers within two seconds.
Since MPD killed Locke, numerous press conferences and protests have occurred. Car protests have occurred downtown and at the Interim Police Chief's house. Youth have held walk-outs from school and demanded justice at the Minnesota Governor's Residence as well as at Minneapolis' City Hall.
On February 8, hundreds marched to the apartment building where Locke was killed. Graffiti was sprayed on downtown walls and a window of a large hotel was broken. The next night, February 9, dozens protested outside Minnesota's Board of Peace Officer Standards and Training (POST) calling for Hanneman's police officer license to be revoked.
No charges have been pressed against Hanneman for killing Locke and no officers are facing departmental discipline stemming from the deadly incident. It's reported that Hanneman is on paid leave from the department.
One of the main demands from protest organizers since Locke was killed was for Hanneman to be arrested. During the autonomous march on February 11, a participant held a sign that read, "Why the fuck hasn't that murdering cop Mark Hanneman been arrested yet?"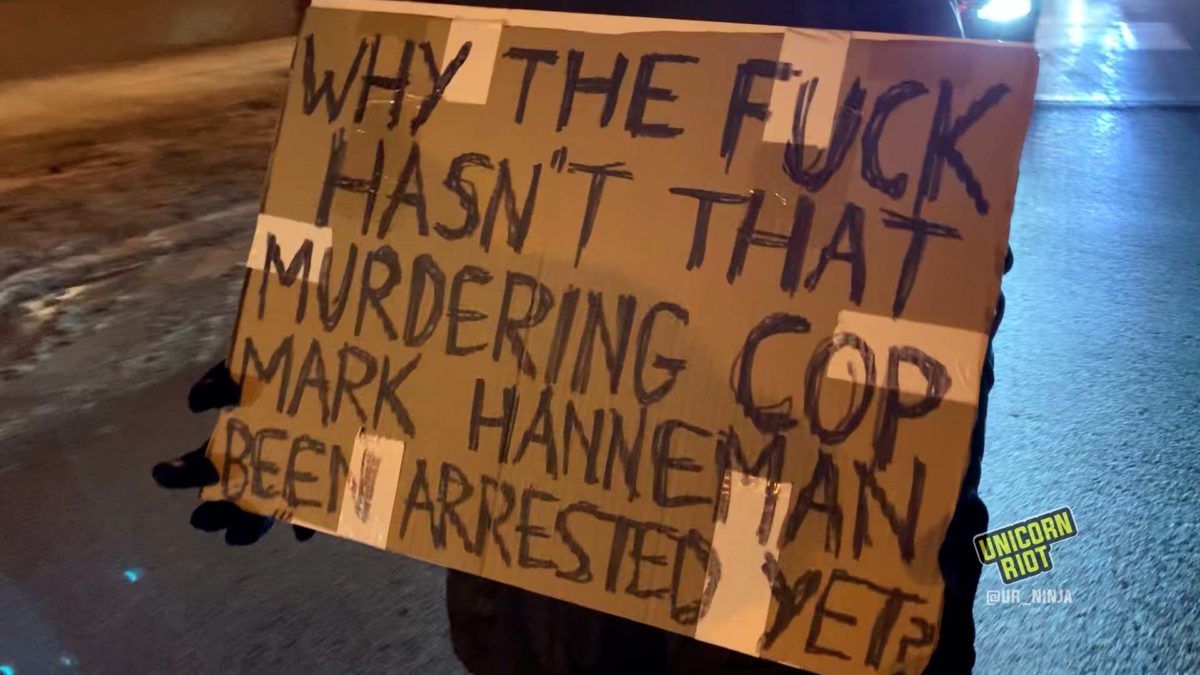 Plans for the autonomous march on February 11 were originally posted to the internet without a location a few days before the Friday action.
The flyer for the event featured a pig with the letters "ACAB" on it and was titled, 'STAND UP FIGHT BACK – JUSTICE FOR AMIR LOCKE.' The slogan, "for Black lives we mobilize" was plastered on the top and bottom of the flyer which publicized Friday, February 11 at 8 p.m. and told people to dress warm and in all black.
A couple hours prior to the action, a flyer was posted to social media sites revealing the address to meet, which was just a couple blocks from MPD's 5th Precinct.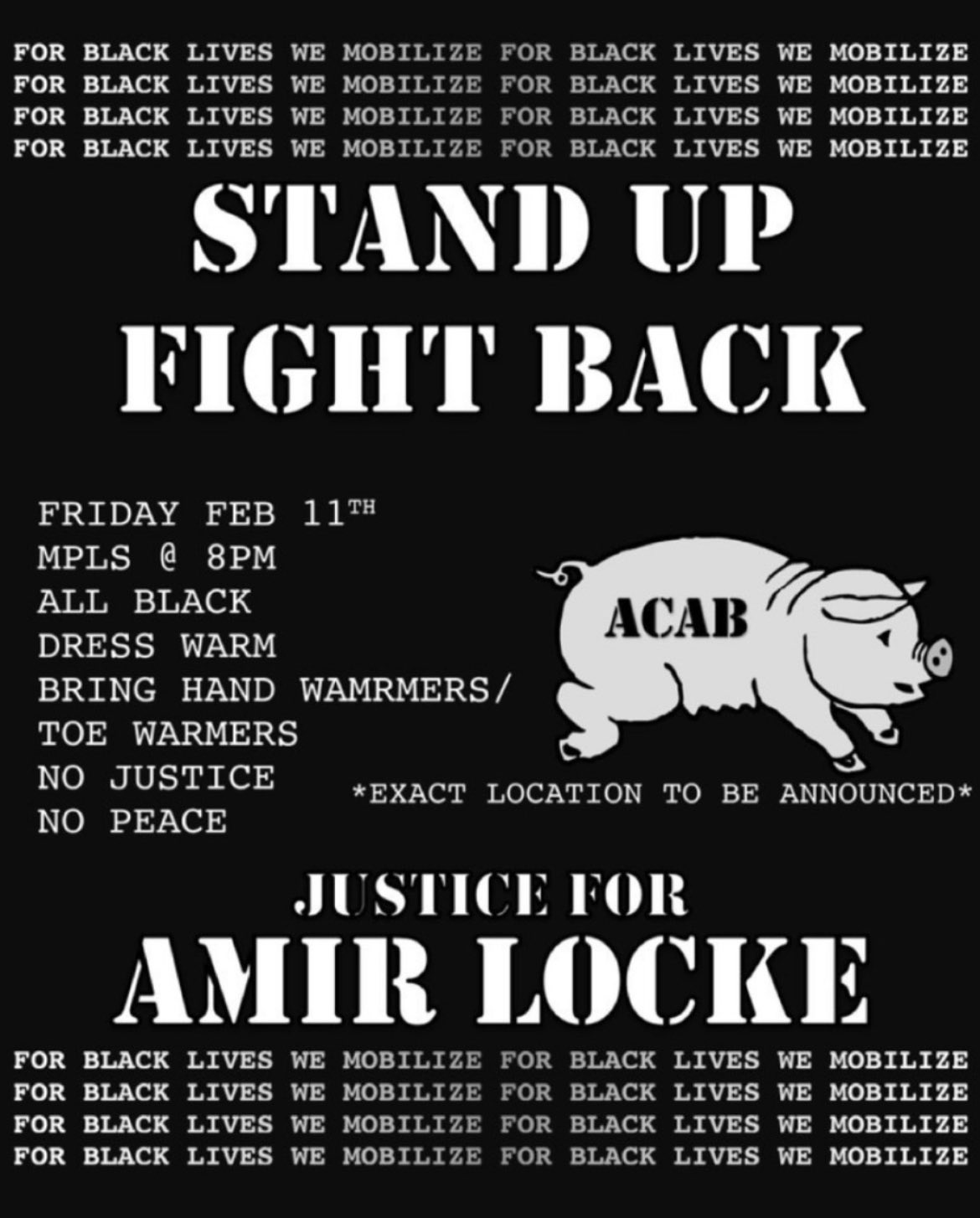 Conversations from local activists on social media that week and in person at the march showed that many felt more action was needed to get accountability for Locke's killing and some were growing tired of speeches and wanted an avenue to express their emotions autonomously. An anonymous participant told Unicorn Riot without the march they maybe would've never come to a protest again:
"I can't take any more of the rallies that scream at empty buildings, asking and pleading for the white supremacists to give us a crumb or two of justice. Reforming this system is not possible. In the least we need the MPD abolished.

To be honest, without this action, or shit like this, I'd probably never come out to these again. Like, I want change, but I think after seeing how the power structure has reacted since George Floyd, with zero change for the better, it's clear they don't give a fuck about Black life. This here, provides me an outlet, and in reality, an incredibly safe outlet, as a Black woman to say 'I'm fuckin shit of this shit and the way we're treated by these fucking pigs.' Justice for Amir Locke! Fuck the MPD!"

Anonymous participant in autonomous protest for Amir Locke on February 11, 2022
Energized despite the single-digits-Fahrenheit weather, the march started with chants of "ACAB – All Cops Are Bastards" and "Fuck 12" as the participants took the street on 31st Street from Pleasant Ave. and headed to MPD's 5th Precinct on Nicollet Avenue.
The building housing the 5th Precinct has been barricaded for the most part of the last 20 months, since the uprising in response to MPD's murder of George Floyd. Concrete barriers with 6-foot fencing surround the only remaining precinct on the Southside.
After arriving to the precinct, small barricades were placed around the intersection to provide safety for the protesters. Some participants threw snowballs and others balloons filled with red paint, a few of which hit the precinct windows, leaving splotches of red across the facade.
A group of people attempted to pull the fencing down while others took space and chanted about justice for Amir Locke and against the police forces. "Amir Locke" was spray painted in red on the inner layer of concrete barriers while "looks good on fire" and "shoot back!" were sprayed on the concrete barriers [see cover image].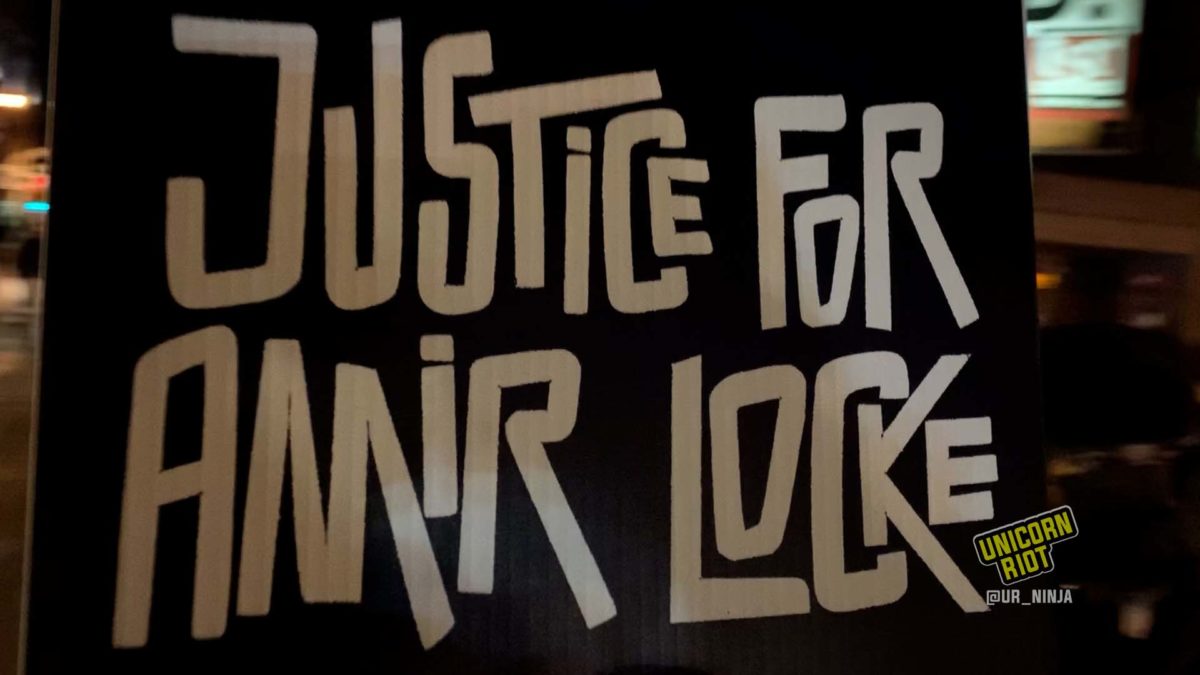 Through the precinct's windows, officers inside the precinct could be seen communicating with each other and walking through the hallway. They did not engage with the crowd in any manner.
Nearly 20 minutes or so after arriving at the precinct, the participants decided to march in Uptown. The march moved around swiftly with no single leader directing its movements. In its autonomous nature, all tactics were respected and the participants were allowed to choose where they wanted to go after having brief discussions.
For the next two hours, participants barricaded Lake Street with construction materials, garbage cans, and whatever was able to be grabbed from the sides of the street. A main thoroughfare, Lake Street has likely the most traffic in the Southside and arguably in all of Minneapolis. Many passers-by showed solidarity with the march by honking their horns, raising their fists, and even joining in.
While passing a large mural on Lake St. that reads 'Daunte Wright,' the protesters changed their chants from "Say his name – Amir Locke" to "Say his name – Daunte Wright." Wright was killed by former Brooklyn Center police officer Kim Potter in April 2021. Potter was recently given a 24 month prison sentence after being convicted of first and second degree manslaughter.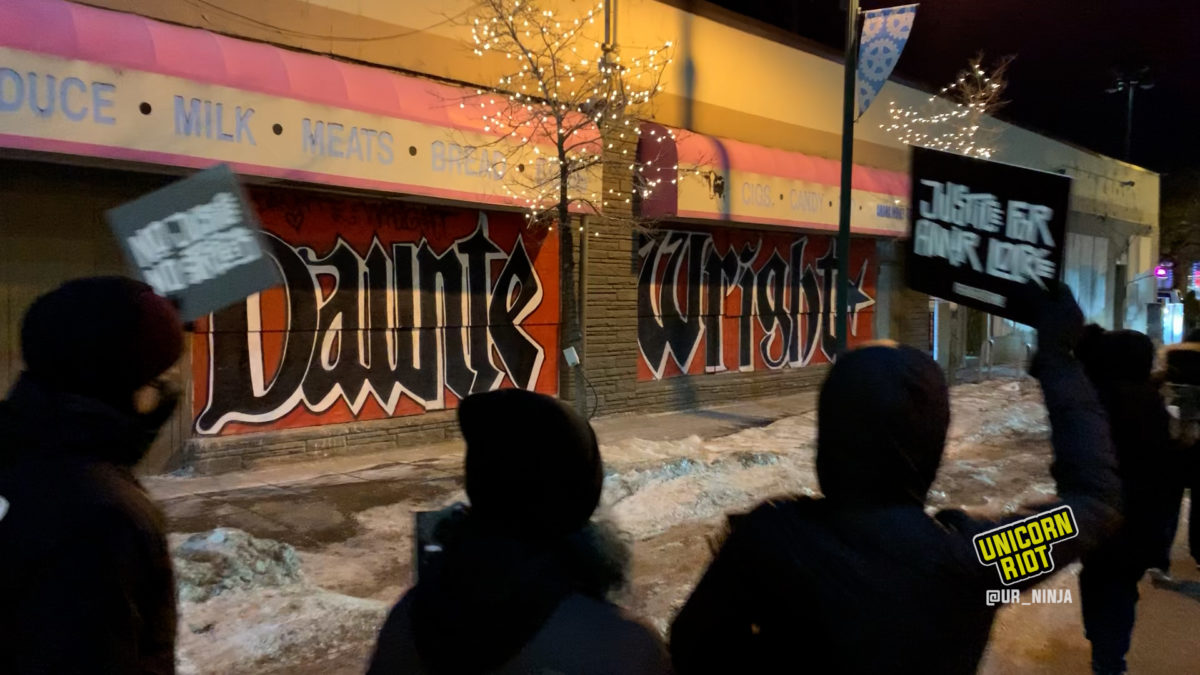 Major intersections like Lyndale Ave. and Lake St. and Hennepin Ave. and Lake St. were fully blocked by protesters who occupied the space for short increments of time as the march continued moving.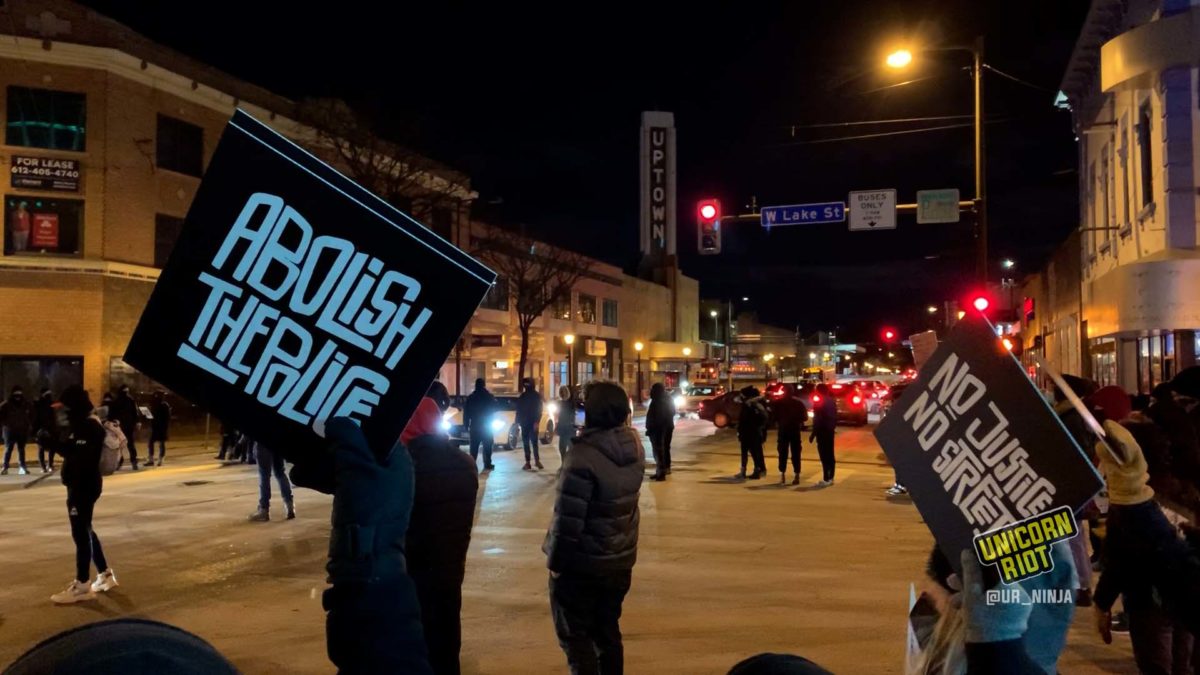 The racially diverse crowd of mostly young participants stopped at Lake St. and Girard Ave, near the parking ramp that Winston Smith was on when he was killed by a federal task force on June 3, 2021.
Participants chanted Winston Smith's name while also chanting "Fuck 7 Points and CRG – people over property" in response to the ramp's property owners (7 Points) hiring armed mercenaries (CRG) to provide security following weeks of sustained protests last Summer in Uptown Minneapolis.
No charges were brought against Smith's killers whose names (Hennepin County Sheriff's Deputy Timothy Inglett and Ramsey County Deputy Luke Mickelson) were mistakenly included, unredacted, in files released by Minnesota's Bureau of Criminal Apprehension (BCA).
The march lasted over two hours. It circled back to the 5th Precinct where the police inside the building shut their inner lights off and continued to not engage protesters. After marching back down to Lyndale and Lake for a second time, the marchers decided to disperse.
The response from the community seemed overwhelmingly positive aside from a few brief incidents of arguments with people opposed to the march.
Anti-police graffiti was widely painted during the action. The largest street art piece put up during the march was a massive "F12" and "ACAB" painted on the Metro Transit building on 31st St. and Nicollet. Also, a Metro Transit van had "Amir Locke" spray painted on the windows.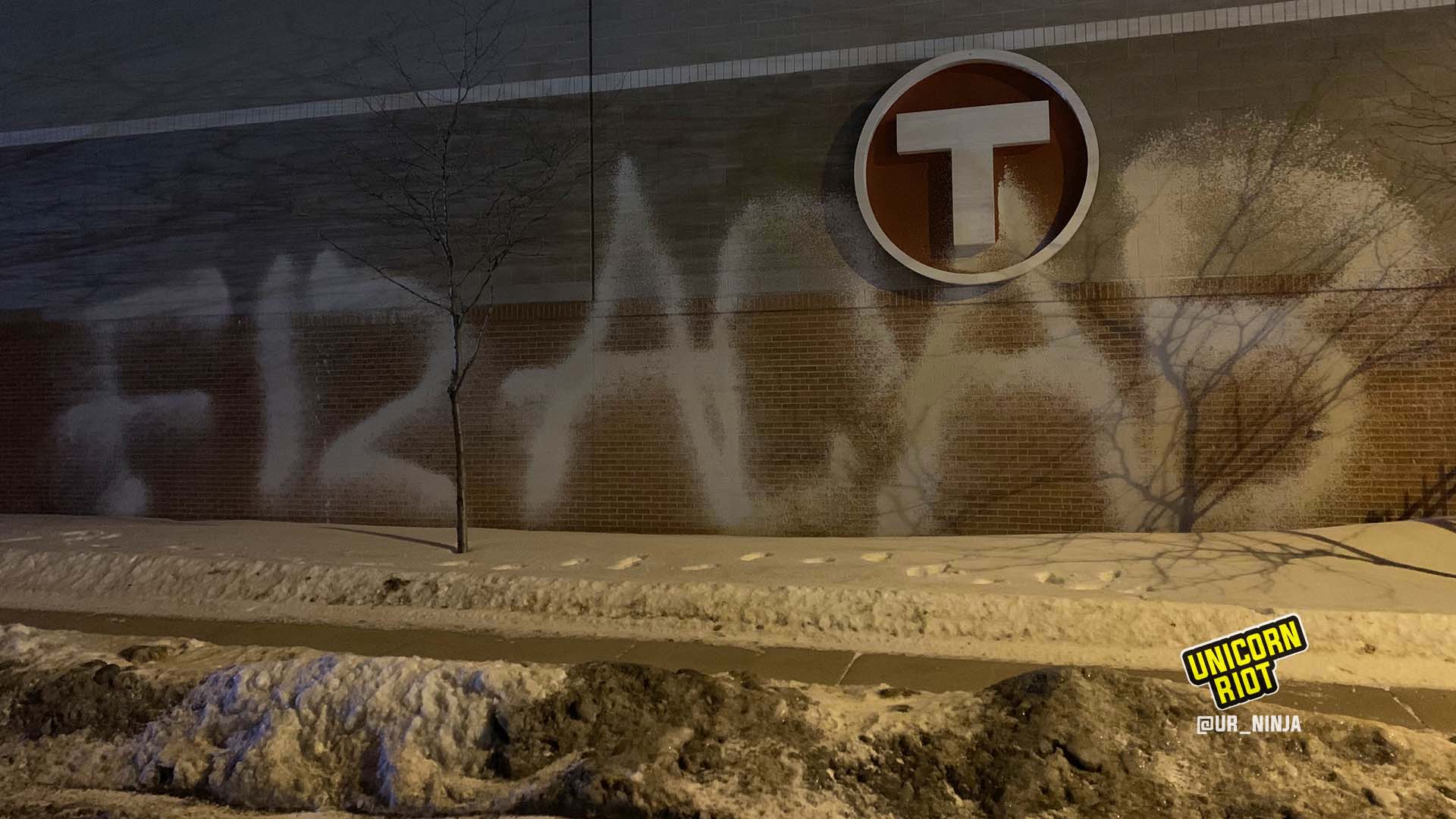 For more of the graffiti, see this Twitter thread of images from February 11 below.
No arrests were made as law enforcement had no direct interactions with the roving crowd. However, police were seen amassing on blocks north of the march while a squad was seen trailing the march from behind numerous cars. Scanner audio noted that in the beginning of the march, police were seeking "two to three squad cars from every precinct" to mobilize in a nearby Kmart parking lot.
After the crowd moved from the 5th Precinct to Lake St., a State Patrol helicopter, N119SP, began observing the march. The chopper followed until after the marchers dispersed, hovering overhead even as the crowd filtered back to their cars.
According to aviation tracking site Flight Aware, helicopter N119SP took off from St. Paul airport at 8:41 p.m. CST and landed at 10:56 p.m.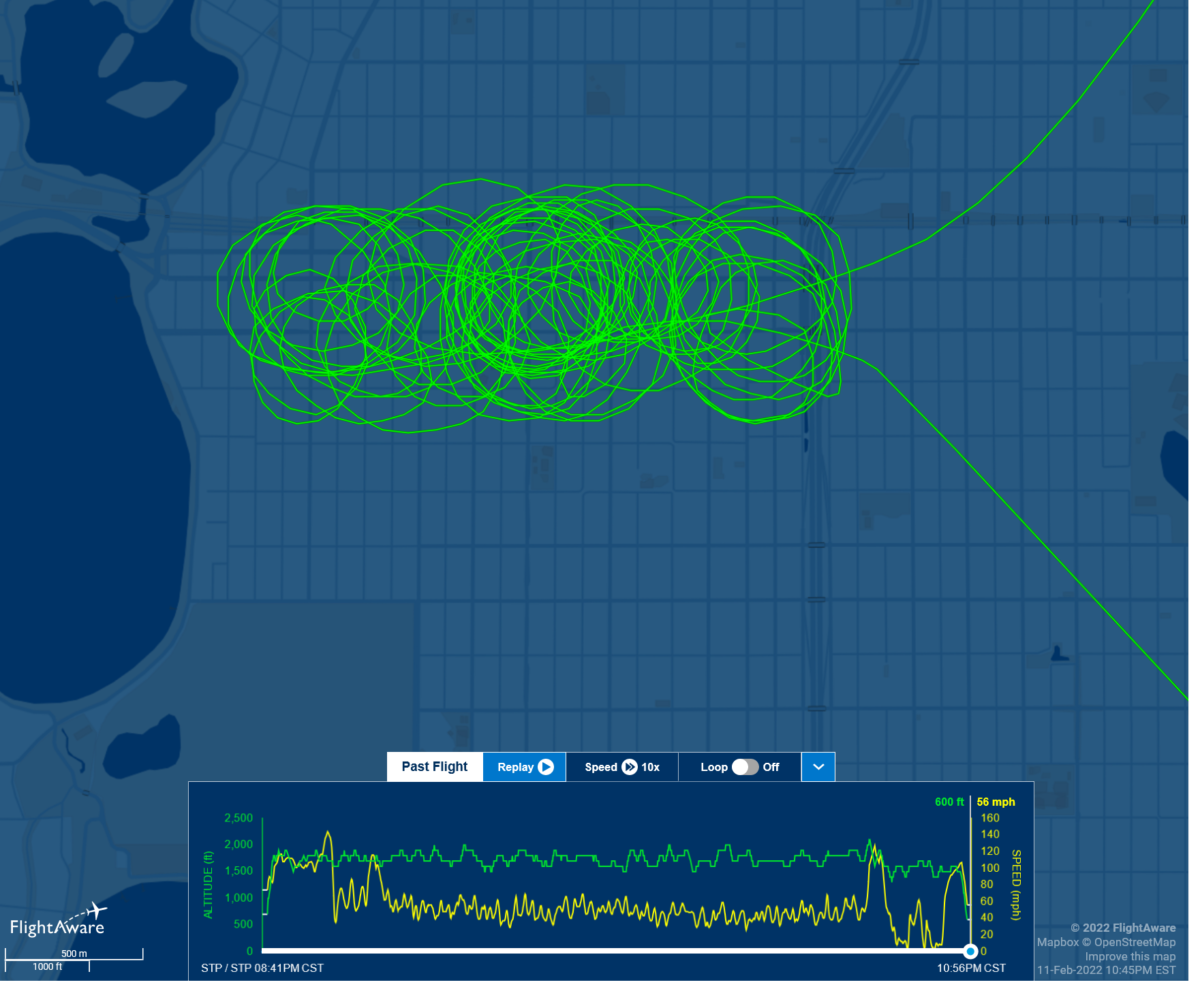 In February 2021, Unicorn Riot published footage obtained by contributor Sam Richards that provided a never-before-seen view of the powerful surveillance capabilities that the Minnesota State Patrol possess with their aircraft.
While the video above shows tech from N115SP, a Cirrus SR22, the aircraft that flew over the Amir Locke protest was a helicopter with similar surveillance technology.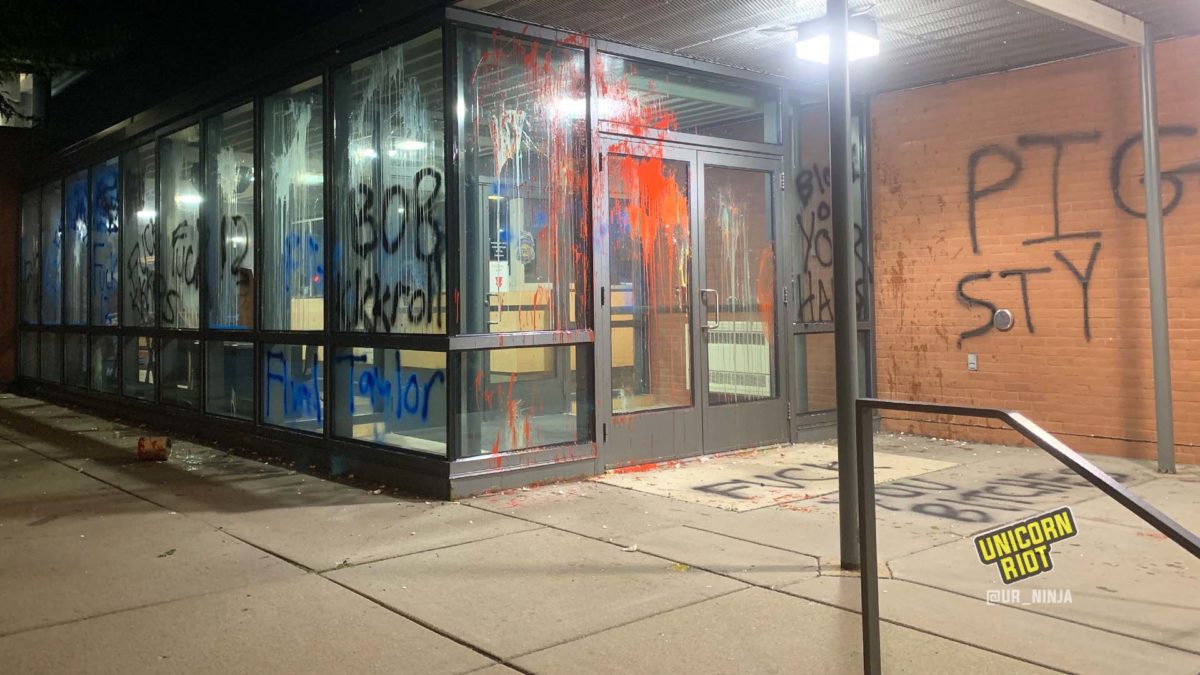 MPD's 5th Precinct has played host to numerous protests since the community took part in the burning of the embattled department's 3rd Precinct on May 28, 2020. The 5th sits about 30 blocks east of the 3rd and in the immediate days after the 3rd Precinct fell, mass amounts of protesters expressed their anger at the 5th Precinct.
Back in August 2020, an autonomous march in response to the threats made by the city to close down George Floyd Square launched projectiles at the precinct, painted the windows with slogans like "fuck kkkops," "fuck 12," and "pig sty" and used red paint to cover the surveillance camera and paint the ground.
One participant, Tom Moseley, later became a political prisoner from his participation in the protest after police traced his identity and raided his apartment on probable cause for property damage.
While incarcerated on separate related charges, Moseley told Unicorn Riot, "looking back if I hid my identity better that day I could have avoided the whole thing," saying that it was a lesson to "make sure you hide your face and tattoos and don't wear recognizable clothing." Moseley further commented:
"In my opinion there is no such thing as violence toward inanimate, nonliving objects and the way the police respond to property damage is nothing more than them further living out their property over people mentality. There is no wrong way to react to violence and terror tactics from the state, but they can and will use it against you any way they can so it's important for people to be thoughtful about being anonymous and the potential consequences if they are recognized. Surveillance and undercover agents are EVERYWHERE. There were undercovers stalking me at vigils and private residences well before the August 2020 5th Precinct action."

Tom Moseley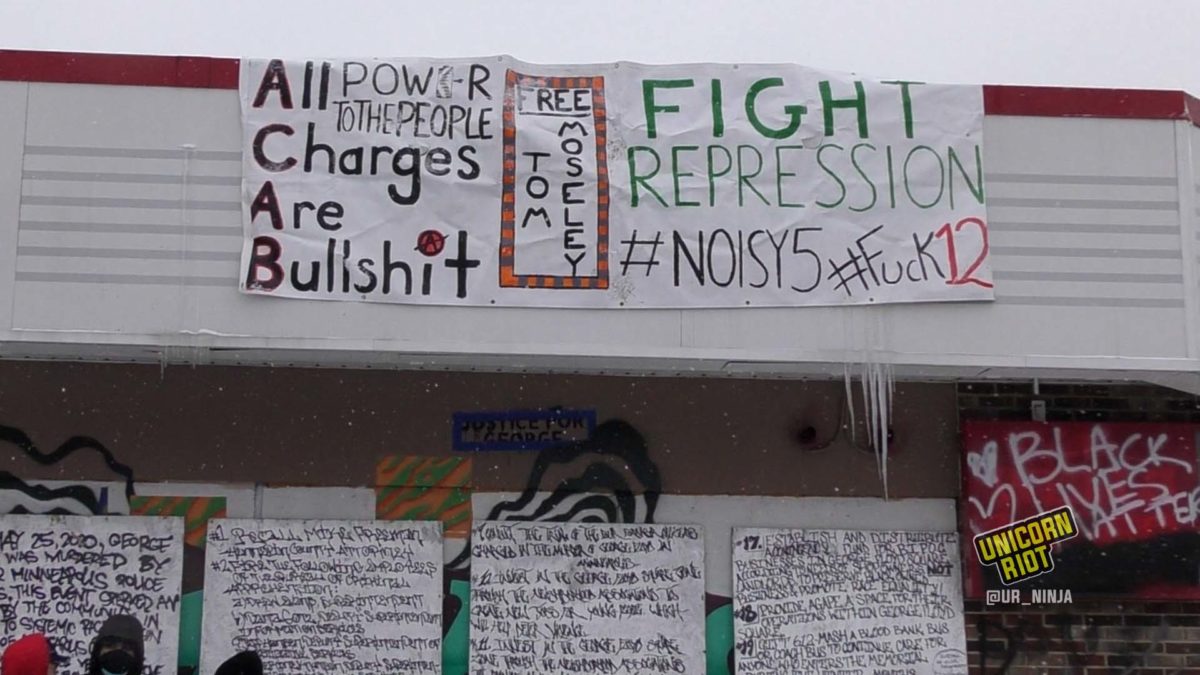 Outside the 5th Precinct two months later, in October 2020, dozens were 'kettled' and arrested by a large array of law enforcement during a protest against Derek Chauvin being bailed out from jail with a $1M bond.
The Inspector of the 5th Precinct is now Katie Blackwell. The now-Interim Police Chief Amelia Huffman was the precinct's overseer from April 2019 until January 2021.
A large funeral was held for Amir Locke on February 17.
Coverage of MPD Killing Amir Locke:
---
Follow us on X (aka Twitter), Facebook, YouTube, Vimeo, Instagram, Mastodon, Threads, BlueSky and Patreon.
Please consider a tax-deductible donation to help sustain our horizontally-organized, non-profit media organization: