Since Unicorn Riot's inception, we've been documenting how local governments and police forces across the U.S. have worked to criminalize the unhoused and perform violent eviction sweeps of encampments. (Our coverage has mostly focused on Denver and Minneapolis.) On this landing page, you can find dozens of published UR stories from both cities and beyond, detailing the growing crisis of the unhoused.
Latest Three Stories
---
Minneapolis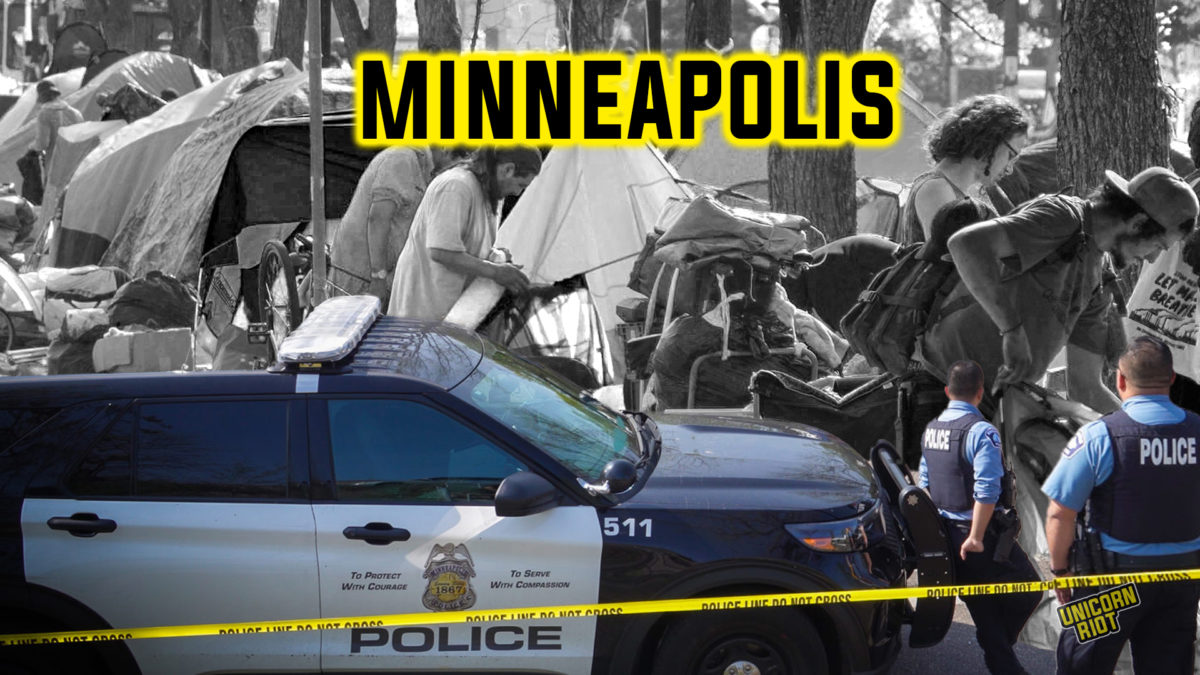 With rising inequality, entrenched neoliberal austerity policies, and new waves of addictive drugs like fentanyl, the numbers of people struggling with homelessness in Minnesota has risen. Over the recent years in Minneapolis, notably since the 2018 Wall of the Forgotten Natives encampment, many unhoused people have found safety-in-numbers and formed encampments across the city where they live in tents and have an easier access to resources. Many on the streets say the shelter system is punitive in nature and unnecessarily separates them from their partners, belongings, and pets.
While some elected officials view unhoused people living in tents as neighbors, the city has effectively declared war on encampments with continual evictions, or sweeps. The evictions have proven to be very costly, with a large majority of the money going to the police. Those getting evicted regularly watch their belongings get crushed in the back of a trash truck while bulldozers clear encampments.
A 'sanctuary movement' of encampment residents, advocates and militant eviction defenders rose from the ashes of the Minneapolis George Floyd Uprising and has continued to spawn support groups that provide direct resources to those struggling to find shelter, clothes, and food. Their importance continues to grow as the negative impacts on people experiencing homelessness widen and intensify.
While the modes of support, capacity of the volunteers, and needs of residents fluctuate depending on the camp, eviction defense is only provided if residents ask for it. Several encampment evictions have been postponed, namely Near North in 2021.
See some of our most recent coverage from Minneapolis below.
'Wall of Forgotten Natives' Encampment Revived After Five Years, Gets Evicted – Sept. 2023
Roughly 140 people were displaced on August 24, 2023, when Minnesota State Troopers evicted the second iteration of the Wall of Forgotten Natives encampment in South Minneapolis. In the five years since the original encampment was cleared, people have returned to the Wall from time to time, only to be evicted again and ping-ponged from place to place, in and out of shelters and back to the streets. Read our report and watch the video (Vimeo / YouTube) below to view a synopsis of events the days before and during the eviction. See also: our 2018 report and video from earlier iterations of the camp at the same location.
---
Minneapolis Police Evict Franklin Avenue Encampment – May 2023
In May 2023, several encampments of unhoused people were evicted by the city, displacing hundreds with many having all their belongings thrown away. A report found the total expenditure of four encampment closures from May 2022 to April 11, 2023 was $493,548. Nearly 75% of the cost went to the police, with law enforcement pocketing a whopping $363,700 from the anti-homeless operations. Read our full article with the financial reports and watch the video (Vimeo / YouTube) below from the scene of an encampment eviction on Franklin Ave.
---
Samatar Encampment Eviction Leaves 100 Displaced Mid-Winter – Jan. 2023
The largest encampment of unhoused people in Minneapolis in the winter of 2022-23 was evicted on Jan. 18 of this year. The Samatar Crossing Encampment in the Cedar-Riverside neighborhood had represented a sense of stability for about 100 displaced residents, many of whom had little or np resources to call their own. Read the full report and watch a video (Vimeo / YouTube) below that takes you inside the eviction as it was occurring.
---
The Quarry Encampment Eviction [Minneapolis] – Jan. 2023
After providing a safer community for unhoused residents in Minneapolis for more than a year, the Quarry encampment was evicted during a large-scale police operation on Dec. 30, 2022. About a dozen people were displaced from the eviction, the majority of them having all of their belongings thrown out in the dead of winter. See our full report and watch the video (Vimeo / YouTube) below featuring the interview and eviction footage.
---
Three Encampments Evicted, Including Near North Which Provided Shelter and Safety to Unhoused People for Two Years – Oct. 2022
On Oct. 6, 2022, three encampments of unhoused people were evicted, leaving over 100 people displaced without tents and blankets as a cold front swept the region. SWAT teams forced residents of the Near North, Van White, and Cedar-Franklin encampments to leave their tents as city workers bulldozed and threw away their belongings. Dozens of people recently released from prison and living in a halfway house were also evicted. See our full report from Oct. 2022 and watch a video (Vimeo / YouTube) below encapsulating the events.
---
Personal Belongings Trashed as Minneapolis Encampment Evicted – July 2022
Minneapolis Police evicted nearly 100 residents from the empty Southside lot-turned-camp on July 20, 2022. Some residents were woken up by police pointing guns at them while yelling that they're "trespassed" and they must leave without their property. A majority of people's belongings was bulldozed, thrown into large garbage trucks, and trashed. UR was on the scene shortly after the eviction started and spoke with several residents displaced. Read more here and watch video (Vimeo / YouTube) below.
Related UR stories from 2020-2023
Unicorn Riot's 2020-23 Unhoused Crisis in Minneapolis:
---
Denver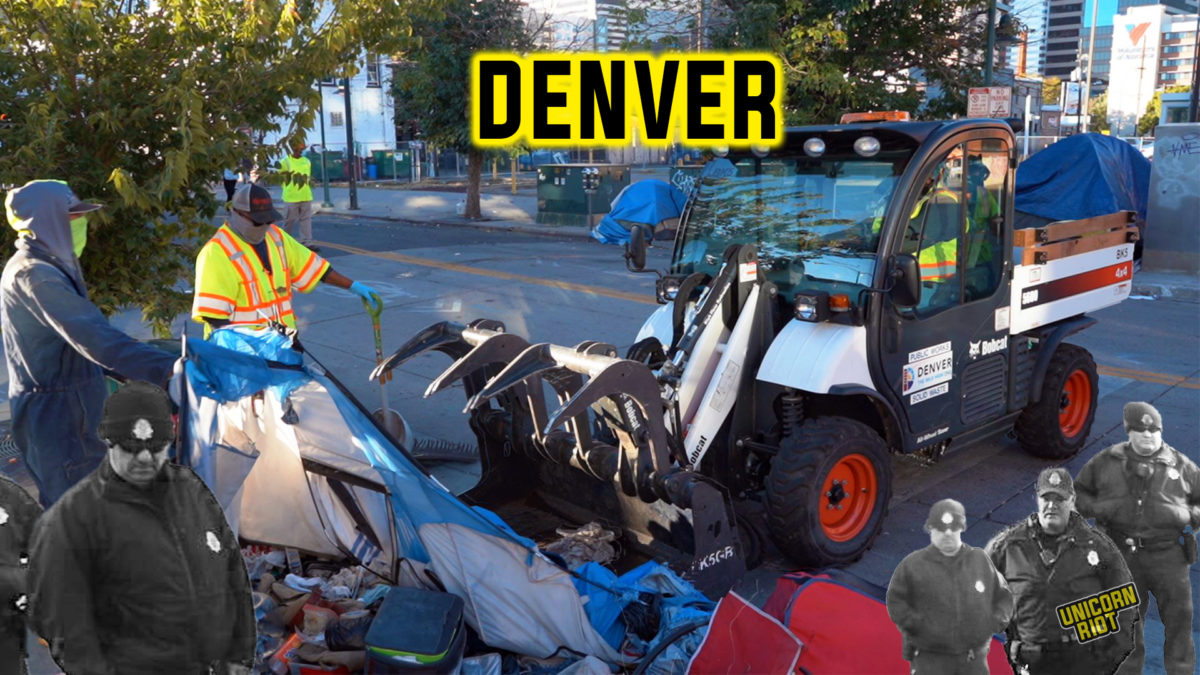 From Resurrection Village, a tiny home community for the unhoused destroyed by Denver Police and unhoused evicted from tents in a snowstorm in 2015 to advocates occupying a recreation center in below freezing temperatures in 2022, UR has covered some of the issues and happenings in the unhoused crisis in Denver, one of America's fastest growing cities. See some of our more recent stories below along with a list of other stories from Denver.
With Nearly 60 Frostbite Injuries in Unhoused Community, Advocates Encourage Denver to Do Better – Dec. 2022
Sit-in at Denver Recreation Center Leads to Meeting with City – March 2022
Unhoused Community & Advocates Take Over Denver Recreation Center – March 2022
Denver Refuses to Negotiate, Sweeps Indigenous Encampment – Sept. 2021
Denver swept more than 80 unhoused encampments up until Fall 2021, ignoring requests from unhoused residents and their advocates to stop, and refusing to negotiate any alternatives. Outside the Four Winds American Indian Council, the city swept a predominantly Indigenous encampment on August 31, 2021.
---
Federal Judge Rules Denver Cannot Conduct Sweeps Without At Least 48-Hour Written Notice – Jan. 2021
Denver Sweeps 300+ Tent Encampment Residents – Nov. 2020
Seven Arrested at Action Against Houseless Sweeps – Nov. 2020
---
When the pandemic spread into Colorado, the state's capitol took a 2.5 month break from forcing unhoused residents to move 'out of sight, out of mind,' however at the end of May, the city was back at it. Watch videos from a few of the encampment sweeps in Denver in 2020.
Around 200 displaced on Oct. 6, 2020 from sweep on 14th Ave. and Logan St. to N Clarkson St.
About 100 people were displaced on Sept. 22, 2020, from a multi-agency sweep at 25th and Arapahoe.
Around 200 tent residents moved without notice on July 29, 2020, from Lincoln Park in downtown Denver (two parts).
In May 2017, Unicorn Riot captured the excitement of the first official build day for Beloved Community Village. The village is still operational and features 11 tiny homes, a community building, a shower building, bathrooms, community gardens, and more.
Unicorn Riot coverage on Denver's housing crisis:
---
Please consider a tax-deductible donation to help sustain our horizontally-organized, non-profit media organization:

---
All coverage
---
Follow us on X (aka Twitter), Facebook, YouTube, Vimeo, Instagram, Mastodon, Threads, BlueSky and Patreon.