Sit-in at Denver Recreation Center Leads to Meeting with City
Denver, CO – For months this winter, people who are unhoused and their advocates asked the city of Denver to open 24-hour warming shelters, among other demands they saw as life-saving, but received no response. Determined to be heard, they decided to conduct a sit-in at the Carla Madison Recreation Center on the evening of Thursday, March 10, 2022. The city reached out the next day.
Each of Denver's recreation centers have designated indoor spaces to serve as daytime warming shelters when the temperatures are dangerously low. However when the centers close at 9:00 p.m., so do the warming shelters, and community members believe they should remain open throughout the night as the temperature dips further.
The previous evening, every shelter in the city was full and organizers with Mutual Aid Monday watched people get turned away. Thursday's night low was expected to be about 10 degrees, so community members took matters into their own hands.
A group of around 25 people entered the center at 8:30 p.m., began handing out flyers to other Denver residents using the center's many facilities, and some sat down in the lobby. Other people stood outside on the sidewalk with signs to call attention to what was happening inside.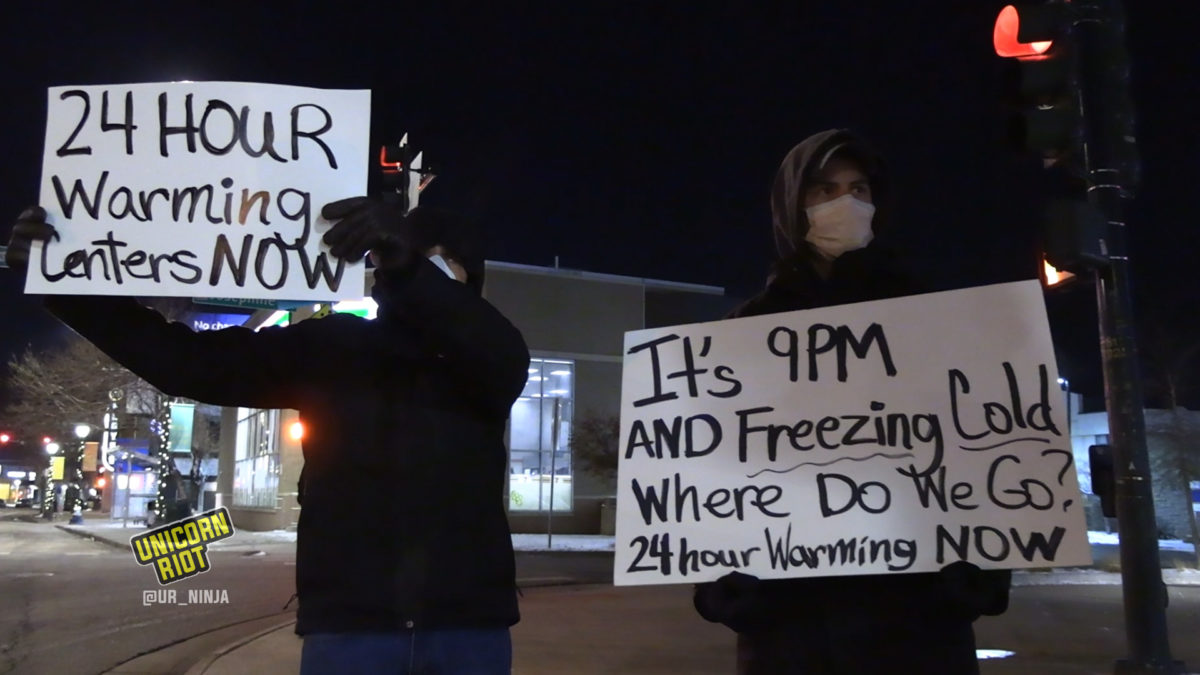 The center's employees didn't say anything to the crowd until the closing time at 9:00 p.m. At that point, organizers with Mutual Aid Monday, Jess Wiederholt and Kelsang Virya, spoke with the manager, asking him to call his supervisor.
Manager: "I wish we could staff it to accommodate everyone."
Wiederholt: "But the city does have the money to staff it."
Manager: "I have no idea."
Wiederholt: "Okay, but your supervisor I think does."
He called his supervisor around 9:30 p.m. and was instructed to call the Denver Police Department (DPD).
When the police entered the center at approximately 10:00 p.m., they said they'd transport those who needed a place to stay to the Denver Rescue Mission shelter because they take drop offs from police and social workers even when they're at capacity. Wiederholt inquired, "Then they'll get a blanket and get put in a corner?" One of the officers replied, "I don't know, maybe. I don't really know how it works." The police requested that everyone who didn't need a place to stay that night leave the recreation center, but no one left.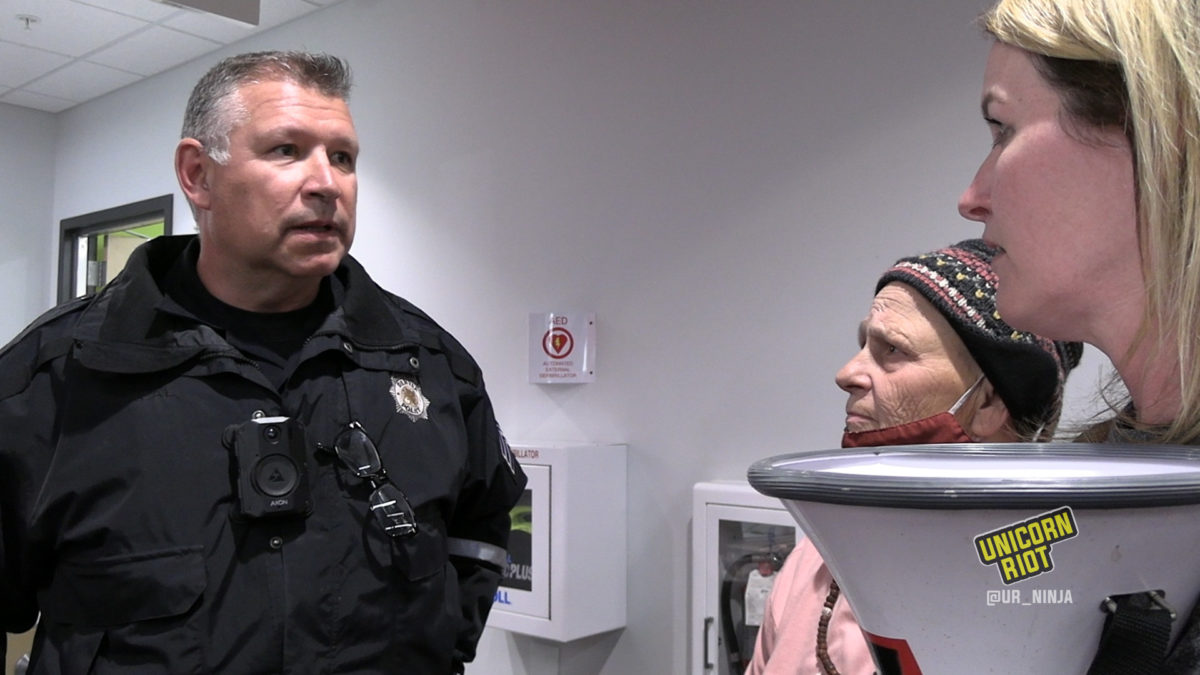 Five minutes later, Wiederholt began reading a letter with demands from Mutual Aid Monday through a megaphone. Simultaneously, the police began coordinating with Ana Sofia Cornelius of Denver Homeless Out Loud to find out if there in fact was any room at any of the shelters. Some organizers with Mutual Aid Monday said they were going to stay at the center until the six people who needed a warm place to stay were given motel vouchers.
The police were resistant to provide vouchers and continuously said throughout the hour they were present that they would get people "a warm place to stay" without specifying where; other than mentioning the Denver Rescue Mission once, without knowing if it had room.
One advocate told the police, "You get them a hotel voucher, I'll leave, but otherwise you're going to have to arrest me." The police responded by saying, "Okay, it's not up for negotiation, we're getting them housed."
A few people including our on-the-ground reporter asked what the officer meant by "housed," and Cornelius responded for him by saying "we're getting them motels." The officer himself refused to say they were providing vouchers, though.
The officers on the scene then informed everyone they were trespassing and only the six people who needed shelter for the night could stay inside while they waited for transportation.
Wiederholt then asked the police if they were aware of Mutual Aid Monday doing work the city is supposed to do: "You do know the last time it was cold we paid for all the hotel rooms, the community, because again, the city is not willing—"
One of the officer's interrupted and asked, "Are you willing to do that today, or?"
Wiederholt responded, "Um, we spent all the money last time. So we're really hoping that the city could provide hotel vouchers which we know you have."
"Okay. And I said that's what you're working on, right?" The officer motioned toward Cornelius. "So, I'm not saying 'no,' right?"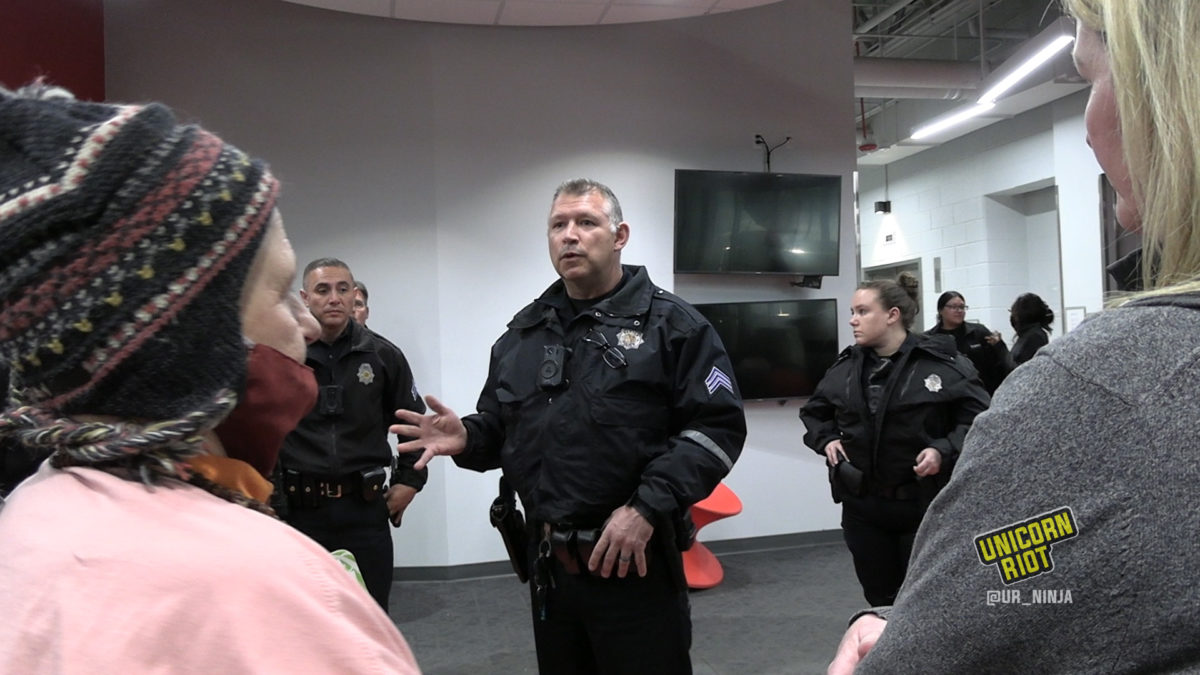 He then asked for everyone except the six who needed beds to leave again. People chimed in and mentioned the single-digit weather and asked why they couldn't stay inside until their friends got rides.
"You can understand why we don't trust you?" Wiederholt asked.
The officer said, "No, I can't."
"You've never been to a sweep?" Wiederholt responded.
There have been more than 150 sweeps since the beginning of 2021, which are essentially evictions of encampments. Since that time, the city has been consistently carrying out three sweeps per week.
"The people's resources are continually being stolen by the city, they've been traumatized by the city over and over and over again, I know folks who are here in this room who almost every week are losing the stuff that's keeping them alive, that's helping them survive. And so they have less resources because of that, and then the city won't even open a warming center on a very cold night."

Jess Wiederholt
Dennis Womsley, one of the unhoused residents, spoke with us about his experiences living without permanent housing in Denver and what actions the city could take to improve his and other unhoused peoples' lives.
"As far as things the city can do, A) yes, if we can't pay our rent, then definitely don't take away our tents and our stuff because we can't get out of your way fast enough, and [by] out of your way I mean they call us encumbrances. We need spaces where we can be. We need restroom facilities."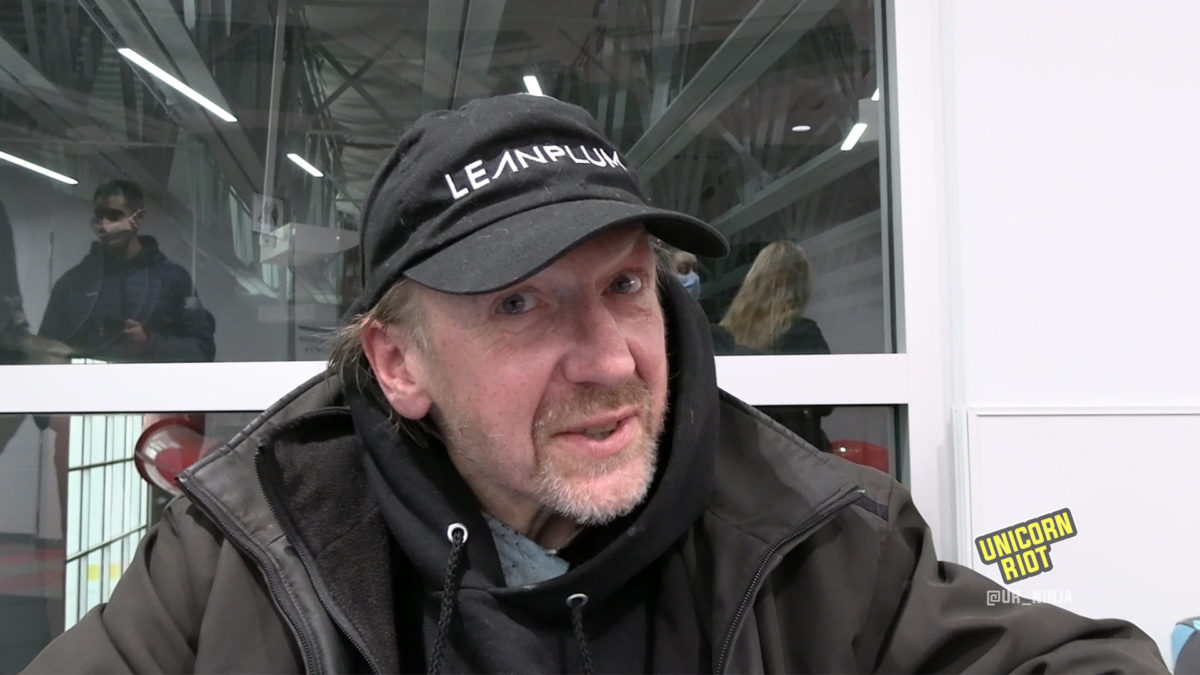 One time, Womsley explained, he was the only one left at an encampment, yet fourteen police officers showed up and contract workers built a chain link fence around the surrounding block and a half, enclosing him.
He also shared that he has been inside his tent sleeping while sweeps have taken place, and because he wasn't successfully woken up by the city, he has almost been killed three times.
"They have come up, shook my tent, not woke me up, and then bobcatted me, three times it's happened, but twice [Virya] actually saved my life by stopping the bobcat from picking up my tent with me in it."

Dennis Womsley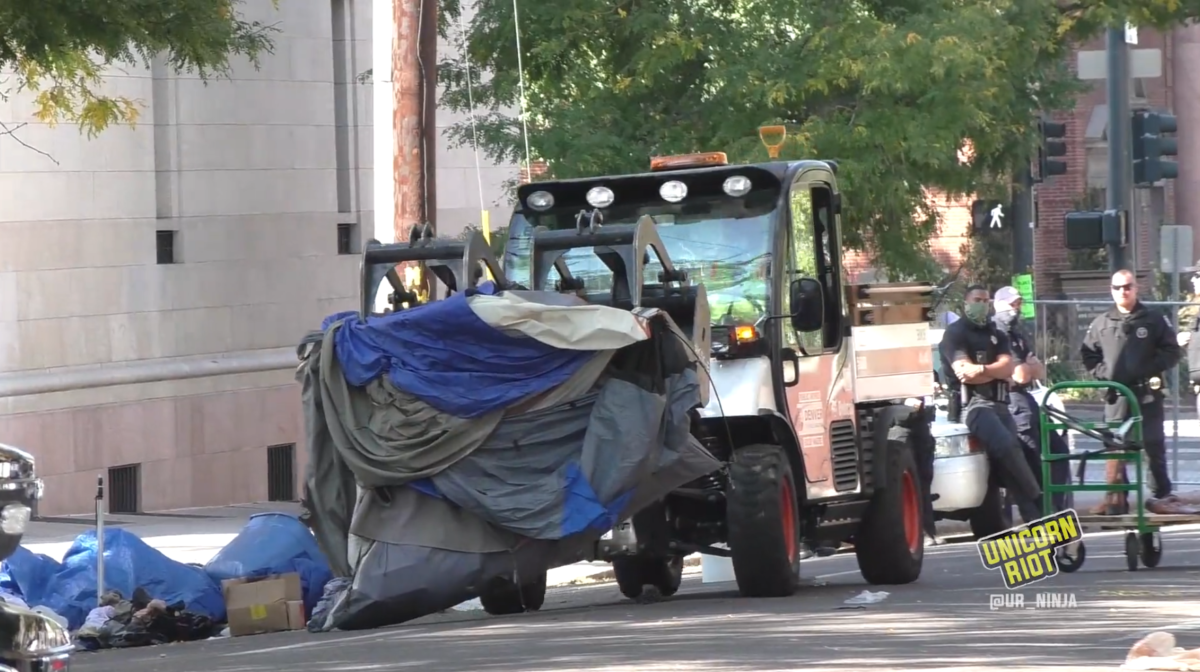 Since the Unauthorized Camping Ordinance (camping ban) was signed into law by Mayor Michael Hancock in 2012, the city has unceasingly forced people who live outside in tents and other structures to move along. Even when the city doesn't specifically cite the camping ban as reason for these sweeps, they use the the encumbrance ordinance (DRMC Section 49-246) or deem an encampment a public and environmental health risk.
Each sweep is estimated at costing thousands of dollars in taxpayer money. Unicorn Riot filed records requests from the city in September 2018 for the previous year's documents on "clean-ups." We also filed the same request the following year. From the records we received, we uncovered that from September 2017 to July 2019, Denver paid private clean-up companies approximately $713,692 for sweeps, and over 20% of that total went to off-duty Denver police officers contracted by the clean-up companies.
"The amount of money that is spent on destroying and bullying, and these clean-ups, it wouldn't be, I guarantee it, 10% to actually provide all the things that we would need, it would never even amount to 10% of what they spend on cleaning and sweeping everything up."

Dennis Womsley
At the recreation center, the police officers said everyone who didn't leave immediately was subject to arrest for trespassing. Everyone except the six unhoused people and about five organizers stayed inside.
No one ended up getting arrested, and once it was confirmed that there were no available beds at the shelters, the six motel vouchers were finally provided. Wiederholt drove five of the people to a motel, and someone who had a handicap accessible vehicle drove the sixth person who was in a wheelchair.
Because the following evening was also expected to be dangerously cold, Mutual Aid Monday received donations and footed the bill for the six to stay at the motel for a second night.
Candi CdeBaca, Denver city councilwoman for District 9, attended the sit-in, which was in her district, to "be in solidarity with my community that is unhoused as they ask for, or demand, alternatives to shelters that are warming centers in our public spaces like rec centers on nights like tonight where it is below freezing, where people are on the streets dying, losing limbs."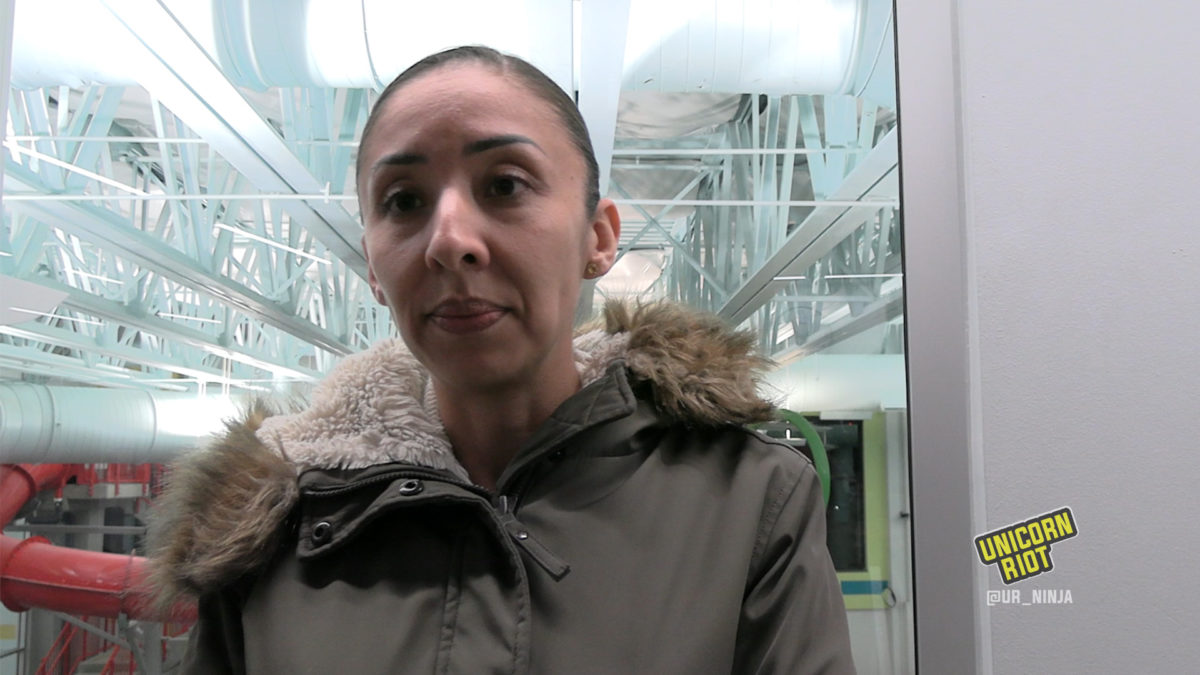 "We've asked several times for support and to open up our rec centers as warming centers and we have not had positive reception there with our mayor, and so we wanna make sure the issue gets the attention that it deserves, and we want our community to know that we're here in solidarity and we do believe that they deserve these spaces, they are public spaces."

Candi CdeBaca, Denver city councilwoman for District 9
Jerry Burton, Marine veteran and formerly of Denver Homeless Out Loud, was at the recreation center to advocate for unhoused peoples' rights. He mentioned to Unicorn Riot how the city is spending millions of dollars for, what he views as, providing homelessness.
"[The city] gives more and more money to the providers to provide what? Homelessness? That's what I see, I don't know what you see, but that's what I see. Who is getting paid? Who is taking cut-backs? They do not want to end homelessness, the providers continue to make money off of them. That's wrong. And the homeless population keeps going up here in the city and county of Denver, for what reason?"

Jerry Burton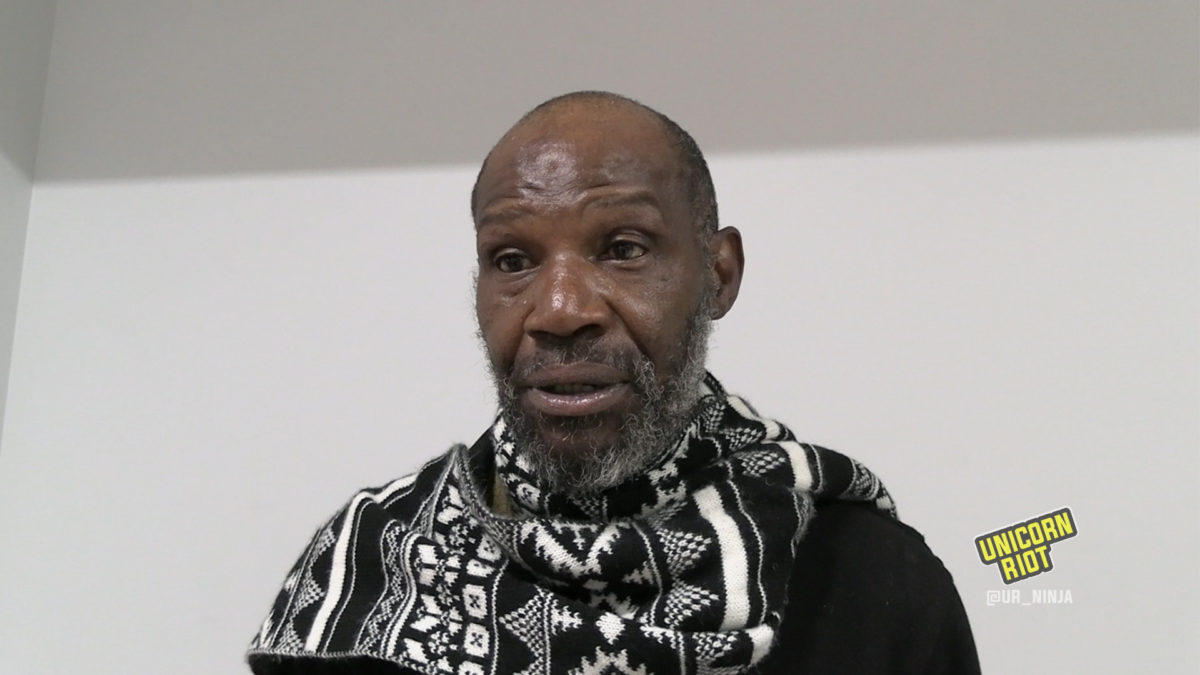 Burton said how everyone thinks homelessness is a complex situation, but to him "the answer is within what we call it."
"What's so complex about being unhoused? Hm, I have no house. What's so complex about 'I'm homeless?' Hm, I have no home."

Jerry Burton
On Friday, March 11, 2022, the city reached out to Mutual Aid Monday. Organizers with the group, including Jess Wiederholt and Kelsang Virya, met with city officials on March 18, 2022. The officials they met with were the Denver Office of Economic Development's Chief Housing Officer Britta Fisher, as well as with Sabrina Allie, Angie Nelson and Jerred Powell of the Denver Department of Housing Stability.
Wiederholt told Unicorn Riot that Mutual Aid Monday presented 16 demands during the meeting, and they received "very little response" from the city. Although she said her and her fellow mutual aid organizers will have to continue following up with the city, she believes the sit-in was a success because it led to a door of communication finally being open.
---
You can watch our stream of the sit-in at the Carla Madison Recreation Center below.
First part:
Second part:
---
Follow us on X (aka Twitter), Facebook, YouTube, Vimeo, Instagram, Mastodon, Threads, BlueSky and Patreon.
---
Unicorn Riot coverage on Denver's housing crisis:
Please consider a tax-deductible donation to help sustain our horizontally-organized, non-profit media organization: