Brazil: The People, at Last, Took to the Streets
Hundreds of thousands of protesters took to the streets in all regions of Brazil last weekend to protest against the administration of President Jair Messias Bolsonaro and call for his impeachment. The day of massive protest came as the Brazilian people live the uncertainties of tomorrow due to the negligence of the federal government to contain the coronavirus in the country. Unicorn Riot spoke with Júlia, a poet and representative of the Black Youth Forum, at a protest in Vitória, Espírito Santo.
The demonstrations that began in the morning were organized not only by left-wing militants, but also by mainstream Brazilian people who are tired of Bolsonaro's misrule. As Brazil nears half-a-million deaths from COVID-19, protest participants called out numerous issues starting with what they perceive as poor governmental management in the face of the pandemic, the reduction of emergency aid, cuts in resources for education, privatization of state-owned companies, and more.
Past Brazil Coronavirus Coverage:
According to the organizers, protests occurred in all Brazilian states: Acre (AC), Alagoas (AL), Amapá (AP), Amazonas (AM), Bahia (BA), Ceará (CE), Federal District (DF), Espírito Santo (ES), Goiás (GO), Maranhão (MA), Mato Grosso do Sul (MS), Minas Gerais (MG), Pará (PA), Paraíba (PB), Paraná (PR), Pernambuco (PE), Piauí (PI), Rio de Janeiro (RJ), Rio Grande do Norte (RN), Rio Grande do Sul (RS), Rondônia (RO), Roraima (RR), Santa Catarina (SC), São Paulo (SP), Sergipe (SE) and Tocantins (TO).
Most of the locations of protest bore no incidents of state repression but in Pernambuco's capital city of Recife, a Workers' Party (PT) councilwoman, Liana Cirne, was hit with pepper spray in the face after a violent intervention by the military police.
Also in Recife, Daniel Campelo, a 51-year-old man lost an eye after being shot by police with a munition. Campelo was on his way to buy work materials when he was shot and was not participating in the demonstration. He says he will sue the state.
In the state of Espírito Santo, the demonstration began at 3 p.m. at the Theater of the Federal University of Espírito Santo (UFES). Many families adhered to the call and guidance on the use of a mask, sanitation and distancing.
The streets of Vitória, the capital of Espírito Santo, echoed the cry of cities across Brazil: "Fora Bolsonaro!" (Get out, Bolsonaro), "Fora Genocida".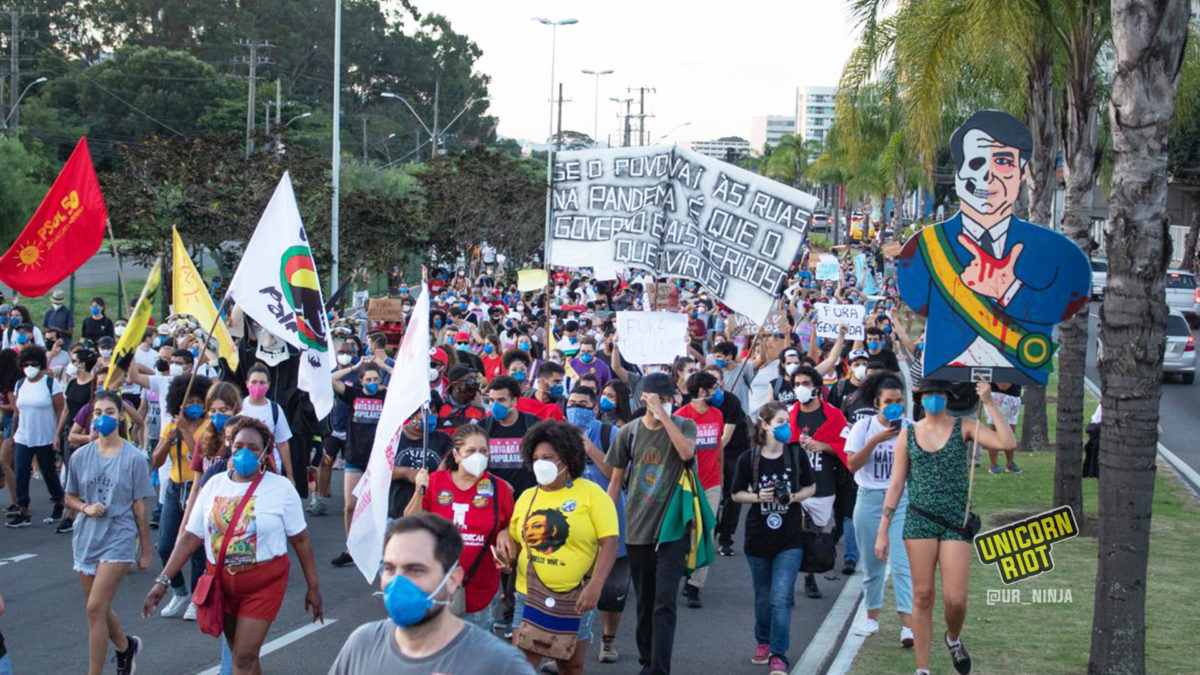 ---
We talked about the demonstrations with Júlia, a resident of the Grande Terra Vermelha Region in Vila Velha / Espírito Santo. Júlia is a poet, a representative of the State Forum of Black Youth in Espírito Santo (FEJUNES), and a media student who participated in the demonstrations in Vitória / ES.
What does it mean to you to attend this historic demonstration?
Júlia: Attending the demo is a form of resistance. Coming out of our homes in the middle of a pandemic shows us that our government is more dangerous than the virus. If policies were designed to help Black people from the periphery, within our territory, coronavirus would not have taken so many lives.
How are the policies for the Black and peripheral people?
Júlia: Every day, Marias, Julias, Robertos, among others are killed for the lack of a policy that meets the needs of Black and peripheral peoples like me. People of all ages are forced to get on the bus and go to work to bring food to their homes, and that is pitiful. Instead of helping the workers, the president says "Brazil cannot stop" and we have to "save the economy".
What is it like to live in the Bolsonaro government?
Júlia: To live in Bolsonaro's government is to be afraid of what is coming next. It is not knowing if we will have a vaccine due to xenophobia. It is not knowing if I will have a college to enter or be sad about losing friends who cannot continue their dreams without having housing assistance due to the cut in expenses.
How do you see Brazil today?
Júlia: Today, 2021, the economy is almost broken and more than 460,000 people are dead.
For you, who is the biggest culprit in this?
Júlia: This has a name and address: Planalto Palace, Jair Messias Bolsonaro. (Palácio do Planalto, Brasília, is the official seat of the President of Brazil)
Past Brazil Coronavirus Coverage:
---
While the Parliamentary Committee of Inquiry (CPI) is in progress reviewing the government's actions during the coronavirus pandemic, the president continues to jokingly make fun of the fate of Brazilians who are living through such dire moments during the pandemic.
On the day that the country was marked by a wave of anti-Bolsonaro demonstrations, the president made a provocative post on social networks, posing with a t-shirt emboldened with the words "Imorrível, imbroxável, incomível" showing all the facets of the misrule that lies ahead of Brazil.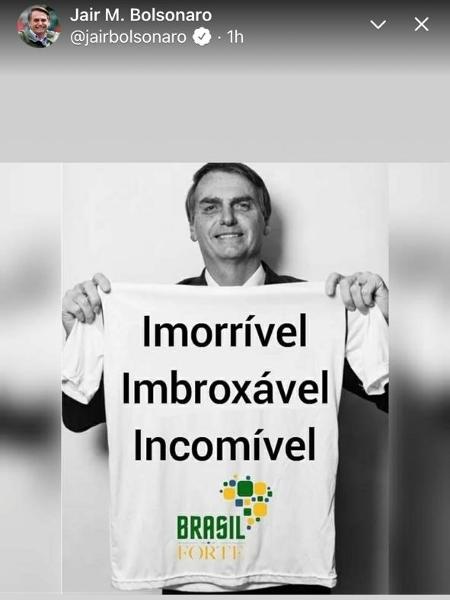 (imorrível = undieable, or incapable of dying | imbroxável = unimpotentable, or incapable of being impotent | incomível = unpeggable, or incapable of being topped by someone)
Now, the state of Espírito Santo prepares to show President Bolsonaro that he is not welcome on June 11, the date of a scheduled Bolsonaro visit to the state.
Translation from Portuguese to English by Jules Rey.
---
Follow us on X (aka Twitter), Facebook, YouTube, Vimeo, Instagram, Mastodon, Threads, BlueSky and Patreon.
Unicorn Riot's Coverage From Brazil:
Please consider a tax-deductible donation to help sustain our horizontally-organized, non-profit media organization: