Police in Brazil Killed Record Amount of People in 2020
An average of 17 people a day, totaling at least 6,416 people, were killed by police in Brazil during the year of 2020. These staggering totals set the highest amount ever recorded since tracking police killings in the country of over 211 million people. The 2020 numbers, compiled by the Brazilian Public Security Forum, are a 190% increase from 2013. Black Brazilians were killed at the highest rate, accounting for 79% of the deaths by police while only representing 56% of the population.
Non-profit Brazilian Public Security Forum released the data in their annual Brazilian Yearbook of Public Security which analyzes information provided by state, public security, civil, military, and federal police, among other sources. Over 11,000 people were killed by police during the five-year period of 2009-2013, averaging around 2,240 killings a year by police.
The vast majority of the families of those killed by police never receive justice and the lack of accountability has led to the Human Rights Watch seeking a dedicated prosecutorial body, not directly connected to the police, to handle cases of police abuse.
Large criminal organizations controlling swaths of heavily populated Brazilian cities are deeply connected to security forces controlled by the military and state and draw their roots from the two decades of Brazilian military dictatorship that ended in 1985. Evidence shows police involvement in criminal factions, militias, and death squads, like those linked to President Jair Bolsonaro's family that killed Marielle Franco in 2018, a human rights advocate and politician. These connections have helped to fuel the rise in police killings and allow for little accountability.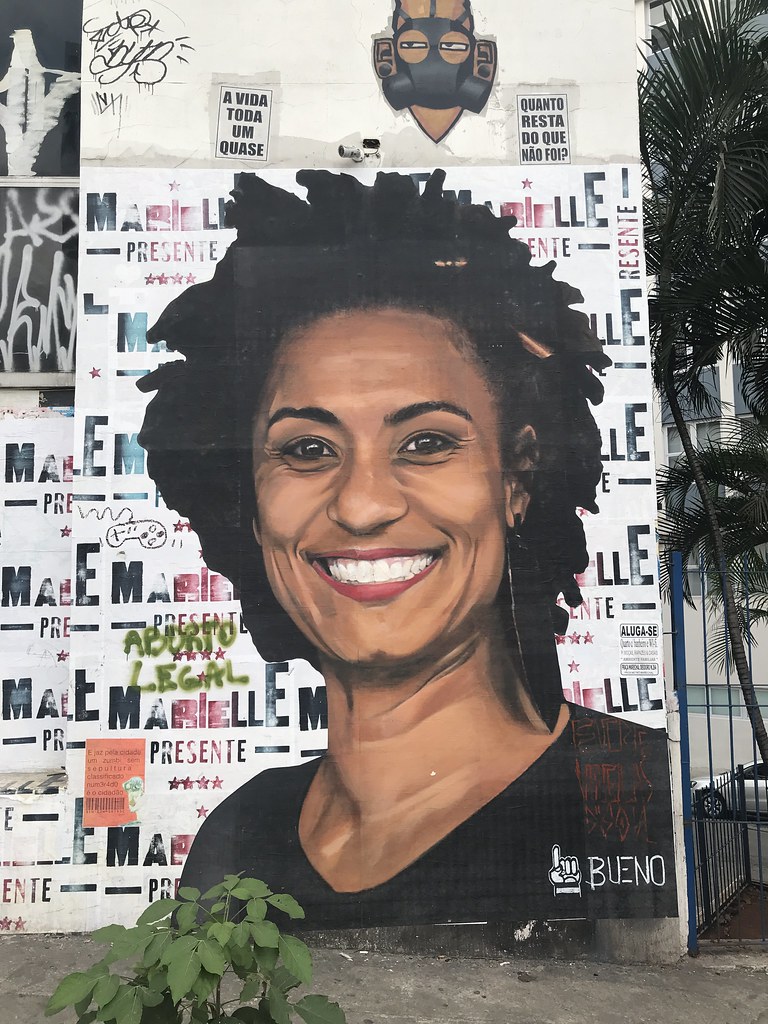 In the state of Rio de Janeiro, well known worldwide for its city with the same name, beautiful beaches and its nightlife, police killed 1,245 people in 2020. Based on the population of the state, one in every 12,851 residents are killed by police. Comparatively, police killed 1,126 people in the U.S. in 2020, which is one in every 291,296 residents. According to research collective Mapping Police Violence, of the 1,126 killed by U.S. police last year, 28% were Black, despite the Black population being only 13% of the total country.
Ultimately, the numbers from Brazil are staggering in comparison to the U.S. In the state of Rio de Janeiro, the police are 2,167 times more likely to kill you in than in the U.S.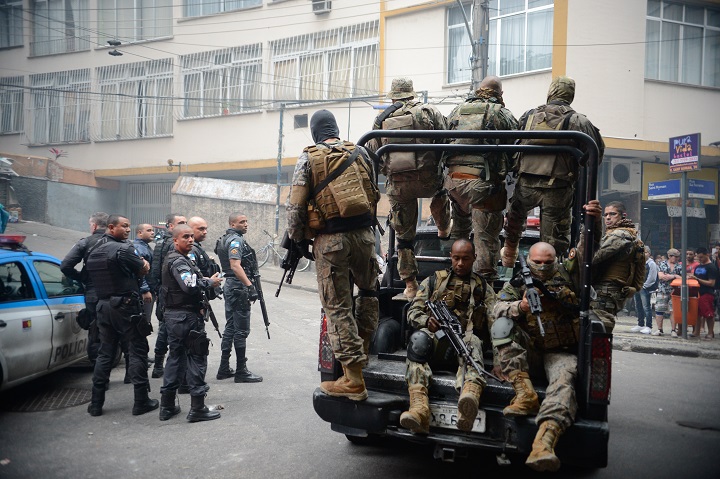 The state of Rio de Janeiro also recorded seven of the top ten cities with the highest rates of police violence: Japeri, Itaguaí, Angra dos Reis, São Gonçalo, Queimados, Mesquita and Belford Roxo.
Those killings have continued in 2021, despite the Federal Supreme Court (STF) prohibiting police raids in the favelas (ADFP 635) during the COVID-19 pandemic.
In late March 2021, Rio de Janeiro resident, Thainã de Meideiros, told Unicorn Riot that although ordered to stop raids, the police keep "coming up with excuses" to violate the legislative ruling.
Meideiros is part of the Papo Reto Collective, an organization focused on human rights, culture, harm reduction, health, and education in Complexo do Alemão, a large group of favelas in Rio de Janeiro.
Papo Reto was among a coalition of other collectives, including Black movement groups and those ran by mothers and relatives of lost loved ones from the favelas, as the initial groups to conjure up the motions that the STF ruled upon, the ADPF 635, or 'ADPF of the Favelas'. Setting a historical precedent, with ADPF 635 enacted, these collectives are recognized as amici curiae (advisors with the court based on their special expertise).
An ADPF is a Claim of Non-Compliance with a Fundamental Precept, a lawsuit claiming a violation of the Brazilian constitution by a governmental agency. Citing excessive police violence and new security policies allowing further abuses, the lawsuit was filed by the Brazilian Socialist Party (PSB) in 2019.
In August 2020, the STF confirmed the claim of non-compliance and ordered the halting of violent police operations. Yet, police operations continued in certain favelas. In April 2021, Supreme Court Justice Edson Fachin ruled in favor of requests in the motions and in June 2021, the STF issued an emergency restraining order on the police.
In short, it is proposed that the State of Rio de Janeiro prepare and submit to the STF, within a maximum period of 90 (ninety) days, a plan aimed at reducing police lethality and controlling human rights violations by the security forces in Rio de Janeiro, which contains objective measures, specific timetables and forecast of the necessary resources for its implementation. In addition, ADPF 635 addresses the following topics: end of the use of helicopters in police operations, protection of schools, guarantee of the right to participation and social control in public security policies, allowing participation and access to justice, expertise, and evidence to civil society and social movements as one of the main tools in resolving investigations into cases of murder and enforced disappearances.

ADPF 635 – Public Ministry of the State of Rio de Janeiro
Enforcing the 'ADPF of the Favelas' has, however, proven difficult after the STF ruling. Civil and military police made what many deem as reprisal killings in several districts to show they don't answer to the courts. Prosecutors have also been overruling Access to Information laws and making police records inaccessible to the public. For a deeper look into ADPF 635, see RioOnWatch's two part installment: 1, 2.
6th Annual Black July Discusses 'ADPF of the Favelas,' Its Political Impact and Social Struggles https://t.co/z8ooNl43JD

Historic Victory for Rio de Janeiro's Favelas #ADPFdasFavelas

by Camila Fiuza w/ art by Anna Paula Rodrigues#DesenraizandoRacismo#EnraizandoAntirracismo pic.twitter.com/XTxBtC5NRb

— RioOnWatch.org (@RioOnWatch) September 3, 2021
Meideiros lives in Complexo do Alemão, Rio de Janeiro, which has seen its share of military and police occupations and terror. Three months before STF ordered the suspension of police operations, 13 people were killed by police in one operation in Complexo do Alemão.
Just 15 minutes away from Alemão is Jacarezinho, Rio de Janeiro. On May 6, 2021, authorities committed the deadliest massacre in Brazilian history, killing 28 people during a failed police operation targeting drug traffickers in the favela. One officer died during the operation that lasted nearly seven hours with many of the 28 deaths occurring execution style.
The police denied wrongdoing, saying there were no irregularities or excesses of abuse. The operation had the initial objective of arresting 21 people under investigation, and led to the death of 28, not all of whom had arrest warrants. Three were arrested in total. This initially led to many organizations and even governmental agencies coming out in defense of the dead and the residents before falling silent with the fear of possible retaliation looming.
"Police violence is a societal issue. Brazilian society, in many ways, supports police violence because they do not understand the other options they may have," says @IlonaSzaboC in this @BrazilInst podcast episode on the #Jacarézinho raid, which left 28 dead.

— Brazil Institute (@BrazilInst) September 2, 2021
Over time, the "massacre" of Jacarezinho has fallen into national oblivion. Despite the murderous raid being so recent, there are almost no media discussions or local or national conversation about the operation anymore. This can likely be attributed to the fact that many peripheral Brazilians (those living in the favelas and peripheries of inner cities) have become desensitized to this type of violence. Decades of military occupations and urban pacification by armed authorities in Brazil have caused widespread cognitive dissonance and mental trauma.
"In no country in the world would the 28 deaths in one police intervention have been accepted and forgotten. But, we are in Brazil and here everything ends up in samba and/or pizza."

Anonymous Brazilian
Beyond Rio de Janeiro, there were over 5,000 more people killed by police throughout the country last year, including 814 killed in São Paulo. In lower-income territories, police abusing their authority is common and mistrust occurs between them and the community they serve.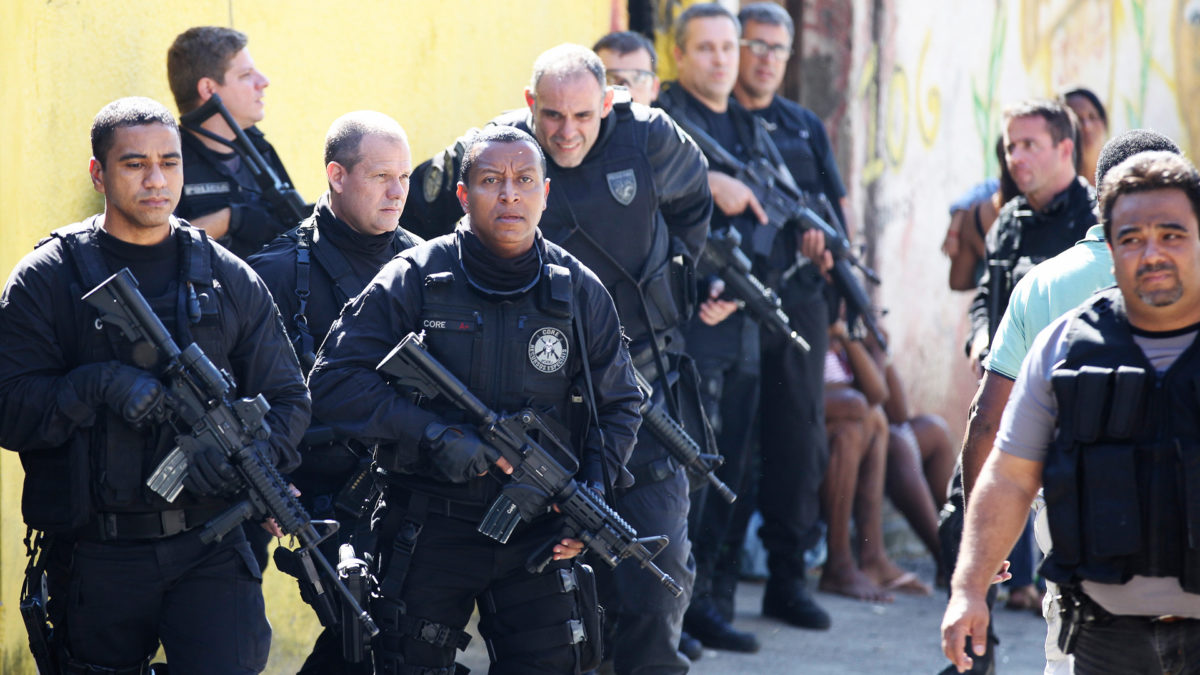 Due to continuing police killings, many states are taking steps in attempts to reduce the number of deaths. A total of 18 police battalions in the state of São Paulo now have body cameras. This has resulted in a 53% reduction in the amount of police killings in the state and in June 2021 no one was killed by officers outfitted with cameras. Yet, military police not outfitted with cameras killed 22 that month.
Even with the new measures starting to be enacted to quell police terror throughout the country, already 6,160 people in Brazil have been killed as of September 7, 2021; pacing the country for another record-setting year of police killings.
Cover image by Gustavo Oliveira/Creative Commons. Translation of Portuguese to English by Jules Rey.
---
Follow us on X (aka Twitter), Facebook, YouTube, Vimeo, Instagram, Mastodon, Threads, BlueSky and Patreon.
Unicorn Riot's Coverage From Brazil:
Please consider a tax-deductible donation to help sustain our horizontally-organized, non-profit media organization: