'Marielle, Presente' – March Marks Feminist Struggles in Brazil
The month of International Women's Day is marked by feminist struggles in Brazil and the question remains, who had Marielle Franco killed?
International Women's Day, celebrated annually on March 8, is an historic date that seeks to highlight the importance of women's struggle for gender equality all around the world. In Brazil, the date is celebrated annually with actions that aim to remember the social, political and economic achievements by women over time and to draw attention to the disparities and gender-based violence that continue to plague Brazilian society.
Since March 14, 2018, another movement has become part of national actions — the desire for justice for Marielle Franco and all other 'Brazilian Marielles,' who, after having their lives taken, have their stories abandoned, investigations incomplete and lives reduced to statistics. Franco was a Black Brazilian feminist politician who was assassinated in 2018 by ex-police officers associated with former president Jair Bolsonaro.
Although on the surface March 8 festivities do not have a direct connection with the life and death of Franco, her unsolved murder has become a rallying cry against the prevailing gender-based violence in Brazil. A series of demonstrations across the country in March drew attention to the rate of violence against women and transgender people in Brazil, which consistently remains atop the annual world ranking of gender-based violence.
Among the main demands of Brazilian women are an end to violence against women, equal wages, access to education, quality healthcare and the expansion of female participation in politics and positions of leadership.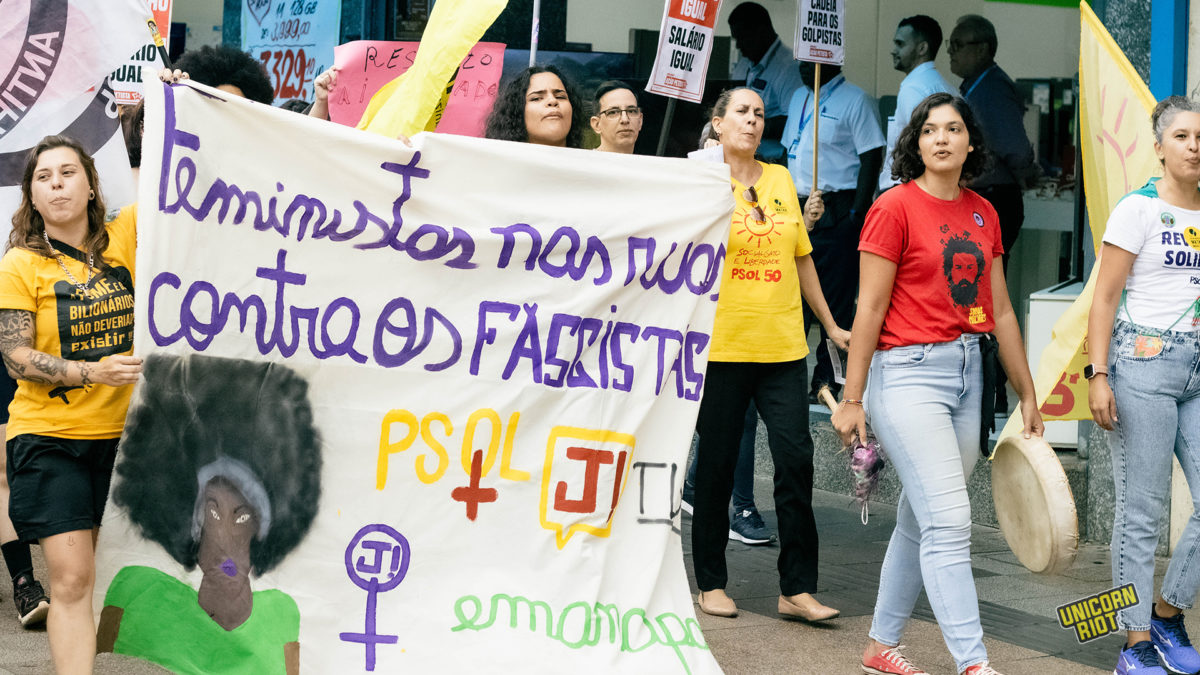 Violence Against Women in Brazil
In the year 2022 alone, 2,423 cases of violence against women were registered in Brazil — 495 were cases of femicide. Femicide, the murder of a woman motivated by gender-based violence, is overwhelmingly committed by male partners or former partners while in a fight or ending a relationship.
The state of São Paulo is one of the most violent places for Brazilian women, registering 898 cases of violence against women last year. That averages one act of violence against women every 10 hours.
In the northeastern Brazilian state of Bahia, an act of violence against women occurs daily on average and there has been a 58% increase in gender-based violence since last year.
Related – Brazil: Nearly 7,500 Fall Victim to Femicides and Police Killings [Aug. 2022]
Last year, Taty Maestri, a member of the Resistência Ribeirão Preto collective, told Unicorn Riot that "Brazil is a country raised upon sexism, patriarchy, and colonization" and that past has lead to a deeply rooted violence against women in Brazil. "We are a country created based on the rape of Indigenous women, the rape and the violence against African women. More than 300 years of slavery and until this day we still have slave quarters, we now call the "little maid's room."
Brazil Leads World in Anti-Trans Violence
Gender-based violence in Brazil is a constant threat. Trans women in Brazil are up to 38 times more likely to be murdered than a trans man or non-binary person. According to the National Association of Transvestites and Transsexuals (ANTRA), 131 transgender people were murdered in Brazil in the year 2022. This number, once again, leads the world ranking in murders against trans people for the fourteenth consecutive year, ahead of Mexico (56) and the United States of America (51).
Out of the 131 murders, 130 victims were trans women and one victim was a trans man.
Most homicides, 76 percent, were committed against Black people, many in public places and through shootings, stabbings or beatings.
The amount of murders is down from 175 in 2020 and 140 in 2021. However, lack of reporting by victims and government tracking can lead to an inaccurate overall number. Read ANTRA's full 2022 report here (pdf).
Related – The Invisible "THEY" [April 2021]
Women's Day in Ribeirão Preto, São Paulo
In Ribeirão Preto, São Paulo this year, several events and actions took place in March to celebrate International Women's Day on March 8, popularly known in Brazil as 8M.
Every year, initiatives, protests, demonstrations and gatherings by civil society organizations, feminist movements and some local, state and federal agencies, seek to raise awareness about the importance of gender equality and the fight to end violence against women, especially in the most vulnerable territories.
A demonstration organized by students, parties, unions and local leaders was held to point out the main demands of women in the city. Several female leaders presented and spoke — on other occasions women leaders are denied speech rights. In this space they made their claims and strengthened the main Brazilian feminist cry of recent times, "Marielle Presente!"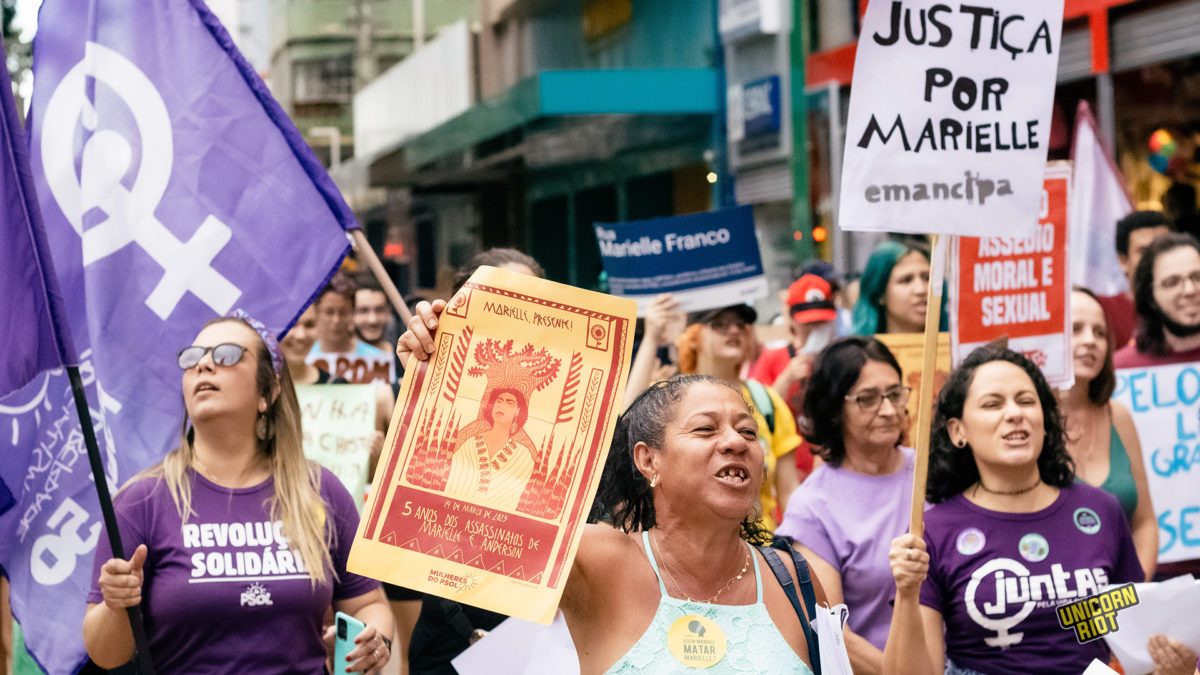 Who had Marielle Franco Killed?
This year marks the 5-year anniversary of the murder of Marielle Franco. On March 14, 2018 Franco, a 38 year old Rio de Janeiro councilwoman, and her driver Anderson were brutally murdered in the state of Rio de Janeiro. Despite cameras, the signs suggesting it was an execution and national outcry, the crime still remains unsolved.
Franco, who served as an inspiration for women in the country, was known for denouncing police abuses and extrajudicial executions and celebrated for her human rights work in the implementation of public policies in favor of less fortunate communities.
#Brazil: Evidence shows police involvement in criminal factions, militias & death squads like those linked to President Bolsonaro's family that assassinated politician #MarielleFranco in 2018-these connections have helped fuel the rise in police killings & prevent accountability. pic.twitter.com/xtwDwYLwQY

— UNICORN RIOT 🦄 (@UR_Ninja) September 13, 2021
In March 2019, the Brazilian police arrested two of the main suspects in Marielle and Anderson's killing. Retired military police officer Ronnie Lessa and former military police officer Élcio Vieira de Queiroz, both linked to the Bolsonaro Clan, were denounced as the perpetrators by the state Public Ministry from Rio de Janeiro. The Bolsonaro Clan includes former far-right president Jair Bolsonaro and his family, who are linked to major militia figures in Brazil.
The investigation into the double homicide points to militiamen linked to the Bolsonaros, but those responsible still remain unidentified and have not been charged with crimes. The lack of charges and absence of a serious investigation to-date reinforce the historical sensation of national impunity. Further, several questions which remain unanswered, including who ordered the murder of the councilor and what was the motivation for the crime. As much as people have lost faith that this crime will be solved, investigations are still ongoing.
Brazilian cities have several mechanisms to attempt to deal with violence against women, from the personal victim side to the legal side. Some civil society organizations work to maintain and create public policies for women. In Ribeirão Preto, Casa da Mulher ('Women's House') offers legal assistance, psychological assistance and social assistance to women in situations of social vulnerability. And the Coordination of Public Policies for Women (CPPM) develops public policies aimed at gender equality and women's empowerment.
---
Follow us on X (aka Twitter), Facebook, YouTube, Vimeo, Instagram, Mastodon, Threads, BlueSky and Patreon.

Unicorn Riot's Coverage From Brazil: