Quarry Encampment Faces Eviction in Minneapolis
Minneapolis, MN – With life-threatening cold this winter season, the City of Minneapolis continues to evict encampments, displacing unsheltered people and throwing away their personal belongings, including propane tanks they rely on for warmth. The longstanding Quarry encampment in Northeast Minneapolis is the latest under threat of eviction after being served a notice on Dec. 21 to leave by Dec. 28. [Update: The encampment was evicted on Dec. 30, 2022 – see our report here.]
In response, Quarry residents and advocates held a press conference on Dec. 27 demanding the authorities not evict the encampment and announcing that community would come to defend the residents.
The next day, when the eviction was scheduled to occur, upwards of 100 to 150 encampment defenders showed up to the Quarry over the course of the morning. The city said the eviction was put on hold due to the large activist presence.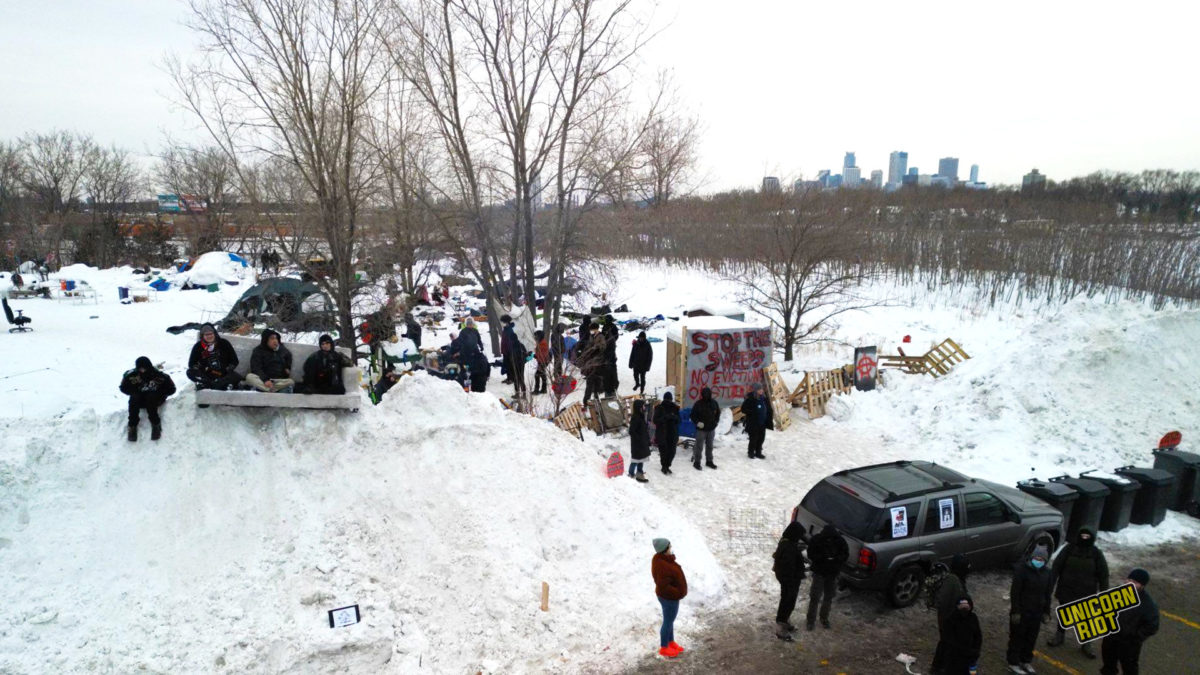 Around 10-15 residents call the Quarry encampment home. Many of them have been displaced from past encampment evictions. Several residents, including one of the founders of the encampment, spoke during the press conference alongside community advocates, mutual aid workers, and volunteers devoted to helping the increasing numbers (upwards of 2,600) of unhoused people in Minneapolis. Watch the press conference held on Dec. 27 outside of the Quarry encampment below.
During the morning defense of the encampment on Dec. 28, legal observers and community members spotted what they say was a man in a United Operations Inc. truck drive into the parking lot of the Quarry shopping center, drop used needles on the ground, pick them up and tell the corporate news "This is why we're evicting this camp."
Can't make this shit up. This man pulled up to the Home Depot parking lot, dumped out a bunch of needles on the ground, picked them up and said, "This is why we're evicting this camp." He is now talking to news reporters. This is also his car. pic.twitter.com/cfd7W8GJyD

— Uncool Niece (@ohnolife_) December 28, 2022
Advocates have announced that they plan to defend the encampment through the week.
---
A press release in the lead-up to the presser goes as follows:
"On Monday, December 20, the city heartlessly evicted a small encampment on 31st Street under the I35W overpass, tossing people's meager possessions across the street and confiscating the propane tanks people were using to run their heaters. The high temperature that day was 3 degrees. There were no shelter beds available that night.

Two days later, unhoused people residing at a Minneapolis encampment known as The Quarry received notice that they are being evicted. City employees posted a notice saying "No trespassing! Please vacate. All tents, structures, and personal belongings must be moved Dec 28, 2022." The notice comes in the midst of Winter Storm Eliot, a severe weather event bringing temperatures well below zero along with dangerous wind chills. No shelter beds are available at the time of this press release.

Residents of the Quarry encampment, along with local organizers and advocates, will hold a press conference to speak out against the escalation of violence toward unhoused people and to demand an end to these life-threatening evictions."

Press Release by Communities United Against Police Brutality – Simeon Aitken
---
Unicorn Riot's 2020-23 Unhoused Crisis in Minneapolis:
---
Follow us on X (aka Twitter), Facebook, YouTube, Vimeo, Instagram, Mastodon, Threads, BlueSky and Patreon.
Please consider a tax-deductible donation to help sustain our horizontally-organized, non-profit media organization: