Uptown Streets Blocked During Protest Against Police Attack on Houseless
Minneapolis, MN – Nearly 75 people blocked Friday evening rush hour traffic at two busy Uptown Minneapolis intersections a day after a violent police attack during an attempted eviction of a houseless encampment. Large banners reading "No evictions on stolen land," "free all political prisoners," and "fire fire gentrifier" were held at different corners and directions on Hennepin Avenue.
During an early morning eviction attempt the day before the Uptown protest, Minneapolis Police injured several and arrested five. They were ultimately thwarted in their plans to displace nearly 20 predominately Black and Indigenous residents of the Near North encampment.
"Today's march is not only against the State violence that ended in the brutal arrest of five comrades, but against the land developers, the MPD [Minneapolis Police Department], and the mayor who would rather see people brutalized than housed. As we march, our comrades remain captives. As we march, Near North still stands. Fuck gentrification, fuck MPD, and fuck Jacob Frey."

Anonymous protest participant
Unicorn Riot was live for the protest.
The highly organized and disciplined protest moved promptly, with medics and security present. When the crowd blocked the streets, they did so at each direction where cars were coming, for five-minute increments. When the time was up, they promptly retreated to the sidewalk.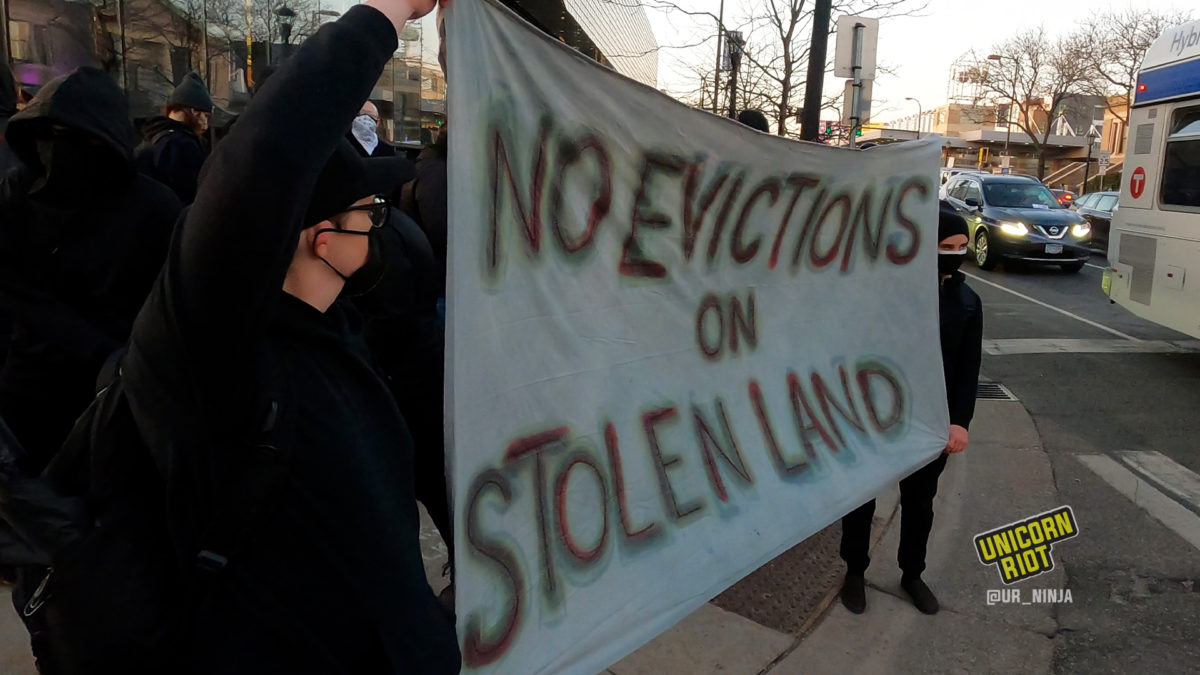 Flyers were handed out to dozens of people on the sidewalks, in their cars and in the stores on Hennepin Avenue. The flyers featured images of the police violence and gave the defenders depiction of events.
"On March 18, the Minneapolis Police Department came to terrorize the encampment at Near North. Community members showed up in the early morning to defend the 20 primarily Black and Indigenous residents and their belongings, not trusting that MPD would ever allow residents to continue living on the abandoned lot. MPD viciously maced, punched, body slammed, forced knees onto necks and possibly tranquilized community defenders, unjustly arresting five of them."

Language on flyer handed out
Five Arrested as Minneapolis Police Attempt Raid on Near North Houseless Encampment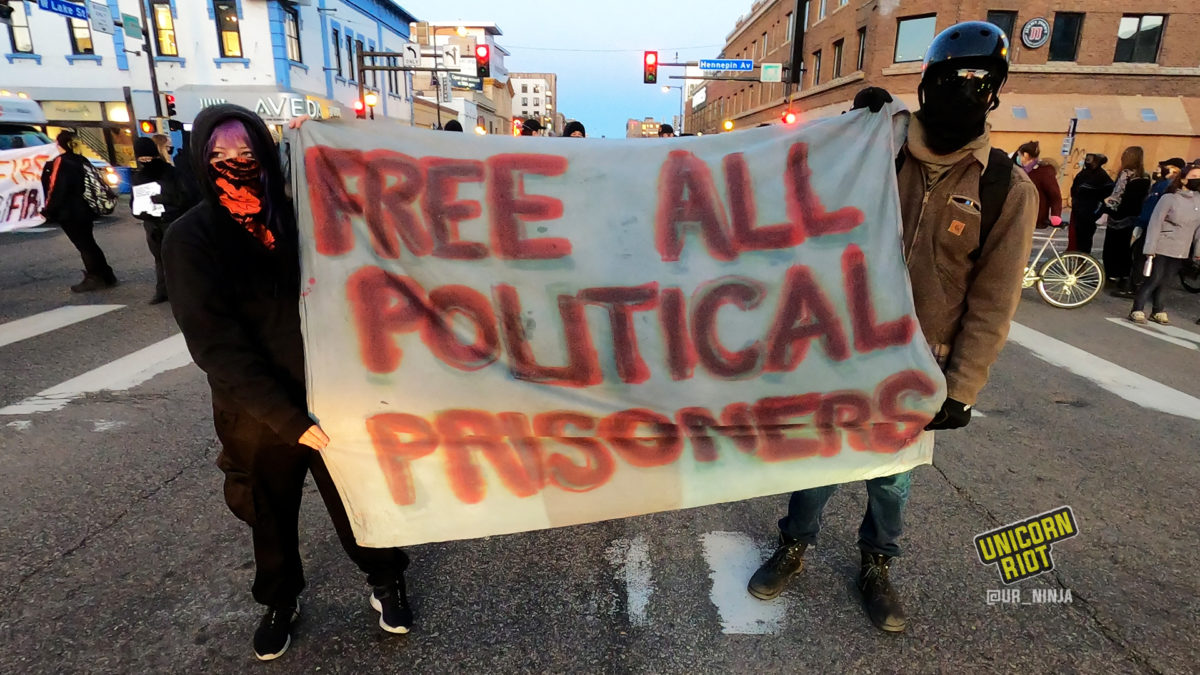 The five that were arrested on Thursday morning were released Friday night not long after the Uptown protest.
All 5 of our comrades who were unjustly arrested yesterday have been released ✊ however, we're not going to stop making noise about the brutal treatment they received at the hands of MPD. pic.twitter.com/1pAvTS5uaX

— Whittier Cop Watch (@whittcopwatch) March 20, 2021
Near North encampment still stands while continuing to be under the threat of eviction.
---
Follow us on X (aka Twitter), Facebook, YouTube, Vimeo, Instagram, Mastodon, Threads, BlueSky and Patreon.
Unicorn Riot's 2020-23 Unhoused Crisis in Minneapolis:
Please consider a tax-deductible donation to help sustain our horizontally-organized, non-profit media organization: