'Wall of Forgotten Natives' Encampment Revived After Five Years, Gets Evicted
Minneapolis, MN — On the morning of Thursday, August 24, Minnesota State Troopers clambered over an overturned car, piles of street lamps, and concrete barriers brought in to fortify the perimeter of a strip of land known as the Wall of Forgotten Natives as its roughly 140 residents moved their belongings out. 
When unhoused residents of Minneapolis moved back to the Wall a week earlier after being evicted from a nearby encampment, activists rallied around it to call attention to the city's ongoing practice of encampment evictions and advocating for a better solution to issues of homelessness and addiction facing the city's Native American communities.
Watch the video below to view a synopsis of events the days before and during the eviction.
The Minnesota Department of Transportation – which owns the property along the Wall – served an eviction notice on August 23.
In response, activists worked to barricade the camp in an effort to defend it against police entry and allow residents more time to move out if they choose.
The Wall of Forgotten Natives is, in a literal sense, a highway sound barrier that separates busy Hiawatha Avenue from East Phillips, the neighborhood with the country's largest urban Indigenous population. In 2018, about 300 unhoused people, the vast majority of them Indigenous, gathered to camp for months in the grassy area between the highway and the wall, earning it its nickname.
As the number of tents surrounding the Wall grew, the encampment became an emblem of the city's ongoing struggle to provide accessible housing for everyone.
In the five years since the original encampment was cleared, people have returned to the Wall from time to time, only to be evicted again and ping-ponged from place to place, in and out of shelters and back to the streets.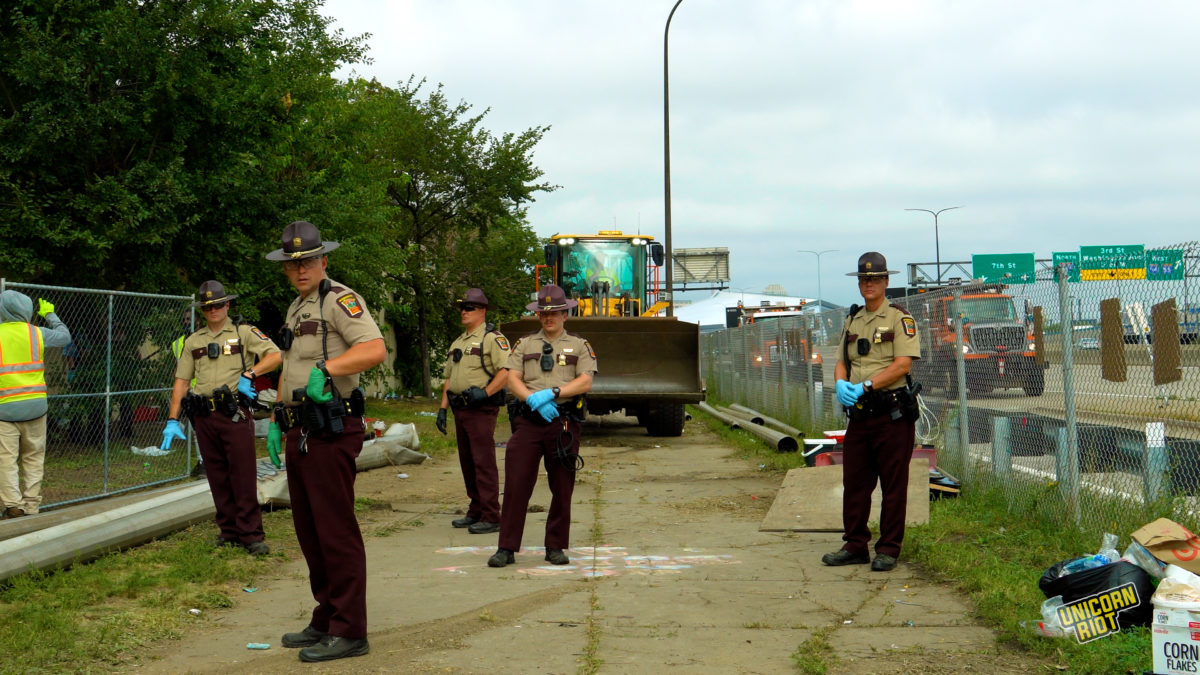 Calls for encampment defense are frequent, though rarely successful for long.
One main focus of the brief campaign to defend the Wall was bringing an end to the city's eviction policy. When Mayor Jacob Frey of Minneapolis was campaigning for his first term, he made bold statements, promising to "end homelessness in five years" and declaring repeatedly that "housing is a right." While the city has taken steps toward increased affordable housing in recent years, increased encampment sweeps as part of that strategy have spurred outrage against the Frey administration.
Nicole Mason was at the Wall in 2018 and returned to defend the area and offer support to residents this past week. "Five years ago the people were here at the Wall of Forgotten Natives, and Jacob Frey committed to end homelessness. Five years later, the people are still here. The city has evicted homeless encampments and spent significant money to do so, but has not yet met the needs of the people," she said at a news conference.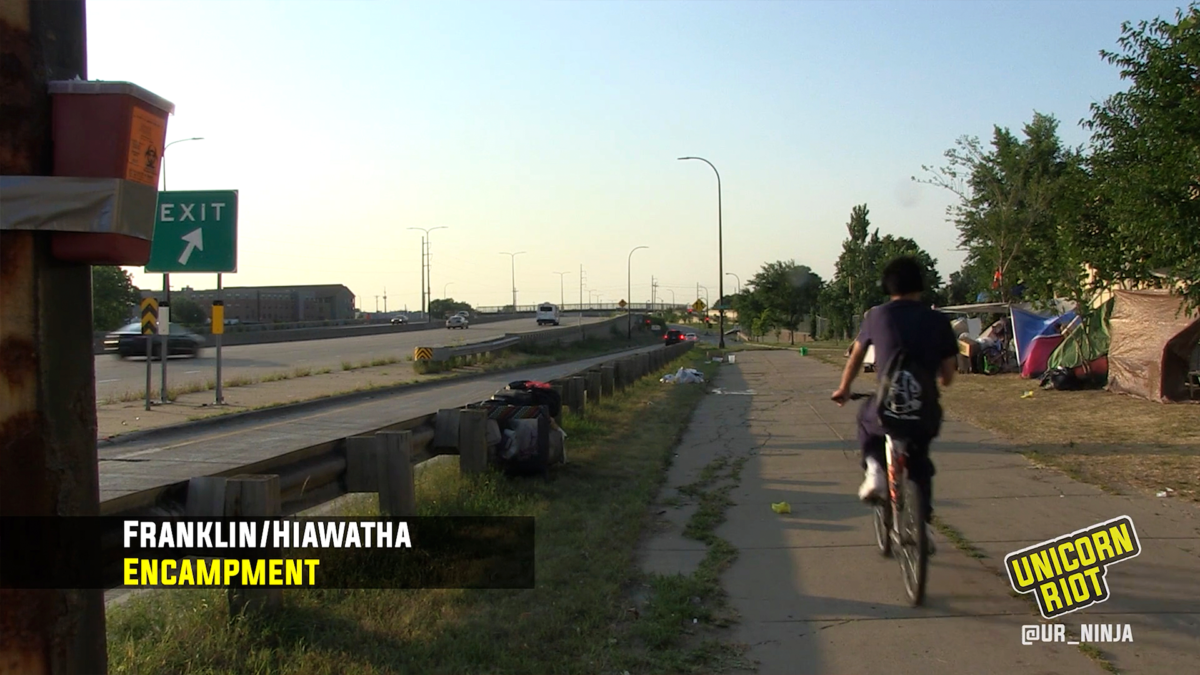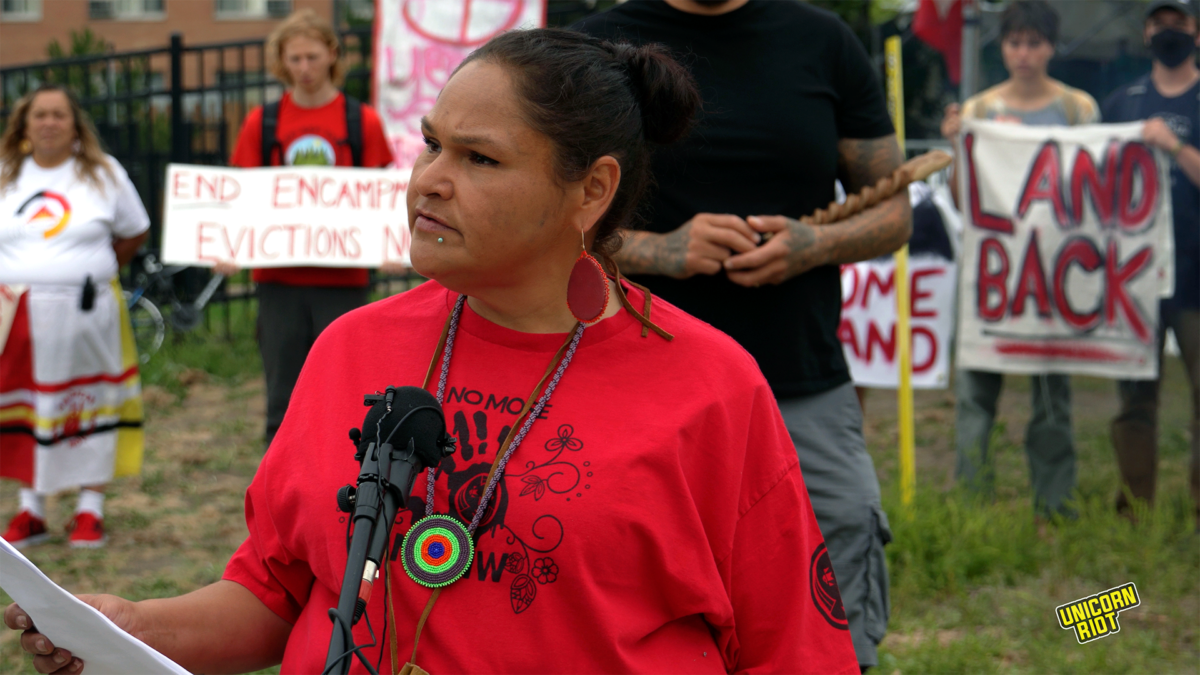 Mason said the first step toward better housing policies is to stop evictions and allow unhoused people to have a sense of community and safety, without worrying that they will have to pack up all their things and move every few weeks.
"The way the City of Minneapolis is responding is making it worse," she said. "Every time the city evicts, relatives go missing. For Native relatives experiencing homelessness this practice carries the generational trauma of forced assimilation and hospitalization. It is a tactic used by colonizers to control Indigenous communities. Continued state harm has deep and lasting effects on Native communities."
An art installation on the fence that borders Hiawatha Ave. reads, "Never Homeless Until 1492." A red LandBack flag flew high over the encampment, across from a red, white, black, and yellow flag emblazoned with the American Indian Movement symbol. Advocates for the encampment were clear that returning stolen land to Native communities was an essential part of addressing homelessness.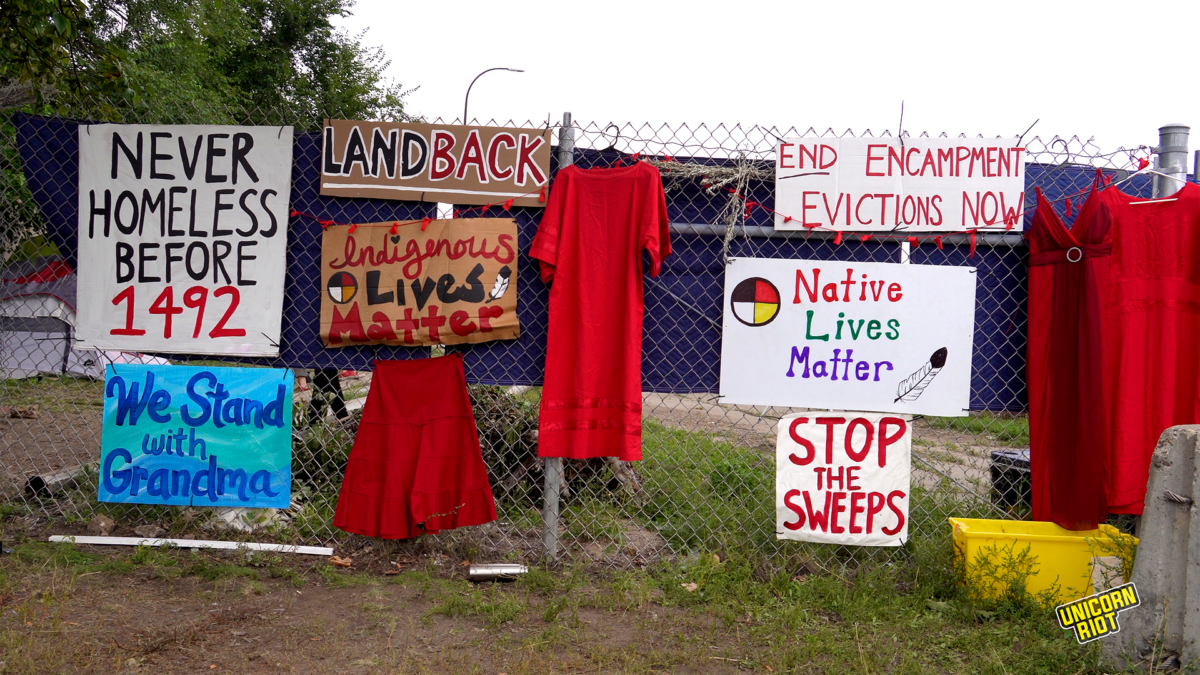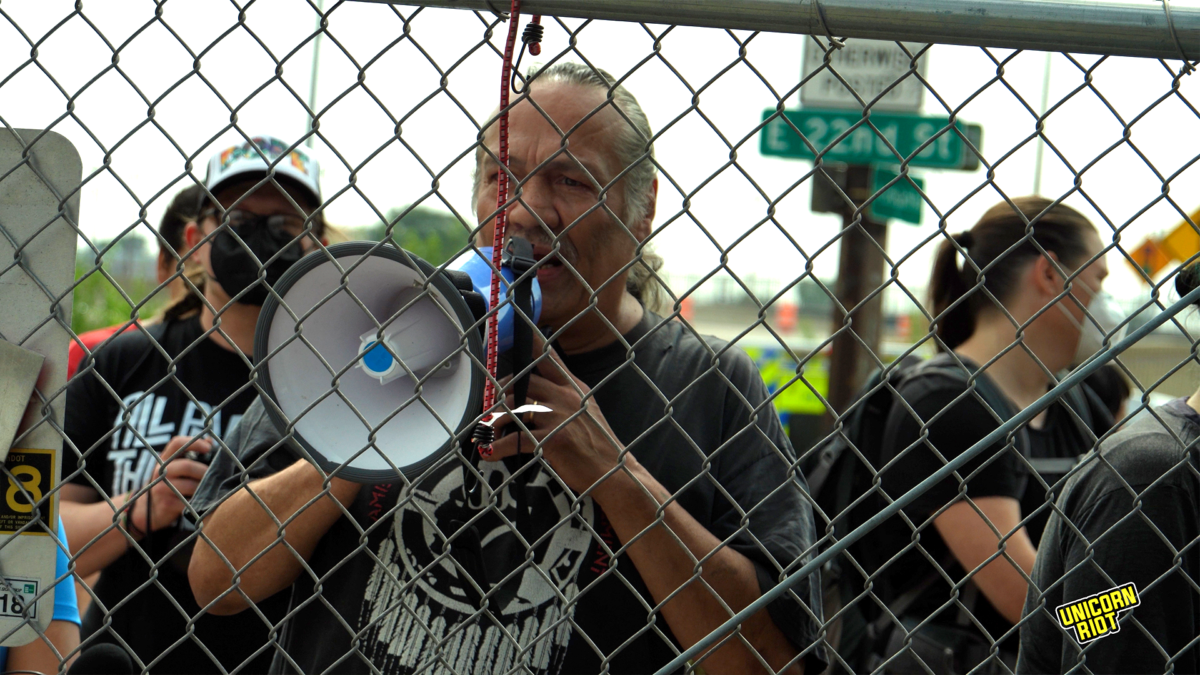 Chairman of Twin Cities AIM Mike Forcia said he carries a photo in his wallet of a man lying dead at the Wall that he took to show to the man's family. "How much more can I take? This is a humanitarian crisis that nobody wants to look at as they drive by," Forcia said.
He said he's been advocating to turn East Phillips Park, across the street from the Wall, into the Red Road Village, a vision that includes tiny homes for formerly unhoused people, cultural events, and addiction treatment facilities run collectively by the tribal nations of Minnesota.
Several organizations have expressed support for the idea, and it gained some traction in the 2021 mayoral race, when several candidates including Mayor Frey said they would be in favor of returning city land to Indigenous communities.
For the first few days at the renewed Wall encampment, spirits were high. There was consistent support with providing security and meals for residents. The camp was operating with the intention that this would be the one that would last long enough for the people living there to find their way to what they need, be that housing resources, addiction treatment, or back to their families. Mason said that in this camp, "People are getting rest and they are being fed and hydrated. Neighbors are watching over each other. And these relatives are no longer alone."
Then, as the temperatures crept up toward 100 degrees mid-week, things started to fray.
State troopers arrived Wednesday morning to serve the Wall camp with a 24-hour eviction notice. The city's official encampment response guidelines state that while "everyone experiencing unsheltered homelessness is vulnerable and deserves dignified and respectful treatment protective of their rights," encampments "do not represent a dignified form of shelter" and are prohibited.
Later that day, as residents and supporters were making a plan for the next morning, "Dan Dan" Robertson, who was visiting friends at the Wall, died of unknown causes, though Mason and several others connected his death to the stifling heat. Speaking through tears on Thursday, Mason accused police and emergency medical responders who were at the scene of Robertson's death of not doing enough to save his life.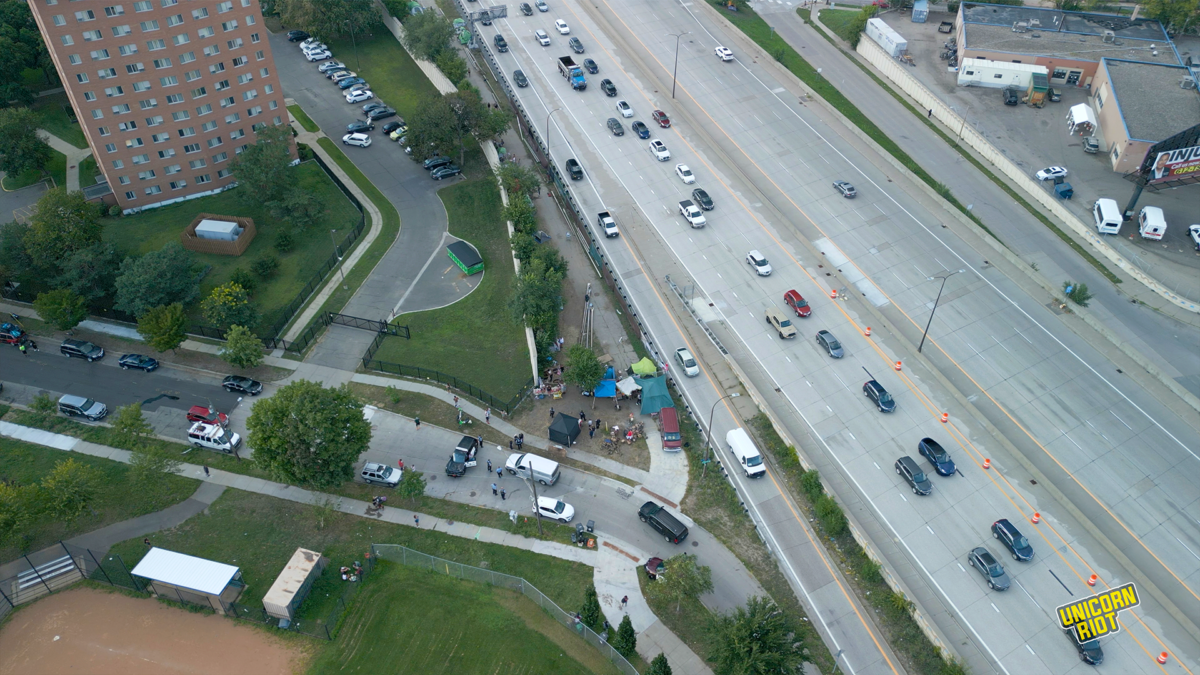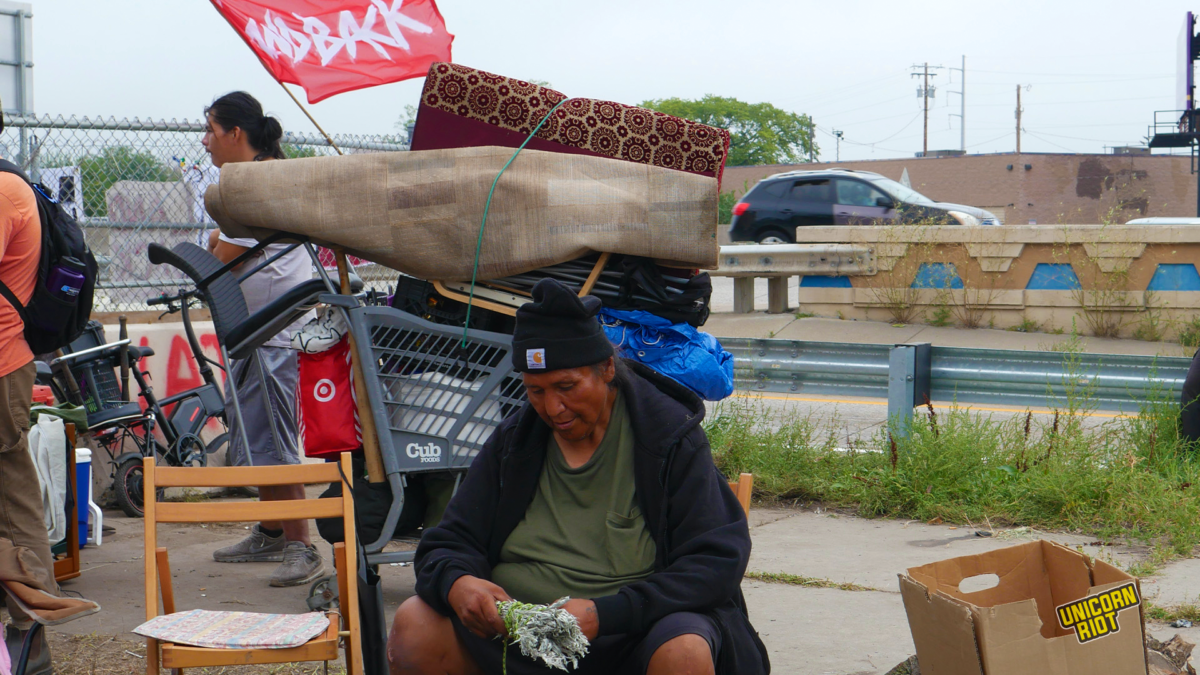 With the pall of Dan Dan's death cast over the camp, by Thursday morning, most residents decided that their best option was to move out. Supporters helped them collapse their tents and pack their belongings and watched the reinforced fences as state troopers arrived with plastic flex cuffs and paddy wagons just before 10 a.m.
Residents pushed shopping carts and dollies full of their possessions past the spirit fire that burned in Dan Dan's honor just outside the front entrance.
Wesley Littlewind, a member of Spirit Lake Nation and a resident of the Wall encampment, said he's been bouncing between camps since 2017. He didn't know where he would head next. "They don't want me in the shelters," he said, after having experiences getting kicked out of a few. Besides, he added, his friends are here. Sitting on a camp chair by the fire, looking around at the exodus from the camp, Littlewind expressed hope for a different future. "This is a small roadblock in the bigger picture," he said.
In a news conference at the Wall on Thursday, Ward 9 City Council Member Jason Chavez acknowledged the failure of the local government to adequately address issues of housing in Minneapolis.
"The city spends thousands of dollars on these evictions, when they can instead use those thousands of dollars to help house people. We need all these levels of government to come to the table, to cough their money up, and to work with our unhoused relatives to figure out the solutions."

Minneapolis Ward 9 City Council Member Jason Chavez
Chavez posted to social media that he is planning an "emergency meeting" at the East Phillips Park Community Center gym with constituents on September 12 at 6 p.m. to discuss solutions.
For now though, as the former residents of the Wall scatter to temporary shelters or to other encampments around the city, the cycle of finding a place to live only to be removed from it shortly after begins again.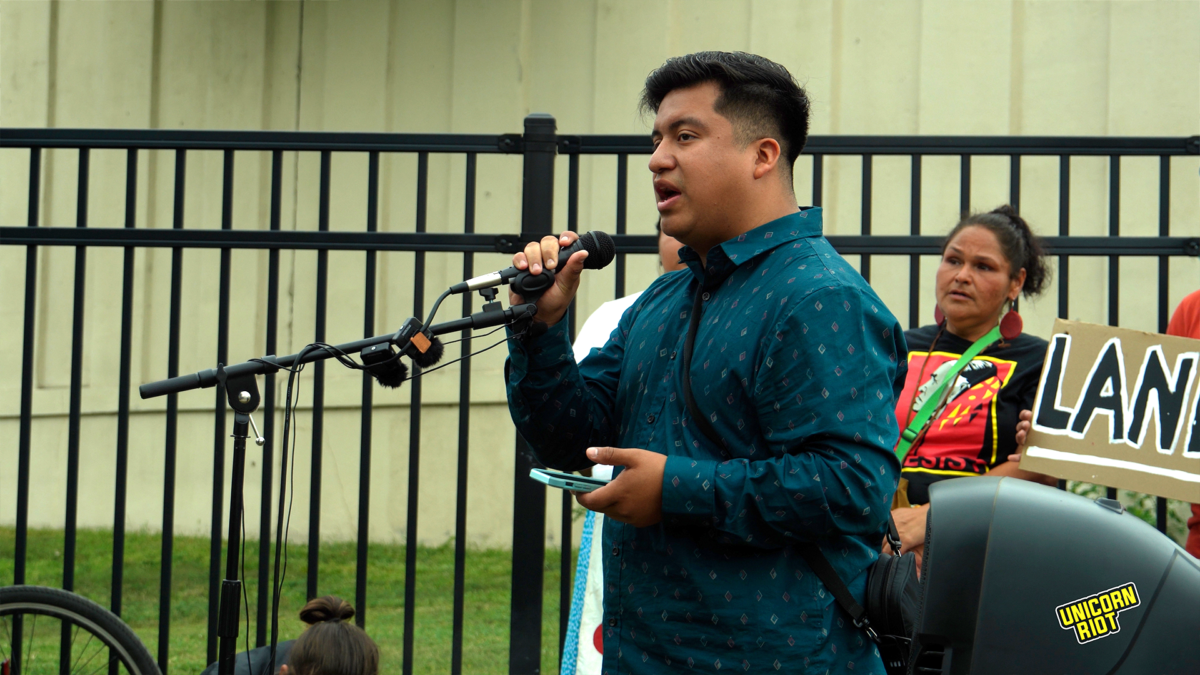 ---
Unicorn Riot's 2020-23 Unhoused Crisis in Minneapolis:
---
Follow us on X (aka Twitter), Facebook, YouTube, Vimeo, Instagram, Mastodon, Threads, BlueSky and Patreon.