Caravan Disrupts Line 3 Construction Routes, Carlton County Triggers Backlash
Carlton County, MN – On Friday, February 19, a family-friendly caravan disrupted traffic at several Line 3 construction routes. During the event, authorities announced a baseless bomb threat via FEMA's Wireless Emergency Alerts system. The Carlton County Sheriff's Office also made unsubstantiated connections between the water protectors and the "potential explosive hazard."
Around noon, before the caravan started, a dozen people protested near the pipeline construction just feet away from Camp Migizi on the Fond Du Lac Reservation. The caravan first drove to a choke-point of roads used for construction access, and then to the new Line 3 corridor, where the pipeline has yet to be laid. Running parallel to the new corridor, was the current corridor with six pipelines underground. The pipeline resisters, which featured several young children, stayed until authorities issued dispersal orders.
Unicorn Riot was live for each of the protest sites. [1, 2, 3]
While the caravan was stopped at the third disruption area, authorities sent the "Imminent extreme alert" SMS messages to cell phones in Aitkin, St Louis, Pine, and Carlton Counties. More than an hour later, a clarifying message was sent saying that the initial message was sent in error to the other counties, and that is was "a localized event in Carlton County."

This "potential explosive hazard" turned out to be false, but the psychological effects were real. When the caravan, which included Unicorn Riot journalists, attempted to go back to Camp Migizi, they were blocked by locals who believed the caravan was at fault.
Below are two press releases published by the Carlton County Sheriff's Office.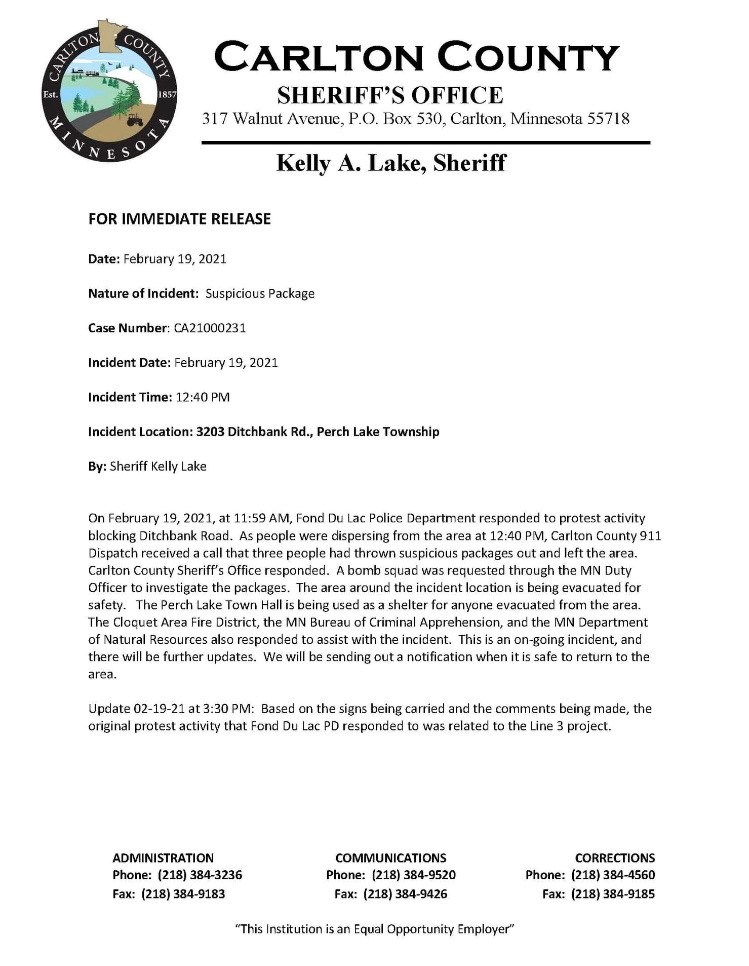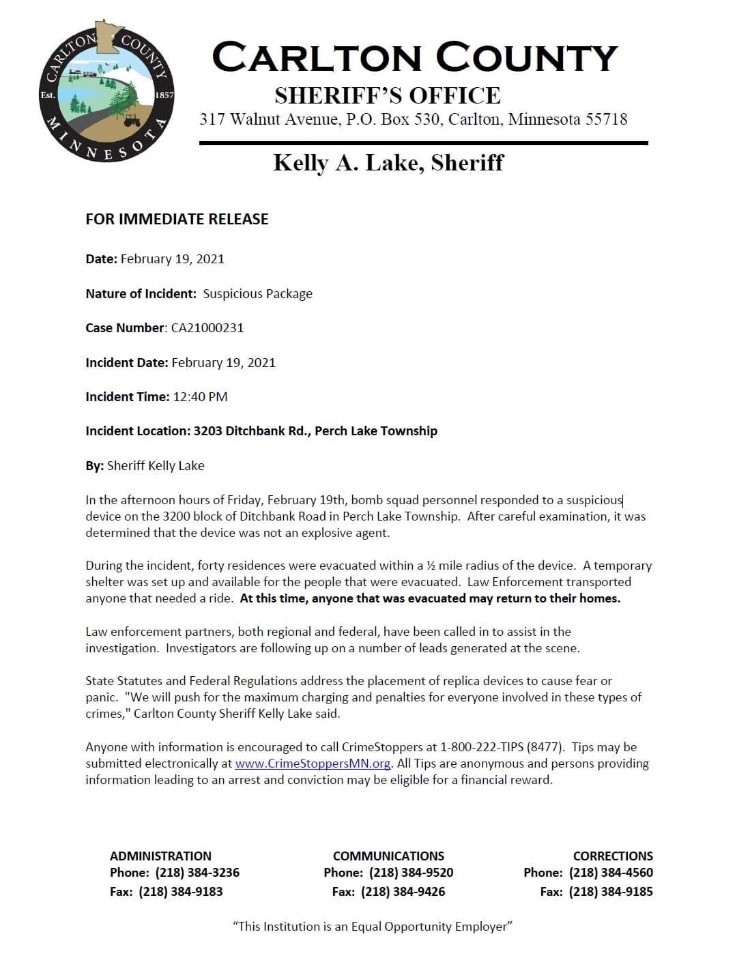 In the first release, the Sheriff's Office explains the county received a 911 call at 12:40 p.m. that "three people had thrown suspicious packages out." At that same time, water protectors were complying with a dispersal order and leaving the area. Because it was a rural road leading only to worksites, the people who may have seen the alleged "suspicious packages" and called 911, had to be someone in law enforcement, a construction worker, or least-likely a water protector.
In the second release, the Sheriff's Office states that the now-termed "suspicious device" was not "an explosive agent." Carlton County Sheriff Kelly Lake stated: "We will push for the maximum charging and penalties for everyone involved in these types of crimes," referring to laws against "the placement of replica devices to cause fear or panic."
To longtime activists and water protectors, these tactics by the State are old news.
During the November 20, 2016 Highway 1806 standoff between water protectors and law enforcement at Standing Rock, an Instantaneous Blast CS grenade blew up directly on 21-year-old Sophia Wilansky's arm.
In an apparent attempt to deflect blame onto the water protectors themselves, Morton County Sheriff's spokesperson stated that the police couldn't have inflicted that "type of damage to her arm" and said that "protesters" were "rigging up their own explosives."
Sam Grant, executive director of MN350, spoke with Healing Minnesota Stories about the "inappropriate fear mongering:"
"The real violence happening in Northern Minnesota is what is being done as Enbridge constructs Line 3. We remain focused on protecting our water, land, wildlife and human life."
Taysha Martineau, a Fond Du Lac Band member and part of Camp Migizi, told Healing Minnesota Stories:
"The criminalization of water protectors and Indigenous leaders of the resistance is a tale as old as time immemorial."
---
Follow us on X (aka Twitter), Facebook, YouTube, Vimeo, Instagram, Mastodon, Threads, BlueSky and Patreon.
Unicorn Riot's Line 3 Oil Pipeline Coverage: