"Divest from Climate Change!" Chase Bank Branch Protested on Opening Day
St. Paul, MN – Chase Bank's new branch had been open for less than five minutes when two dozen students and activists entered through the front door, just after 9:00 a.m. on Tuesday, November 5.  They were carrying a banner that read "Chase: Defund Climate Change" and were protesting the bank's role as one of the most prominent financiers of fossil fuel projects in the USA.
The new Chase branch on Grand Avenue is the first in the city of St. Paul, and the second in the Twin Cities. A Minneapolis branch opened in August on SE Washington Avenue near the UMN campus.
9:00 AM CST today, #ChaseBank opened a new branch in St. Paul, MN.

9:02 AM, climate justice activists were inside the bank, preparing to protest Chase.

From their press release: "Since the #ParisAgreement Chase has provided $196 BILLION in finance for #FossilFuels." pic.twitter.com/DRnxGwdj64

— Unicorn Riot (@UR_Ninja) November 5, 2019
Activists announced that JPMorgan Chase & Co. funds pipelines, followed by chants of "pipelines poison water." They then crumpled to the floor in unison and remained there unmoving for many minutes. Known as a "die-in", the goal of this tactic was to directly and tangibly confront "the branch employees with the deadly reality of their company's investments."
Those gathered declared together, "Chase funds #pipelines!" followed by "Pipelines poison water!" They all then collapsed on the floor of the bank as if dead (known as a "die-in") in protest of #ClimateChange and what they called a "slow cultural #genocide" of #Indigenous people. pic.twitter.com/Jbm929S6G1

— Unicorn Riot (@UR_Ninja) November 5, 2019
Those inside the bank with appointments to do business with Chase bankers had to step around and over the motionless bodies of protesters to get to the back office.
When the manager of the branch said that the bank wanted the protesters to leave, one person responded, "we want Chase to stop funding pipelines."
Mgmt announced protesters were not wanted, called SPPD when protest continued.

Stated goal of today's die-in before #StPaul "Rally to Demand Chase Stop Bankrolling #ClimateChange & #Line3" was to confront branch employees "with the deadly reality of their company's investments". pic.twitter.com/nUyBIqgqJ7

— Unicorn Riot (@UR_Ninja) November 5, 2019
Several songs were performed with themes of banks, profit, and climate change, and about locking down to pipelines to prevent their construction. One song ended with a reference to Enbridge's Line 3 pipeline replacement project, which was deemed not necessary in 2017 by the Minnesota Commerce Department yet approved in 2018 by Minnesota regulators.
"I don't care about oil / I don't care about snakes
I'm gonna go and smash Line 3 until it fucking breaks!"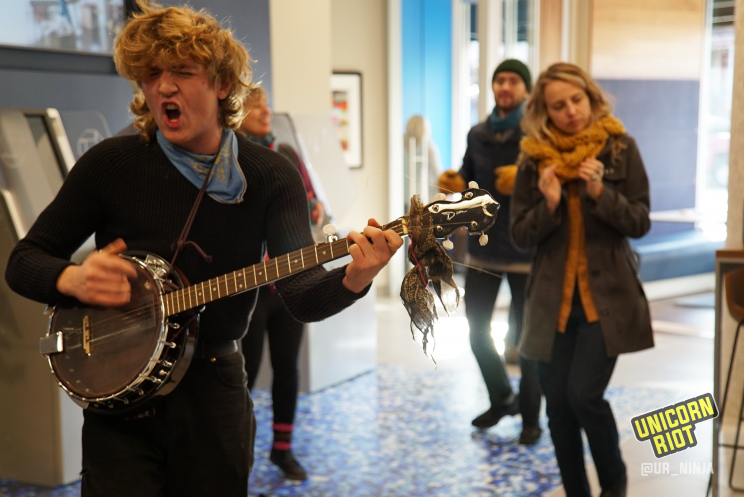 Once St. Paul police (SPPD) entered the building, the protesters' police liaison informed those gathered that the police would be enforcing the bank's request for protesters to leave. They then exited the building, continuing with a planned protest on the public sidewalk outside of the bank.
"When water protectors are under attack, what do we do? Stand up, divest!" — protest chant outside Chase Bank on November 5, 2019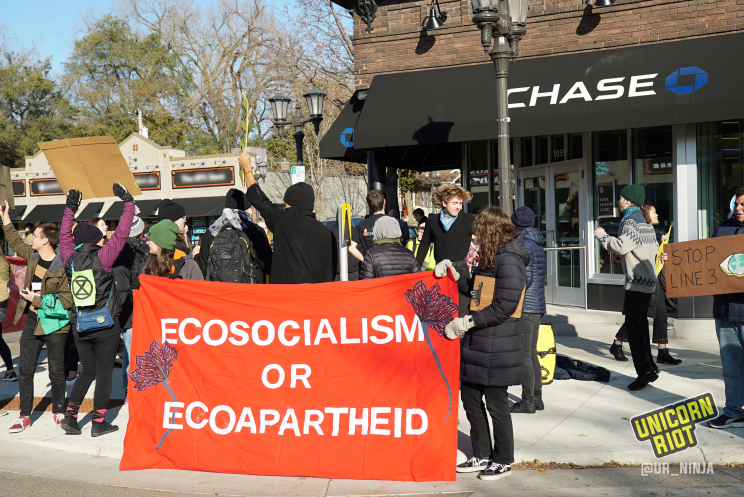 Tar sands oil extraction was referred to as "slow ecological genocide" by one of the speakers.

A student from Macalaster College in St. Paul connected reproductive justice and climate justice, saying she fights misinformation from politicians who try to tell people what to do for their own gain. She stressed the importance of working together to fight corporations like Chase "who threaten our health and our future."
"Pipelines threaten everybody's health, especially poor people's, especially people of color." — Elizabeth, Macalaster student
One energetic student led chants of, "Climate change is not a lie; do not let our planet die" followed by, "Tar sands spill; pipelines kill."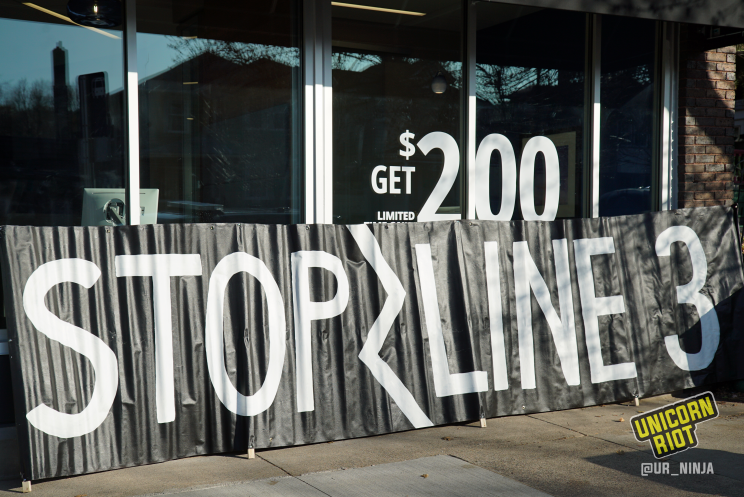 "Water is life! Protect the wild rice!" — protest chant outside Chase Bank on November 5, 2019
One speaker mentioned that Chase Bank plans to open 25 new branches in the Twin Cities over the next five years. He added that Macalaster students live down the street from the new branch, promising, "this is just the beginning." Another student speaker reiterated that the fight to protect the wild rice is part of the fight to protect indigenous ways of life.
On Indigenous People's Day in October Unicorn Riot covered a March to Protect the Sacred in Clearbrook, MN near the headwaters of the Mississippi River. Watch interviews from the march:
Please consider a tax-deductible donation to help sustain our horizontally-organized, non-profit media organization:

---
Follow us on Twitter, Facebook, YouTube, Vimeo, Instagram, and Patreon.
Unicorn Riot's Line 3 Oil Pipeline Coverage: