In November 2020 the Line 3 Replacement Pipeline tar sands oil export project received final permit approval to finish construction in Minnesota. The new pipeline, one of the largest infrastructure projects in North American history, has faced numerous obstacles and accidents, including a worker run over and killed by a forklift in December 2020. Protests and direct actions stopping construction and blockading roadways have occurred almost daily, leading to nearly 150 arrests of water protectors by the end of February 2021.
Since 2014, Canadian energy giant Enbridge has sought to upgrade Line 3, eager to maximize its capacity to import 915,000 barrels of tar sands oil per day over the U.S. border. Line 3 is an already existing pipeline which transports particularly dangerous types of oil products produced from the tar sands in Alberta, Canada into the US to refineries in Superior, Wisconsin. The now-deteriorating pipeline was originally built in 1968, running from Edmonton through North Dakota and Minnesota to Wisconsin, and has been the source of numerous oil spills. In 1991, Line 3 ruptured and spilled over 1.7 million gallons of oil, making it the largest inland oil spill in U.S. history. Line 3 goes across 337 miles of Minnesota land, 200 bodies of water, nearly 800 acres of wetlands. The new route goes through Indigenous Anishinaabe treaty territory designated in agreements signed in 1842, 1854, and 1855.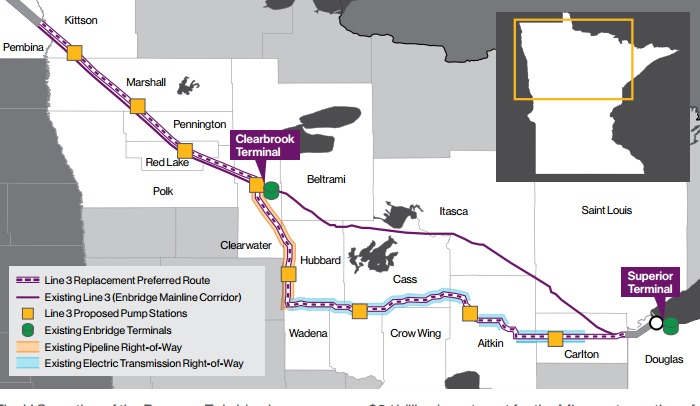 Environmental advocacy groups, the White Earth Band of Ojibwe and Red Lake Band of Chippewa have sought to stop pipeline construction in court, but Enbridge won a ruling at the Minnesota Court of Appeals in early February 2021.
From 2017 to present, Unicorn Riot has been reporting on the resistance to Line 3. This page holds some of the latest videos and all of the Line 3 stories.
Latest Line 3 stories
---
Please consider a tax-deductible donation to help sustain our horizontally-organized, non-profit media organization: