Jeanette Vizguerra's U-Visa Denied While in Sanctuary Second Time
Denver, CO – Immigrant rights leader and undocumented mother and grandmother, Jeanette Vizguerra, has been living at the First Unitarian Society for three months, which is the second time she has claimed sanctuary from deportation. On June 20, 2019, she held a press conference at the church to share news that her U-visa application was denied six years after its submission.
Watch some highlights in our video from the press conference:
Vizguerra applied for a U-visa after suffering from a violent crime in the United States. These types of visas are "set aside for victims of certain crimes who have suffered mental or physical abuse and are helpful to law enforcement or government officials in the investigation or prosecution of criminal activity," according to the U.S. Citizenship and Immigration Services (USCIS) website.
However, Vizguerra's deportation case started in 2009, when she was pulled over and was found to be driving without a driver's license and with false documentation. The documentation she had contained her name with a made-up social security number.
Then in 2011, instead of giving a deportation order, an immigration judge granted Vizguerra a voluntary departure, which she did not request. Vizguerra took action to appeal the decision, so that she could stay in the country where her children lived, and where she had lived since 1997.
While the appeal was pending in 2012, her mother was dying of cancer in Mexico. Vizguerra knew if she left the country, her appeal would get cancelled, and having migrated on foot before, she knew the journey would not be easy, but she still decided to go back for a short time.
During her return on foot in 2013, she was detained at the border and the officers began deportation proceedings because they assumed she had been given an official deportation order. After her lawyer spoke with ICE officers in El Paso, TX, she was allowed to return home to Denver, where she was granted a five-month stay of deportation.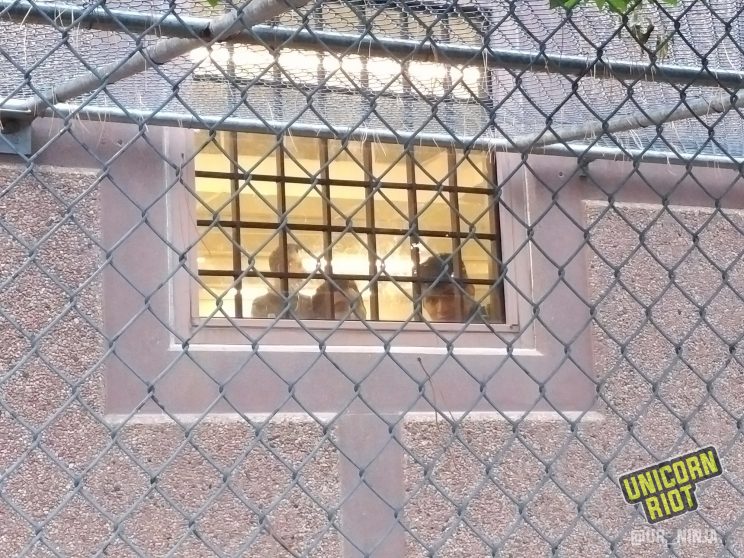 During the press conference, Vizguerra laid out the reasons USCIS gave for their denial, and why she believes they are not legitimate. In their denial letter, USCIS argues that when Vizguerra was detained at the border in her return to the U.S. in 2013, she was pressuring the other people she was arrested with to remain silent and was telling them their rights, as well as, telling them to lie. Vizguerra concedes that she did inform the other detainees of their rights, which include the right to remain silent, however she said she did not tell them to lie.
In their letter to Vizguerra, USCIS also argues she does not deserve the visa because she was arrested for using false papers, driving without a driver's license, and entered the country illegally, and to that Vizguerra responded (translated from Spanish to English):
"And when they mention this, I would like to tell the Department of Homeland Security, of Visas, even President Trump, when are they going to give explanations of the hundreds of times they have lied and officers have falsified signatures with arrest warrants? When are they going to give explanations of the children in cages that are still not reunified? This is an attack on humanity."
She went on to talk about the false papers:
"That's all we as undocumented immigrants have to use to work to be able to provide for our families, for our children, to put food on the table, with no intention of harming third parties."
Vizguerra's lawyer, Bryce Downer, is filing for a motion to reconsider the decision of USCIS. During the press conference, he stated that he believes the denial letter includes
"extremely personal and vile attacks against her. I've done many of these cases for U-visas throughout my time as an attorney and I've never once seen a denial that I believe to be so personal and it's such an attack. It is disheartening to see that this is coming from our government. The example that they're setting, not only for Jeanette, but for the rest of the community at large, is that do not apply for U-visas, do not come forward, do not make society a safer, better place for all of us."
Vizguerra first entered sanctuary on February 15, 2017, when she decided to skip a scheduled check-in with her Immigration and Customs Enforcement (ICE) Officer because she had a strong feeling that her stay of living in the United States would be denied.
Her feeling turned out to be correct because later that day, her lawyer informed her that her stay had indeed been denied, and there were armed ICE officers at the check-in seemingly ready to arrest her.
After nearly three months living at the First Unitarian Society, she was able to walk free due to ICE giving her a two-year stay of deportation. When those two years ended, Vizguerra made the choice to re-enter sanctuary.
Unicorn Riot will continue to provide updates on Jeanette Vizguerra's case when they become available.
---
Please consider a tax-deductible donation to help sustain our horizontally-organized, non-profit media organization:

---
Unicorn Riot's Coverage of the Sanctuary Movement and Immigration:
---
Unicorn Riot's Coverage of the Asylum Seekers at the US/Mexico border:
---
#Icebreaker Series - Unicorn Riot series on ICE policy manuals