Another Immigrant Claims Sanctuary from Deportation in Colorado
Denver, CO – Like others who have claimed sanctuary from deportation, Jorge Araiza Ávila decided to skip his appointment with an Immigration and Customs Enforcement (ICE) official on December 10, 2019, and instead, took refuge at Park Hill United Methodist Church and Temple Micah. On Tuesday, February 11, Araiza Ávila, his family, and his supporters decided to publicize his decision.
Araiza Ávila, who's lived in the U.S. for over 20 years, mentioned in a press release that his main reason for claiming sanctuary is to stay with his children:
"The most important reason I'm here in sanctuary is for my three daughters and my little son. I think that they are the motor of my life who give me the strength to keep fighting and not give up in any situation. My stay in this country is very important for my children." — Jorge Araiza Ávila
When he was just a child, Araiza Ávila migrated from Mexico to the U.S. with his parents. They ended up in east Denver, and while he attended Manual High School, Araiza Àvila met his soon-to-be wife. In order to maintain employment to support their growing family, he drove a car to and from work without a driver's license—there was no legal pathway at the time in Colorado to obtain a driver's license while undocumented—which led to several tickets and being entered into the immigration system.
Araiza Ávila was arrested in 2010 and spent a month at the GEO Group's ICE detention facility in Aurora, CO while his family gathered the $10,000 needed to bail him out.
In August 2012, an immigration judge ordered Araiza Ávila's deportation after he didn't attend a court hearing. He appealed the judge's decision, and after five and a half years, the decision was essentially upheld, but instead of requiring ICE to physically remove him from the country, he was granted a voluntary departure, meaning he would have to arrange and pay for his own removal. He chose not to leave, and alternatively, filed an appeal with the Tenth Circuit Court of Appeals.
On January 22, 2020, the Tenth Circuit U.S. Court of Appeals denied Araiza Ávila's petition to cancel his deportation. His attorneys with the Novo Legal Group are appealing the court's decision.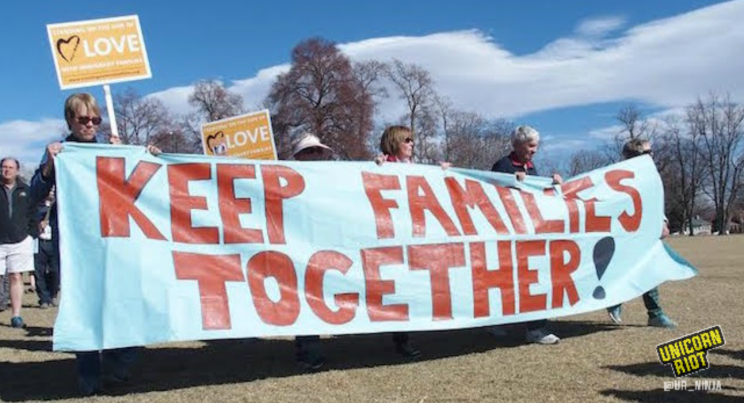 Araiza Ávila is not the first person to claim sanctuary at Park Hill United Methodist Church and Temple Micah; Araceli Velasquez previously lived there for about two years. In summer 2019, Velasquez was granted the opportunity to return to her house, with an ankle bracelet, in order to finish out her pregnancy and give birth to her fourth child outside of the church and temple's property. The reopening of her asylum case, which is what allowed her to temporarily leave sanctuary, came to a close in the fall, and Velasquez was deported back to El Salvador.
At this time, Araiza Ávila is the fourth undocumented person publicly claiming sanctuary in Colorado. The three others are Rosa Sabido, Ingrid Encalada Latorre, and Jeanette Vizguerra.
Sabido has been living in Mancos United Methodist Church for nearly three years. On December 2, marking exactly 2.5 years in sanctuary, Sabido and her advocates launched a campaign to encourage Rep. Scott Tipton (R-CO-3) to introduce a private bill to provide lawful immigration status for Sabido. The petition signatures collected as part of the campaign will be hand-delivered to Rep. Tipton on February 27.
On October 17, 2017, Encalada Latorre refused a court order to board a plane with her two children and be deported back to Peru, and decided to claim sanctuary for the second time. In September 2019, she gave birth to her third child in the church's recreation room, fearing that she would be detained and deported if she went to a hospital.
At the end of December 2019, Encalada Latorre was pardoned by Colorado Governor Jared Polis, meaning her criminal record which triggered her deportation proceedings is now absolved. While working to reopen her immigration case, she has remained at the Unitarian Universalist Church of Boulder.
Vizguerra has been claiming sanctuary for the second time since March 15, 2019, at the First Unitarian Society in Denver. She first entered sanctuary on February 15, 2017, when she decided to skip a scheduled check-in with her ICE officer. In the press release on February 11, 2020 announcing Araiza Ávila's decision, Vizguerra shared her support:
"Once again, due to a lack of solutions on the topic of immigration, another family has to take refuge in sanctuary. Jorge Araiza Ávila, a young 31-year-old father with a family and four children, made the decision to seek support and shelter due to an accumulation of traffic tickets and ICE's threat of deportation.

I support Jorge and his family in their fight; he still has legal options. I welcome him to the Metro Denver Sanctuary Coalition." — Jeanette Vizguerra
On August 1, 2014 a law finally passed in Colorado permitting undocumented immigrants to apply for a driver's permit and license. Senate Bill 13-251 (PDF) was sponsored by Democratic state Sen. Jessie Ulibarri who proclaimed that state laws like this one are necessary due to the federal government's inaction on fixing the "completely broken immigration system."
Feature image credit: Sanctuary4All Colorado
---
Please consider a tax-deductible donation to help sustain our horizontally-organized, non-profit media organization:

---
Unicorn Riot's Coverage of the Sanctuary Movement and Immigration: