Immigrant Children Eulogized at 'Close The Camps' Rally
Minneapolis, MN — Seven children who have died this year in the context of USA immigration detention centers were honored at a public memorial on August 8, 2019. The public memorial was held outside the headquarters of Thrivent, a Christian financial institution accused of making "profits from kids in cages."
"The discussion about immigration and immigration detention is a discussion about human beings, and we don't want that to be lost. […] some of them died in concentration camps, some of them died in a hospital shortly after leaving a camp, but none of them had to die." — Elizabeth Wrigley-Field, No Cages MN organizer
Protesters met at noon in downtown Minneapolis near the stadium.
Focus of this event is on the humanity of the encaged migrants "and the inhumanity of the #ConcentrationCamps on our border." There will be a short eulogy for each child who has died.#CloseTheCamps #NoMore #NuncaMas #Not1More #Ni1Mas #AbolishICE https://t.co/dXJKmrXqQk

— Unicorn Riot (@UR_Ninja) August 8, 2019
Daisy, a member of the Minnesota Immigrant Rights Action Coalition (MIRAC) gave an initial speech to those gathered. She said that hate isn't represented just by "the individual who takes out their frustration with violence."
"Hate is also the politician who uses their power to prey on vulnerable communities. Hate is also the person who is complacent and lives comfortably as chaos unfolds before them." — Daisy, MIRAC member
Republican Senator Lindsey Graham was brought up as someone who is working "to extend the number of days children can be held in detention from 20 days to 100 days." (Ongoing efforts to decrease the amount of people applying for asylum at USA borders include the divisive "Secure and Protect Act of 2019", S.1494.)
Protesters began marching with signs towards downtown Minneapolis. Their chants were accompanied by percussion from local protest marching band Unlawful Assembly.
#CloseTheCamps protesters marching towards #Minneapolis City Hall. Construction #workers along the street smiling & nodding along to ppl chanting "#NoBorders #NoCages, Stop #deportations" pic.twitter.com/TIXHb8juXu

— Unicorn Riot (@UR_Ninja) August 8, 2019
Thrivent is a Lutheran financial institution that prides itself on its reputation as an ethical company "build on Christian membership."

Protesters carried fliers reading "Thrivent profits from kids in cages" which elaborated,
"According to Thrivent's most recent public SEC filings, its investments total about $1.5 million in CoreCivic and $2.5 in GEO Group."
Organizers questioned how an "ethical bank" could continue to profit from "the two companies that are most implicated in carrying out immigrant detention in the United States," while other large banks such as Wells Fargo and Bank of America have both promised to not invest further in both CORE Civic and GEO Group.

Protesters were prohibited from entering Thrivent by the building's private security force. The public memorial for the seven children took place on the street in front of the building. A sign bearing each young person's photograph in color, along with their full name, was held aloft during each eulogy.
After the memorial service, protesters left the main entrance and approached Thrivent's headquarters again through the skyways. Protesters were also barred entry at these doors by Thrivent's private security.
"Thrivent doesn't want to listen to us. Thrivent doesn't want to listen to immigrant communities. Why not? Thrivent is an ethical company! Why won't they welcome this conversation?" — "People's Mic" outside of Thrivent HQ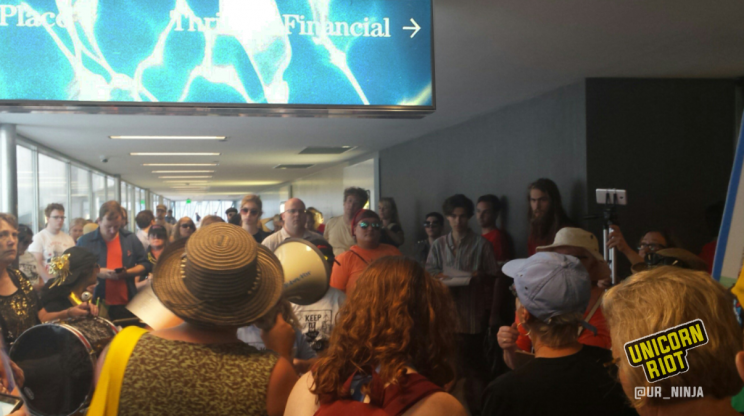 Attendees placed their signs against the glass windows while chanting "Thrivent, Thrivent, you can't hide, we can see your greedy side." A letter had been written to Thrivent asking them to divest from CORE Civic and GEO Group. It was delivered to the company by sliding it to them through the space underneath the locked door.
While no members of Thrivent staff were seen engaging with protesters, after the event a Thrivent employee told organizers "had it not been for this event and resulting lockdown, I wouldn't have known about my company's investments in these terrible groups."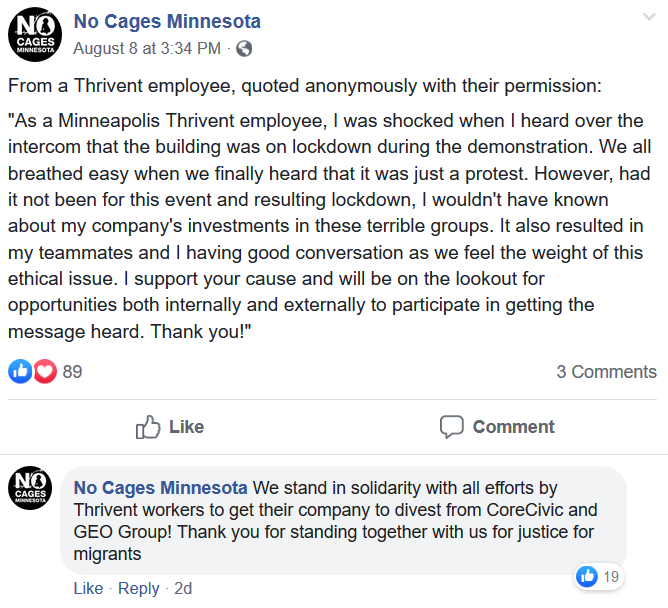 We reached out to Thrivent for comment on whether the bank plans to maintain its profitable investments in private prisons. Thrivent had not responded by the time of publication (2:00 p.m. on August 13, 2019).


No Cages MN organizer Elizabeth Wrigley-Field promised that people would continue to engage with Thrivent until they got the message. Giselda Gutierrez told us, "I would encourage anybody watching to look into who's investing into these camps, these concentration camps in your area, and take action against that."
---
Please consider a tax-deductible donation to help sustain our horizontally-organized, non-profit media organization:

Unicorn Riot's Coverage of the Sanctuary Movement and Immigration: