Minneapolis Police 5th Precinct Attacked, Sees Two Nights of Protests
Minneapolis, MN – Fireworks exploded on the roof of the Minneapolis Police (MPD) 5th Precinct on Saturday night while dozens took part in spray painting and egging the windows of the building.
After a nighttime march reached the precinct, a participant shouted into a bullhorn it was "not advisable" for the city to follow their upcoming plans of "taking down George Floyd Square". [Click here for more details on the potential eviction of the memorial space.]
When the crowd arrived, an MPD officer at the desk inside the precinct immediately walked to the back and shut off the hallway lights. The crowd, which didn't seem to be affiliated with any group, was outside for less than an hour before leaving.
The police didn't respond during the time the crowd was outside.
Sunday night, a smaller crowd came back to the precinct around 10 p.m. again, this time with a grill. They made hot dogs and veggie burgers.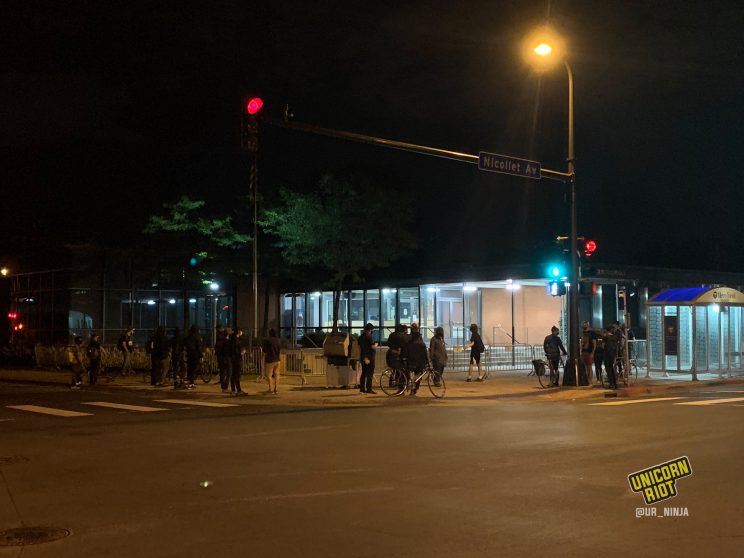 A surveillance camera was reportedly spray painted and metal barricades that surrounded the walkway were eventually knocked down but no projectiles were seen to be thrown at the building on Sunday night.
Nearly a dozen police cars were mobilizing a few blocks away using a street as a their staging area, but didn't interact with the crowd. After several speeches from a bullhorn, songs played over speakers, and food, the crowd dispersed from the sidewalk outside the precinct.
These protests seem to be set to repeat regularly, apparently inspired in part by nightly protests going on in Portland, Oregon against police violence and for Black lives.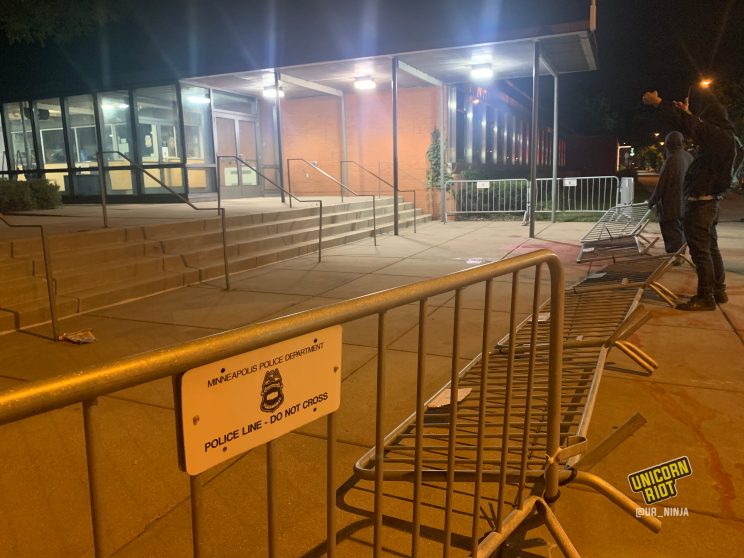 ---
Follow us on Twitter (aka 'X'), Facebook, YouTube, Vimeo, Instagram, Mastodon, Threads, BlueSky and Patreon.
Unicorn Riot's George Floyd Coverage:
Please consider a tax-deductible donation to help sustain our horizontally-organized, non-profit media organization: