Ex-Cop Charged in George Floyd Murder Out On $1M Bail, Dozens Arrested in Protest
Minneapolis, MN – Derek Chauvin, the former Minneapolis Police Department (MPD) officer charged with murdering George Floyd, was released from jail on a non-cash bond on Wednesday, October 7.
In response to expected protests over Derek Chauvin being released from jail, Minnesota's Governor, Tim Walz, has activated the National Guard "to prepare to assist in keeping the peace".
One hundred Guardsmen are being deployed along with one hundred Minnesota State Troopers and seventy-five Department of Natural Resources (DNR) officers.
A small protest gathered near the downtown Minneapolis jail after news of Chauvin's release broke, and at least one person was reportedly arrested on disorderly conduct charges.
A fast paced youth-organized protest marched through south Minneapolis streets for a couple hours before dispersing near George Floyd Square.
Unicorn Riot was live for the march [Tweet thread with media.]
A portion of the protest that dispersed from the original march made their way to the Minneapolis Police 5th Precinct to voice their grievances. Authorities from the DNR and State Troopers deployed by Governor Tim Walz kettled the protest. Troopers used a Long Range Acoustic Device (LRAD) attached to their Mobile Response Team vehicle and made dispersal order announcements to the protest.
People realizing they were kettled, tried to leave south on Nicollet Ave. as the LRAD was announcing but many were arrested at the police line coming north on Nicollet. Two legal observers from the National Lawyer's Guild were arrested along with dozens of others. See the stream below.
Chauvin is charged with 2nd and 3rd degree murder, as well as 2nd degree manslaughter, for kneeling on George Floyd's neck for nearly 10 minutes.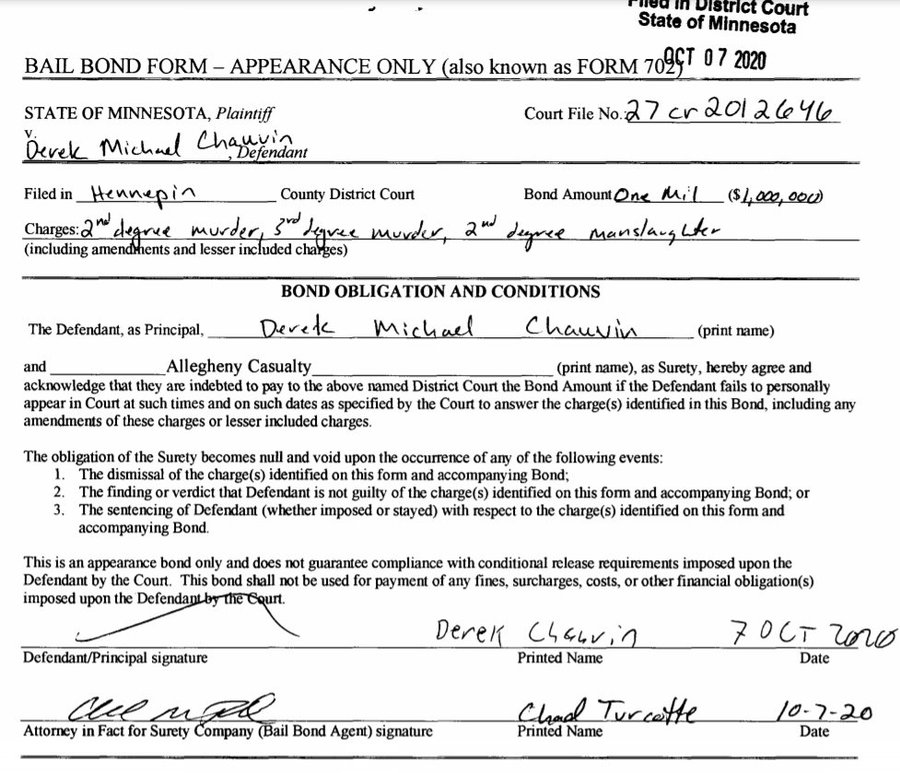 Chauvin was being detained at maximum-security Oak Park Heights prison, in Stillwater, MN before being released today. All of the former police officers arrested over Floyd's murder have now been freed from jail and awaiting their March 2021 trial, presumably from the comfort of their homes.
Questions about the non-cash bail system and the company behind Chauvin's bail, Allegheny Casualty Company, are lighting up social media sites.
Derek Chauvin has been ordered to have no contact with George Floyd's family, he must stay in Minnesota unless permitted, and cannot work in law enforcement or security.
---
Follow us on X (aka Twitter), Facebook, YouTube, Vimeo, Instagram, Mastodon, Threads, BlueSky and Patreon.
Unicorn Riot's George Floyd Coverage:
Please consider a tax-deductible donation to help sustain our horizontally-organized, non-profit media organization: