As U.S. Coronavirus Cases Top the World Charts, Minnesotans' "Stay at Home" Order Goes Into Effect
St. Paul, MN – In efforts to quell the spread of COVID–19, Minnesota's governor has issued an Executive Order to Stay at Home. The order goes into effect on Saturday, March 28, and lasts until April 10.
This order came a day before the United States surpassed all countries in the number of coronavirus cases with over 85,000, as hotspots intensify and hospital intensive care units (ICUs) fill up. Many expect the reported numbers in the U.S. to be much higher, as completed testing is difficult for many to get.
As of March 29, officials in Minnesota reported that 503 people have tested positive with COVID–19.
Of the 503 infected, 75 people have required hospitalization (39 are in hospitals now) and nine have died. (numbers updated 2 p.m. March 29, 2020)
Confirmed numbers of infections are still relatively low in Minnesota; data evidence shows that most people have been staying at home.
Data from a social distancing scoreboard curated from cell phone GPS location collector Unacast Inc. earned Minnesotans an "A" in their social distancing efforts since March 16, when Executive Order 20-04 closed restaurants and places of public accommodation. (Unacast's privacy policy is here.)
Despite the low numbers, top two politicians in the state have both been close to the virus. Minnesota's Lt. Governor, Peggy Flanagan, lost her brother to the pandemic last weekend, while Governor Tim Walz has been on self-imposed quarantine for several days since his bodyguard tested positive for coronavirus.
Walz has been active in providing daily updates and press briefings, along with posting COVID–19 information to his Twitter account.
The Stay at Home order is the twentieth executive order signed by Governor Walz to address the coronavirus pandemic.
The first order declared a peacetime emergency and activated the Statewide Contingency Response Team (SCRT) that coordinates the state's response, as well as a Joint Information Center (JIC) responsible for sharing updates.
Three of the other 20 orders are listed below:
Emergency Executive Order 20-05 – Providing Immediate Relief to Employers and Unemployed Workers During the COVID–19 Peacetime Emergency – extends unemployment benefits and suspends the non-payable week requirement.
Emergency Executive Order 20-13 – Authorizing National Guard Assistance to COVID–19 Response – authorizes national guard assistance in getting protective equipment from Camp Ripley to the Minnesota Health Department.
Emergency Executive Order 20-14 – Suspending Evictions and Writs of Recovery During the COVID–19 Peacetime Emergency – suspends evictions for property owners. The termination of residential leases has been suspended and officers are ordered to cease executing writ of recovery of premises and orders to vacate. House and rent payments are not suspended, as it states: "Nothing in this Executive Order relieves a tenant's obligation to pay rent."
---
Mass layoffs spur unemployment, housing crises
As hundreds of thousands of Minnesotans have been fired or laid off with more to come, Minnesota's unemployment insurance benefits system has been overrun.
More women than men are presently facing unemployment, and people in their 20s are applying for unemployment at higher rates than any other age range. (During the week ending March 21, the U.S. Department of Labor reports an all-time record of 3,283,000 initial claims filed nationwide.)
The order of extension of unemployment benefits has given many workers a sense of comfort, along with the suspension of evictions, yet many are wondering how they will make their rental and mortgage payments.
Graffiti calling for participation in an April 1 Rent Strike has been seen around Minneapolis. Renters are loosely-organizing across the country to carry out a rent strike, to #CancelRent, as they are now unable to pay rent after being fired, hours cut, or laid off and told to stay home; others are declining to work in hazardous environments. Some rental properties and landlords have given a small gesture of waiving processing payment fees and late fees.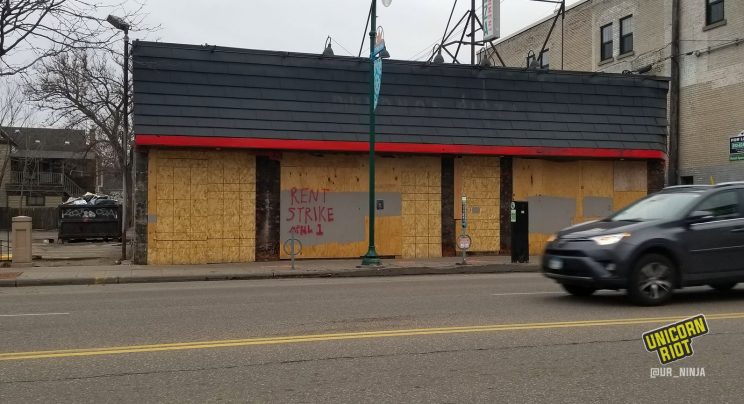 The Stay at Home order cannot be fully followed by the estimated 19,600 people in Minnesota that do not have a place to call home.
Shedding some light on the difficulty of following a Stay at Home order with no home to stay in, Unicorn Riot was live in Denver, Colorado, on March 25, interviewing a houseless person about that topic.
---

---
Stay at Home order enforcement questions
The Stay at Home order, Emergency Executive Order 20-20 (read full order below), is not a lockdown order.
Minnesotans are still free to go to the grocery store, get food and essentials, visit their doctor, and be outside.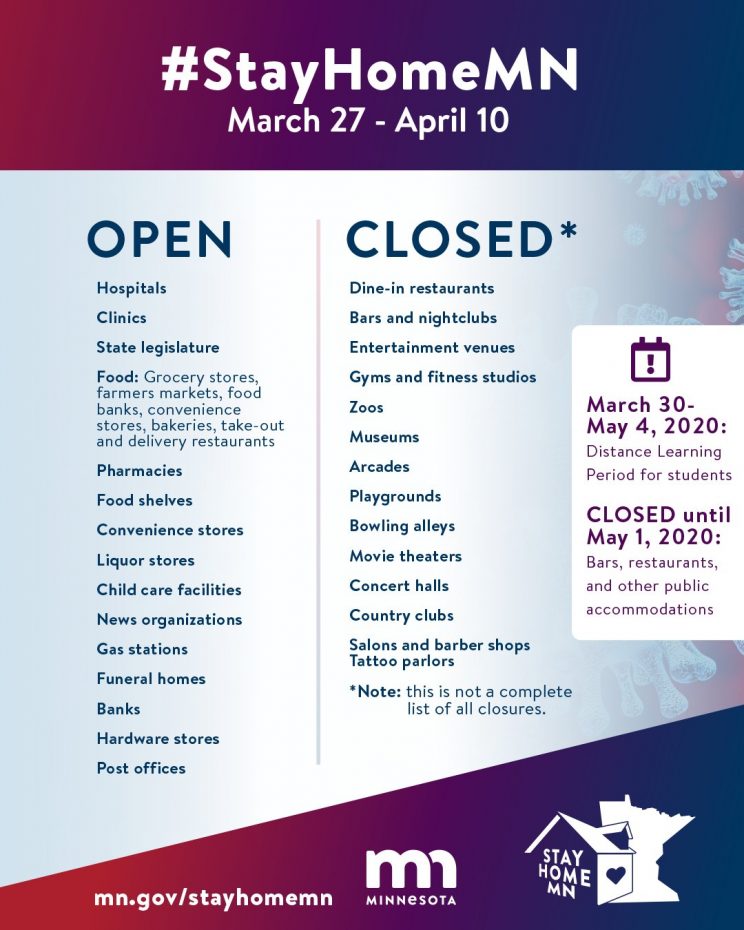 According to the order, Minnesotans should not go to work (unless it is a critical service) or socialize in physical gatherings. Visits to hospitals and nursing homes are limited to extreme circumstances.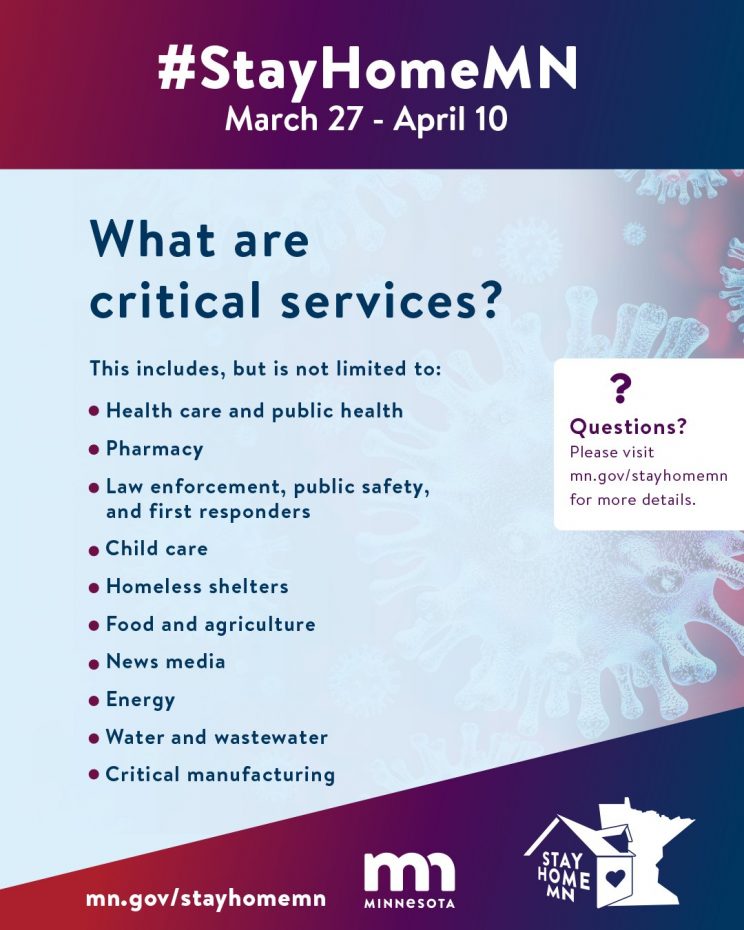 Written in the executive order to Stay at Home are the misdemeanor consequences for one who violates the order. If convicted of the misdemeanor violation, one can be jailed for up to 90 days and given a fine of up to $1,000. The order also specifies they aren't trying stifle individual Constitutional rights — "Nothing in this Executive Order is intended to encourage or allow law enforcement to transgress individual constitutional rights."
During Governor Walz' press briefing on March 25, in which he spoke about the Stay at Home order, MPR's Cody Nelson asked how the police would be empowered with this order. Walz responded that if someone violates the order, "I don't want to see them be arrested". He said that it isn't the government's desire to give someone a ticket and that they are still getting guidance on the best ways to deal with those who violate the order. Walz said they wanted to focus heavily on people's health, and provide education over enforcement.
Watch Governor Walz' press briefing explaining possible scenarios and how the executive order to Stay at Home came about:
Walz added that the University of Minnesota is closely involved in developing emergency policies; its infectious disease research thinktank, the Center for Infectious Disease Research and Policy (CIDRAP) is focused on pandemic policy and has a COVID-19 web portal with information for both healthcare providers and the general public.
In Minnesota, other executive orders have been given to close schools, bars, and restaurants, implement distance learning, loan services for small businesses, as well as an order to postpone elective surgeries and to disallow visiting at the VA Hospital in Minneapolis. With many nursing homes and hospitals closed to visitors, many Minnesotans are now unable to see family members and loved ones.
As Minnesota embarks on a new era of pandemic procedures to prevent the worst-case scenario of thousands of deaths, Minnesotans will be best served following the social distancing that they seem to have aced.
Read the full Executive Order 20-20, along with CISA's Guidance on Essential Critical Infrastructure Workforce:
Walz_EO_20-20_FINAL

---
Unicorn Riot's COVID–19 Coverage: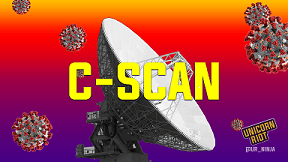 Please consider a tax-deductible donation to help sustain our horizontally-organized, non-profit media organization: