Calls for Rent and Mortgage Freeze Outside MN Legislature
St. Paul, MN – Dozens of activists held a car demonstration outside of the Minnesota Legislative building as the House went into session on April 14. The protest was pushing for mortgage and rent payment cancellation, keeping public housing public, housing for the unhoused, and freeing the detained during the coronavirus pandemic.
Unicorn Riot was live for the action.
The socially-distant demo was organized by United Renters for Justice – InquilinXs UnidXs por Justicia, along with the Twin Cities Democratic Socialists Alternative and their Housing Justice Branch.
In a similar action last Wednesday, hundreds rallied outside of U.S. Bank Plaza in downtown Minneapolis calling for rent and mortgage payments to be cancelled during the pandemic.
📢 As the #coronavirus pandemic continues to wreak havoc on daily life, 100+ people in #Minneapolis participated in a socially-distant car demo demanding the cancellation/freezing of all rent & mortgage payments.📢#RentFreeze #CancelRent #COVIDー19

More: https://t.co/2HHEx8aWEn pic.twitter.com/c3vHmdCYWN

— UNICORN RIOT 🦄 mastodon.social/@UnicornRiot 👈 (@UR_Ninja) April 10, 2020
The April 14 action was the fourth car demo in the Twin Cities area since the outbreak of COVID-19 in Minnesota, three of which were documented by Unicorn Riot.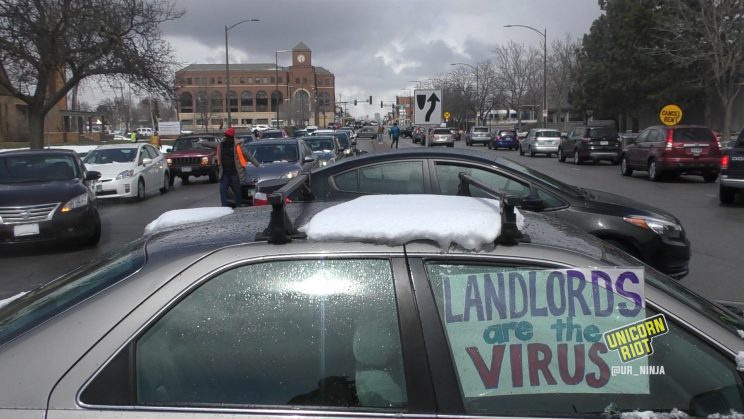 Thick flakes of snow fell on and off during the 45-minute demo in 30 degree temperatures.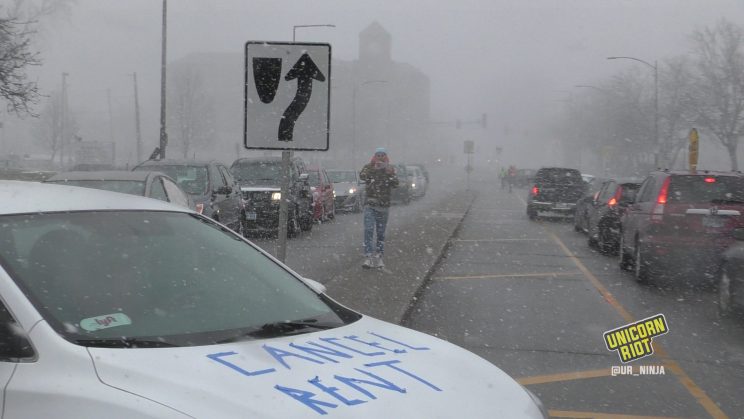 Cars drove in circles on Rice St. outside of the parking lot where some Minnesota legislators were meeting on zoom from their cars to practice physical distancing.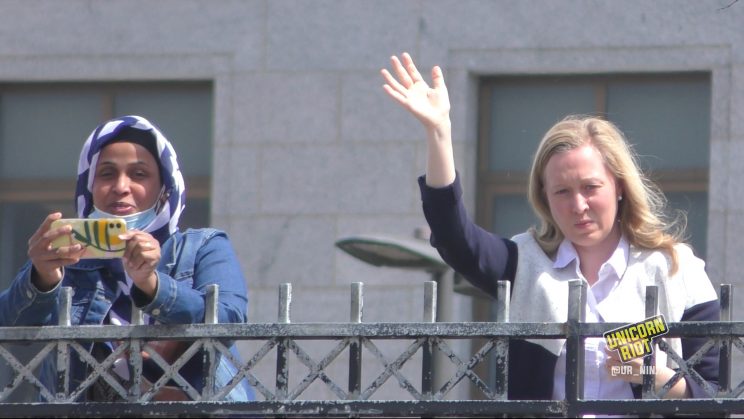 At least two legislators came to the top of the parking ramp and waved at the protest, Rep. Heather Edelson and Rep. Hodan Hassan.
Rep. Edelson sent off a tweet showing her support of the demo (below).
The House is now in session. A protest is going on outside of the Minnesota Capitol parking ramp. Well over 40 cars honking, signs in windows and people walking out in the snow asking for rental / mortgage assistance. We see you. I agree, we must address housing. #mnleg pic.twitter.com/ryVjAdzbrW

— Rep. Heather Edelson (@heather_edelson) April 14, 2020
David Gilbert Pederson, an organizer with Minnesota Workers United, spoke positively about the action. Pederson said the warmth of the community coming together despite the bad weather helped to bring the sun out.
"So much of this is just the beautiful and beloved community that we've built here around workers, immigrants, housing rights, tenant rights. It's just a beautiful thing to see." — David Gilbert Pederson
Pederson said that protesters were "asking for a bailout for everyday people" after the government showed they can bail out big companies, corporations, and the wealthy.
"I think we're in an incredibly turbulent time but also an incredibly exciting time to see kind of what we can do for people."
As we sit in the middle of April, millions of people in America are bracing for not having enough money to pay their housing costs. Many more are organizing a rent strike for May 1.
Continue to follow Unicorn Riot for more coronavirus coverage.
Follow us on X (aka Twitter), Facebook, YouTube, Vimeo, Instagram, Mastodon, Threads, BlueSky and Patreon.
Unicorn Riot's COVID–19 Coverage: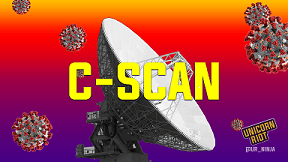 Please consider a tax-deductible donation to help sustain our horizontally-organized, non-profit media organization: