South Africa Under Lockdown as COVID–19 Spreads
Durban, Kawzulu-Natal, South Africa – On March 5, 2020, South Africa reported its first official case of coronavirus (COVID–19) in the Kwazulu-Natal province. Since then, the virus has expanded into all nine provinces, infecting at least 1,280 people and killing two.
On March 23, President Cyril Ramaphosa declared a national state of disaster in order to free up government resources to fight and contain the COVID–19 pandemic. Two days later on March 25, Ramaphosa announced that South Africa would be placed under a 21-day national "lockdown" in order to curtail the movement of people and all 'non essential' activity.
The lockdown is currently in effect from March 26 till April 16. Every citizen has been ordered to stay at home during this time; only those performing essential services or making trips to the grocery store are permitted to travel outside of their homes.
Many restrictions and prohibitions have been introduced including:
Ban on foreign nationals attempting to come into South Africa from worst-afflicted countries
All 'non essential' travel within the country banned
Travel between provinces, metro areas and districts banned
Ban on the sale of alcohol and tobacco, and a ban on the transport of alcohol (sealed or otherwise)
All public gatherings banned unless for a funeral under 50 people
Suspension of all correctional facility visits
South Africa is the first nation under lockdown to declare a total ban on the sale of tobacco and alcohol. As of March 29, it is estimated that almost 20% of the world's population is currently under quarantine-related lockdown.
This marks the first time since Apartheid that the South African government has taken away basic freedoms in the name of security. During Apartheid rule, the government frequently declared state of emergencies in order to crush and contain all political dissent. Due to this negative history the government has been keen to avoid declaring a state of emergency — however, if the virus continues to spread, a state of emergency is still possible.
---
Effects on the Healthcare system
As is the case in most countries, COVID–19 has put considerable strain on the South African healthcare system. Complicating matters is the country's relatively high concentration of people infected with HIV/AIDS or already dealing with respiratory illnesses, who are especially vulnerable to the virus.
While government healthcare is free, private hospitals are known to have better quality of care that is generally only available to those who can pay for it. Anyone in the country who displays symptoms of COVID–19, however, can be tested at a public hospital for free.
South Africa is not currently experiencing a widespread test kit shortage due to comparatively lower numbers of infected people. Doctors warn that this could change, considering that worldwide demand for tests is high and that the tests are manufactured and imported from outside the country.
---
Police and military enforcement
On March 25, police minister Bheki Cele held a press conference to announce that the police would be heavy-handed in their approach to the enforcement of the lockdown.
"There shall be no food at restaurants. You buy food and go and cook at home, so there is no need to be on the road. There is no need to move around. There was a story earlier about how you can walk your dogs. There shall be no dogs that will be walked." — Bheki Cele, Minister of Police
Minister Cele was quick to point out that anyone caught violating the lockdown faces a fine or up to six months in prison. Since this announcement there have been at least 55 arrests related to the lockdown.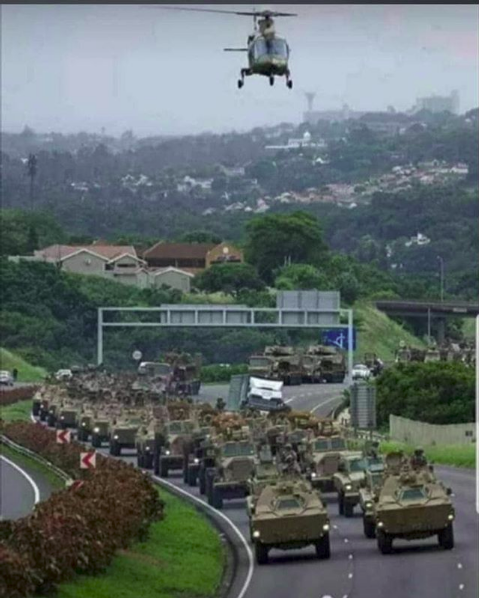 President Ramaphosa has ordered the deployment of the South African National Defense Force (SANDF) to the nine provinces to assist law enforcement agencies in enforcing the lockdown. Military units have been observed patrolling major roads and highways, setting up checkpoints and asking for drivers' identification.
Military and police presence has been especially high in densely populated majority-Black townships such as Umlazi and Soweto. Heavy police crackdowns were reported in several areas of the Johannesburg metro area.
In the suburb of Yeoville, police were seen shooting at residents and a reporter was almost shot on accident. Violent clashes between police and residents were also reported in the Alexandra suburb as well as Hillbrow, where authorities have historically struggled to enforce the law.
---
Disruption of everyday life and the economy
The coronavirus has had a tremendous negative effect on an already-struggling South African economy which has been in recession since last year. The international credit rating company, Moody's, reacted by downgrading South Africa's credit rating to 'junk' status.
The unemployment rate remains at an exceptionally high level of 29% and is expected to rise due to the pandemic. 'Informal' workers are especially at risk since many of them rely on daily wages to survive. On the first day of lockdown many workers were left stranded for hours at local taxi ranks due to confusion over the suddenly announced transportation guidelines.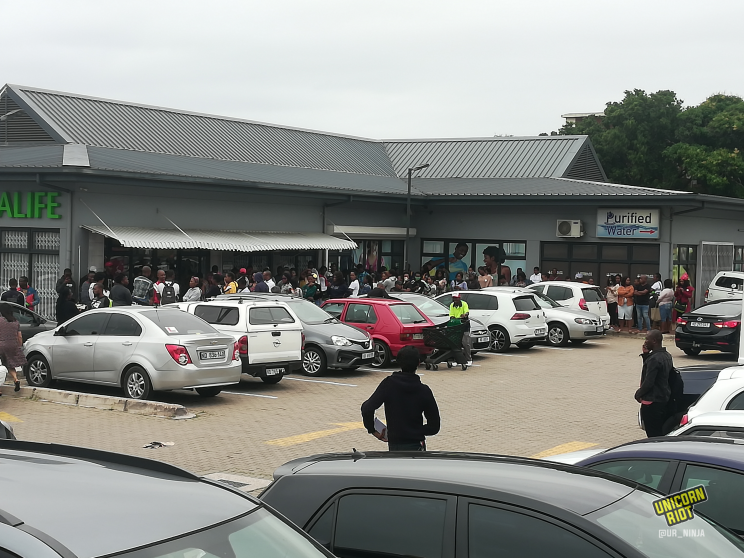 South Africans have reacted to their new reality with mixed emotions of fear and confusion.
Mass 'panic buying' gripped the nation in the days leading up to the lockdown. It is well-known by now that to gather in large numbers can lead to increased risk of the virus spreading, and buyers at stores are not immune to this phenomenon.
As of today, long lines of people are still queuing to get into stores, though at much lower numbers than just before the lockdown. This is due to the strict new limits that grocery stores have enacted on the number of people they will allow inside of their stores at any given time.
Schools and universities have all been closed with some offering online classes and most offering no alternative at all. Almost half of South Africa does not have access to the internet, and those who do frequently report connection quality issues.
---
Moving Forward
As South Africa enters day four of the #21DayLockdown there are still more questions than answers. As of today, the rate of newly infected people has dropped dramatically. If this drop is confirmed and the infections are contained, South Africans will be one step closer to returning to life as usual.
But even if that happens there is still no telling just how much damage this virus will ultimately do to our society and to our world. Unicorn Riot will continue to report the COVID–19 pandemic from South Africa as information becomes available.
Unicorn Riot's COVID–19 Coverage: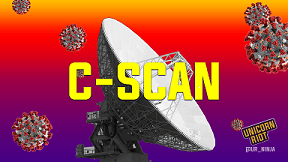 Follow us on Twitter, Facebook, YouTube, Vimeo, Instagram, and Patreon.
Please consider a tax-deductible donation to help sustain our horizontally-organized, non-profit media organization: