Providing Mutual Aid Amidst the Coronavirus Pandemic in Minnesota's Twin Cities
Minneapolis–Saint Paul, MN – Though Minnesota residents have now been ordered to stay at home, Twin Cities community members have been getting creative in recent efforts to provide mutual aid.
New information indicates the virus that causes COVID–19 can live up to 17 days on public surfaces, according to infectious disease expert Dr. Gregory Poland from Rochester's Mayo Clinic. Governor Walz' March 26 order extended the closures of restaurants and bars from March 27 until May 2, and schools statewide will remain closed until at least May 4.
The Red Lake and White Earth nations have issued similar stay-at-home orders as Minnesota's Governor Walz. Red Lake tribal members have been asked to check in on elders in the community.
Despite the new stay-at-home orders, Twin Cities residents have been working to help support each other in this difficult time.
Locally-Produced Hand Sanitizer
With their cocktail rooms remaining closed, several local distilleries have switched production from liquor to hand sanitizer, a scarce commodity during the pandemic (though proper handwashing is the best way to get rid of germs).
Du Nord Craft Spirits has reportedly been distributing to community services such as Meals On Wheels, which home-delivers meals to seniors and people with disabilities.
A statement by Norseman Distillery says their hand sanitizer is being donated to nursing facilities, homeless shelters, and other first-responder organizations.
Other Twin Cities distilleries that have begun producing hand sanitizer include Tattersall (Minneapolis), Lawless (Minneapolis), and 11Wells (Saint Paul).
A Minneapolis resident known as the Pickle Witch shared a calculator with Unicorn Riot for their DIY hand sanitizer. The goal is to create a solution that contains between 60–90% alcohol. Either isopropyl "rubbing alcohol" or ethyl "drinking alcohol" may be used.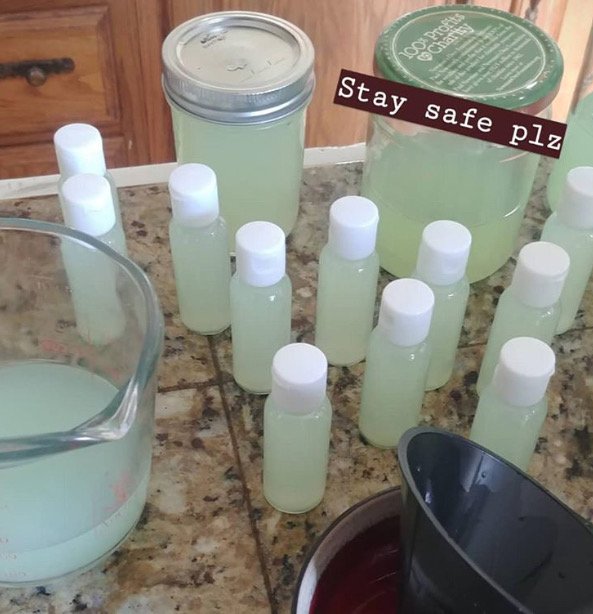 According to the Center for Disease Control (CDC), "if soap and water are not readily available, you can use an alcohol-based hand sanitizer that contains at least 60% alcohol." If a person intends to disinfect surfaces with alcohol-based solutions, the concentration of alcohol needs to be at least 70%.
Face Masks and Aid Networks
Due to the hoarding of N95 masks and the inaction by the federal government, medical personnel whose job it is to treat COVID-19 positive patients are left without the necessary protective gear. Allina Health hospitals in Hennepin and Ramsey counties have asked for donations of personal protective equipment, including homemade fabric masks.
Cotton masks are intended "for patients who do not have COVID-19 and/or visitors" — the only mask that will successfully prevent airborne droplets from entering a person's airways are the hard-to-find N95 masks. Allina Health hospitals acknowledges that homemade fabric masks "may also be used to cover a N95 mask that a caregiver is using to extend time of use."
The Federal Drug Administration (FDA) website states that "for the general American public, there is no added health benefit to wear a respiratory protective device (such as an N95 respirator)."
The Twin Cities Mask Movement is a grassroots mutual-aid effort "to connect mask-makers with the people who need them." Fabric masks provide a barrier of protection for people working in high-contact jobs such as food delivery or grocery clerks, and are also appropriate protective wear for those who live with immunocompromised individuals.
Saint Paul non-profit Sew Good Goods has also provided instructions for making CDC-compliant face masks.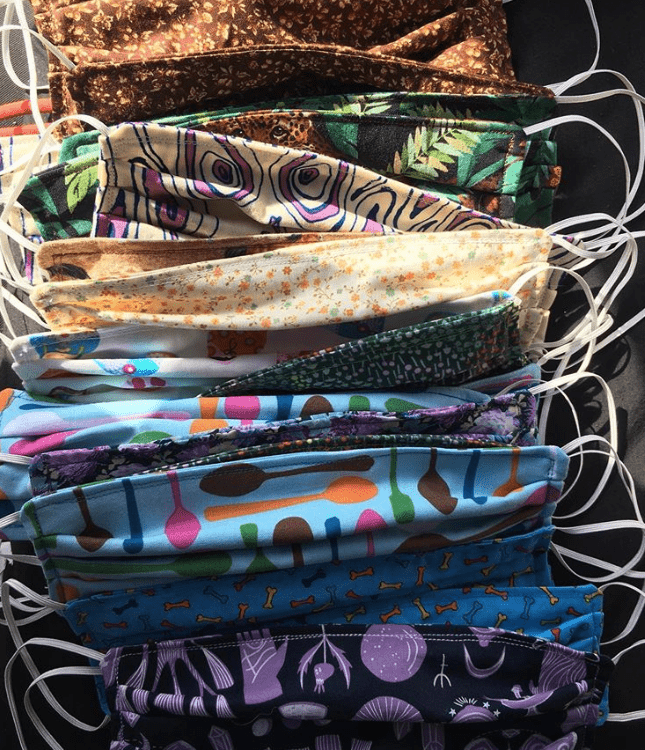 Members of Gaia Democratic School in South Minneapolis have been developing 3-D printed medical mask prototypes. This mirrors efforts by Wisconsin's Concordia University to print masks. A free design has been published on a Montana clinic's website.
Other local community aid efforts include a network of volunteers "to deliver goods to the elderly, immuno-compromised and quarantined" residents and a bulk-buying club to coordinate purchasing from local farmers unable to sell their produce due to farmers' markets closing.
A Twin Cities Coronavirus Solidarity Facebook group with over 7,500 members features resources such as a .pdf about workers' rights to refuse unsafe work. Spreadsheets have sprung into existence where community members can list aid resources in their area such as free food pickup sites.
In spite of the lack of appropriate steps to protect United States residents by their federal government, local residents in the Twin Cities have moved quickly to help each other. Write an email to Unicorn Riot to share how you or someone you know have been offering aid during this time of need.
---
As the highly-infectious coronavirus continues to impact communities worldwide, our small organization of media-makers will provide periodic updates on a variety of topics related to the pandemic.
Unicorn Riot's COVID–19 Coverage: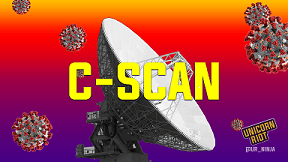 ---
Follow us on Twitter, Facebook, YouTube, Vimeo, Instagram, and Patreon.
Please consider a tax-deductible donation to help sustain our horizontally-organized, non-profit media organization: