'Cancel Rent' Demo Calls for a Rent and Mortgage Payment Freeze as COVID-19 Spreads
Minneapolis, MN – As the coronavirus pandemic continues to wreak havoc on daily life, hundreds participated in a socially-distant car demonstration demanding the cancellation/freezing of all rent and mortgage payments.
Defying the statewide Stay at Home order yet practicing proper physical distancing, the demo lasted about an hour after starting at noon on April 8 outside of the U.S. Bank Plaza in downtown Minneapolis.
Unicorn Riot live streamed the event as it happened.
Organized by United Renters for Justice (Inquilinxs Unidxs por Justicia, or IX), over 100 cars participated in the action while honking their horns and driving around the block of the plaza with "cancel the rent" and "U.S. Bank stop profiting off crisis" signs hanging in their car windows. IX is an organization created "for renters by renters" in the Minneapolis area. They have a growing list of resources for renters on their website and have recently taken the domain name 'cancelrentmn.com.'
A large banner reading "U.S. Bank: You Can Fix This" was held up for a few minutes from inside the U.S. Bank Plaza while the honking cars circled the block.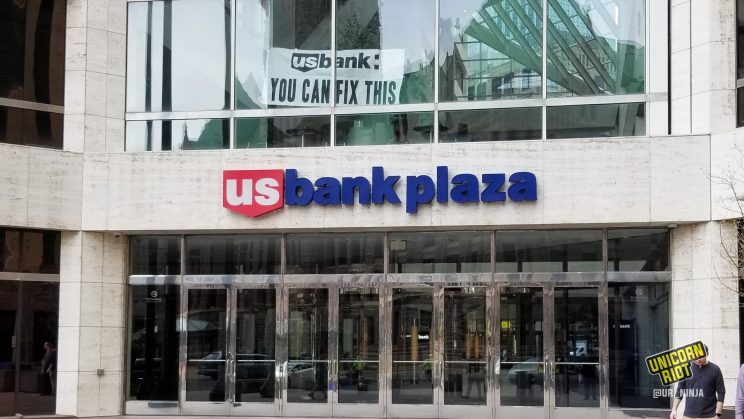 With millions of workers across the United States laid off, fired, or restricted to lower wages during the coronavirus pandemic, people are not able to afford to pay rent or mortgages.
Weekly data released by the National Multifamily Housing Council (NMHC), shows a national twelve-percent decrease in rent paid in April from March. NMHC's Rent Payment Tracker tallied that from a total of 13.4 million apartment units counted, 69% of households paid April's rent compared to 81% paid in March and 82% paid last April.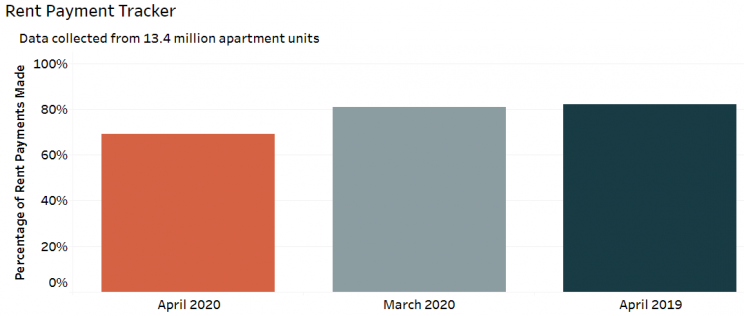 In Minnesota, at least 38 families didn't pay rent to the same landlord in Minneapolis on April 1. The idea of the national rent strike locally turned into the demand to Cancel Rent and momentum is slowly working into different apartment buildings getting people organized throughout the metro.
Minnesota's Governor Tim Walz has enacted over 30 peacetime emergency executive orders since March 13 to address the crisis. On the same day of the car demo, Walz extended the Stay at Home order until May 4 with Executive Order 20-33.
Many in the community are calling on Governor Walz to enact an executive order that would freeze, or suspend, rental and mortgage payments.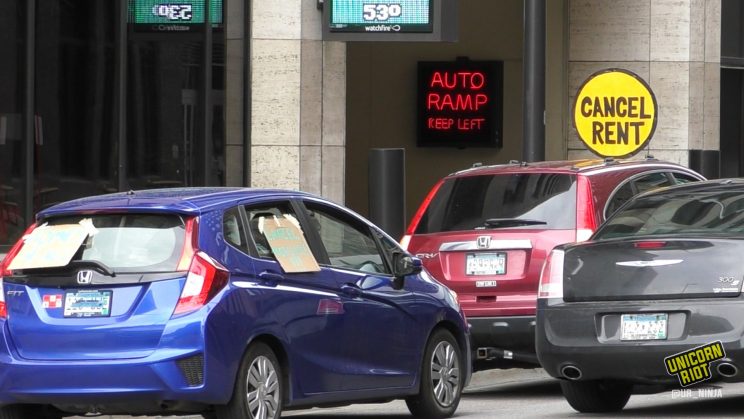 Minneapolis City Council member Jeremiah Ellison sent a letter to Walz on April 6, calling on the governor to support "the suspension of rent and mortgage payments" and "a moratorium on commercial evictions" during this coronavirus crisis.
Ellison's letter was signed by 26 politicians in total; including two mayors, two county commissioners, 18 city council members from across the state, and Minnesota's attorney general, state auditor, and secretary of state.
---

---
The letter commended Walz on many steps taken to lessen the burdens of the crisis, included economic statistics showing that the devastating financial impacts, and says that despite the extended unemployment insurance and moratorium on evictions, "we are still far from making families whole."
Cities such as Boston, Los Angeles, New Orleans, New York City, Philadelphia, San Francisco, Seattle, and St. Paul are named in the letter as places where other elected leaders have pushed for a cancellation of rent.
"Furthermore, the housing crisis is felt most acutely by immigrant, Black, Indigenous and People of Color (BIPOC) communities, who already experience severe disparities in wages and housing, and who are far more likely to be renters than white households." — Jeremiah Ellison, Minneapolis City Council
4.6.20 Letter to Governor Walz calling for support of the suspension of rent and mortgage payments during COVID-19 pandemic

---
Unicorn Riot asked the Twitter community if they were participating in the April 2020 rent strike, and why. Three of the responses are seen below, all based on the fact that this crisis has made them unable to pay.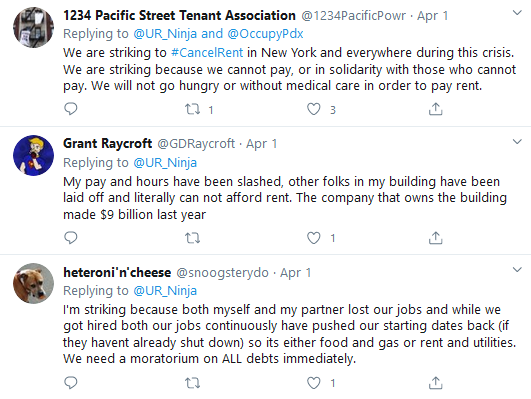 The responses Unicorn Riot received from a similar Instagram ask of why people were participating in the April Rent Strike echoed the above Twitter responses:
"Because my business was shut down by the city/state and I have no income."

"To support others who can't pay"

"I don't have any fucking money"

"Because no one should be paying for already stolen land"

"To stand in solidarity with my friends and family everywhere to say I'm still fighting!"
Another response to the question (image below) yielded a specific story as to how hard it is for a single mother with children to financially cope during this crisis.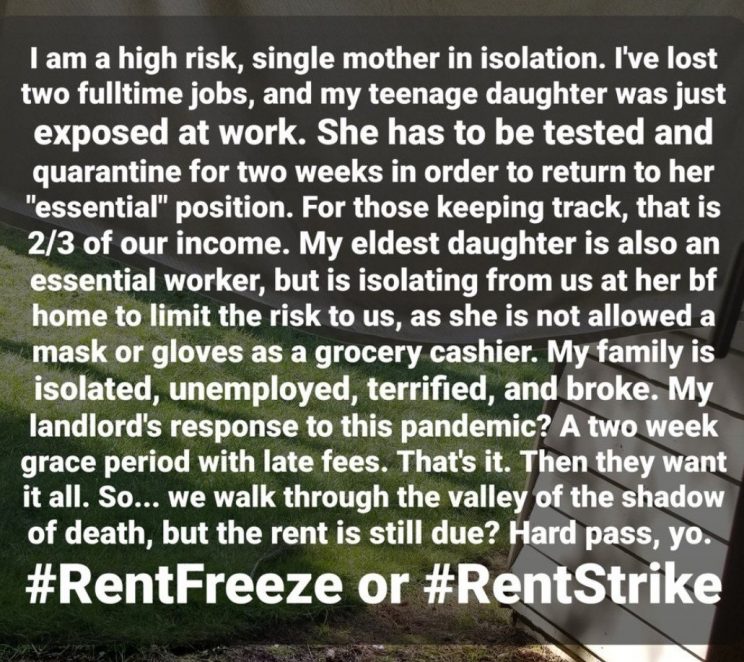 Out of concern for homeowners, the Minneapolis demo demanded a mortgage freeze, or suspension. Part of the multi-trillion dollar coronavirus economic package, CARES Act, that passed last month by the government allows homeowners the ability to delay their mortgage payments for up to 180 days. This gives landlords six months of financial flexibility during the pandemic.
Renters in Minnesota, and throughout the U.S., are supported in the CARES Act with expanded unemployment benefits and one-time $1,200 stimulus checks, but no delay, or suspension, of rent payments. The Act also features $500 billion from taxpayers going straight to corporations, raising many red flags as this bailout will combine with the March 12 bailout and the 2008-09 bailouts to further widen the wealth gap.
Gov. Walz, however, did sign an executive order made on March 23, 2020, that temporarily protects renters from being evicted — one of less than 15 states in the country with such an order.
Minnesota's Attorney General Keith Ellison, along with attorneys from across the state, have created a task force to stop landlords from evicting people during this crisis and to charge price gougers.
In the first case against a landlord for attempting to evict tenants, Ellison has charged 77-year-old Howard Mostat of Pine City, Minnesota for violating the executive order as he cut off the electricity and water of a family with a 4-year-old child. Mostat was ordered to restore the utilities.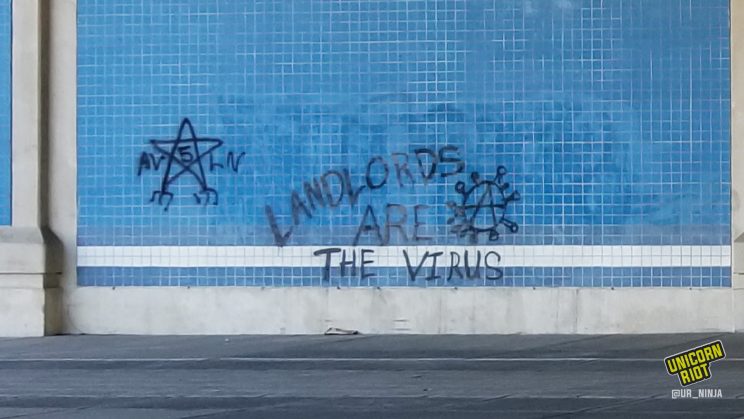 The car demo, which mirrored tactics of the protest outside Governor Walz residence on March 30, seems to be the new norm in terms of protesting. One can expect much more of the same as we near May if no solutions have been enacted.
As Stay at Home orders extend through April into May and possibly beyond, the push for cancelling rent and mortgage payments grows.
Continue to follow Unicorn Riot for more of our Coronavirus Crisis coverage as we will be spotlighting some of the plights of the unhoused, the detained, and the underserved communities during this pandemic.
---
Unicorn Riot's COVID–19 Coverage: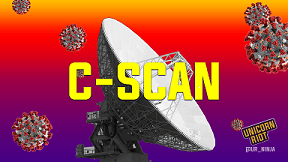 Please consider a tax-deductible donation to help sustain our horizontally-organized, non-profit media organization: