Minneapolis May Day Protest Supports Essential Workers
Minneapolis, MN – An autonomous demonstration on International Workers' Day broke off from a large 'Cancel Rent' caravan to show support for essential workers.
Dozens of cars and bicycles drove through downtown Minneapolis in a show of solidarity for striking workers across the world that seek better protections, safer policies, and hazard pay during the coronavirus pandemic.
"We were an autonomous, rowdy, and joyful caravan of both cars & bikes. We went directly to workplaces, instead of asking politicians for empathy & action. We stood in solidarity with 'essential workers,' who are the collateral damage sanctioned by lawmakers when choosing to 're-open the economy.' We don't trust the state to decide what is necessary or safe in the context of this pandemic, or ever." — Breakaway demo participant
Named 'Essential Not Disposable', the May 1 breakaway demo first went to the juvenile detention center to support the imprisoned youth. Participants proceeded then to Whole Foods, Trader Joe's, and Caribou Coffee to show solidarity to essential workers.
'#EssentialNotDisposable!', a breakaway demo from the May 1 caravan to the Gov residence showed #solidarity to #EssentialWorkers & to prisoners by demonstrating in front of Whole Foods, Caribou, & Trader Joe's & also chanting #FreeThemAll outside of the juvenile detention center. pic.twitter.com/qyVLYWEyUy

— Unicorn Riot (@UR_Ninja) May 2, 2020
Across the United States, many workers from Amazon, Whole Foods, Target, Shipt, and Instacart coordinated a strike on May 1 to protest their working conditions.
"In response to the call from wearetheshutdown.org, we felt that a breakaway from the Cancel Rent demo (the momentum of which is also deeply necessary) allowed us to draw connections between workers striking on the job, and those striking against rent and mortgage payments. We are all choosing to prioritize human life over the economy." — Breakaway demo participant
The 'Essential Not Disposable!' action started around 12:30 p.m., May 1, when it broke away from a large caravan of hundreds of cars that went from Minneapolis to St. Paul to push for a freeze on housing payments during the crisis.
Earlier today in #Minneapolis, hundreds of cars participated in a #MayDay caravan from @usbankstadium to @GovTimWalz residence.

The demo demanded the governor issue an executive order to #CancelRent & #CancelMortgage during the #CoronavirusPandemic. #MayDay2020 pic.twitter.com/sFmLeCAIfP

— Unicorn Riot (@UR_Ninja) May 2, 2020
Similar to actions in Minneapolis and St. Paul on April 8 and April 14, the May Day Cancel Rent caravan targeted U.S. Bank and politicians to demand the cancellation of rent and mortgage payments. The caravan started at U.S. Bank Stadium and went to the Governor's residence in St. Paul, where we documented live for a period of time.
By the end of the breakaway demo, several Minneapolis police vehicles were following some of the bicyclists from the action. As the demonstrators left downtown, two police cruisers drove the wrong way down a one-way street as well as down a sidewalk in attempts to tail the cyclists.
"We can only rely on each other, and we decide what care looks like. The mutual aid projects and autonomous webs of support we are building will get us through this crisis. We are opening new worlds, not the economy." — Breakaway demo participant
The breakaway demonstration in solidarity with essential workers, as well as all the other events that day, were organized to coincide with the anniversary of May Day. Socially-distant left-wing demonstrations have been taking place in the Twin Cities since late March; protesters generally have worn face masks and maintained distance apart from each other.
---
Unicorn Riot's COVID–19 Coverage: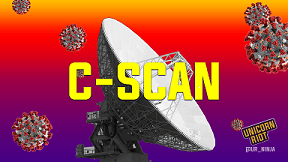 Follow us on X (aka Twitter), Facebook, YouTube, Vimeo, Instagram, Mastodon, Threads, BlueSky and Patreon.
---
Please consider a tax-deductible donation to help sustain our horizontally-organized, non-profit media organization: