George Floyd Square Celebrates Malcolm X
Minneapolis, MN – Nearly 100 people gathered in George Floyd Square (GFS) to commemorate Malcolm X on the 56th anniversary of his assassination. An event organized by the community at GFS featured a vigil for Malcolm X, a discussion on Black liberation movements of past and present, broom ball, an exhibit for arctic explorer Matthew Henson, and food from the community kitchen.
Unicorn Riot streamed live for nearly two hours of the discussion portion during the Malcolm X commemoration and took a brief tour of the space which had been held for nearly 9 months at that time.
The events on Sunday, February 21, 2021, exemplified the loving and participatory community at GFS that has grown since the tragic police killing of George Floyd. Laughter filled the streets as families with children, young adults, and elders played and talked.
Barricades at GFS block traffic flow at four intersections to keep the sacred space honoring George Floyd safe. Daily meetings and hundreds of public gatherings, rallies and other events have been held in the Square. The square features a network of mutual aid initiatives that distribute food and supplies to community members and the unhoused.
"Malcolm X said this: 'The future belongs to those who prepare for it today.' And we prepare for it by making sure that everybody got what they need."

– Participant in the discussion
On 38th Street near the west barricade, dozens of participants of the Malcolm X commemoration placed flowers on top of circles that were colored red, black, green, and yellow and placed in the form of a large 'X'.
"The people of George Floyd Square have proved time and time again that the power of care and defense will never come from the politicians and systems that exploit and oppress Black communities. We know how to take care of each other and we don't need anyone to tell us how to protect and sustain ourselves. This community has done it every day and we aren't going anywhere!"

– Facebook language on Malcolm X event posted by GFS
A lengthy discussion on Malcolm X, Black radicalism, liberation, Martin Luther King Jr, diluted messages, capitalism, and narratives was held at the reclaimed 'People's Way' on 38th Street and Chicago Avenue just feet away from the 'X' flower vigil.
Food and produce was boxed up by the "Fuck 12 Community Kitchen" and handed out to people.
Near the south barricade of GFS, at Phelps Park, was the "GFS Liberation Loppet", honoring Matthew Henson, a Black man who was the first human in recorded history to reach the North Pole. This activity featured sledding, skiing, and an afternoon of broomball games held in the parking lot of the church that sits at 38th and Chicago.
The day before, on February 20, a press conference held by Malcolm X daughters shone a new light onto whom they believe was responsible for their fathers death. They presented a letter they claim was written and sent by known under-cover NYPD officer Raymond Wood to his cousin Reggie Wood.
In the letter, Raymond admits to acting in an undercover capacity to entrap and arrest the security detail for Malcolm X on a separate charge so that X would not be protected the day he was killed in the Audobon Ballroom on February 21, 1965.
As the Twin Cities metro area braces for the trial of Derek Chauvin, the City of Minneapolis says that it plans to open up traffic through the semi-autonomous George Floyd Square. Meanwhile, the community inside GFS is poised to defend the space until their 24 demands called the Justice Resolution are met.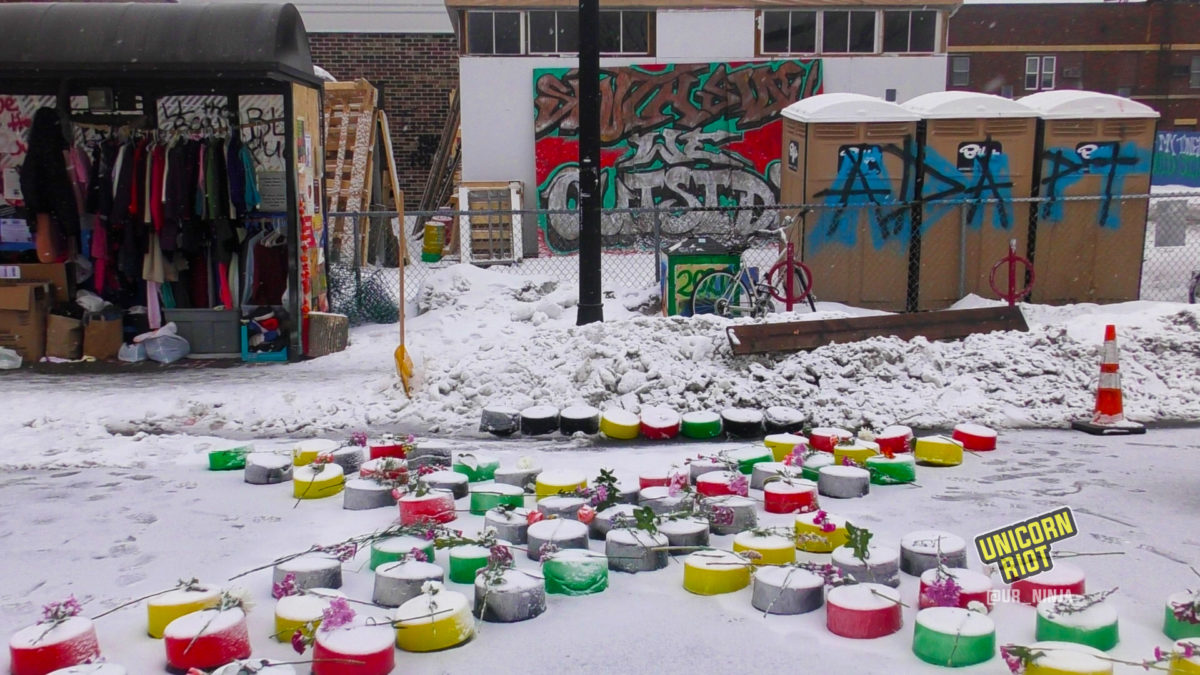 Continue to follow Unicorn Riot for more on GFS, George Floyd, and the Derek Chauvin trial.
---
Follow us on X (aka Twitter), Facebook, YouTube, Vimeo, Instagram, Mastodon, Threads, BlueSky and Patreon.
Unicorn Riot's George Floyd Coverage:
Please consider a tax-deductible donation to help sustain our horizontally-organized, non-profit media organization: